This post may contain affiliate links. Please read my disclosure.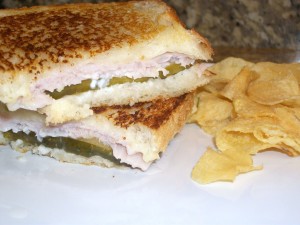 When I posted a month or so ago about Hubbyman's Grown-Up Grilled Cheese Sandwiches, one my readers emailed me her hubbyman's favorite sandwich that he started making back in college. It sounded so good that I just had to try it (although, it's not exactly how she described it…but it's close enough). Her hubbyman, even had a cool name for…the Super Bird, which is what we call it too. However, I didn't want to take her husband's glory and renamed it just a bit. Check out Rhondi's blog, Big Mama's Home Kitchen for lots more great recipes.
Grilled Turkey & Cheese Sandwiches
aka The Super Bird
sliced sourdough bread
sliced oven roasted deli turkey meat
mayo
sliced swiss cheese
sliced dill pickles
butter
Butter one side of each piece of bread. Place butter side down in a skillet on med to med-high heat. Layer on meat, cheese, pickle. On the other piece of bread, spread mayo on the non-buttered side and place butter-side up on top of all the goodies. When one side is golden brown, carefully flip to cook the 2nd side (just like a regular grilled cheese sandwich). Sandwich is done when cheese is melted and both slices of bread are golden brown.