This post may contain affiliate links. Please read my disclosure.
A tall glass of Pomegranate Lemonade is just what summer ordered!
I haven't met a lemonade that I didn't love! And this Pomegranate Lemonade is definitely one of my favorites. It's sweet and tangy and the sugary rim takes it over the top.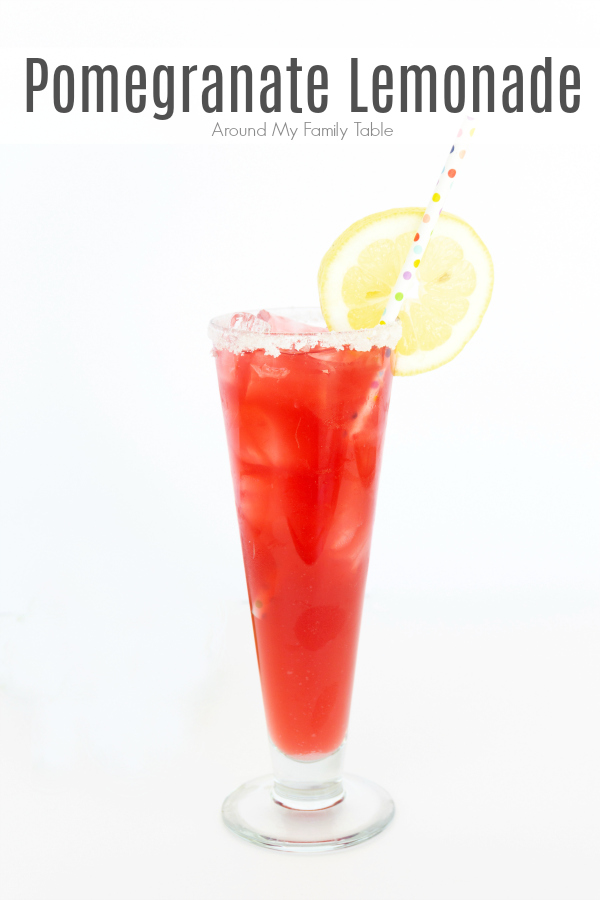 Pomegranate Lemonade
This pomegranate lemonade is seriously one of my all time favorite summer drinks! I make it from scratch because it's so easy and you can't go wrong with fresh squeezed juice. I'm lucky because I have both lemon and pomegranate trees. However, both are easily found at the grocery store.
In Arizona, the pomegranates are ripe at Christmas and the citrus by the end of January. Not really summer friendly! So, I juice my crop and freeze in appropriate sized baggies for making lemonade all summer long. The baggies of frozen juice are so small, it requires no thaw time. I just add the frozen juices to my pitcher, then add sugar and water. The frozen juice will thaw as it's all stirred together.

How to Seed A Pomegranate
Roll the pomegranate first to loosen the seeds.
Score around the middle and tear it open into halves.
Hold each half over a bowl, seeds facing down and tap the skin with a wooden spoon, squeezing a little to release the seeds.
Another option is to score 4 lines from top to bottom to quarter the pomegranate.
Submerge the pomegranate in a bowl of water and and pull apart the quarters, releasing the seeds with your hands.
The pith will float while the seeds will sink. Remove the pith and discard, then drain the seeds in a colander.
How to Juice A Pomegranate
Place pomegranate seeds in a blender.
Pulse the seeds a few times to break them apart which will release their juice. However, don't blend for too long or the seeds will break down and create cloudy juice.
Use a mesh strainer to strain the pomegranate liquid into a container.
Use the back of a spoon to push against the pomegranate pulp in order to extract as much juice as possible.
Chill and enjoy.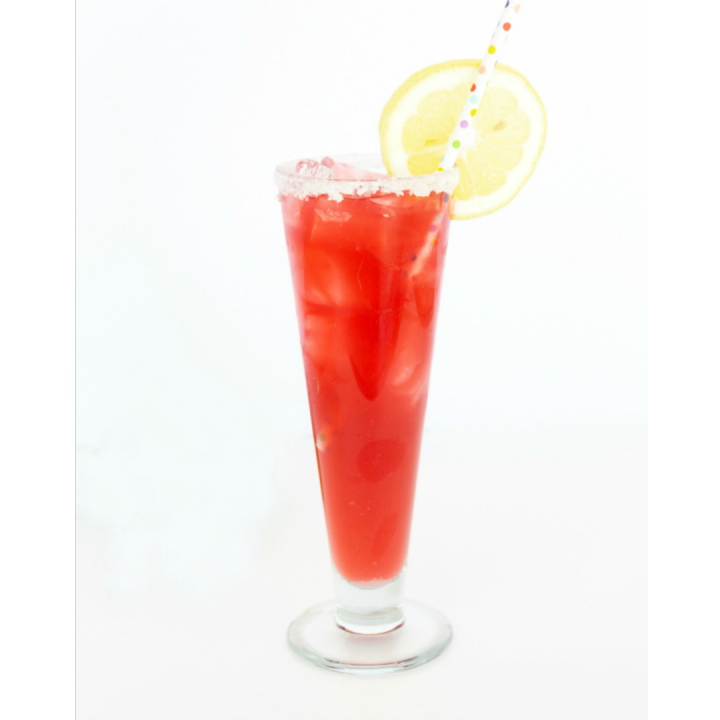 Pomegranate Lemonade
Pomegranate lemonade is the perfect refreshing drink for a hot summer day! Fresh squeezed homemade lemonade with fresh pomegranate juice. You control the sugar to make it as sweet as you like it!
Ingredients
1 1/2 cups lemon juice (fresh squeezed)
1 cup pomegranate juice * (see notes)
1 cup sugar (more or less, to taste)
water
Instructions
Combine all ingredients, except water in a 5-6 qt pitcher.
Stir to combine and add water until desired flavor is reached.
To rim glasses, cut a slice of lemon and place on the edge of glass and circle the top to coat with lemon juice then dip in sugar!
Notes
If you don't want to juice a pomegranate, buy 100% pomegranate juice.  Usually, this is found in the produce section (not the juice section).  I like PomWonderful 100% juice when I don't juice my own.
Nutrition Information:
Yield:

20
Serving Size:

1 cup
Amount Per Serving:
Calories:

49
Total Fat:

0g
Saturated Fat:

0g
Trans Fat:

0g
Unsaturated Fat:

0g
Cholesterol:

0mg
Sodium:

6mg
Carbohydrates:

13g
Fiber:

0g
Sugar:

12g
Protein:

0g
More Pomegranate Recipes:
Pomegranate and Goat Cheese Salad
Gin with Sweet Tea & Pomegranate Juice
Pomegranate Lemonade Cupcakes
Angel Food Cake with Pomegranate Glaze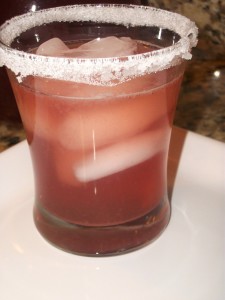 updated 5/18/18