This post may contain affiliate links. Please read my disclosure.
This collection of St. Patrick's Day Recipes has 50 recipes to get you in the lucky Irish spirit! From appetizers to desserts…you'll find everything you need for a delicious and fun holiday!
Be sure to sign up for my email list….seasonal recipes in your inbox every week!
St. Patrick's Day Recipes
With a last name like mine, you could probably guess that we have Irish roots. And we love everything about St. Patrick's Day, from the green shamrocks scattered throughout the holiday décor, to the playful leprechaun shenanigans, to fun shirts left for the kids! You see, those pesky little leprechauns come to our house and cause a lot of mischief while we sleep. My kids love waking up to find the little pranks, such as green-tinted milk or leprechaun footprints leading them to a special treat.
Luckily, those naughty leprechauns have never played any tricks on my morning coffee because I tend to put on my emerald green apron early to start mixing up the Irish soda bread to go with our brunch.
After having fun with that little tradition, we head on over to my in-laws' house for a big family celebration with games and lots of traditional Irish food, like bangers, colcannon, and corned beef and cabbage. We also serve up some fun, not-so-traditional dishes that were inspired by the holiday, like a rainbow cake or a mint brownie trifle or a chocolate mint dessert. Of course there is always plenty of dark beer and sparkling cocktails available too.
You don't have to be Irish like me to get in on the fun and enjoy the delicious foods, so I've put together this list of my favorite dishes to share with you. Whether you want to serve a full St. Patrick's Day dinner or a few crowd-pleasing appetizers to go along with some drinks, I've got you covered. This list is practically a pot of gold.
50 St. Patrick's Day Recipes
St Patrick's Day Appetizers
St. Patrick's Day Pretzels
Gluten Free Irish Soda Bread
Stuffed Reuben Pull Apart Bread
Leprechaun Bait
Corned Beef Pizza Swirls
Irish Pasties
Corned Beef and Cabbage Quesadillas
Handheld Meat Pies
Irish Cheddar Whiskey Fondue
Rainbow Jello Mold
St Patrick's Day Popcorn
St Patrick's Day Snack Mix
Irish Pub Nachos
St Patrick's Day Side Dishes
Colcannon
Squash Quinoa Kale Salad
Irish Potato Pancakes
Irish Potato Pie
Garlic Roasted Cabbage Wedges
Green Pea Soup
Irish Soda Bread
St Patrick's Day Main Dishes
Slow Cooker Corned Beef
Guinness Beef Sliders
Slow Cooker Corned Beef Sandwiches
Bangers & Mash
Irish Chicken
Baked Reuben Sandwiches
Guinness Beef Stew
Irish Stew with Lamb
Skillet Shepherd's Pie
Irish Skillet Dinner
St Patrick's Day Desserts
Chocolate Mint Trifle
Chocolate Mint Fudge
Peek A Boo St. Patrick's Day Cake
Leprechaun Hat S'Mores
Mini Baileys Chocolate Cheesecakes
St Patrick's Day Mint M&M Cookies
Irish Cream Tarts
Lucky Charm Rice Krispies Treats
St. Patrick's Day Brownie Trifle
St Patrick's Day Drinks
Leprechaun Coolers
Sparkling Shamrock Cocktail
Leprechauns Kiss Cocktails
Luck of the Irish Shots
Ombre St. Patrick's Day Jello Shots
Shamrock Midori Martini
Mojito Sherbet Punch
Irish Flag
Margarita
This post has been updated several times over the years. Org publish: 3/3/14, 2/26/16, 3/5/18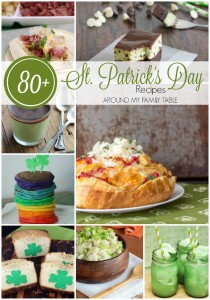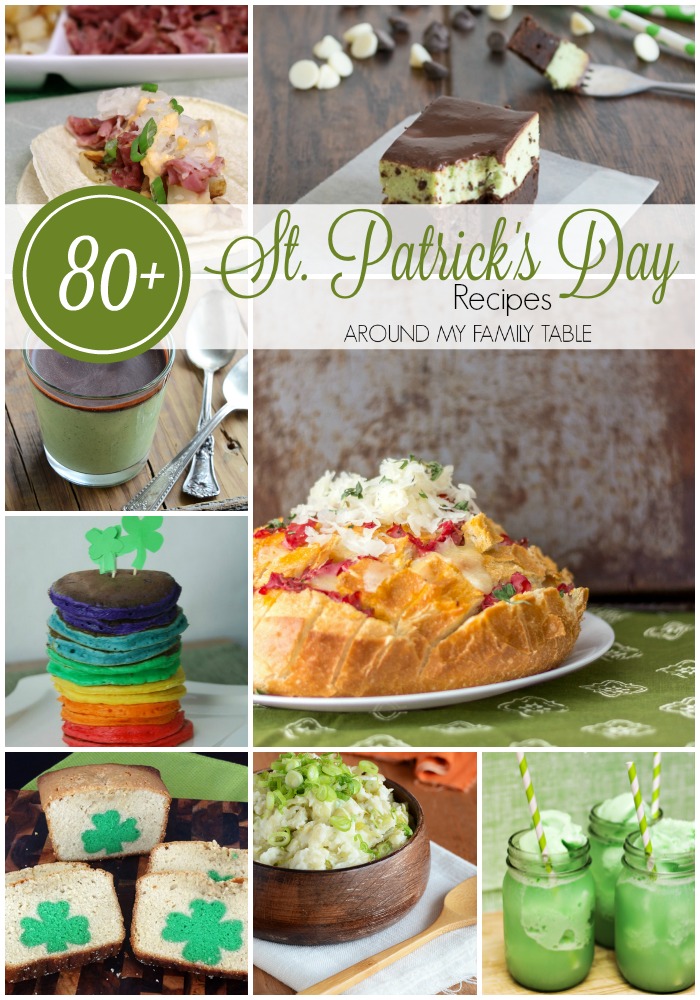 Never worry about dinner again....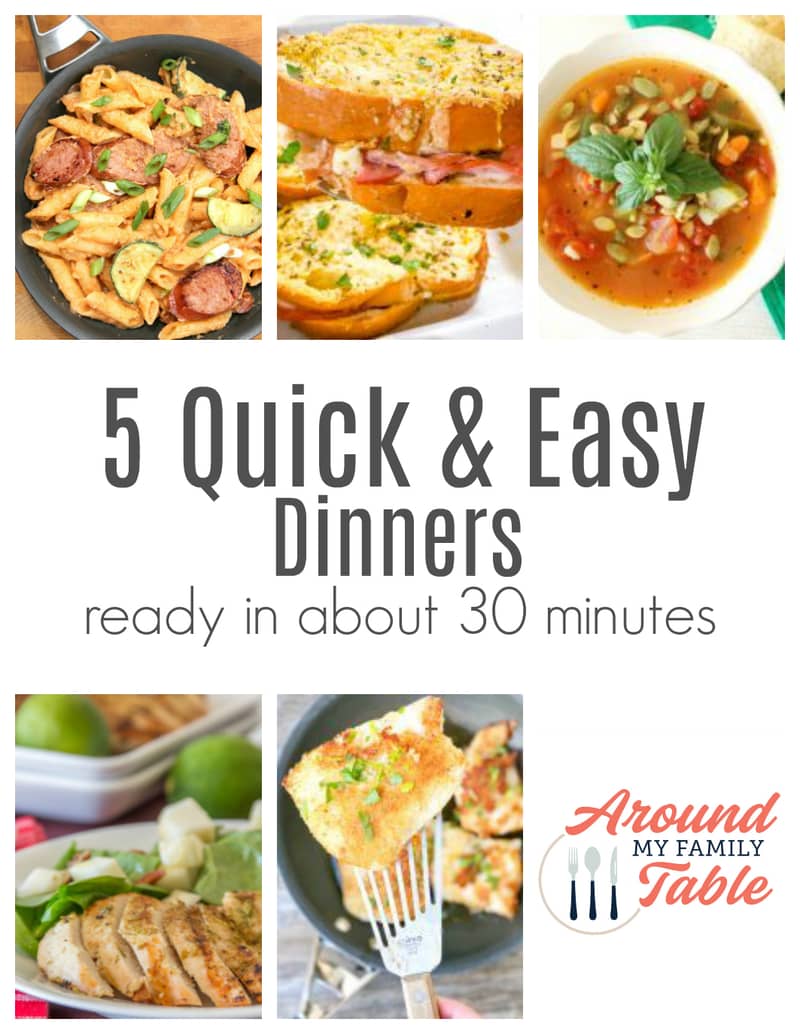 Subscribe to get my 5 favorite Quick & Easy dinner recipes and FREE weekly meal plans