This post may contain affiliate links. Please read my disclosure.
I've found all the Best Banana Bread Recipes and put them in one place! From the simplest to the most decadent…you'll love them all!
Be sure to sign up for my email list….seasonal recipes in your inbox every week!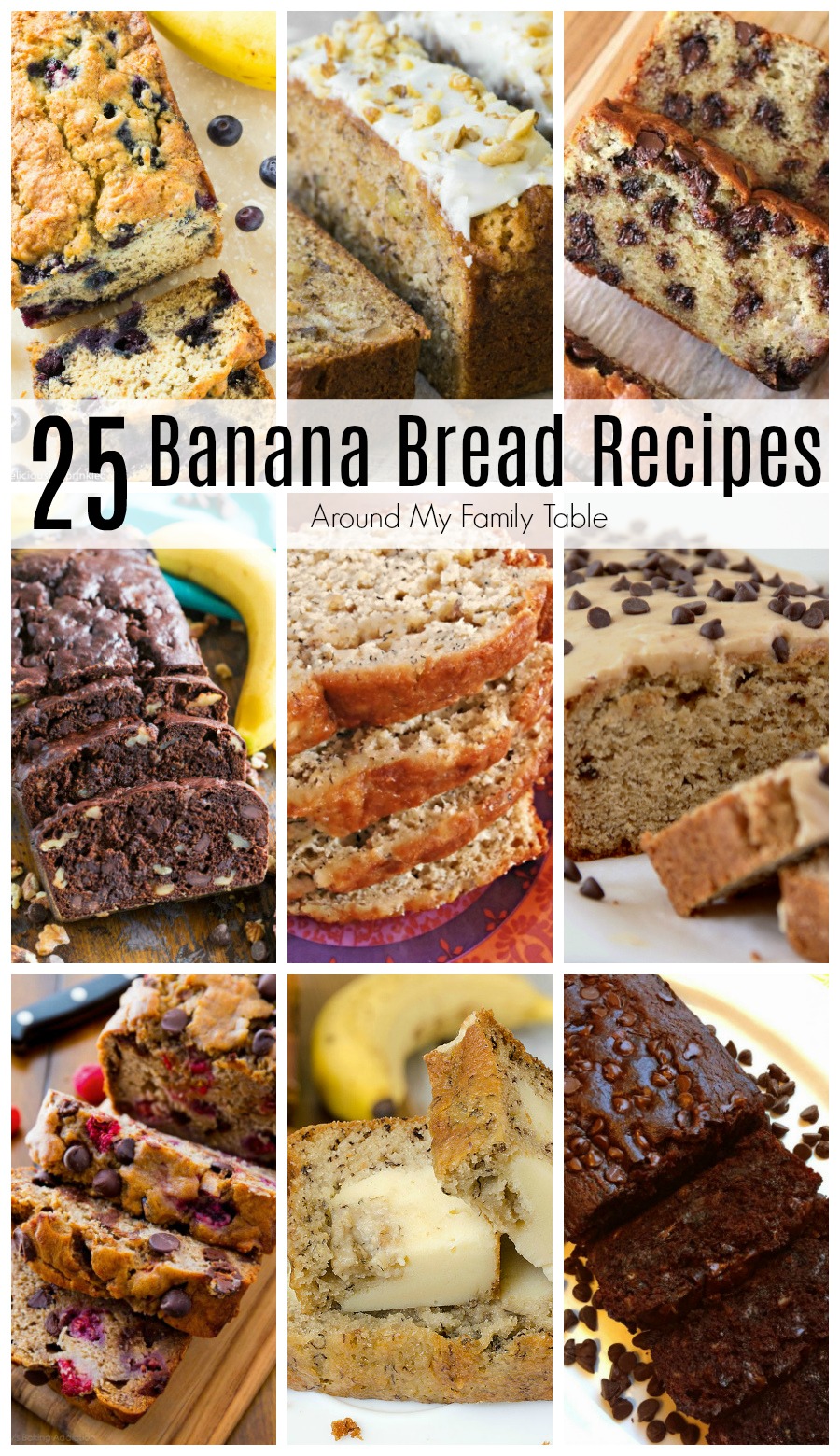 With National Banana Bread Day coming up soon, I've been seriously craving some warm fresh-from-the-oven banana bread. I plan on baking up a couple batches this week.
Now I have a confession. I don't make banana bread very often. You see, in my family, my dad is the family's banana bread expert. It's his specialty. He has been for as long as I can remember. And now that his name has affectionately changed from Dad to Papa, we've all taken to calling it "Papa Bread." Everyone looks forward to when he pulls out his loaf pans and starts to peel those ripe bananas. The smell of a fresh baked loaf of Papa's banana bread coming out of the oven is one of the most comforting fragrances I can think of. We devour it before it ever gets a chance to cool, so he always makes several loaves at a time. Some are the classic recipe, some have walnuts or pecans, some are rich and chocolatey, and some have creamy peanut butter spread over the top. All are sooooo good!
And here's another confession. I've been known to make sure there are just enough bananas sitting out on my counter when he comes over to visit. But for this week, I'll be the one wearing the apron.
You are going to love this list of 25 of the best banana bread recipes that work for just about any occasion or any time of day. Pick one that you can bake to pair with your morning coffee and a couple eggs, or pick one that works as an afternoon snack, then bake a loaf for your after dinner dessert.
Best Banana Bread Recipes
Easy Banana Bread Using A Boxed Cake Mix
Bacon Banana Bread
Peanut Butter Banana Bread
The Very Best Banana Bread Recipe
Moist Pineapple Banana Bread
Coffee Cake Banana Bread
Chocolate Chip Banana Bread
Cinnamon Crunch Banana Bread
Chocolate Banana Bread
Sour Cream Banana Bread
Snickerdoodle Banana Bread
Better Than Starbucks Banana Walnut Bread
Dark Chocolate Chip Raspberry Banana Bread
Cream Cheese Banana Bread
Gingerbread Banana Bread
Pumpkin Cheesecake Banana Bread
Strawberry Banana Bread
Rum Banana Bread
Cinnamon Sugar Zucchini Banana Bread
Toffee Pecan Banana Bread
Coconut Banana Bread
Classic Banana Bread Recipe