This post may contain affiliate links. Please read my disclosure.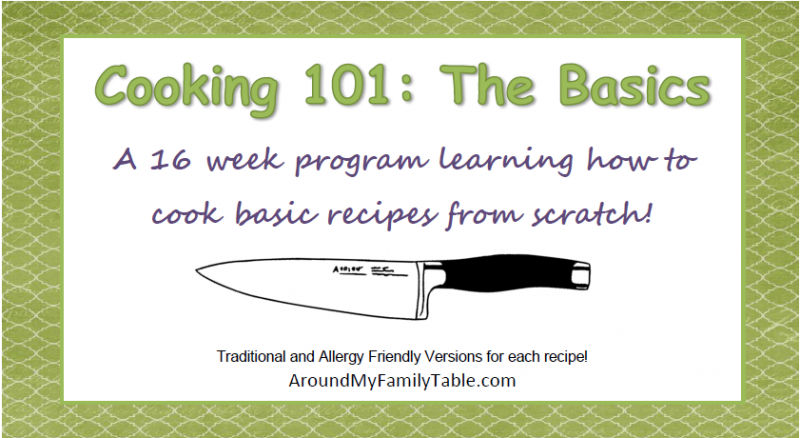 How To Sign Up:
If you'd like to join the cooking classes challenge, sign up by joining the Cooking 101: The Basics group on Facebook. Over there you can ask questions, post tips and recipe photos, and help each other along the way.
Please Grab a Button:
If you are following along, the please grab a class button. Put it on your sidebar and/or in your recipe posts you link up (just link it to my home page). I'd love for you to share the classes with your family, friends, on Facebook, and on Twitter!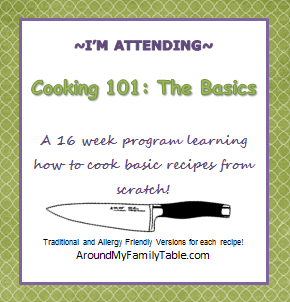 How the Classes and Challenge Work:
Cooking 101: The Basics is a 16 week class on Wednesdays. I will post a new recipe with tips on getting great results along with pictures. It's like your own personal online cooking school! Take as long as you need, but once you make the recipe (or a similar version) come back and add your link to the post to share with everyone. No blog…no worries…add your pictures to the Facebook group, we'd all love to see them!
Got questions? Email, leave a comment, but the best place will be the facebook group!
Grab your aprons and let's get cooking!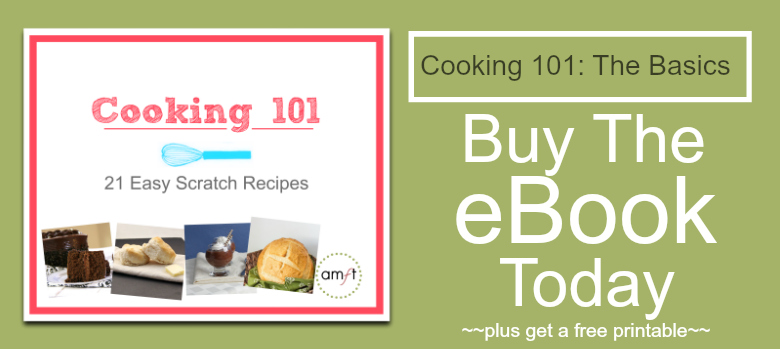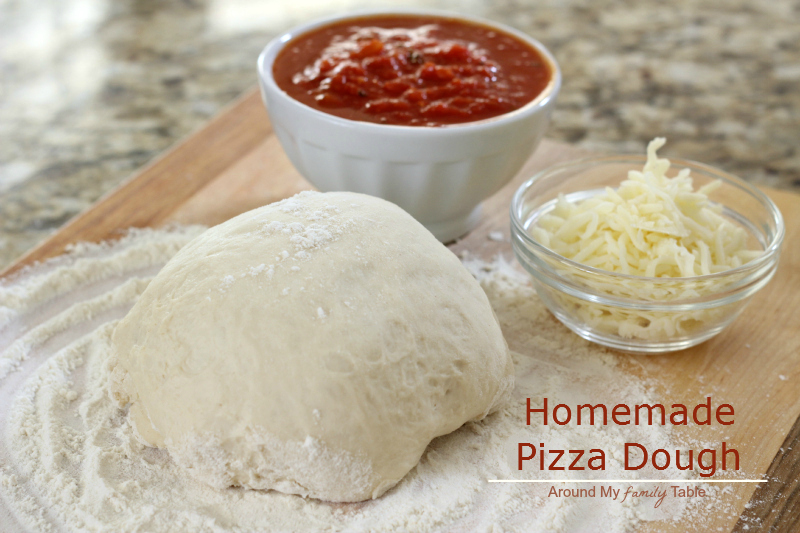 WEEK #8 – PIZZA DOUGH
I love pizza, my family loves pizza, pretty much everyone I know loves pizza. It's such an easy meal, but it can get really expensive and some places just don't taste good. The dough has no flavor, the cheese is super greasy, or there is too much sauce. Luckily making some at home doesn't have to be hard or even all that time consuming.
We have pizza night several times a month and the kids love to create their own masterpiece. I make the dough during the day and then every one tops their own pies for supper. I promise this pizza dough is easy, easy to work with and tastes awesome! It's very forgiving and you can add herbs, spices, garlic, or whatever to create your something your family will love.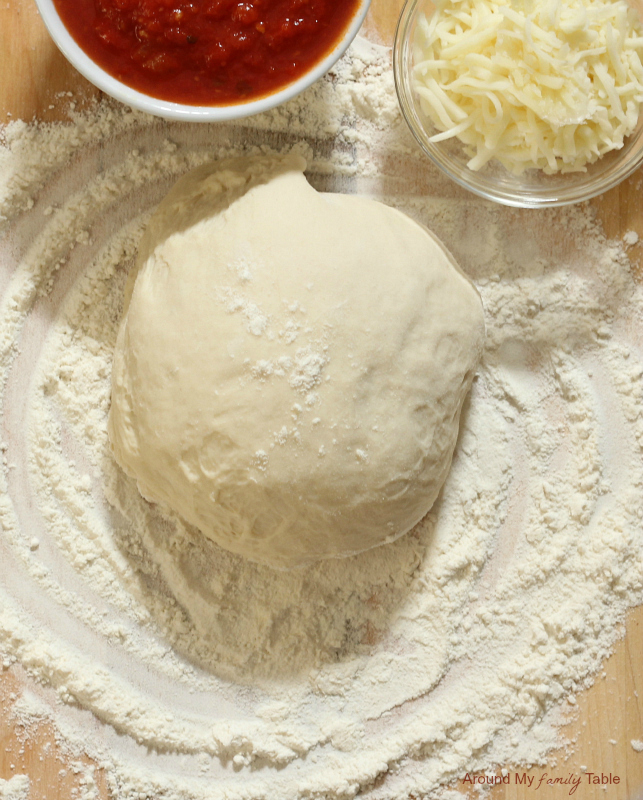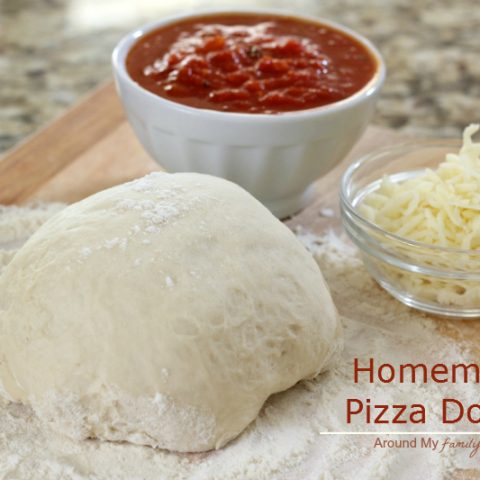 Homemade Pizza Dough
This homemade dough recipe yields enough to make 2 cookie sheet sized pizzas.
Ingredients
2 Tbsp active dry yeast (2 envelopes)
2 cups tepid water (90°F)
2 tbsp sugar
1/2 cup oil
1 tsp salt
6 cups flour, divided
4 cloves garlic, crushed
Instructions
Dissolve yeast in water and add sugar. Wait a few minutes. Add oil, salt, and garlic. In an electric mixer, mix in 3 cups flour and mix for about 10 minutes on med-low speed until the dough leaves the side of the mixer bowl. Add remaining flour w/ dough hook or by hand. Knead until smooth. Allow dough to rise in the bowl until doubled in size (for about one hour). Punch down.
Divide dough in half and roll each half out on a floured surface or parchment paper. Transfer each crust to a cookie sheet and let rise for about 20 minutes. Add desired toppings. Bake at 425° F for 20 min. Crust smells slightly like garlic bread, but as not strong.
This makes 2 cookie sheet sized.
©Around My Family Table
Notes
Nutritional information below is for an entire batch of homemade pizza dough, which yields 2 crusts.
Nutrition Information:
Yield:

1
Serving Size:

1
Amount Per Serving:
Calories:

3913
Total Fat:

121g
Saturated Fat:

9g
Trans Fat:

1g
Unsaturated Fat:

105g
Cholesterol:

0mg
Sodium:

2374mg
Carbohydrates:

611g
Fiber:

27g
Sugar:

27g
Protein:

88g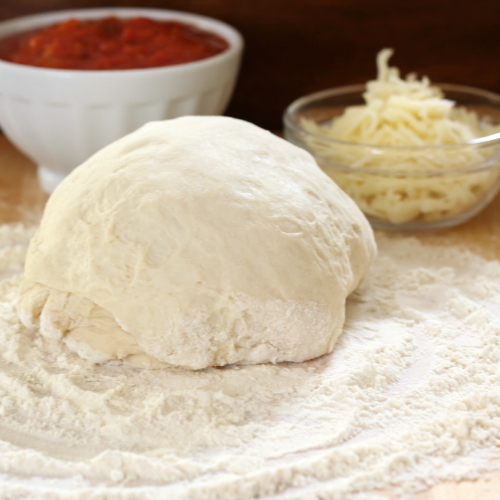 {Last week: How to Roast a Chicken Next Week: Mashed Potatoes}