This post may contain affiliate links. Please read my disclosure.
Learn How to Caramelize Onions in a Slow Cooker…it's so easy you won't believe it!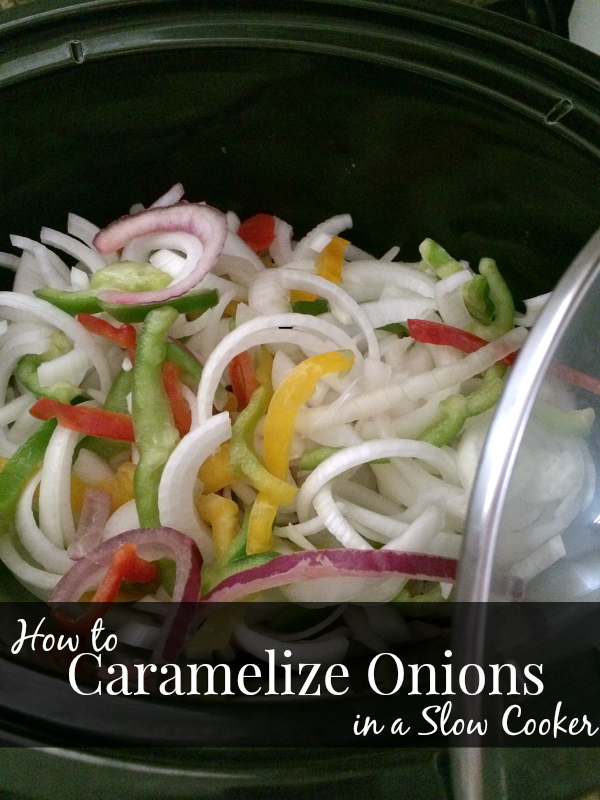 I really had no intention of writing a post about this, but my Instagram and Facebook share last week of me using my slow cooker to caramelize onions and peppers created such a stir and frenzy of people wanting to know how to do it that I thought I would quickly write for y'all.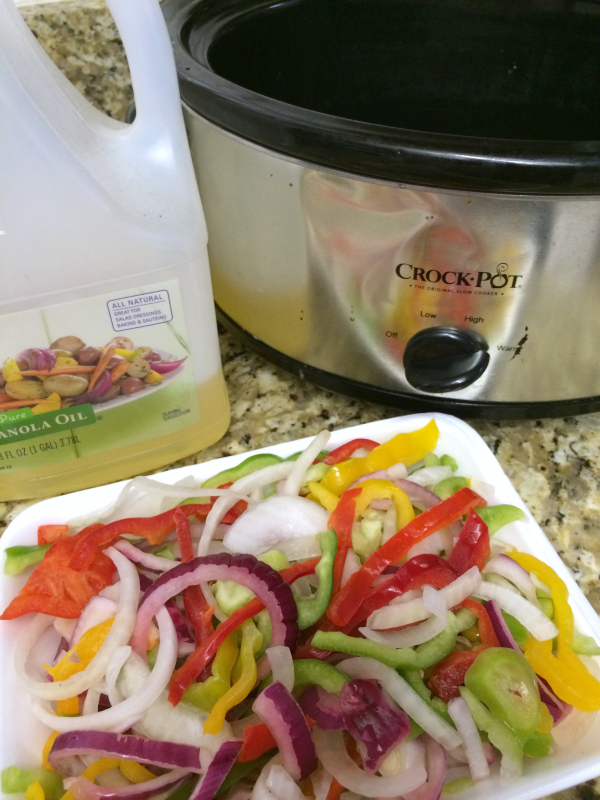 First of all…let me start off by saying, I totally cheated and bought pre-cut veggies. I was in a super hurry and had no intentions of blogging this until everyone stared asking how to do it. This is not a quick method and I still make mine on the stove most of the time; however, if you don't have time to babysit your pan of onions, you need to make a big batch, or want lots of onions for the week…then this is the way to do it!
Peel and slice as many onions and peppers as you can fit into your slow cooker. I used a mix because that's what we like; however, use all white onions or only yellow onions and red bell peppers…it's totally up to you. Add 2-3 tbls vegetable oil in the stoneware as well. Put the lid on top and turn it on high.
Every hour or so, go give the onions a stir. Just whenever you are in the kitchen getting a drink or a snack for the kids is fine. After about 2-3 hours, use a baster to remove all the liquid that is in the bottom of the stoneware. Replace lid and continue stirring and cooking for another 3 hours or so.
As you can see, the onions and peppers have really cooked down and are starting to caramelize nicely. At this point, don't put the lid on completely. You want the steam and extra moisture to escape so the onions continue to darken and caramelize. Continue stirring every hour or so.
I ended up taking mine out after about 9 hours, but wish I could have left them in 1-2 hours longer. I was headed to bed and didn't want to get up in the middle of the night to deal with them. However, it worked out great because I reheated them while we camping in hot pan over the fire and they finished up nicely and were perfect on our brats.
I don't have a final picture for you because it was so late when I finished up my onions.
Here are 16 Surprising Things You Can Make in a Slow Cooker! What do you like to make in your slow cooker?