This post may contain affiliate links. Please read my disclosure.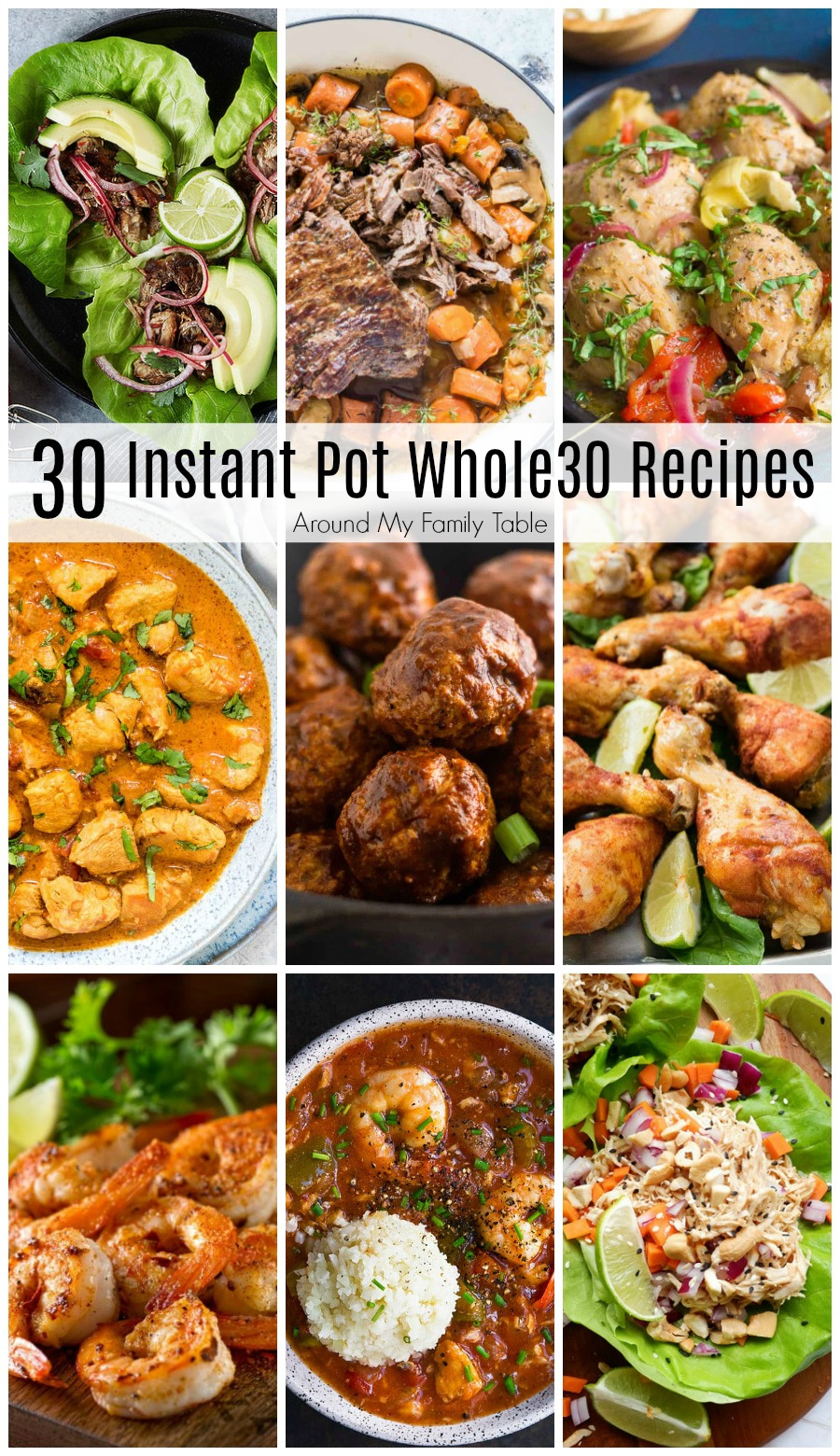 Planning for your Whole30 month doesn't have to be overwhelming. I've collected a month's worth of delicious Whole30 Instant Pot Recipes to get you through the month.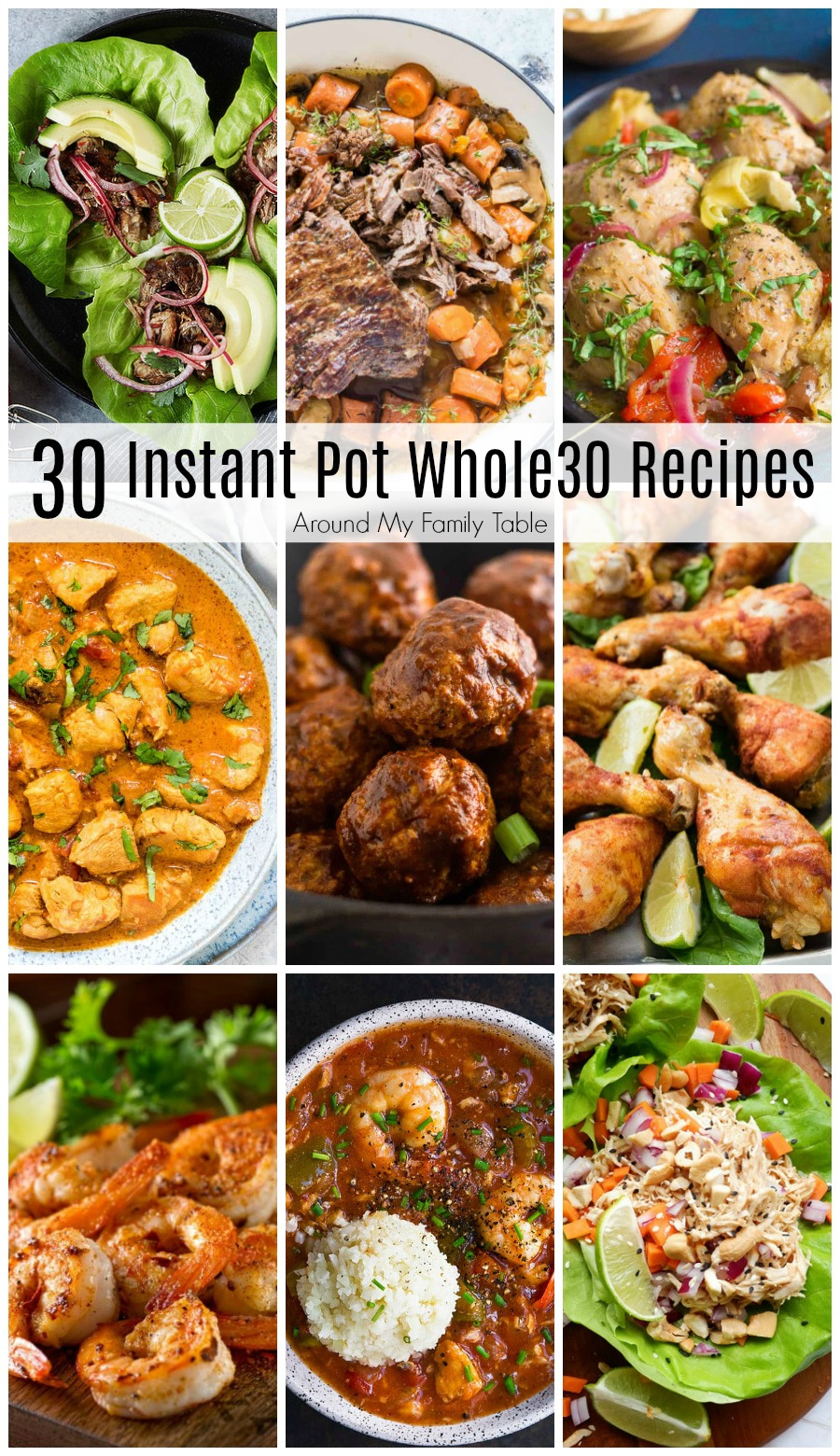 Y'all seemed to like my last Whole30 round, a month of Whole30 recipes, so I decided to take it one step further and create a roundup for 30 Instant Pot Whole30 recipes. I know a lot of you are doing Whole30 this January (including me), and since the Instant Pot makes cooking so much easier, I thought this would be helpful. If you are slow cooker fan, check out my month of slow cooker Whole30 recipes too.
This is a great time of year to set new goals, start routines, and get back to healthy eating after a winter full of indulgence and too many of those yummy holiday treats. In my opinion, following the Whole30 diet lifestyle is one of the absolute best ways to change your health for the better. If you haven't heard of it yet, the program focuses on only eating real food, while eliminating processed foods, dairy, grains, sugar, and alcohol. It sounds like a huge commitment, and it definitely is, but your health is totally worth it.
Whole30 How To Get Started
This is honestly one of the easiest "diets" I've ever done. It's straightforward and there are a ton of great recipes online and in books. It's basically an elimination diet to find out if your body is having issues processing certain foods. The easiest way to get started is to look up 5-7 recipes that sound good and go shopping. Plan every meal for every day! And make sure you have plenty of snacks…the snacks saved me!
Whole30 What Can I Eat?
Wondering what what to eat on Whole30? The better question is what can you not eat. The list of things you can't eat is small…but it eliminates a lot of the foods you are used to eating.
Whole30 What Can I Not Eat?
Whole30 foods you should avoid include: grains (wheat, rice, etc), dairy, sugar (of any kind real, fake, honey, etc), alcohol, legumes (including peanuts), MSG, baked goods with approved ingredients. For the complete rules and why these ingredients should be avoided, read here.
Instant Pot Whole30 Recipes
So how can you succeed when life gets crazy and hectic? You need to have your meals planned ahead of time. That's why I wanted to put together a bunch of yummy and filling Whole30 recipes that you can rely on. In fact, there are 30 ideas listed here; one for each night of the month. Plus, all of these recipes are made in the Instant Pot, which has become my lifesaver in sticking to this diet plan. It makes meal prep quick, which is a necessity when cooking every meal at home.
Below are 30 delicious Whole30 approved recipes that you can make in your Instant Pot! But even if you aren't doing a round of Whole30, I know this list will give you some fresh ideas for supper!!
Ginger Lime Chicken Lettuce Wraps
Fall Apart Tender Short Ribs in the Instant Pot
Paleo Instant Pot Butter Chicken
Smoked Paprika Garlic Chicken Legs
Deconstructed Chicken Mushroom Pie