This post may contain affiliate links. Please read my disclosure.
One Month of Whole30 Recipes is all you'll need to successfully complete a round of Whole30. From delicious suppers to snacks and even a few desserts. The month will fly by with the help of the recipes in this Whole30 Menu Plan!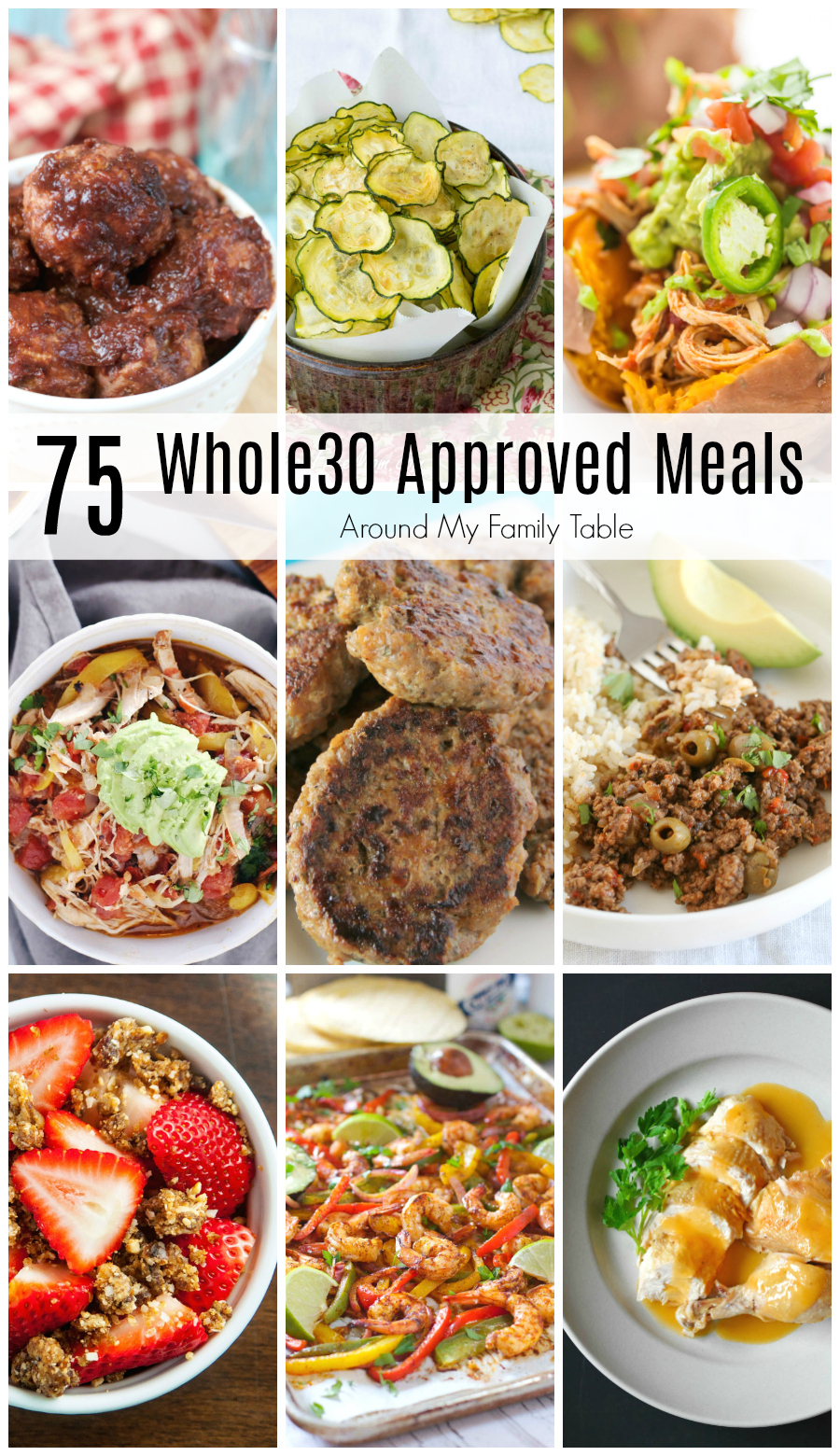 If you are planning on doing a round of Whole30 then you need this complete menu guide to get you through the month. There are more than enough Breakfasts, Lunches, and Dinners on this list to get you through the whole month with no problems. I do plan for leftovers for lunches and breakfasts which is why I've included fewer options for each of those.
Whole30 is all out getting back to basics with only fresh whole foods. You aren't supposed to recreate your favorite desserts/baked goods even with Whole30 approved ingredients. It sounds super restrictive and overwhelming at first, with the lack of sugar, dairy, grains, and processed foods…but it's easier than it sounds. The hardest part are the cravings the first week.
30 Whole30 Dinners
This selection of Whole30 Dinners got me through my first month. There is a variety of slow cooker Whole30, Instant Pot Whole30, and oven/stovetop Whole30 recipes. They are all very easy to prepare, but there are no shortcuts in Whole30 so plan to spend some time in the kitchen for supper.
Not Your Mama's Pot Roast — Slow Cooker
Perfect Roasted Chicken
Roasted Sticky Chicken
Instant Pot Mexican Stuffed Sweet Potatoes
Instant Pot Carnitas — 5 Ingredients
Sheet Pan Steak & Veggies
Sheet Pan Chili Lime Shrimp Fajitas
Pressure Cooker Kalua Pig
Pressure Cooker Summer Italian Chicken
Instant Pot Chicken & Gravy
Instant Pot Smoky Bacon Chili
Instant Pot Taco Stuffed Potatoes
Crockpot Chicken Enchilada Soup
Easy Taco Soup
Rosemary Balsamic Sheet Pan Chicken, Bacon, & Apples
Slow Cooker Chicken Cacciatore
Slow Cooker Thai Beef Lettuce Wraps
Instant Pot Crispy Mojo Pork
Instant Pot Chili Lime Steak Bowl
Chipotle Chicken Tacos
Pressure Cooker Whole Roasted Chicken
Pork Egg Roll in a Bowl
One Pan Lemon Garlic Shrimp
One Dish Chicken Fajita Bake
One Pan Salmon & Veggies Bake
One Pan Teriyaki Chicken & Veggies Bake
Garlic Herb Pot Roast
Instant Pot Buffalo Chicken Meatballs
Zuppa Toscana
Jamaican Jerk Pork Roast
Beef Barbacoa — Chipotle CopyCat
Instant Pot Chicken Soup Recipe
Instant Pot BBQ Meatballs
Instant Pot Picadillo
8 Whole30 Lunches
I ate a lot of leftovers for lunches. I would make a little bit bigger dinner or pull out my lunch portion and put it away before my family even started to eat supper. That way I knew I would have an easy lunch. However, there were a few days I needed to actually make lunch and these were delicious.
Bufflao Ranch Chicken Salad
Lettuce Taco Wraps
Chipotle Pulled Pork Lettuce Wraps
Sweet Potato Chicken Poppers
Cauliflower Fried Rice
Pulled Tandoori Chicken
Chicken Salad Boats
Jalapeno Turkey Burgers
10 Whole30 Breakfasts
Breakfasts tend to be super easy. Just eggs and bacon and I would be good; however, we love a big weekend breakfast and these totally hit the spot! There are few on this list, that are probably not Whole30 approved due to the fact that they are recreations of traditional breakfasts, like pancakes. The ingredients are Whole30 approved, so it depends on how strict you are doing the plan. For me it was more about the ingredients and detox.
Homemade Turkey Breakfast Sausage
Mini Crust-less Egg Quiches
Breakfast Casserole
Sausage & Hash Brown Egg Bake
Sheet Pan Breakfast Bake
Strawberries with Coconut Cashew Crumble
Apple Cinnamon Hot Cereal
Banana Bread Pancakes
Breakfast Pumpkin Custard
Easy Grain-Free Cinnamon Date Granola
Banana Breakfast Smoothie
5 Whole30 Desserts
Whole30 is about resetting your body and mind about food. I tried hard to not make any desserts, but there were a few nights I just really needed something to get me through to the next day and these Whole30 desserts really did the trick.
Cinnamon Roll Chia Pudding
Sauteed Apples & Pears
Double Berry Coconut Ice Cream
Rocky Road Blender Ice Cream
Grain Free Apple Crisp
Paleo Peach Cobbler
15 Whole30 Snacks
As much as I didn't want to make Whole30 Desserts…I practically lived on my Whole30 snacks. Most of the time I just grabbed a few simple things and it was totally satisfying, but a few times I actually made a snack and kept it around for a few days to munch on. These Whole30 snacks were a lifesaver!
Prosciutto & Honeydew
Plantain Chips & Salsa
Crispy Bacon & Guacamole
Sliced Mango with Tajin or Chili Powder + Lime Juice
Sliced Apple with Lime Juice
Banana with Almond or Cashew Butter & Flaked Coconut
Nuts, Dried Fruit, Flaked Coconut
Salami & Nuts
Apple with Almond Butter and/or Cinnamon
Chocolate Coconut Bites
Plantain Carnitas Nachos
Chili Rosemary Roasted Nuts
Almond Joy Lara Bars
Coconut Lime Energy Bites
Salt & Vinegar Zucchini Chips
Join the Club!
Get delicious recipes delivered straight to your inbox each week! Plus learn how to take back suppertime in your home.

And get started with my NEW Take Back Suppertime 5-Day Jump Start Guide.