This post may contain affiliate links. Please read my disclosure.
This recipe is in partnership with SPLENDA® Sweetener Products.
Serve this Layered Greek Salad for supper this week and it will be devoured in no time! Everyone loves how beautiful it is!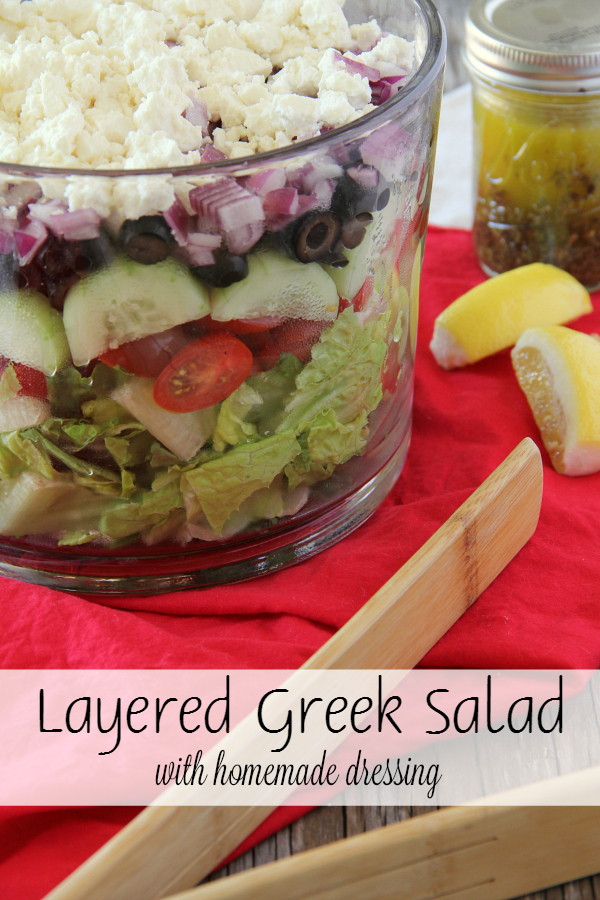 I recently hosted a dinner party for almost 20 people and it was so much fun. Yes a ton of work, but it's so worth when all sit down around the table and catch up and share stories. Since I had my hands full with the main dish, dessert, and appetizer platter, I knew I needed a simple salad that was impressive. It had to worthy of a dinner party, yet I had to be able to assemble first thing in the morning and it would hold up until supper.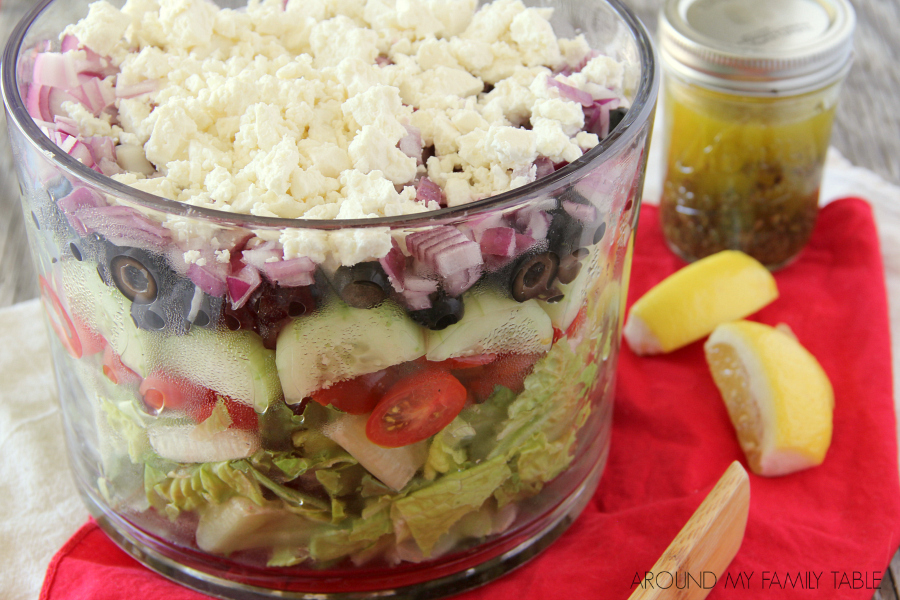 Isn't it beautiful! All those bring colors of delicious vegetables and topped with a glorious layer of 100% sheep's milk feta. Don't skimp and buy the cheap feta….go for and and splurge on the real thing…you'll be glad you did. However, I did make one swap out! I've been trying to reduce my family's sugar intake, so I swapped the sugar for SPLENDA® No Calorie Sweetener, Granulated….it is seriously the easiest swap out ever and with all the other flavors going on in the salad, no one will ever notice.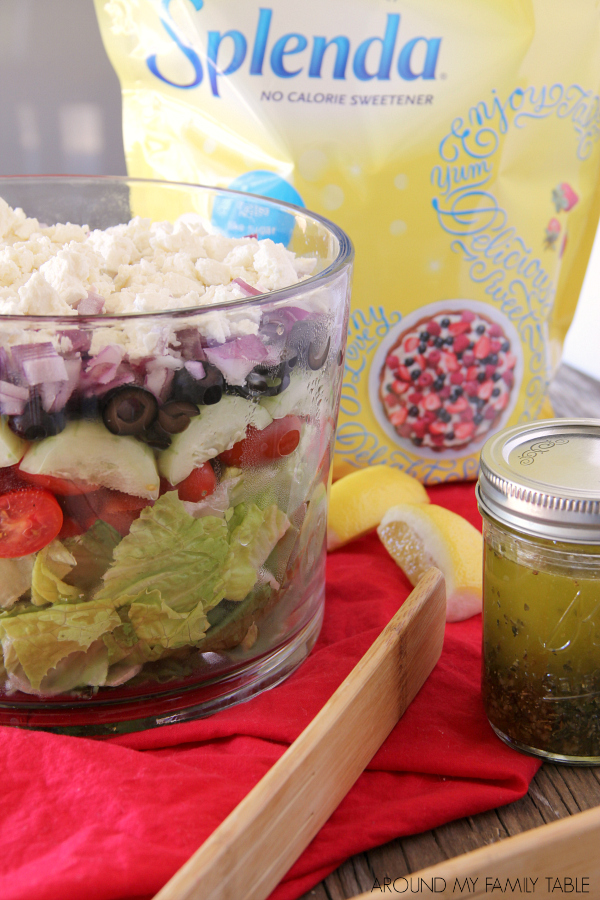 I love making my own homemade dressings! Mostly because I'm a control freak and love knowing exactly what's going in my salad and that they are so darn easy. Add all the ingredients to a mason jar and shake for a minute and presto you've got an instant homemade dressing that tastes better than any store bought brand!
If you like this salad…check out my Thousand Island Dressing Recipe and all of my other delicious salads.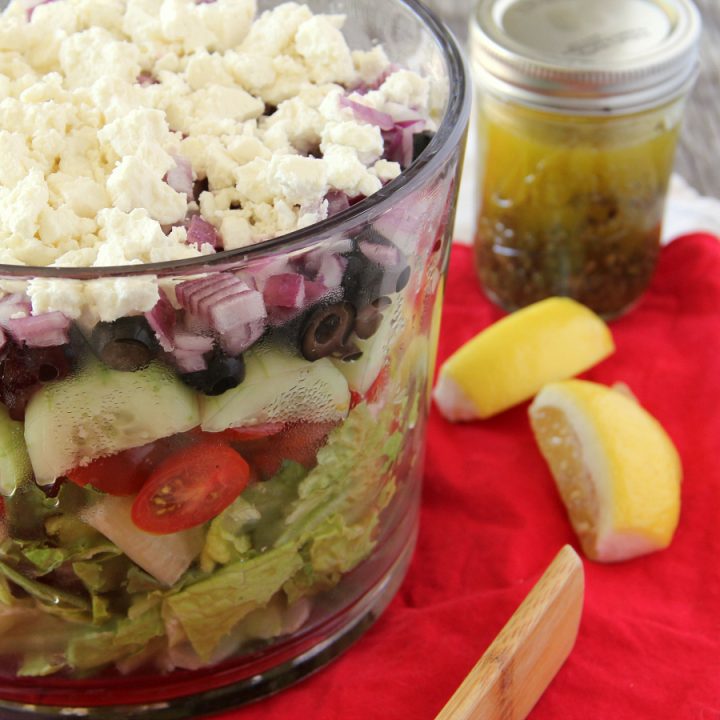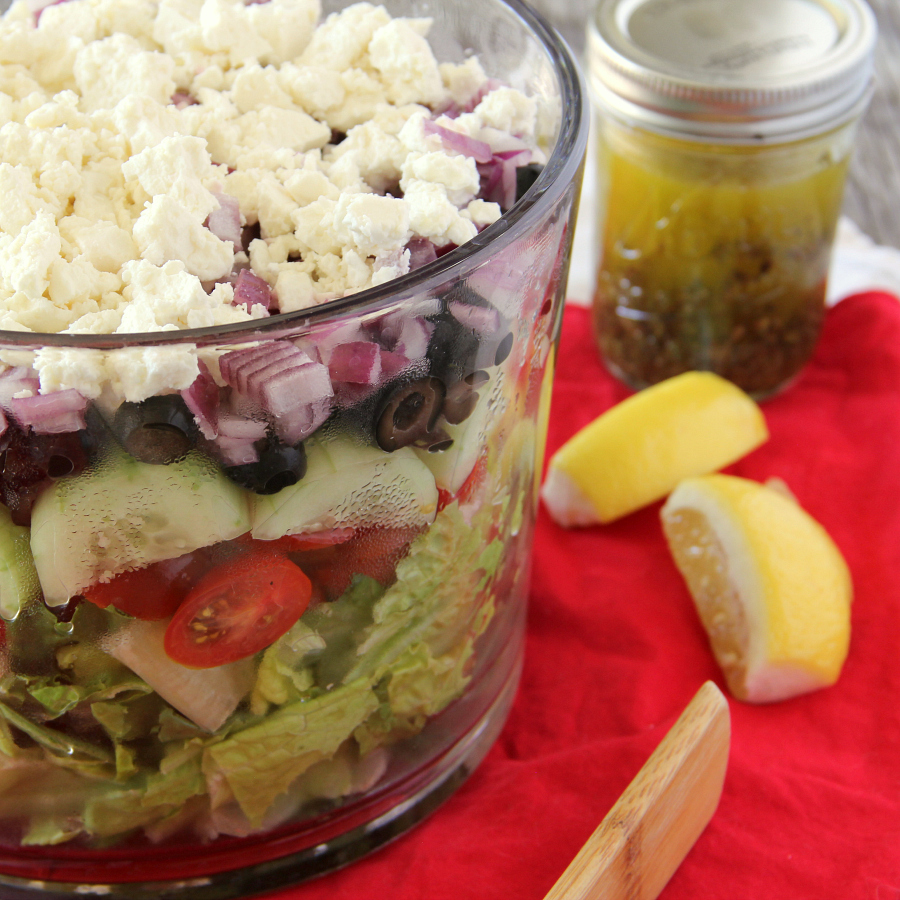 Layered Greek Salad
Serve this Layered Greek Salad for supper this week and it will be devoured in no time! Everyone loves how beautiful it is!
Ingredients
Salad
10 oz bag lettuce or 1 head washed and chopped
1 pint grape tomatoes, halved
2 cucumbers, peeled and chopped
6.5 oz can sliced black olives
1 red onion, diced
7 oz container feta cheese crumbles
Dressing
1/2 cup olive oil
1 large lemon, juiced
2 tbsp red wine vinegar
1 1/2 tbsp fresh minced garlic (about 4 cloves)
2 tsps dried oregano
1 tsp dried basil
1 tsp SPLENDA® No Calorie Sweetener, Granulated
1/2 tsp salt
1/2 tsp ground black pepper
Instructions
Layer salad in a glass trifle dish starting with the lettuce on the bottom, then tomatoes, cucumbers, olives, red onions, and ending with the feta cheese layer. Cover.
To prepare dressing, add all dressing ingredients to a mason jar, add lid and shake well to combine.
Place salad and dressing in the refrigerator to sit for a couple hours or until ready to serve. The dressing is best if it sits for a couple hours.
Notes
I usually assemble this salad first thing the morning and let it chill in the fridge until supper.
SPLENDA® Brand | Sweet Swaps | Facebook | Twitter | Instagram | Pinterest
Disclaimer: This post is part of my ongoing partnership with SPLENDA® Brand. #sweetswaps #splendasweeties