This post may contain affiliate links. Please read my disclosure.
If you are a fan of sweet & salty then you will love these Maple Bacon Scones.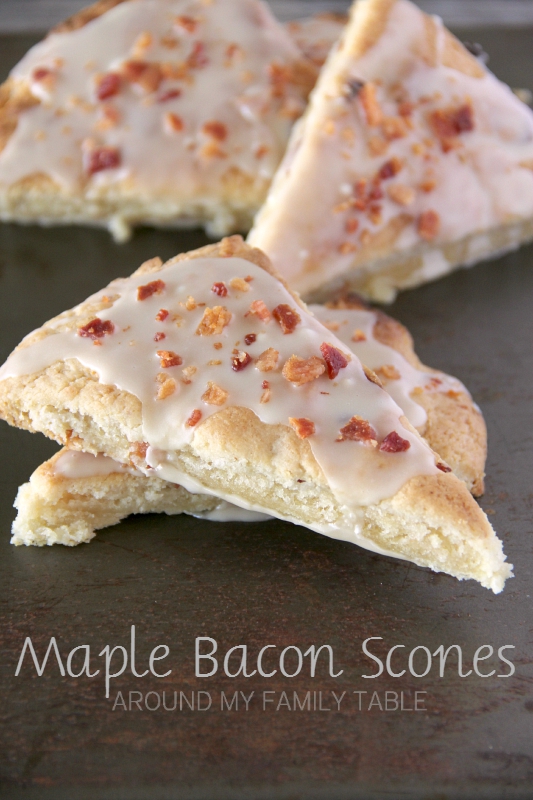 Every August, I get a little wild and crazy and add bacon to all sorts of seemingly normal foods and usually they turn out so unbelievably amazing that I can't wait to share the recipes. These Maple Bacon Scones have been on my mind ever since I made a savory bacon cheddar scone a few years ago.
Maple and Bacon are one of my favorite flavor combinations and these scones are light, sweet, salty, and the perfect breakfast for all the sweet & salty fans out there! I hope you'll give them a try!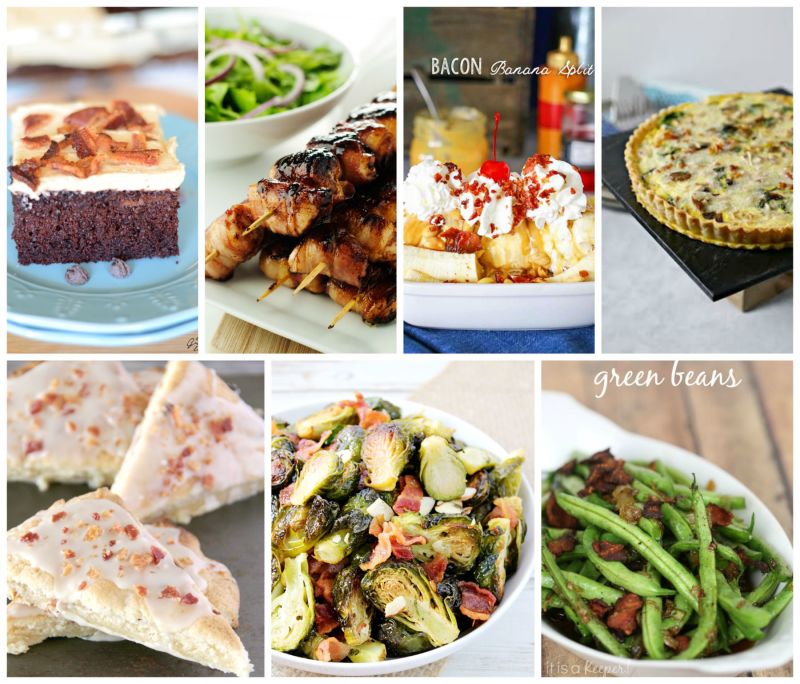 Check out some of these other delicious BACON RECIPES from my friends
Chocolate Peanut Butter Bacon Cake
Bacon-Wrapped Chicken Skewers
Bacon Banana Split
Smoky Pancetta Quiche
Maple Bacon Scones
Roasted Brussels Sprouts with Bacon and Almonds
Bacon Glazed Green Beans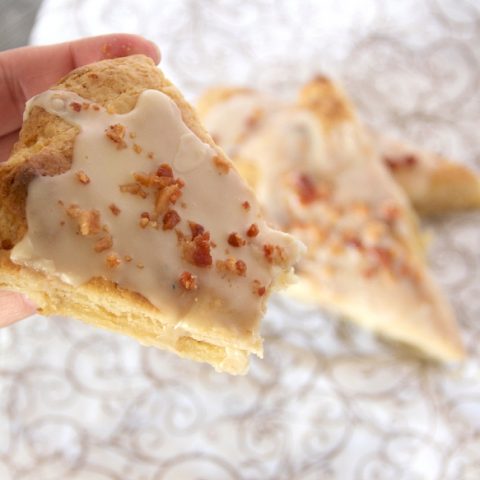 Maple Bacon Scones
If you are a fan of sweet and salty treats, then you will love these Maple Bacon Scones.
Ingredients
2 cups AP gluten free flour blend
1/3 cup sugar
1 tbls baking powder
1/4 tsp salt
1/2 cup (1 stick) butter, cut into cubes (I used Earth Balance baking sticks)
1/4 cup real maple syrup
1/2-3/4 cup milk (almond, rice, soy, cow)
6 pieces bacon, cooked (5 pieces roughly chopped, 1 piece finely chopped)
** add 2 tsps guar gum (or 1 tsp xanthan gum) if flour blend doesn't have any)**
Icing
1 cup powdered sugar
2 tbls maple syrup
splash of milk (almond, rice, soy, cow)
Instructions
Preheat oven to 450F.
In a large bowl, combine flour, sugar, baking powder, guar gum(if needed), and salt. Lightly whisk to combine. Using a pastry blender, cut in butter until it's crumbly and the size of peas. Add in maple syrup and 1/2 cup milk, adding a little more milk as needed until dough is moistened and will stick together when lightly pressed. Gently fold in roughly chopped bacon.
Turn out onto a lightly greased cookie sheet and gently press into a 10 inch circle (about the size of a dinner plate). Cut dough into 8 pieces and separate on the baking sheet so they don't bake into each other. Brush tops with a little almond milk (or milk of choice).
Bake for 15-20 minutes or until cooked and lightly golden brown. Cool before frosting.
For the icing: Combine powdered sugar and juice in a small bowl. Add juice by the teaspoon full until the icing is just barely thin enough to drizzle on scones.