This post may contain affiliate links. Please read my disclosure.
This post is in partnership with Smucker's & the National Parks Conservation Association..
Quick breads are comfort food and this Chocolate Chip Peanut Butter Banana Bread with Peanut Butter frosting will quickly become a family favorite in your home.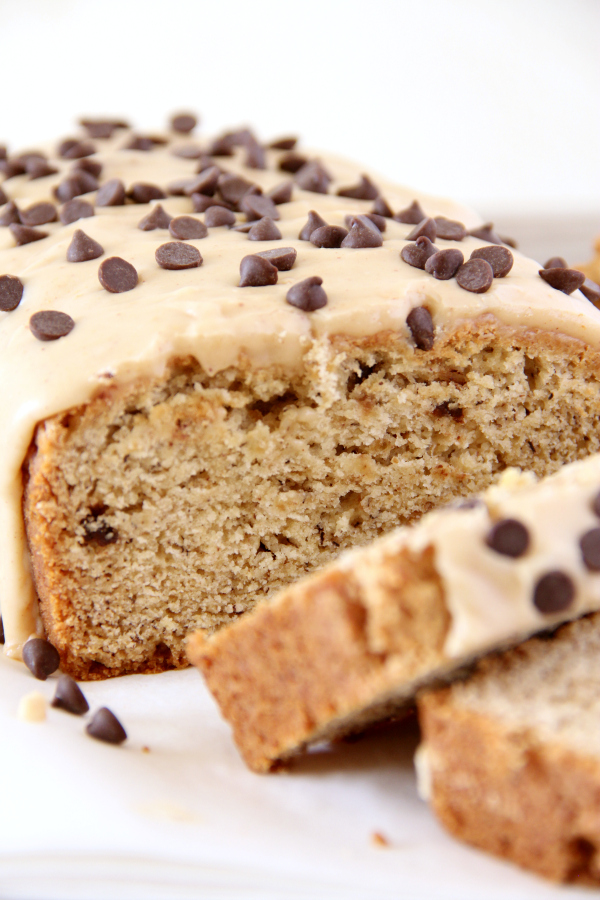 This quick bread was inspired by one of my favorite smoothies that I make all the time, Monkey Milkshakes. Something about peanut butter, bananas, and chocolate just hit all my taste buds for a delicious treat.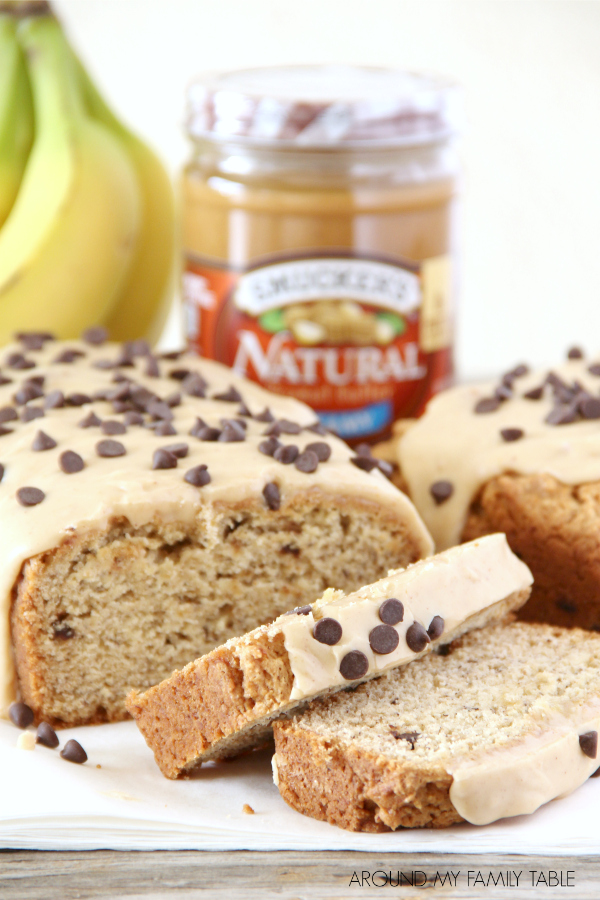 Y'all the peanut butter frosting is killer! I could seriously eat it by the spoonful…I think I saw hubbyman sneak a couple bites out of the bowl while I was doing the dishes. This Smucker's Natural Peanut Butter rocked my world. All 5 varieties are made with simple, high-quality ingredients and that means the peanut flavor really shines through.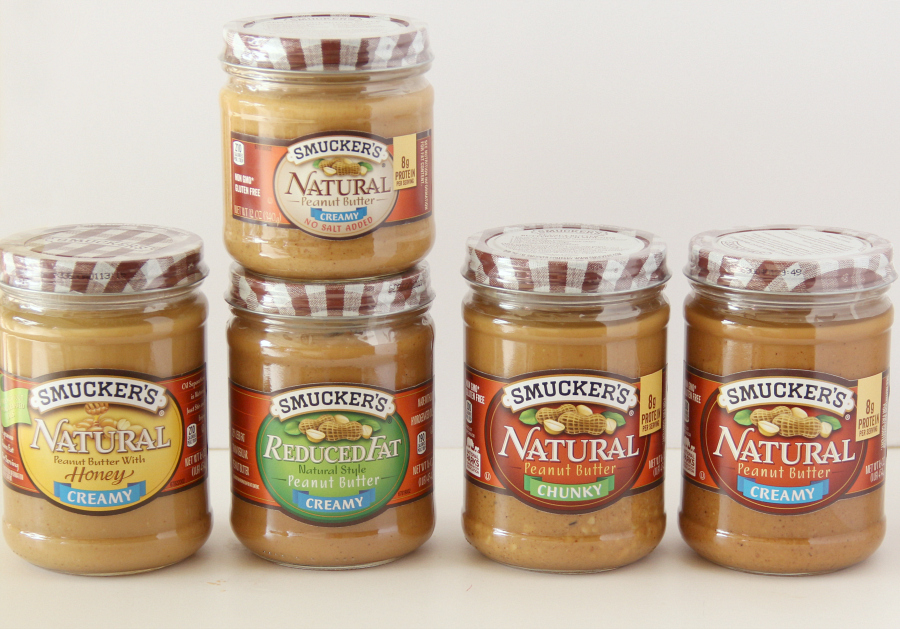 Get outside this weekend and visit a National Park! When you're in the desert, at the Saguaro National Park, you need to take some additional precautions, but the experience of standing next to the majestic saguaros is definitely something that should be on your bucket list.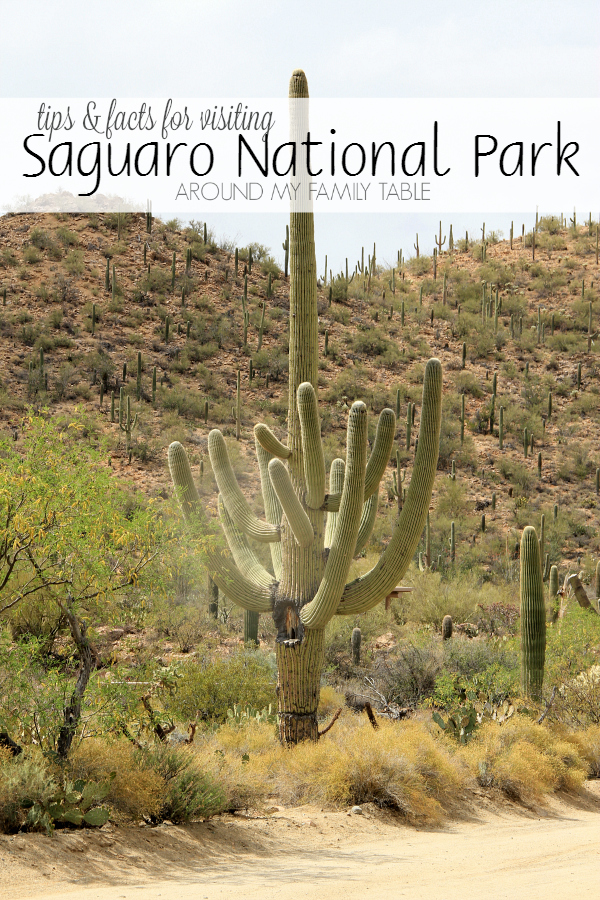 The Saguaro National Park is located in southern Arizona, near Tucson. Saguaro's are found all over the desert southwest in Arizona, but they grow in abundance here in the park. It is a very lush desert with a huge variety of cacti, trees, shrubs, and animals; however, it is one of the driest and hottest regions on the continent. With summer temps well over 100F and less than 12 inches of rain each year the plants and animals have learned to survive this environment.
Saguaros grow extremely slow and don't produce an arm until they are around 75 years old. They are home to several types of desert birds and produce beautiful flowers and fruit which are food for many desert animals. Saguaros can soak up as much as 200 gallons of water in a single rainfall which can last them an entire year.
Tips for Visiting the Saguaro National Park
Pack plenty of water and snacks. Due to it's remote location it's good to make sure you are well prepared for the desert. Never go into the desert without at least a gallon of water per person per day.
Make sure your car is in good running order. Many of the roads are dirt and some require high clearance vehicles. Since the park is located in the remote desert it's a good idea to check your car before heading out.
Pack hiking shoes, sunscreen, and a hat. There are lots of hiking trails that take you even deeper into the beautiful desert. Just use caution on the hot summer days and take plenty of water too.
Don't bother any plants or animals. There are tons of dangerous critters roaming the desert and many of the plants are protected by federal law.
Stay out of the washes. We noticed most of them are roped off, so it's a good idea to stay out. The slightest amount of rain can cause the washes to fill with water and can become dangerous very quickly.
Stop by the visitor center for information, a restroom break, a video about the park, and to pay the park entrance fee.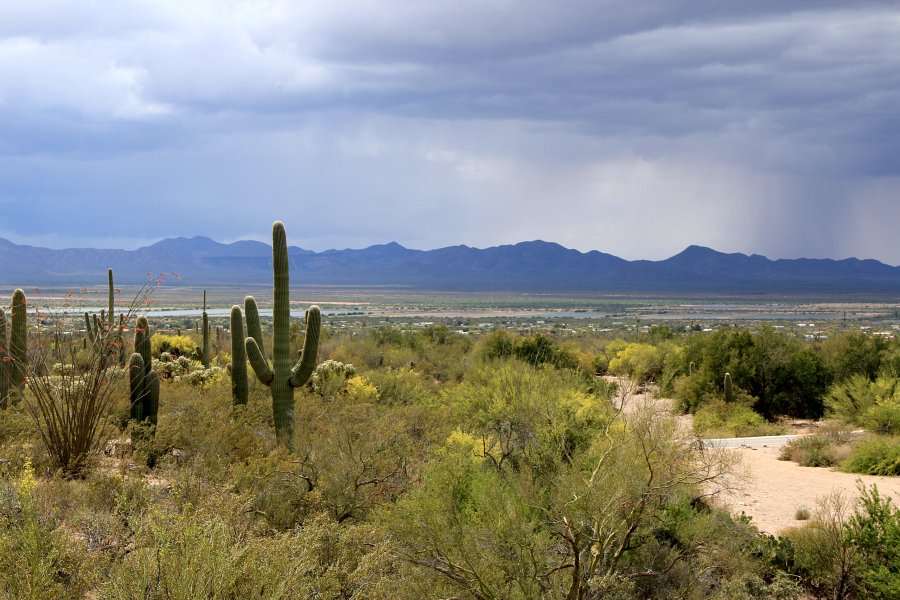 It's early April in the desert, so a spring storm is a little unusual, but we decided to make the best of the cooler temps and prayed that the rain would stay away while we visited the Saguaro National Park. We planned a small hike, a stop at the visitor's center, and to find a picnic spot for a snack before heading back home.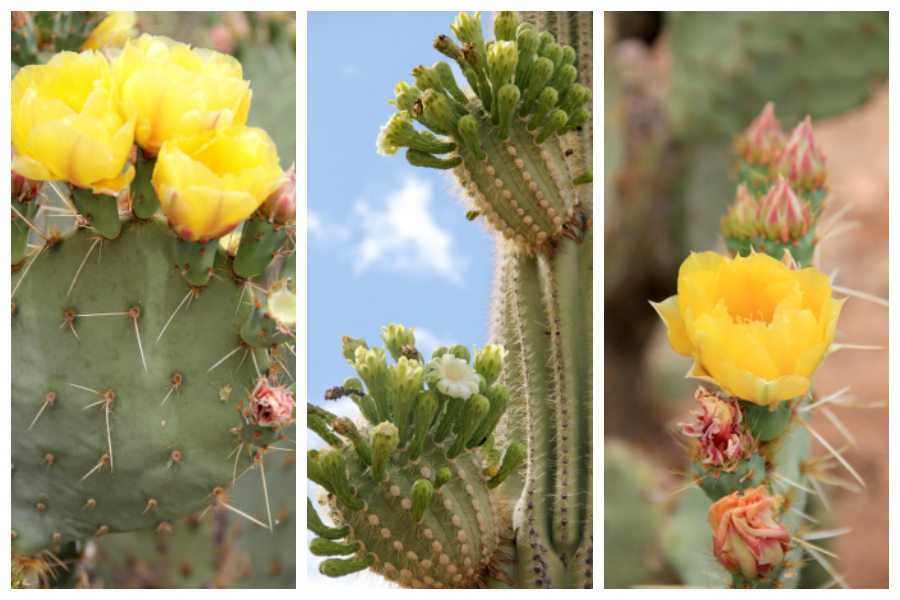 I just love it when the desert is in bloom. The bright colors pop against the green and tan backdrop of the desert.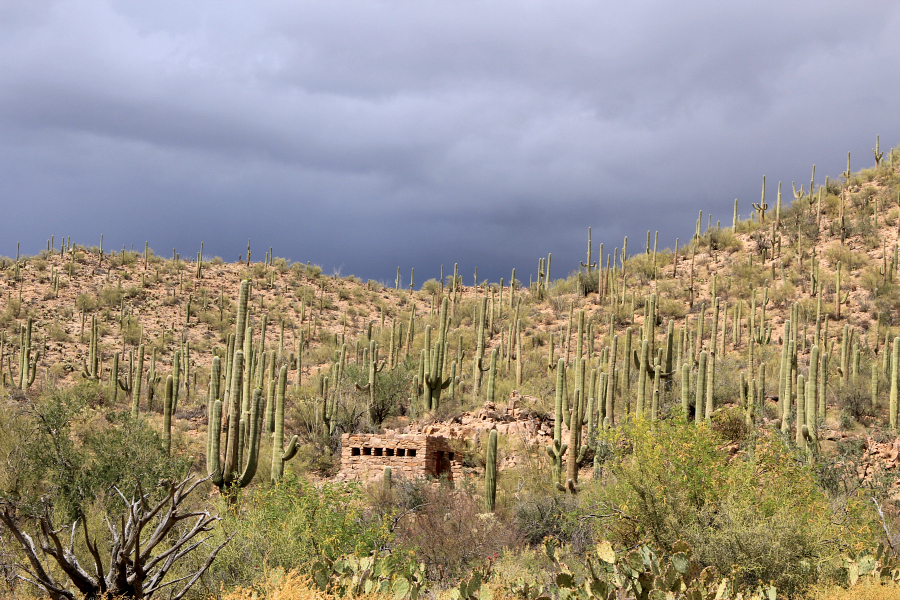 The storm clouds started to roll back in as we were getting ready to leave. There is no way we wanted to be out on the desert floor when a storm comes in…the washes fill up fast and can be deadly, so we packed up and headed home.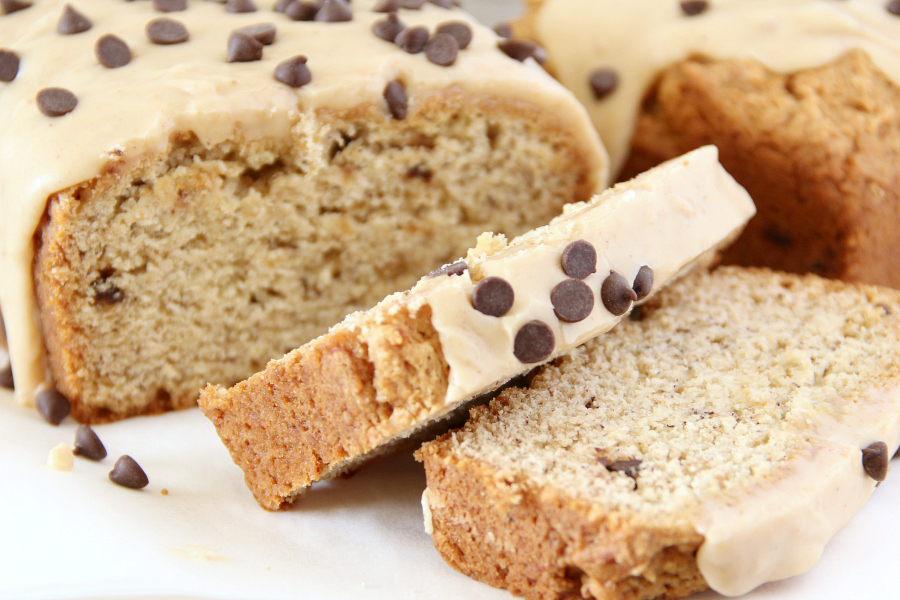 We stopped for our snack and watched the storm roll in and even watched as a little dust storm started up down in the valley below us. The kids loved it!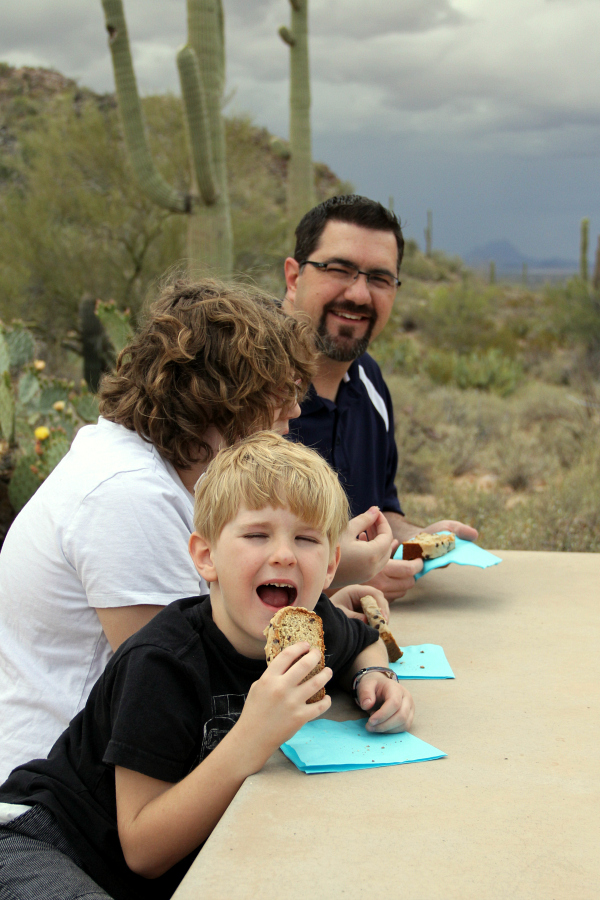 Even though we didn't get to hike too much due to the weather and impending storm we still had an amazing time enjoying the beautiful desert.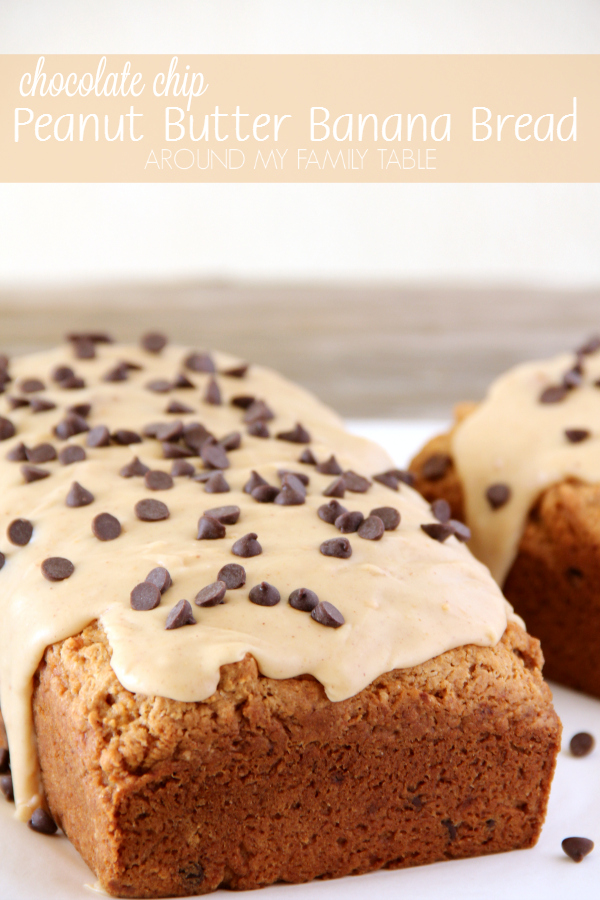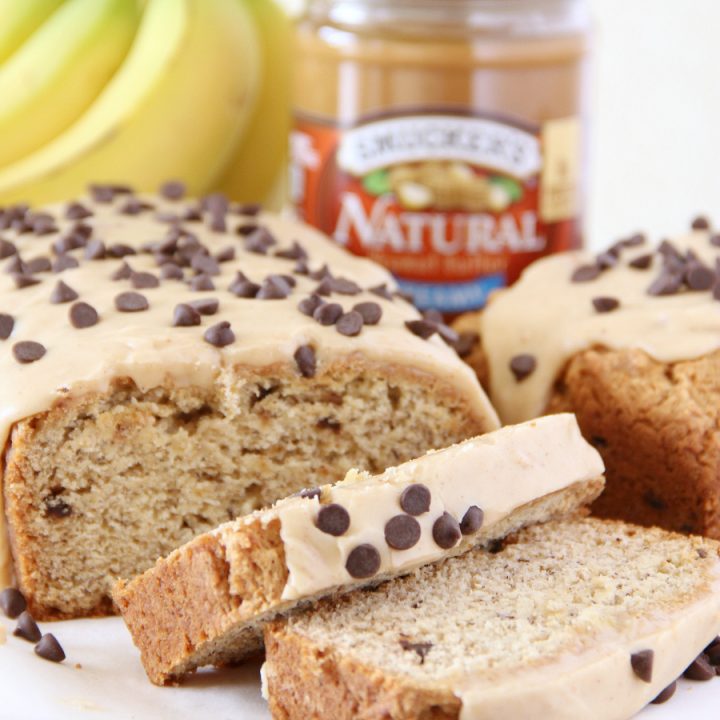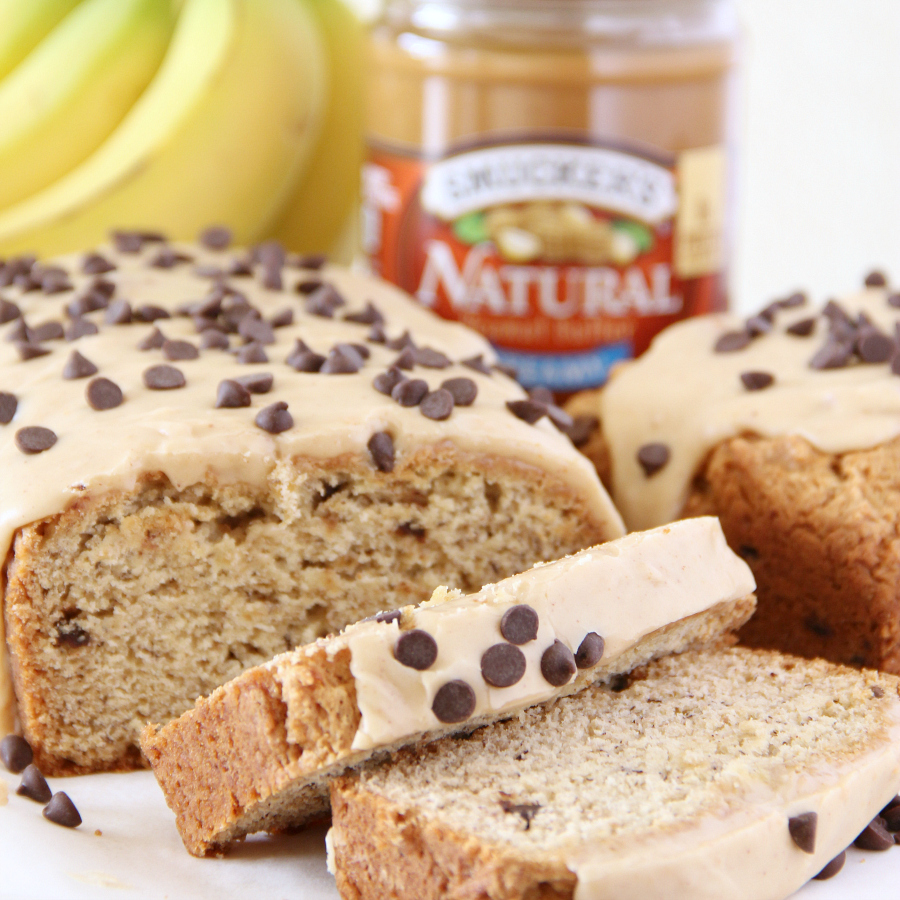 Chocolate Chip Peanut Butter Banana Bread
Quick breads are comfort food and this Chocolate Chip Peanut Butter Banana Bread with Peanut Butter frosting will quickly become a family favorite in your home.
Ingredients
1 box yellow cake mix (or 2 gluten free yellow cake mixes)
2 eggs
4 ripe bananas
3/4 cup Smucker's Natural Peanut Butter, divided
1/3 cup mini chocolate chips, divided
2 cups powdered sugar
2-4 tbls milk (soy, almond, regular, etc)
Instructions
Preheat oven to 350F. Spray 2 loaf pans with non stick cooking spray and set aside.
Smash bananas in a large bowl. Add cake mix, eggs, and 1/2 cup peanut butter to bananas and mix well by hand. Gently fold in 1/4 cup chocolate chips. Divide batter equally into prepared pans.
Bake at 350 F for 35-40 minutes or until toothpick inserted into the middle of the bread comes out clean. Remove from oven and let cool 5 minutes. After 5 minutes, remove bread from pans and let cool completely on a wire rack.
While bread is cooling, prepare frosting. In a microwave safe bowl, add 1/4 cup peanut butter and heat for 20-30 seconds (it helps it mix better with the sugar). Add sugar and 2 tbls of milk to the peanut butter and stir until smooth. If needed, add additional milk just until the frosting is smooth and thin enough to spread on the bread. Use an offset spatula to spread on bread and top with remaining chocolate chips. Let frosting set up before serving.
Notes
Note: I use bananas that are too ripe to eat, so I throw them in the freezer until I have enough for this recipe. Just thaw them and then mash them up.*
Nutrition Information:
Yield:

12
Serving Size:

1 slice
Amount Per Serving:
Calories:

190
Total Fat:

2.8g
Carbohydrates:

40g
Protein:

3.7g
Disclaimer: This post is in partnership with Smucker's & the National Parks Conservation Association.