This post may contain affiliate links. Please read my disclosure.
Pumpkins are the perfect fall food. They are delicious in savory recipes as well as sweet ones. A big bowl of warm creamy Pumpkin Soup on a cold fall day is perfection!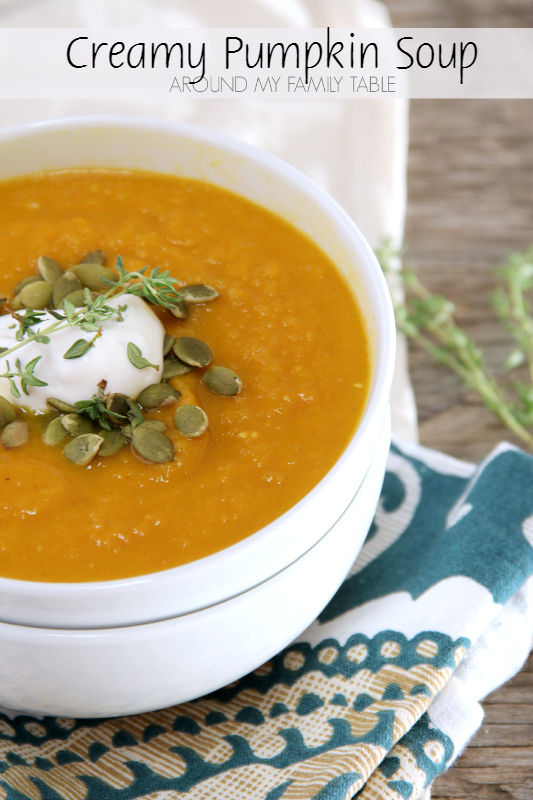 I love a big bowl of this creamy pumpkin soup all season long. When pumpkins start hitting the stores, I usually grab a bunch and make up my own homemade canned pumpkin puree. If that's too much work, you can easily use a can of store bought pumpkin puree….just don't grab the pumpkin pie filling.
Check out all my Easy Pumpkin Recipes!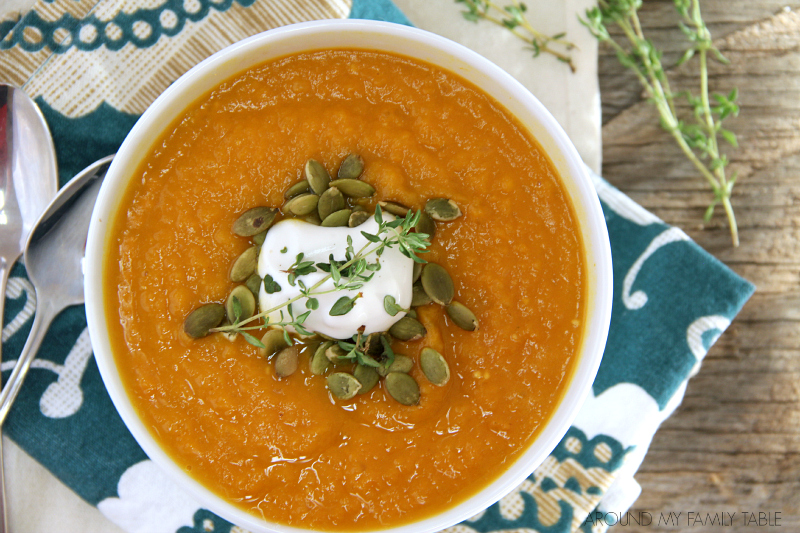 Isn't the color of this soup amazing! There really isn't anything else to say except that if you love pumpkin in savory dishes then this is a must try. Fresh apples provide just a hint of sweetness, but I love the saltiness of the pepitas..they are the perfect topping. You have to hunt some down for this dish. I find them at my local grocery store, but places like Trader Joes and Whole Foods carries them too.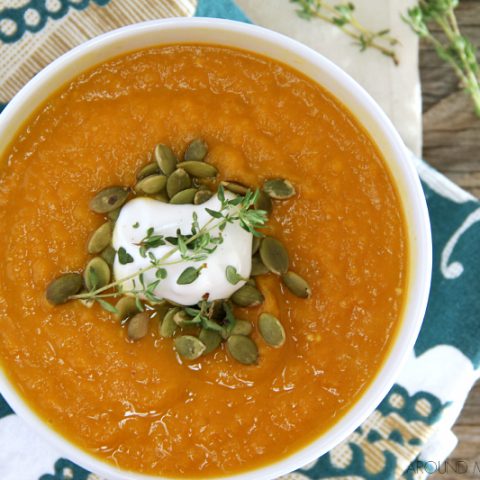 Pumpkin Soup
A big bowl of warm creamy Pumpkin Soup on a cold fall day is perfection!
Ingredients
1 onion, roughly chopped
1 apple, roughly chopped
1 tbls butter (soy based or traditional)
1 clove garlic, minced
1 tbls fresh grated ginger
2 cups pumpkin puree
2-3 cups chicken stock
Garnishes
sour cream (regular or dairy-free)
thyme
salted roasted pepitas
Instructions
In a large stock pot, saute onion and apple in butter just until tender over medium high heat. Stir in garlic and ginger and heat until you can smell it (about 1 minute).
Add the remaining ingredients (except the garnishes) to the pot and simmer for 10 minutes. Using an immersion blender, puree ingredients until desired consistency. If it's too thick add a little additional stock to thin it out.
Top with garnishes of choice.
Note: You can puree soup in a blender, just do it in small batches and leave the lid off just bit (hold it still though or you'll have a huge mess). Return to pot and thin if necessary.