This post may contain affiliate links. Please read my disclosure.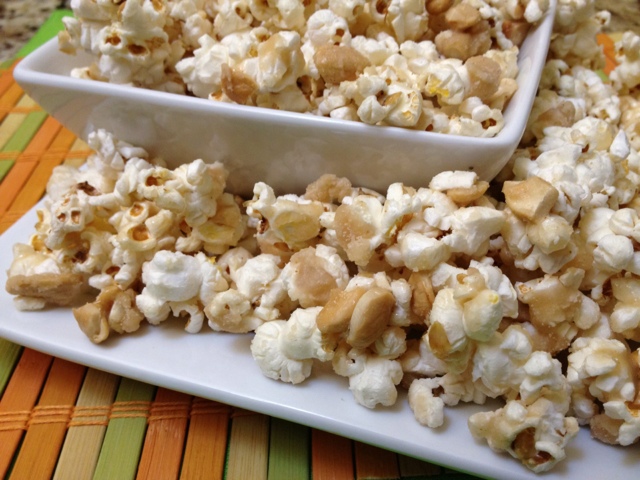 Today's popcorn post come's from my dear friend Denise from Creative Kitchen. We were online acquaintances in some food blogger groups for awhile before we finally got to meet in person in Chicago last January for the Kenmore Blogger Summit and then again in New York for Sandra's Summer Carnival. We, of course, hit it off immediately…we have so much in common. I'm so thrilled be able to see her again for another event in Chicago next weekend.
Hi everyone! It's great to be guest posting here at Around My Family Table. My name is Denise and I blog over at Creative Kitchen. I am a married, homeschool mom of 3 girls living in South Florida. I mainly share recipes I create, but always the focus is on real food made from scratch. We love Disney, traveling, and adventures. Aside from cooking, I love kayaking, running, biking, camping and basically anything outdoors. I love being surrounded by nature…the sky, the beach, the mountains and TREES!!
I was flattered when Wendy asked me if I wanted to share a recipe with you guys. I met Wendy last January at the Kenmore Blogger Summit in Chicago and we hit it off immediately. Did you hear that we both flew into a BLIZZARD? Kinda funny when you consider we both live in warm climates where it doesn't snow! I was even more excited that I got to spend time getting to know her better in New York City at Sandra Lee's Summer Carnival last April.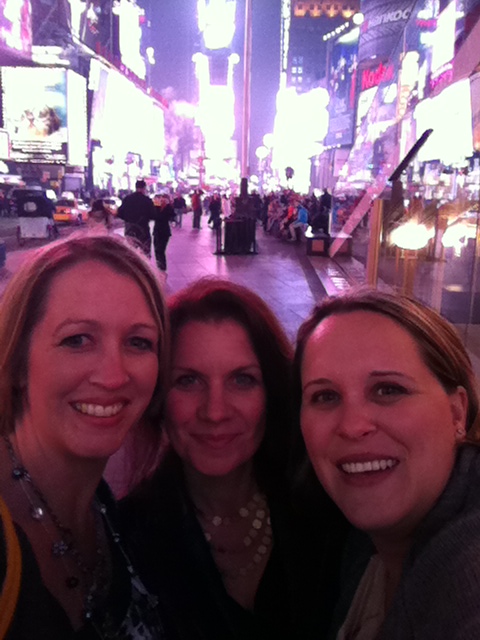 Kristen (Dine and Dish), Me, and Wendy in Times Square
We were like giddy school girls when we set out to explore Central Park and other sights of NYC together. It was the first time either of us had been to New York City, and we even got to explore Times Square. I hope we get to attend more blog events in the future. She's so much fun!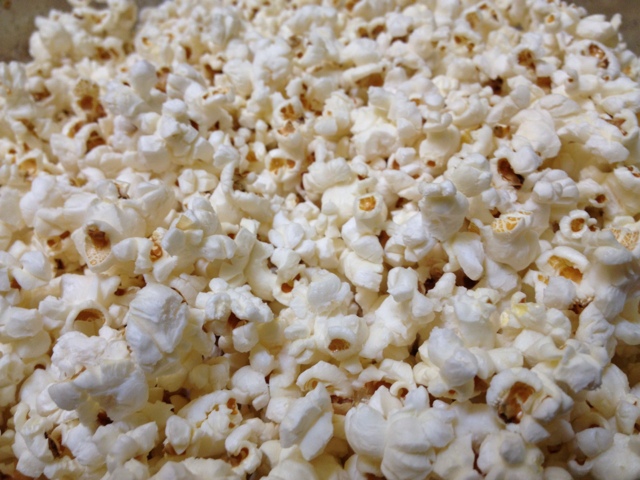 October is the perfect month for popcorn recipes, don't you think? I love fall…it's my favorite season, and I seem to know many women who feel the same way. As much as I love living in South Florida, what I miss the most from growing up in the north is the changing of seasons. We don't have them here. I miss the seeing the leaves change color over the course of weeks, the crisp chill in the air and the weather growing progressively colder. The crunch of the leaves under my feet, the smell of autumn and the anticipation of the holidays.
I decided on this maple popcorn cashew crunch…and it's even got a little kick to it. Of course if you don't like a little heat, by all means leave the cayenne pepper out. Just pop up your popcorn as you normally would and set aside on a jelly roll pan. Stir in the cashews.
Then add butter, sugar, maple syrup, salt and cayenne pepper in a medium saucepan. Bring to a rolling boil on medium high heat, and boil for 1 minute while stirring constantly. Remove from heat and drizzle over the popcorn quickly. Then take a wooden spoon and your hands and try to stir to coat all the popcorn with the maple sugar mixture.
That's it! Super easy!! My girls loved every last bite of it. It will keep for a couple days covered, but probably won't last that long.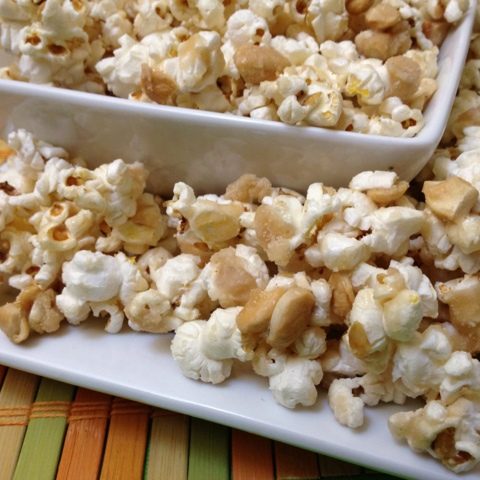 Slightly Spicy Maple Cashew Crunch Popcorn
This popcorn recipe for Slightly Spicy Maple Cashew Crunch is a guest recipe, from Denise at Creative Kitchen.
Ingredients
10 cups popped popcorn
1/2 cup cashews, broken in pieces
1 Tbsp butter
1/3 cup sugar
1/3 cup maple syrup
1/2 tsp sea salt
1/8 tsp cayenne pepper
Instructions
Stir cashews with popcorn on a jelly roll sheet and set aside.
In a medium saucepan, melt the butter over medium heat. Add in sugar, maple syrup, salt and cayenne pepper.
While stirring constantly, bring to a boil and boil for 1 minute.
Drizzle sugar mixture over popcorn and cashews. Mix in with a wooden spoon and your hands till popcorn is coated.
Notes
~slightly adapted from myrecipes.com
Nutrition Information:
Yield:

10
Serving Size:

1 cup
Amount Per Serving:
Calories:

147
Total Fat:

7g
Saturated Fat:

2g
Trans Fat:

1g
Unsaturated Fat:

5g
Cholesterol:

3mg
Sodium:

231mg
Carbohydrates:

20g
Fiber:

1g
Sugar:

13g
Protein:

2g