This post may contain affiliate links. Please read my disclosure.
Everything you love about the drink, wrapped up into these scrumptious little Tequila Sunrise Cupcakes. Yes, even a hint of tequila!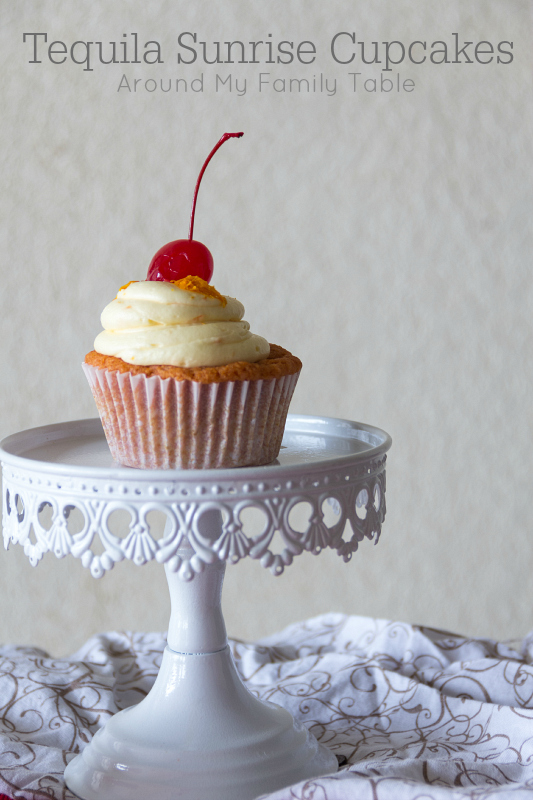 I love taking amazing drinks and other flavors and turning them into cupcakes! So I turned one of my favorite drinks into this amazing cupcake….and let me tell you…they are amazing! A hint of grenadine in the batter and a splash (or two) of tequila in the buttercream takes this cupcake over the top!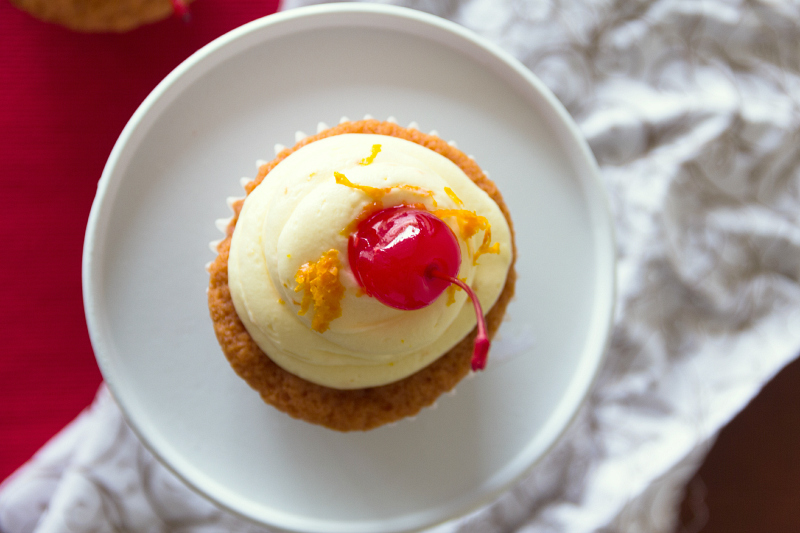 Today, in honor of my friend Aubrey's birthday, I'm sharing this cupcake. Make sure to keep reading tons of other surprise birthday treats from some amazing bloggers!
Let's get back to the cupcake, shall we. I used my favorite white cupcake recipe and tweaked it for this grenadine flavored cupcake. If you don't have time for scratch cupcakes, just try replacing the liquid in your favorite box mix with grenadine. Warning…the cupcake centers may fall….that's okay because you will just have room for more frosting! Mmmm…more frosting!
And this frosting is KILLER! You are gonna love it. Fresh squeezed oranges with zest plus a splash of tequila…oh man…I'm drooling just thinking about it again.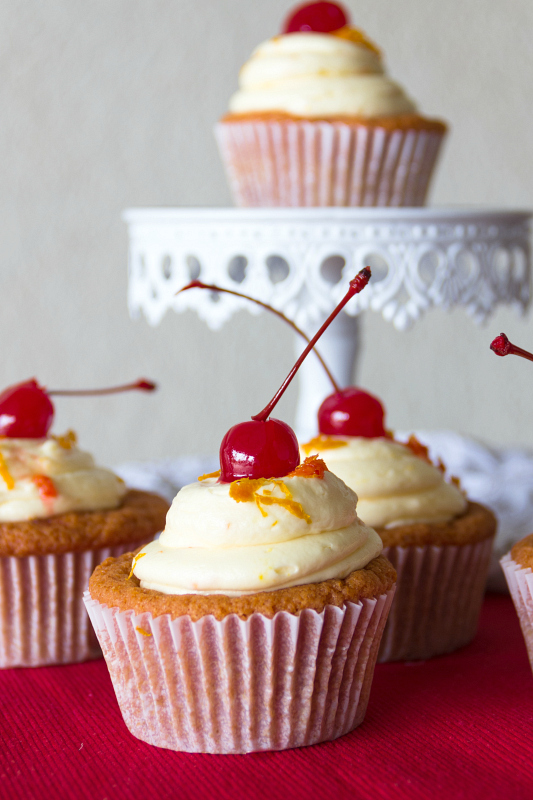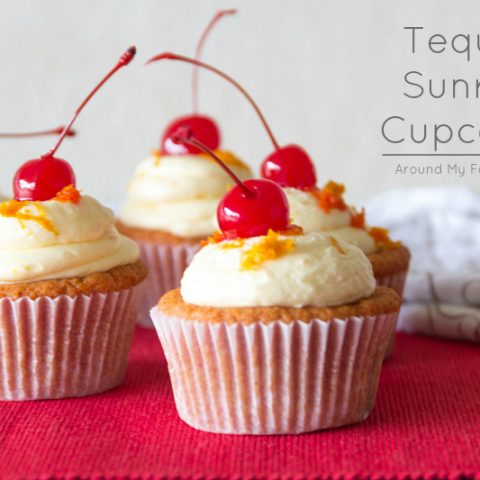 Tequila Sunrise Cupcakes with Tequila Orange Buttercream
Tequila Sunrise Cupcakes-- a grenadine cupcake with tequila orange buttercream. A delicious boozy dessert!
Ingredients
For the cupcakes
2 3/4 cups all-purpose flour (or a gluten-free blend)
1 1/2 cups, plus 2 tbs sugar
1 tbs baking powder
12 tbs butter, softened (or dairy-free butter)
4 large egg whites
1 large egg
3/4 cup sour cream (or dairy-free substitute)
1/4 cup grenadine
2 teaspoons vanilla extract
Tequila Orange Buttercream (recipe follows)
2 cups butter flavored shortening
2 tbsp tequila
2 lbs confectioners sugar
juice and zest of 1 1/2 medium oranges, divided
Instructions
Preheat oven to 350 F.
Mix all the dry ingredients in a mixing bowl fitted to an electric mixer. Add softened butter and combine on low speed.
Add egg whites, one at a time, then beat mix in whole egg.
Gently stir in sour cream, grenadine, and vanilla, beating to keep the mixture fluffy.
Evenly distribute into 24 cupcake tins (using paper liners).
Bake at 350F. Bake for 18 minutes, then check every few minutes (5 minute intervals at the most) for cupcakes.
Let cool and frost with Tequila Orange Buttercream. Garnish with more orange zest and a maraschino cherry.
*Gluten Free/Vegan Option:
Use my GF flour blend (or one that subs cup for cup) plus 11/4 tsp xantham gum, use dairy free/vegan options for the butter and sour cream, sub 3 servings egg replacer for the eggs.
For the Frosting
Beat together shortening and tequila until smooth and creamy. Beat in the sugar gradually on a low setting. Scrape sides of bowl as needed.
Mixture will be very thick. After all sugar is incorporated, add all the orange zest and 1-2 tbls of orange juice and beat at medium/medium-high speed for 1-2 more minutes. Adding more orange juice will continue to thin the frosting consistency and bring down the sweetness even more. Add as much as you like to get the appropriate flavor and consistency. Be careful because a little goes a long way.
Frosting should be a medium consistency for frosting cupcakes (meaning, when you drag a knife through the frosting there will be a gap where the frosting was and the walls of the frosting will start to barely fold in on itself).
The frosting can also be made several days in advance and stored in an airtight container in the refrigerator. Bring to room temperature, then mix well before using. Leftovers should be refrigerated.
Nutrition Information:
Yield:

24
Serving Size:

1
Amount Per Serving:
Calories:

437
Total Fat:

23g
Saturated Fat:

14g
Trans Fat:

1g
Unsaturated Fat:

7g
Cholesterol:

68mg
Sodium:

251mg
Carbohydrates:

55g
Fiber:

1g
Sugar:

42g
Protein:

3g