This post may contain affiliate links. Please read my disclosure.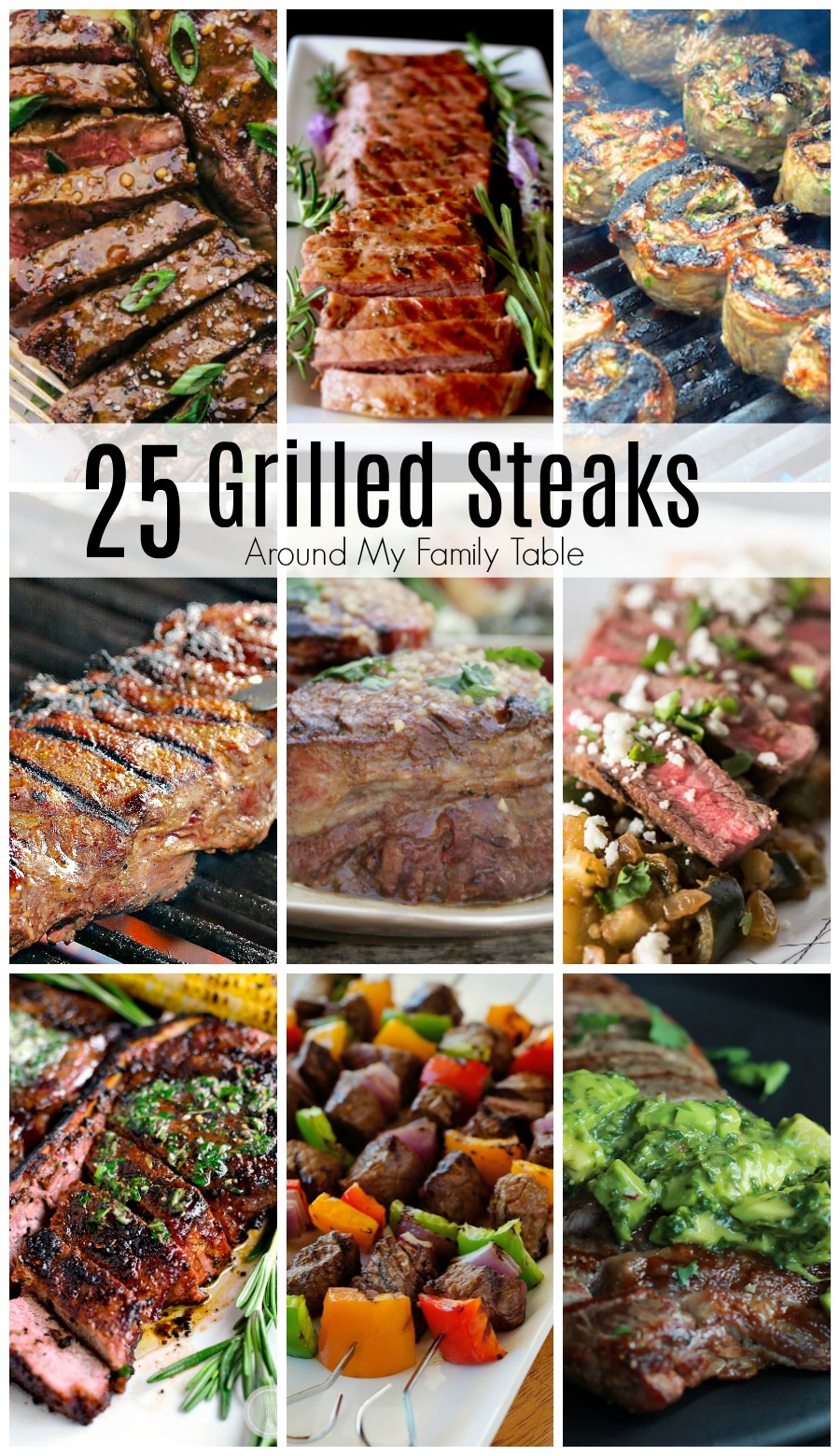 Fire up the grill! Americans love beef, especially if it is a juicy, tender steak. If grilled steak is on your menu this summer, these 25 Grilled Steak Recipes will really add some flavor to your backyard barbeque feast.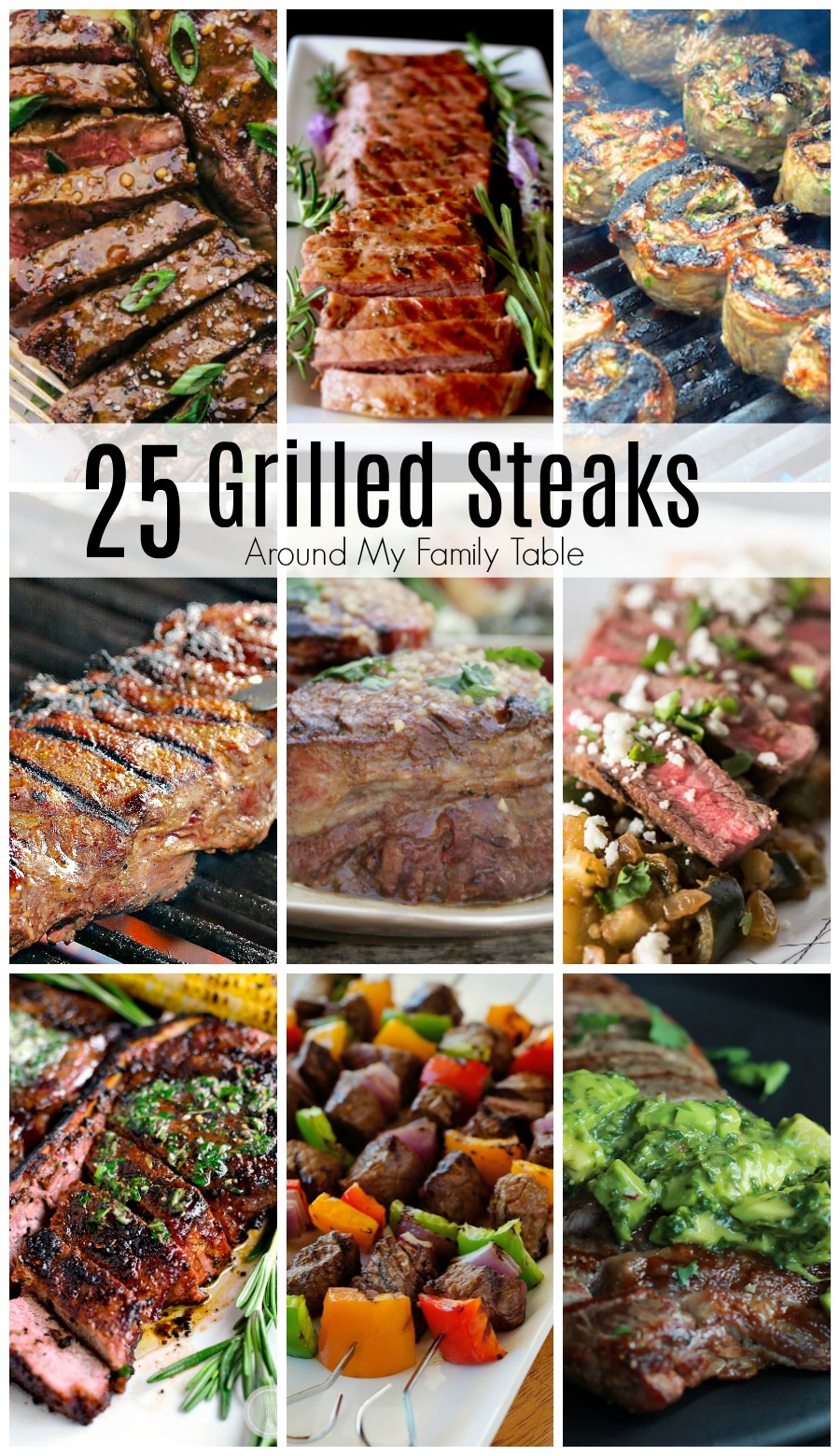 Grilled Steak Recipes
My husband's favorite meal of all time is a big, juicy, grilled steak. He's always been partial to a bacon-wrapped filet mignon. This turned out to be a huge problem for me when we were first married because I just couldn't cook a good steak. I failed every time. The meat would turn out dry, tough, and overcooked. We would still eat it, but I'd dump a ton of steak sauce on top of it to try to hide how poorly it was cooked. To get a good steak, we ended up eating at some of the finest steak restaurants in our area. I didn't give up trying though, and eventually I learned how to grill steak. Now I can confidently and proudly say that I've mastered the grill. Honestly, Hubbyman and I can cook a better steak than the ones that we ever got in those steak houses.
There is so need to drop the big bucks at an expensive, overcrowded restaurant for a mediocre steak anymore. If you start with a good cut of meat, and learn how to perfect your grilling technique, your steaks will turn out so much better than you can imagine.
Here are some of my favorite recipes for grilled steak. These simple and delicious grilled steak recipes won't take a lot of time or effort to prepare, but they are full of flavor that everyone is sure to love.
Steak and Pepper Sandwiches
Steak with a Garlic Butter Sauce
Filet Mignon with Goat Cheese Sauce
Steak and Feta Salad
Steak Tampico
Spicy Grilled Steak Caponata
Grilled Rib Eye Steak with Ginger Teriyaki Sauce
Easy Marinated Grilled Steak Tacos
Carne Asada
Grilled Flank Steak and Asparagus with Béarnaise Butter
Copycat Texas Roadhouse Steak Rub
Perfect Grilled Steak with Herb Butter
Grilled Steak Kebabs
Grilled Flank Steak with Avocado Chimichurri
Black 'n Blue Grilled Steak Salad
Grilled Skirt Steak with Mojo Mustard Butter
Jack Daniels Grilled Steak Recipe
Herb Garlic Rolled Steak Medallions
Grilled Stuffed Flank Steak
Lavender Rosemary Grilled Ribeye Steak
Grilled Steak Teriyaki
Grilled Steak with Bourbon Garlic Butter
Rosemary Garlic Steak Marinade with Oregano Garlic Butter
Grilled Butter Garlic Steak Potato Foil Pack Dinner
Brazilian Beef Kebabs