This post may contain affiliate links. Please read my disclosure.
Today, I will share my tips for grilling the perfect steak. I love a good T-Bone steak or Sirloin Steak, but sometimes the best way to cook a steak can be confusing. There are a lot of grilling recipes in books and on the internet, but they often don't tell you exactly how to grill or how to use the equipment. I've put together this 9-week summer series, How to Grill, to help teach you what you need to know to get out there and use your grills, smokers, and how to perfectly cook your meats, veggies, and fruits.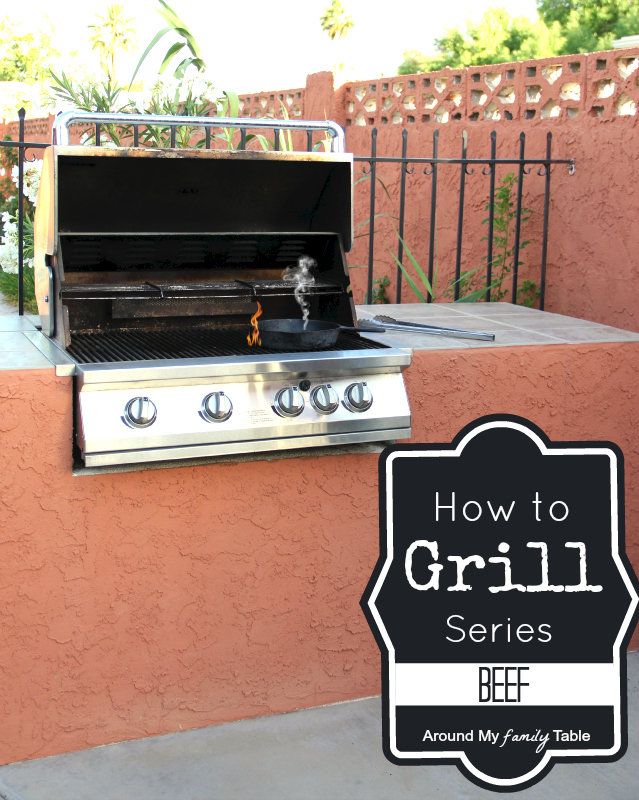 There is nothing more in this world that is better than a big juicy steak. Nothing…well, maybe….nope, nothing! We've eaten at some of the finest steak houses in our area, but honestly Hubbyman and I can cook a better steak dinner at home. Sometimes we add a seasoning blend, sometimes a garlic butter sauce, but my favorite is just well seasoned with salt, pepper, and garlic powder. Yep, that's it!
Hubbyman took me to my Junior prom and for supper we had a big ol' steak dinner. Oh yeah…it was amazing. I think that's the night we officially fell in love. I mean who wouldn't fall in love at prom with a tummy full of steak.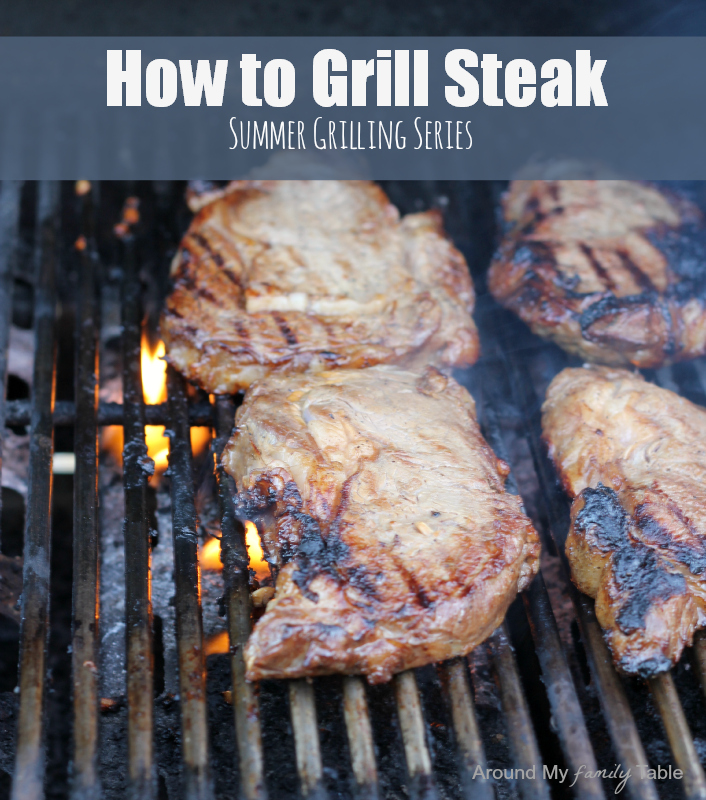 How to Grill Steak
Set up your gas or charcoal grill for medium high direct heat. (Click to learn about Gas Grills or Charcoal Grills)
Steaks should be thawed or at room temperature.
Steaks should be no more than 1/2-3/4 inch thick (if they are, then it will be more difficult to cook).
Season raw steak with salt, pepper, and garlic powder on each side.
Use a thermometer to test for doneness. Once you are familiar with proper temps, then try the hand test method, it's just a general guide. Here's how: Gently put the tips of your pointer finger and thumb from the same hand together, then with your other hand's pointer finger press the pad of skin under your thumb (that is touching the pointer finger), the resistance here is the same that you will feel on a rare steak. If you touch your middle finger and thumb and then feel the resistance, that's similar to a medium steak. Finally, your the resistance felt with the ring finger and thumb is like a well-done steak.
Allow steaks to rest 3-5 minutes after cooking (don't cute it right away or all the juices will run out onto the cutting board).
Steak Cooking Times Chart
1/2″ Thick
3/4″ Thick
1″ Thick
Rare
120°- 130°F
First Side, 2nd Side
2 mins, 2 mins
4, 2
5, 3
Medium Rare
130°-140°F
First Side, 2nd Side
3, 2
4, 3
5, 4
Medium
140°-150°F
First Side, 2nd Side
4, 2
5, 3
6, 4
Well Done
160°-170°F
First Side, 2nd Side
5, 3
7, 5

8, 6
Want to know more? Check out the other posts in this series:
How to Grill: Using a Gas Grill
How to Grill: Using a Smoker
How to Grill: Using a Charcoal Grill
How to Grill Chicken
How to Grill Steak
How to Grill Seafood
How to Grill Pork
How to Grill Vegetables
How to Grill Fruit
Coming Soon….How to Grill eBook!