This post may contain affiliate links. Please read my disclosure.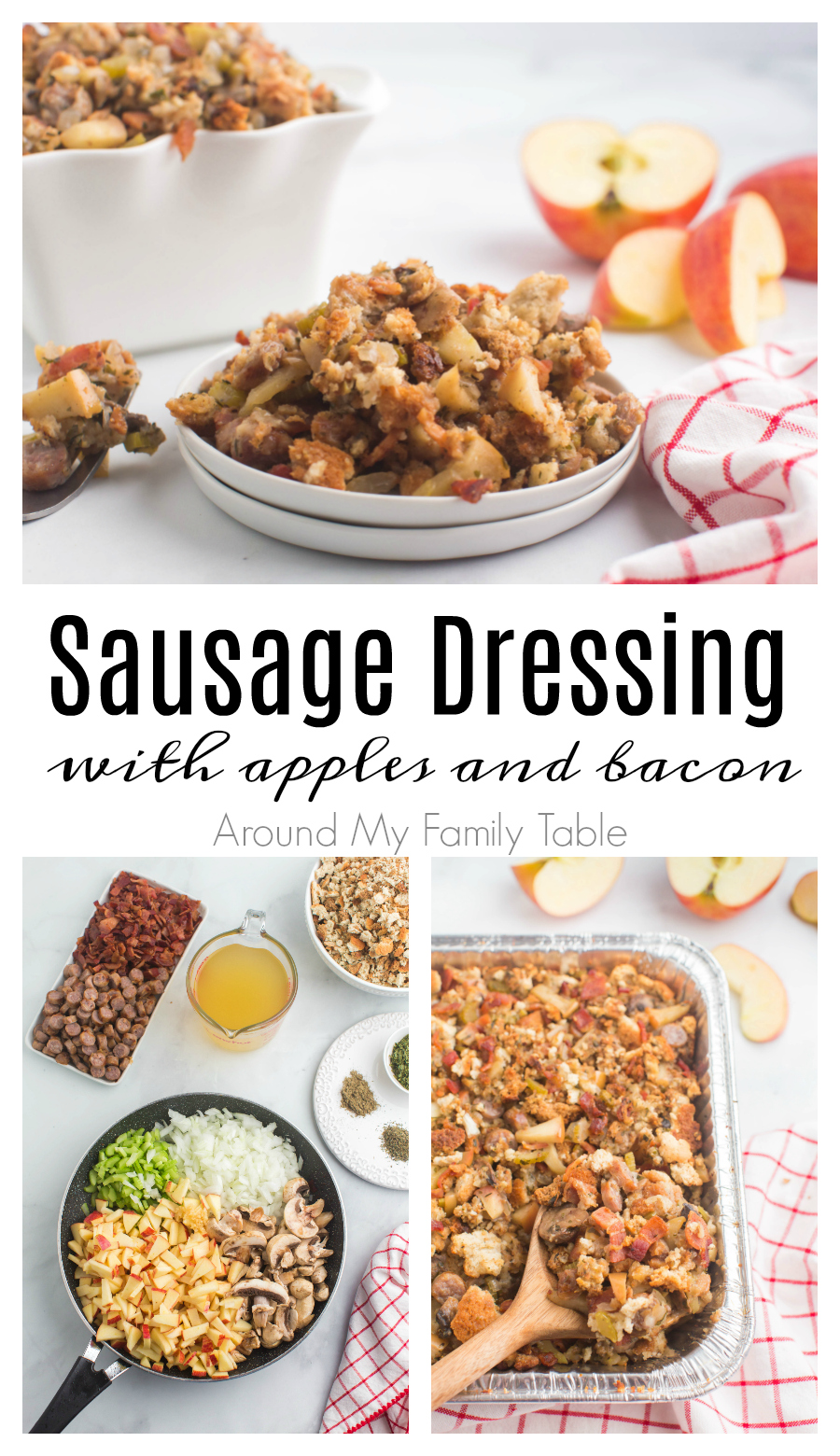 Sausage dressing is a classic with holiday turkey. Make this easy Thanksgiving side dish recipe with apples and bacon for fantastic flavor.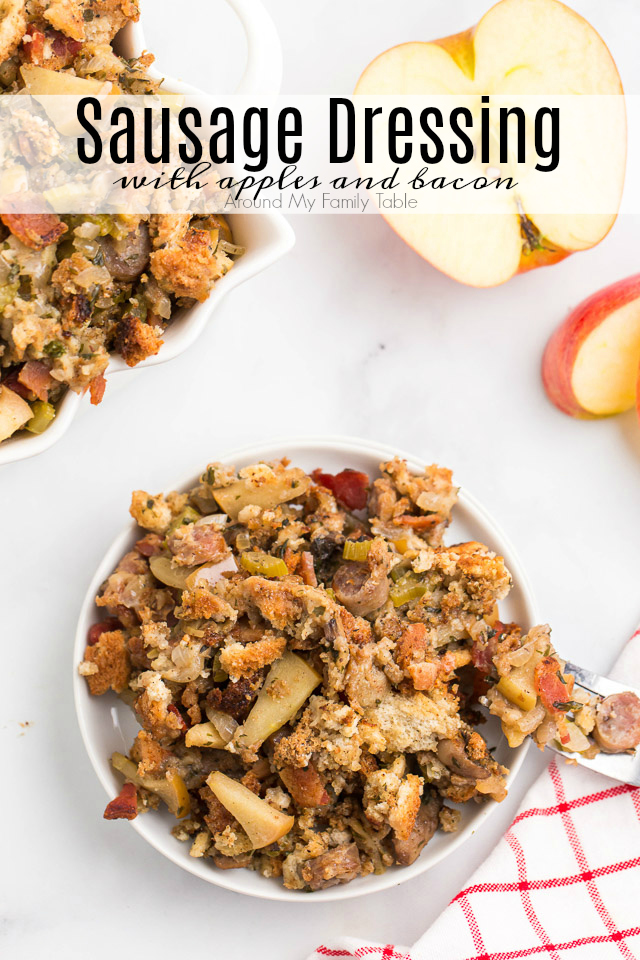 What's in a traditional holiday meal?
There are certain dishes that you'll find on almost every table at a traditional Thanksgiving or Christmas dinner.
Of course, the star of the show is usually a roasted or smoked turkey, glazed baked ham, or crown roast.
For the veggies, you'll find some delicious options. Some families enjoy roasted carrots or creamed corn.
Others are holiday purists, insisting on homemade cranberry sauce and green bean casserole.
My family prefers spicy sauteed green beans.
But when it comes to the starchy side dishes, there's usually no argument. Almost everyone will agree that the holiday table isn't complete without a side of fluffy mashed potatoes and sausage stuffing… or is it dressing?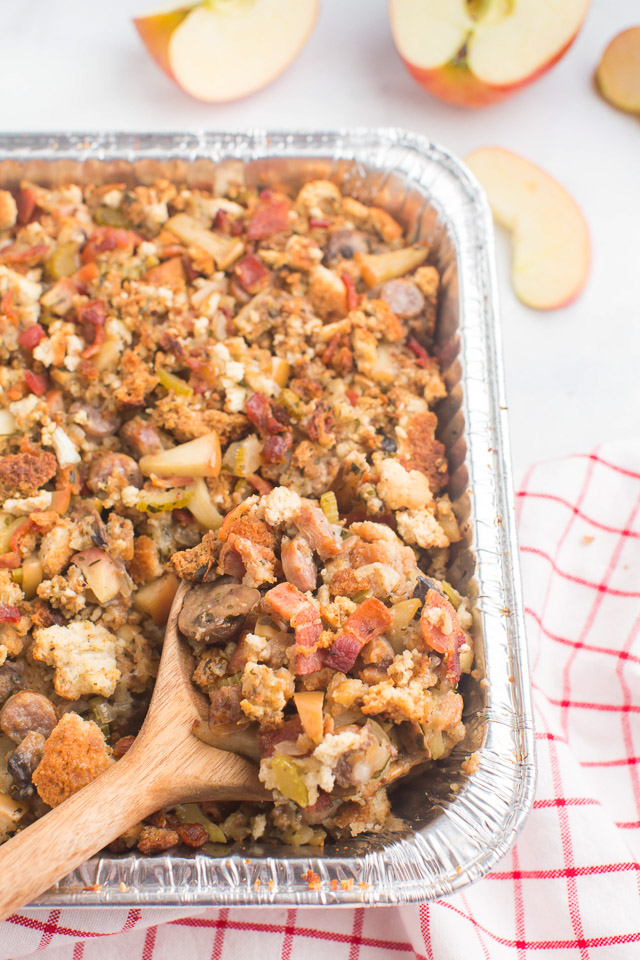 Stuffing vs Dressing
There is just one main difference between Thanksgiving stuffing and dressing – how, or rather, WHERE it's cooked.
Before people became aware of the risk of illness from cross contamination, most home cooks would fill the cavity of their holiday turkey.
Inside was a mixture of moist bread, celery, onion, fresh herbs, and sometimes, pork sausage. The dish became known as stuffing because it was stuffed inside of the bird to cook.
Centuries later, people began making it in a separate dish; then it became known as dressing. There are steps you can take to safely cook stuffing inside of turkey. But more often than not, it comes out dry.
Because I enjoy making easy Thanksgiving sides, I bake it in a casserole dish.
Sausage dressing with apples and bacon
Ingredients and substitutions
Note: This is just a partial list of ingredients, for the purposes of offering substitutions. For the full ingredient list with amounts, scroll down to the recipe card below.
sausage links, diced – ground pork sausage will also work, as will ground turkey or chicken sausage
bacon – Although there are just 10 calories less per slice, feel free to use turkey bacon
onion – this recipe calls for white onion, but yellow onion and even shallots are fine to use
apples, cored and diced – use any firm, crisp apple that you enjoy. I suggest leaving the peel on, as it keeps the apple from breaking down
herbs – I use dry parsley, sage, and thyme. If you don't use these spices often, feel free to use dry poultry seasoning
dried bread cubes – This can be seasoned stuffing cubes, which truly are the best choice. Otherwise, seasoned bread cubes, slices of day old french bread, and even dry cornbread will work.
chicken broth – feel free to use chicken stock or vegetable broth/stock if you prefer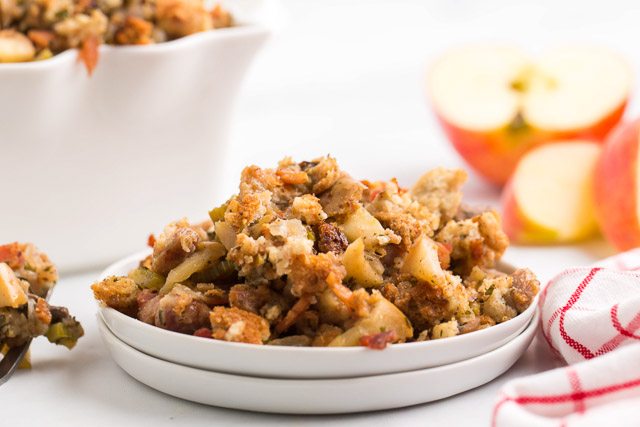 How to make sausage apple stuffing (or dressing)
Prep the ingredients – Wash and chop the vegetables and measure out the herbs, spices, and broth. This way, you'll have everything ready to use when you need it.
TIME SAVING TIP – MAKE IT AHEAD! Feel free to prep everything you need up to 3 days ahead of time. Place them into individual containers or Ziploc bags, and store them in the refrigerator. This is a great way to save time on Thanksgiving or Christmas day!
As a matter of fact, you can fully assemble the sausage dressing up to three days ahead! Just follow the recipe instructions all the way up to the baking step.
Then, cover the dish of sausage dressing and refrigerate. Then, the only step left will be to bake it on the day you plan to serve it.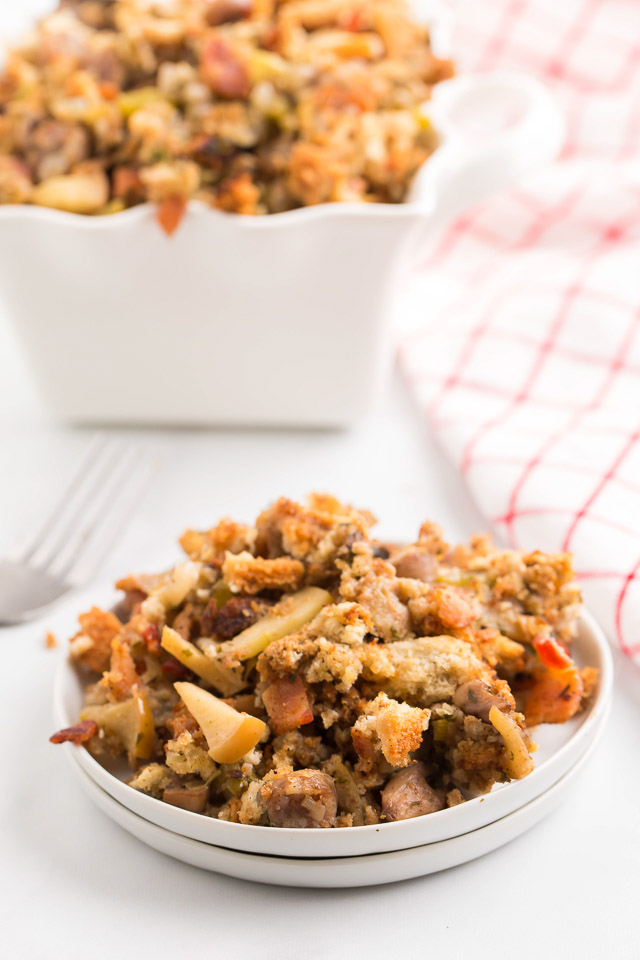 Brown the sausage and bacon. Be sure to cook the sausage all the way through and cook the bacon until it's as crispy as possible. Keep in mind that it will not crisp up further than that during baking.
Saute the vegetables and apples. After the meats are fully cooked, pull them from the pan and set them aside. You can drain off most of the fat, but leave a tablespoon or two in the pan to cook the other ingredients in.
Add the bread cubes. Transfer the cooked ingredients (including the sausage and bacon) to a greased casserole dish. Add the bread to the pan. I like to use my clean hands or a large wooden spoon to toss everything together.
Add the broth slowly, and make sure to pour a bit over the entire surface. Then, use a large spoon to gently combine everything. If you notice any dry bread cubes, gently push them down so they can absorb some of the broth.
Cover and bake!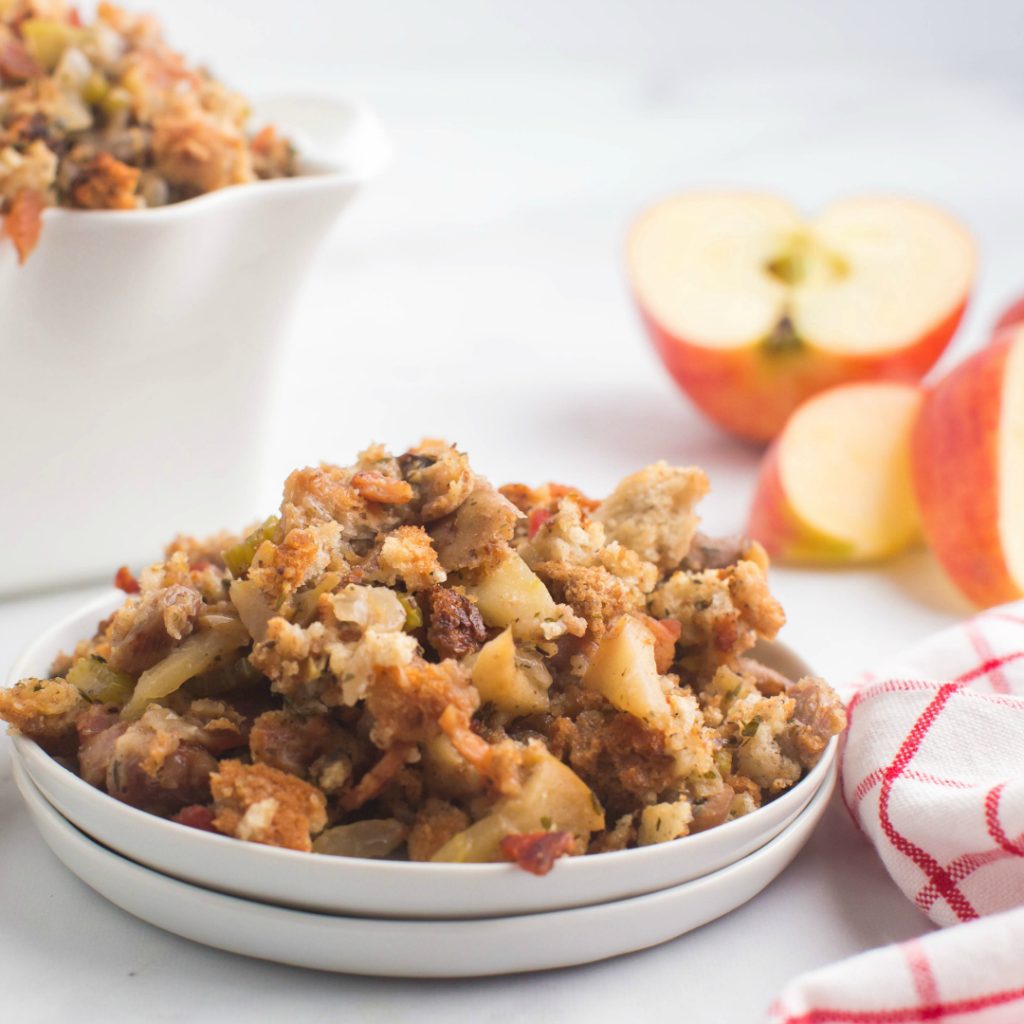 Storing leftovers
If you have any apple sausage stuffing left over, be sure to store it in a covered container in the refrigerator. They will keep well for up to 5 days.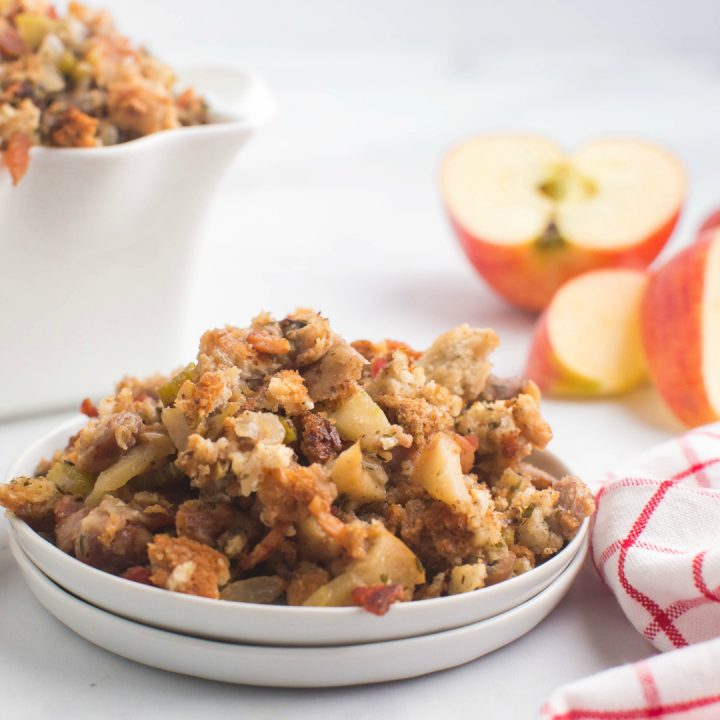 Sausage Dressing with Apples and Bacon
Cook Time:
1 hour
30 minutes
Sausage dressing is a classic with holiday turkey. Make this easy Thanksgiving side dish recipe with apples and bacon for fantastic flavor.
Ingredients
1 lb. sausage links, diced
1 package bacon, diced
1 lg onion, chopped
1 clove garlic, minced
1 cup celery, chopped
1/2 lb. mushrooms, sliced
2 firm-flesh apples, cored and diced, peel on*
1/4 cup dried parsley
1 tsp dried sage
1 tsp dried thyme
1 lb. dried unseasoned bread cubes (1 package)**
2-3 cups chicken broth
Salt and pepper, to taste
Instructions
Preheat oven to 350.
Brown sausage in a large skillet until no longer pink. Remove from pan and add in bacon. Cook until completely crisp (it won't "crisp" up any more than what it is here). Remove from pan.
Drain off a little of the bacon fat, leaving about 2 tbls. Add onion, celery, mushrooms, apples, and garlic to the pan to saute. Add parsley, sage, and thyme. Continue sauteing until vegetables are tender.
When everything is cooked, add sausage, bacon, and vegetable mix to a large tin foil turkey roaster. Mix in bread cubes. Slowly add in broth. Mix well to ensure everything is well coated and moist.
Cover with foil and cook for about 1 hour.
To make a day ahead, only bake for 30 minutes, then cover with foil and refrigerate. On day of serving, cook for about 1 hour to heat through.
Notes
* Leaving the peel on the apples will keep them from breaking down
**Unseasoned bread cubes work best, but they can be hard to find sometimes. If you can't find them, seasoned bread cubes will work!
Nutrition Information:
Yield:

8 servings
Serving Size:

1
Amount Per Serving:
Calories:

397
Total Fat:

19g
Saturated Fat:

6g
Trans Fat:

0g
Unsaturated Fat:

11g
Cholesterol:

54mg
Sodium:

1515mg
Carbohydrates:

40g
Fiber:

4g
Sugar:

11g
Protein:

19g
This nutritional information is an estimate may vary, depending on brand and type of ingredients used. It is not intended to replace the advice of a licensed dietician or physician.
Pin this recipe to your favorite Pinterest board: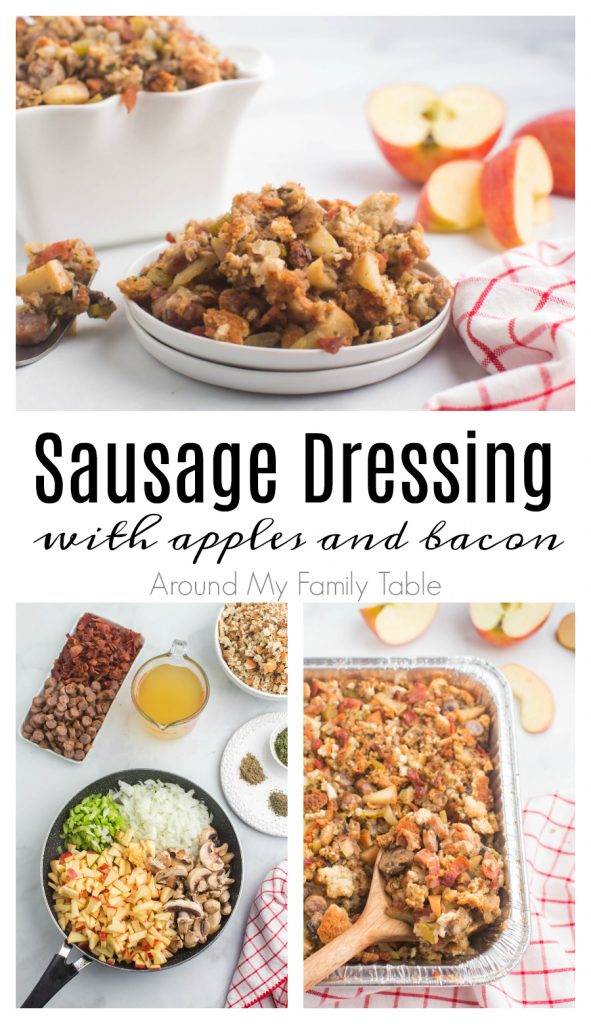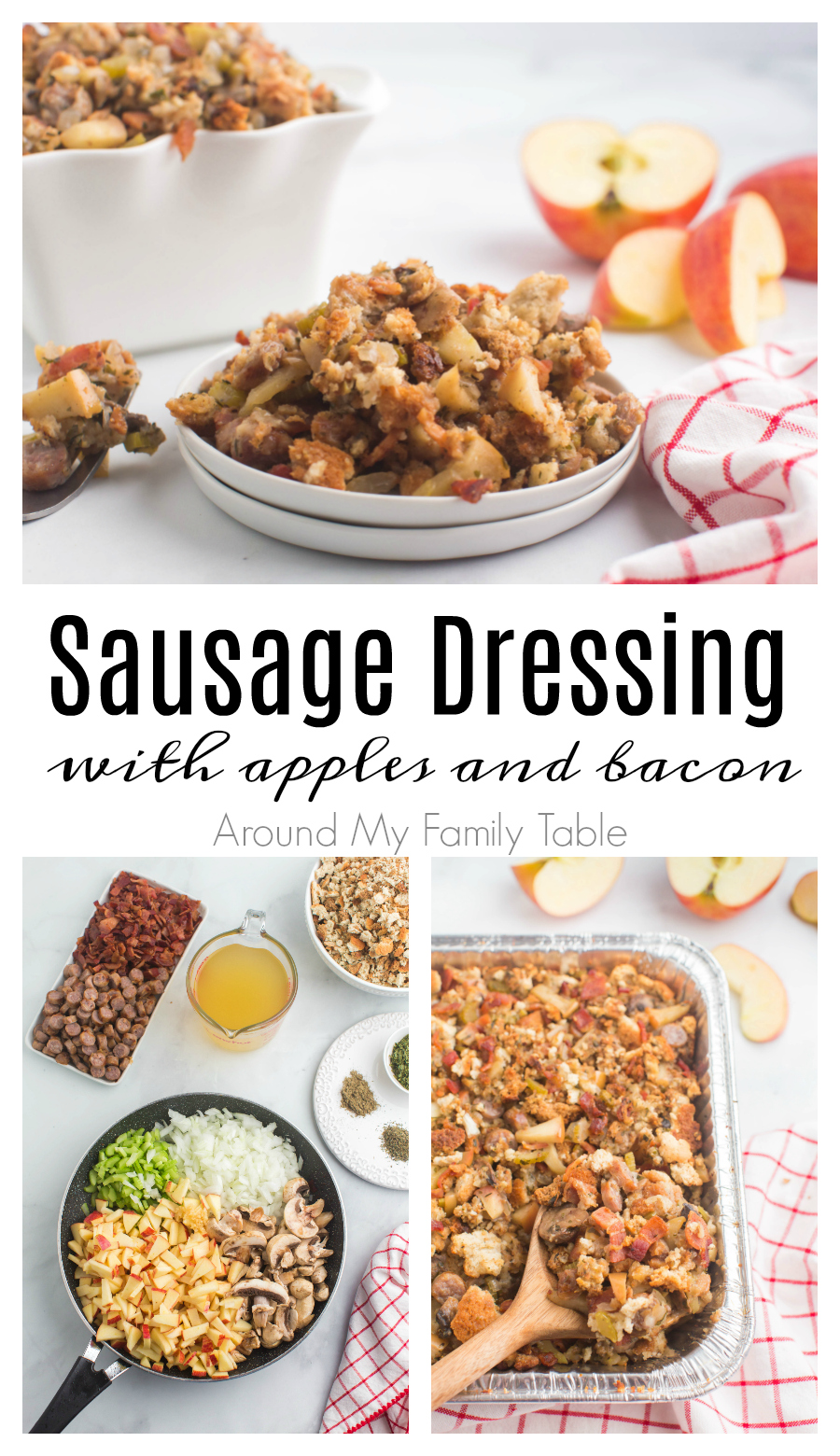 Originally published: 12/7/10 Updated: 10/5/20