This post may contain affiliate links. Please read my disclosure.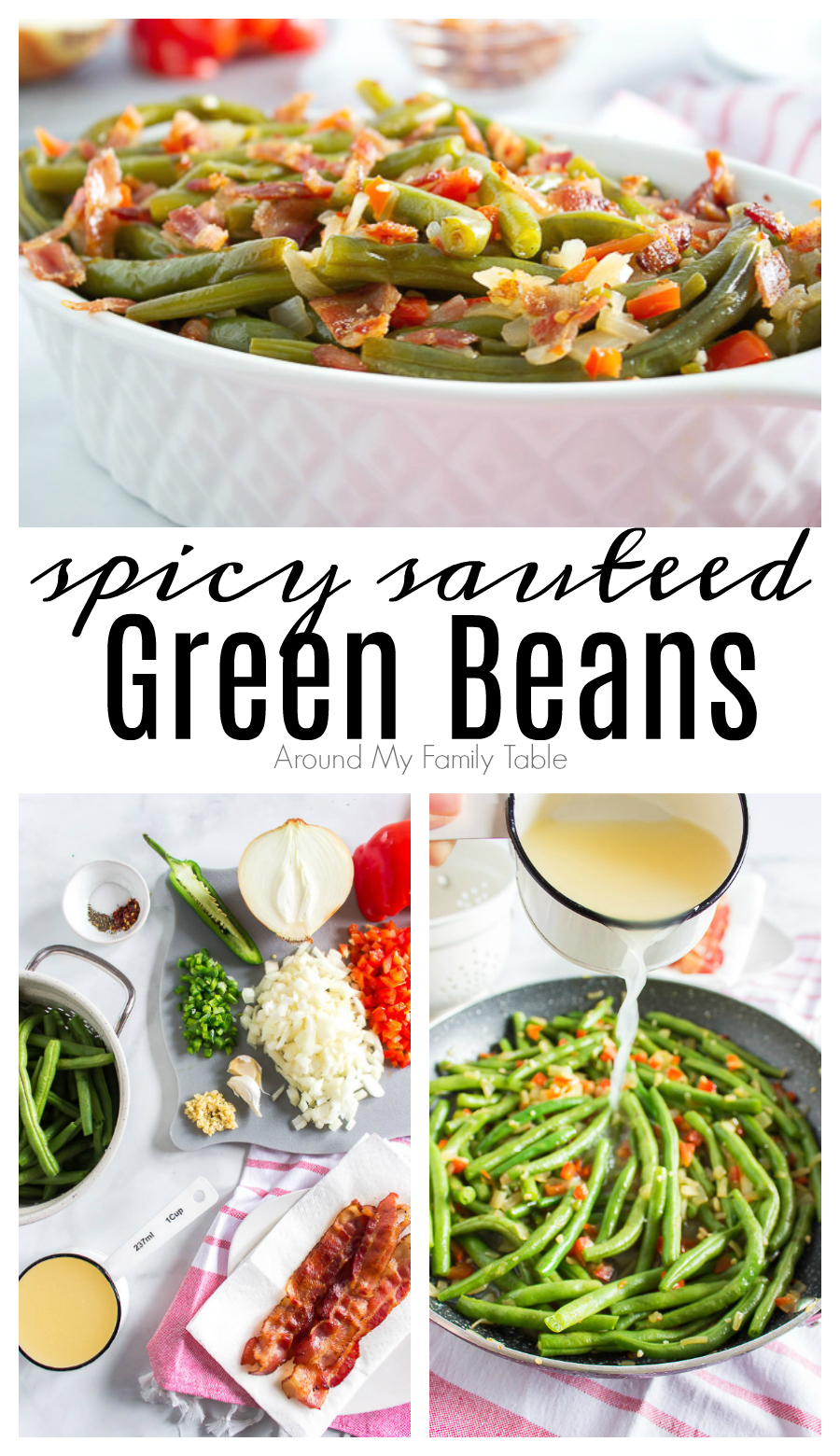 Sauteed green beans with bacon, veggies and spicy peppers is delicious and easy to prepare. Make this recipe to replace green bean casserole!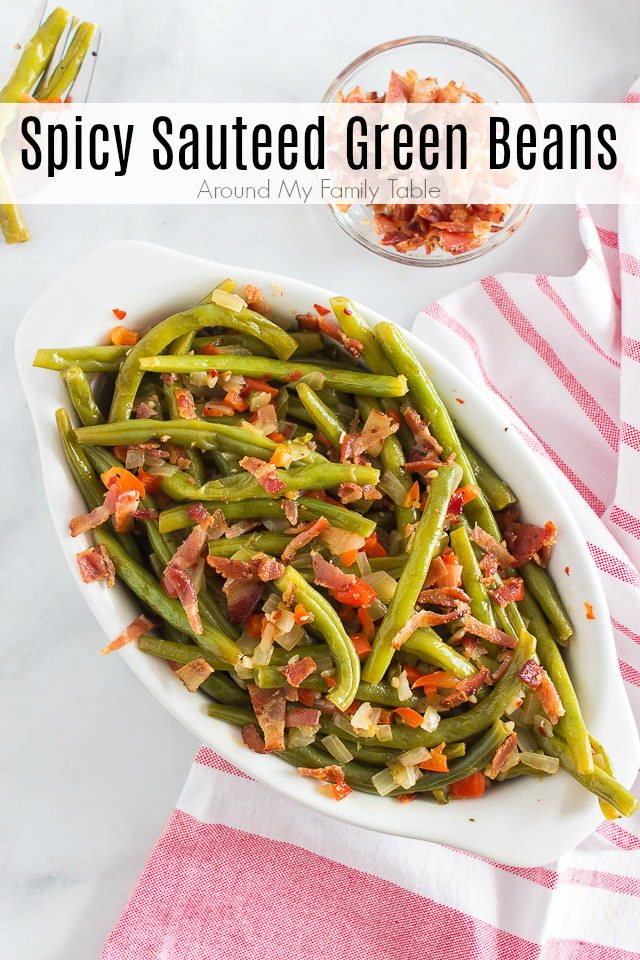 I'm going to show you how to cook fresh green beans in a way that will wake up your taste buds. This veggie side dish is full of flavor, and it doesn't take very long to make.
Plus, it can be made ahead, saving you time on a busy holiday!
I created this recipe based on the Famous Dave's green beans side dish. The flavor is outstanding!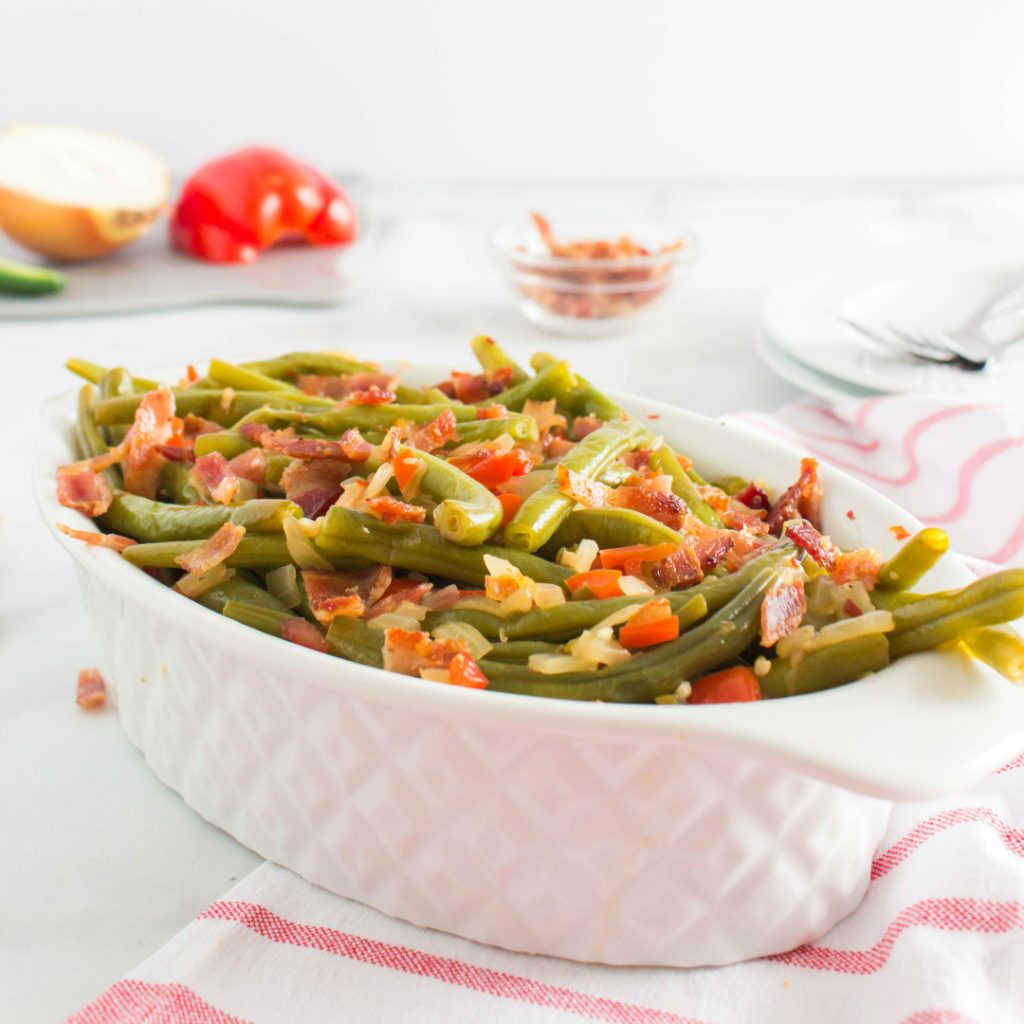 Sauteed green beans vs. green bean casserole
I think some people make green bean casserole because they think they're supposed to. After all, maybe it's been a holiday side dish in your family for generations.
But honestly, is it really necessary? Any side dish that takes away oven space from your sausage dressing and holiday turkey seems like more trouble than it's worth.
Sure, you can make slow cooker green bean casserole, but that steals kitchen counter space.
I hope you'll try this green beans recipe. If not for a holiday like Easter, Thanksgiving, or Christmas, make it for dinner on a weeknight. Fresh green beans are definitely tastier than anything from a can.
And who knows? Maybe this will become your new favorite dinner side dish.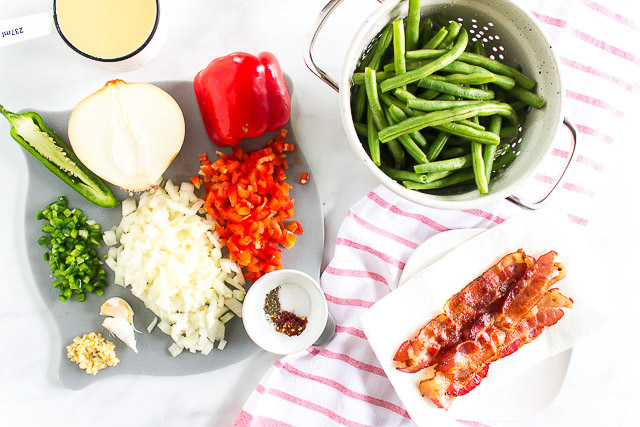 How to make the recipe
1. Cook the bacon
The quickest way to make this dish is to cook the bacon in a skillet on the stove (you'll need the bacon grease, too). This allows you to make the entire recipe using just one pan.
However, if you plan on doubling or tripling this recipe, or you want to make the bacon in advance, then bake the bacon in oven.

Then, store the cooled grease in the fridge until it's time to make the recipe. After that, chop the bacon and store it in a ziptop baggie in the fridge until you're ready to use it.
After it cooks, remove the bacon from the pan and place it onto a double layer of paper towels to drain. Leave the grease in the pan.
2. Add and cook the bell peppers, jalapeno and onions.
Use caution when placing the diced veggies into the pan; the bacon grease is hot and may splatter.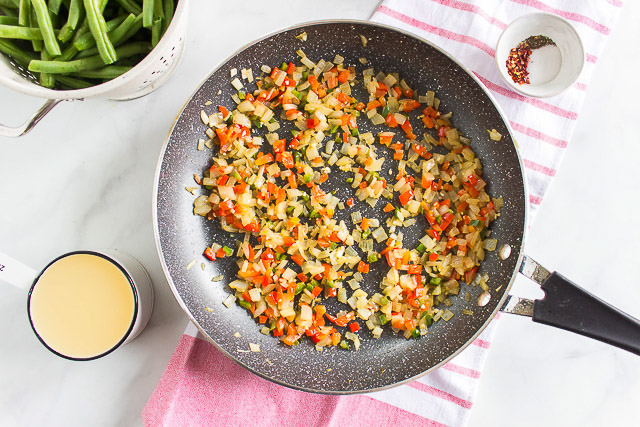 3. Stir in the green beans.
Although I haven't tested it, you can try making this recipe using frozen green beans instead of fresh. According to this article, frozen veggies are just as healthy as fresh.
Regardless, I like to use fresh veggies whenever possible.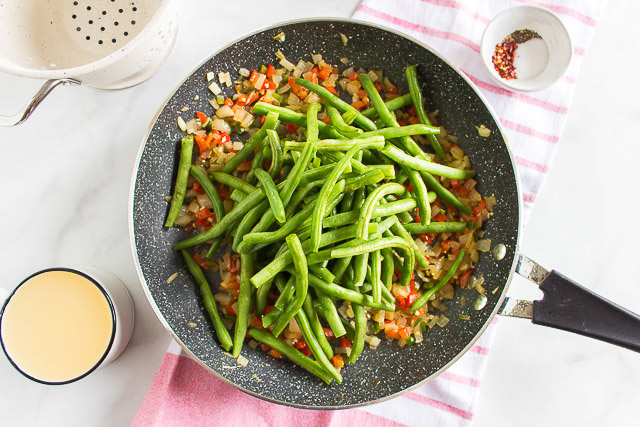 How to cook fresh green beans
Using fresh may seem like a chore, but it really isn't difficult. The most difficult part is trimming the ends off, and guess what? You don't have to snap them off one at a time!
To trim a bunch of beans quickly:
Place a handful of beans side by side on a cutting board. If possible, use use the ones that are similar in length.
Hold a sharp knife in one hand and use your other hand to hold the veggies down on the cutting board.
Carefully cut the tips off one end, then use your hand to turn the bunch around and trim the ends off the other side.
4. Stir in cooked bacon and serve!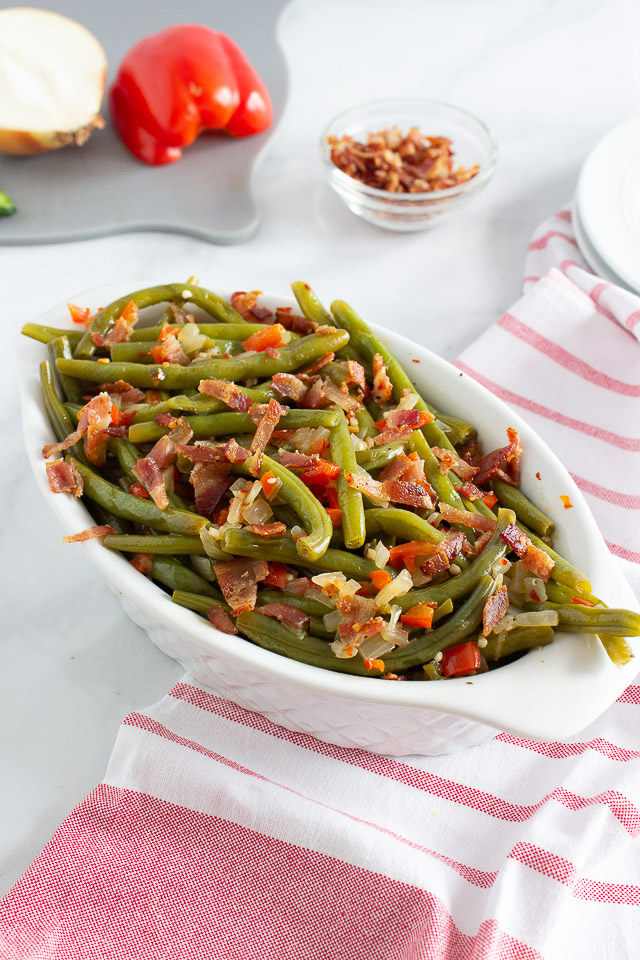 How spicy is this side dish?
In my opinion, this dish has the perfect blend of spicy heat. Not a fan of spicy food? I promise, it's not very spicy at all. We just use a pinch of red pepper flakes, and the salty bacon pairs perfectly with it.
Even my family members, who are not spicy food fans, love the spicy sautéed green beans.
Of course, if you are a huge fan of spicy food (ahem….like yours truly) then feel free to add an extra pinch of crushed red pepper flakes.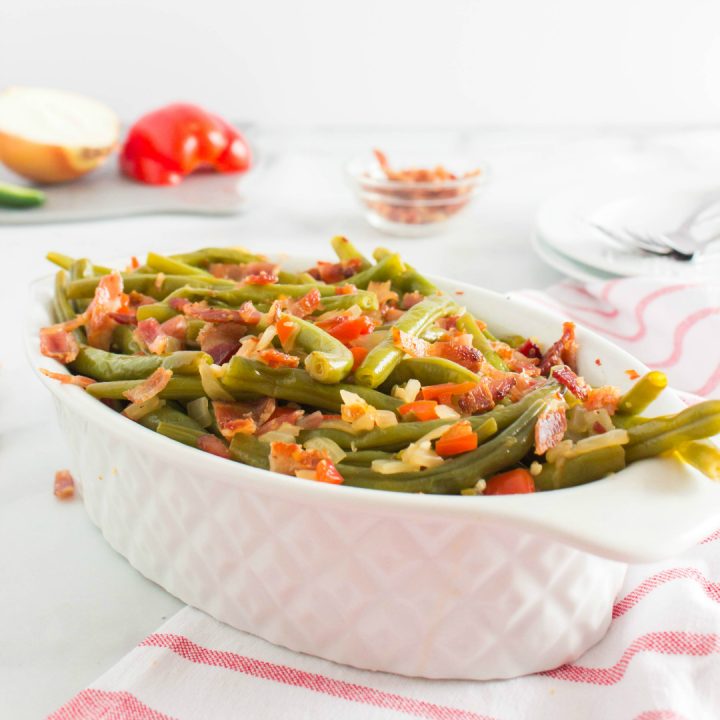 Spicy Sauteed Green Beans
Perfectly cooked and full of flavor from the bacon, onions, and chili peppers, these spicy sauteed green beans make the PERFECT side dish!
Ingredients
1 pound green beans
4 slices of bacon, cooked (grease reserved)
2 tbsp bacon grease
1/2 large onion, chopped
1/2 cup chopped red bell pepper
1/2 jalapeno, seeded, ribs removed, and finely chopped
2 cloves garlic, finely minced
1 cup chicken broth
1/4 tsp crushed red pepper flakes
1/2 tsp salt
Ground black pepper
Instructions
Snap the stem ends of the green beans, wash, and set aside.
Cook bacon in a large skillet until fully cooked and crisp. Remove bacon from pan to drain on paper towels.
Add chopped onion, red bell pepper, and jalapeno to bacon grease in a skillet over medium heat and cook just until the onions are soft and starting to caramelize. Add the garlic and cook for a minute.
Add the green beans and cook until the beans turn bright green, about a minute or so. Add the chicken broth, crushed red pepper flakes, salt, and pepper. Turn the heat to low and cover the skillet with a lid (leave the lid cracked slightly to allow steam to escape). Cook until the liquid evaporates and the beans are fairly soft, but still a bit crisp, 10 to 15 minutes.
Roughly chop cooled bacon and top finished beans before serving!
© Around My Family Table
Nutrition Information:
Yield:

4
Serving Size:

1
Amount Per Serving:
Calories:

203
Total Fat:

14g
Saturated Fat:

5g
Trans Fat:

0g
Unsaturated Fat:

8g
Cholesterol:

28mg
Sodium:

735mg
Carbohydrates:

13g
Fiber:

4g
Sugar:

6g
Protein:

9g
Pin this recipe to your favorite Pinterest board: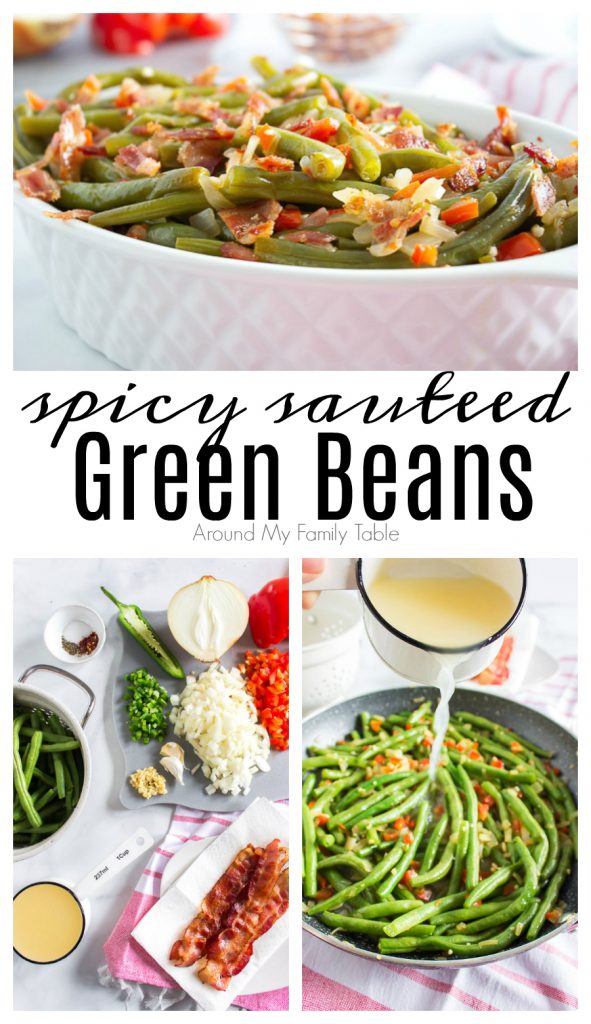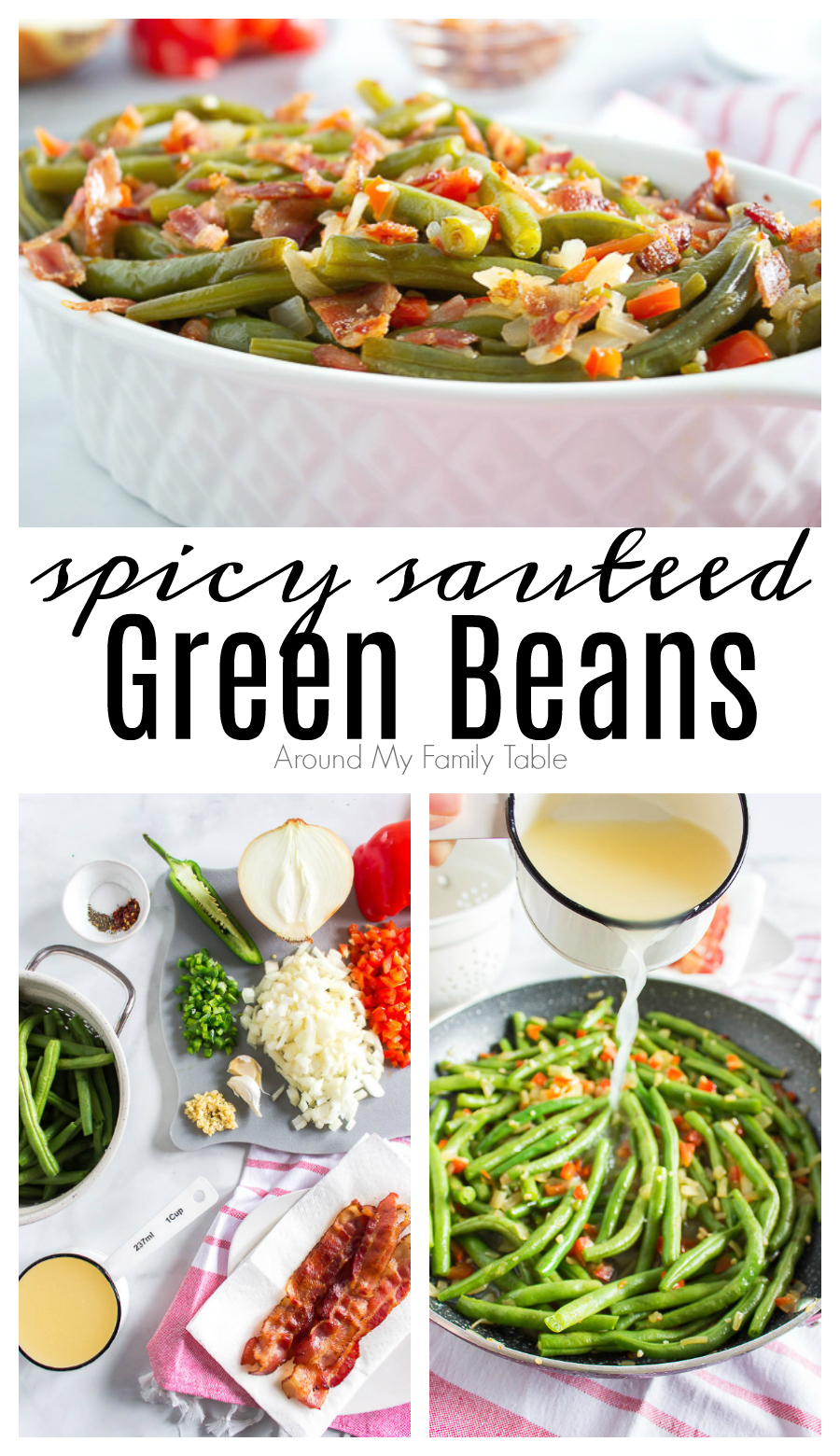 Recent Recipes You May Have Missed:
Originally published: 3/27/13 Updated: 10/13/20
Never worry about dinner again....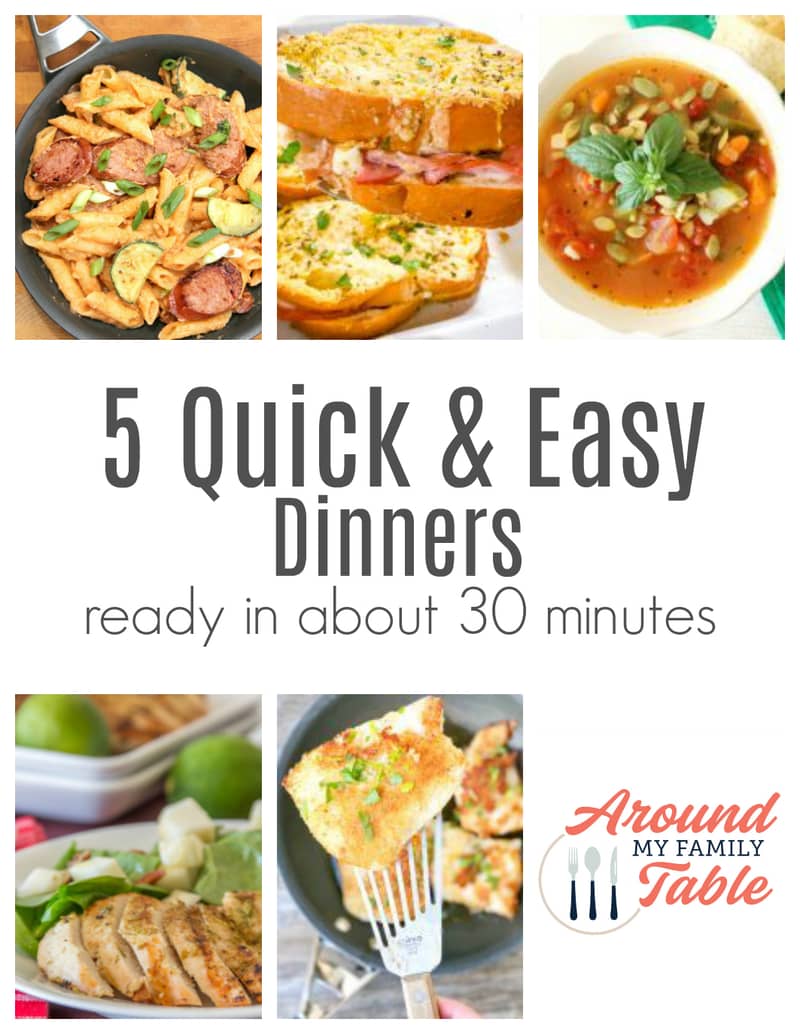 Subscribe to get my 5 favorite Quick & Easy dinner recipes and FREE weekly meal plans