This post may contain affiliate links. Please read my disclosure.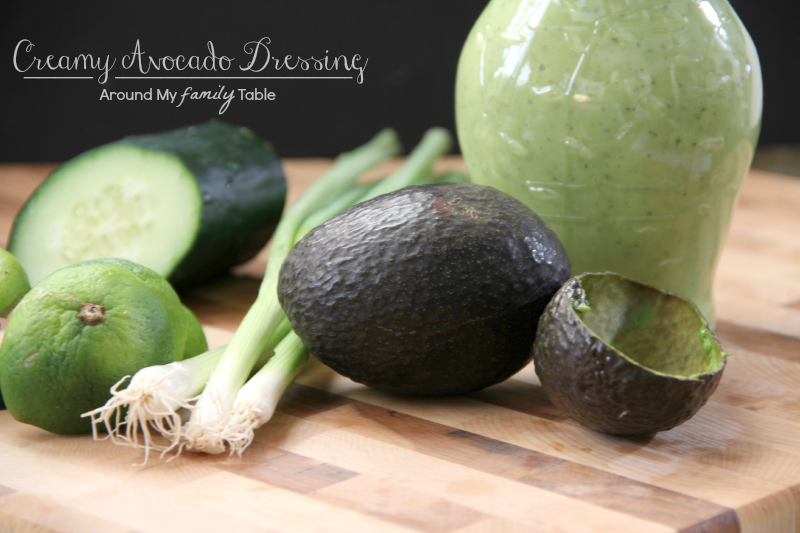 I can't believe that I only started to enjoy avocados and now I just can't seem to get enough. It's like I have to keep eating them to make up for the 30-something years that I never ate any. Mostly, my consumption of avocados came in the form of guacamole, but I have spread my wings and created this amazing creamy avocado dressing…it's creamy in texture, but actually has no dairy.
I always have grand ideas of making my own dressings for my salads but a lot of time I'm just too lazy to chop and measure ingredients for a salad…I just want to throw it all together and have it work. The best part about this is that I just throw it all in my blender, give it a whirl and it's done! I love easy recipes.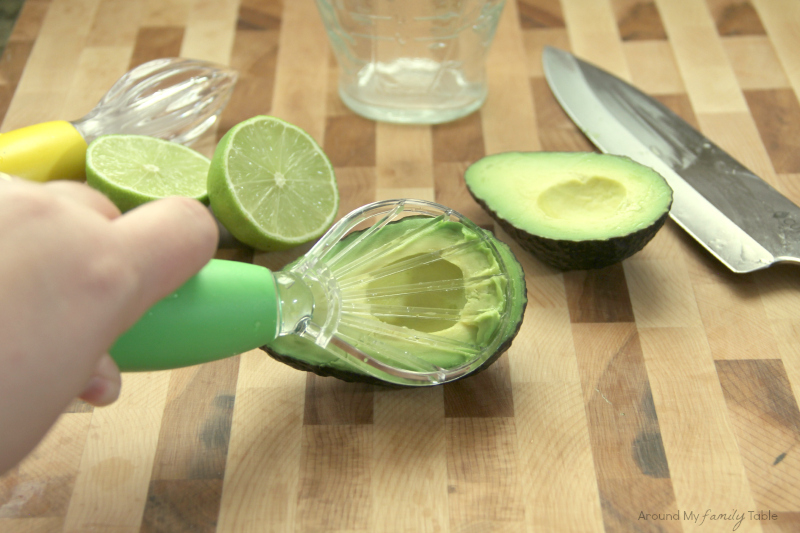 Don't you just love that cool avocado slicer? You don't really need it for this recipe, but it's super cool so I wanted to show it off. The slicer makes perfect slices of avocado for salads and sandwiches….plus it's dishwasher safe (you know it has to be if I'm gonna use it)!
I have not been able to stop eating this though…I've put it on everything from salads to BLTs to using it as a dip for veggies. Hubbyman used it as a dip for some pita bread and thought it was amazing. It's cool, refreshing, and creamy….totally perfect! If my friends wouldn't look at me funny, I'd probably just drink it with a straw…yes it was that good.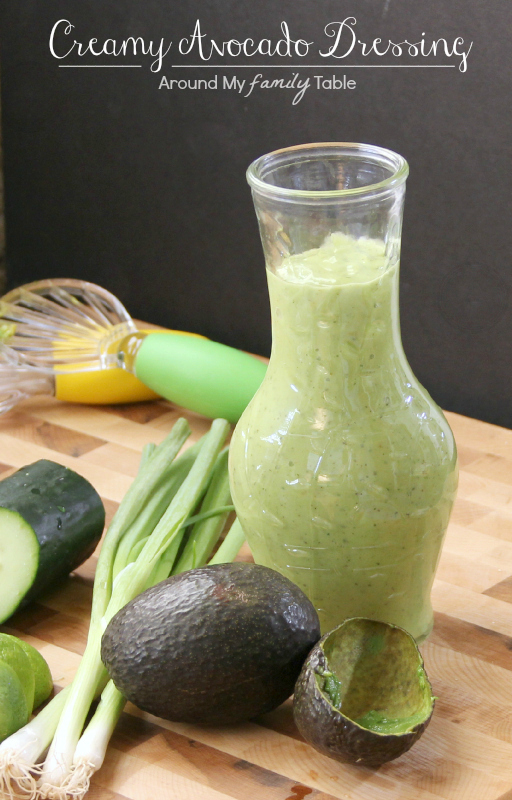 If you like this homemade dressing…check out my Thousand Island Dressing Recipe and all of my other delicious salads.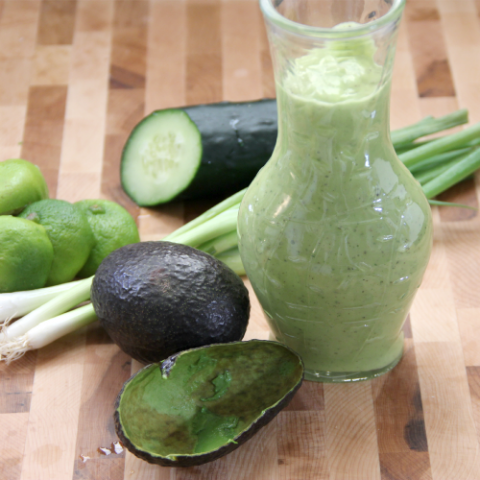 Creamy Avocado Dressing
This creamy avocado dressing is delicious as a salad dressing, but it also makes a fantastic healthy dip for veggies. Naturally gluten free and dairy free.
Ingredients
1 avocado, peeled with seed removed
1/2 cucumber
1 green onion (white and most of green)
juice of 2 limes
1 tsp honey
1/2 tsp salt
1/2 tsp garlic powder
1/4 tsp dried dill weed
1/4 tsp dried basil
1/4 tsp black pepper
1 cup extra virgin olive oil
Instructions
Combine all ingredients except oil in a blender and process until smooth and creamy. With blender running on low, slowly drizzle in oil until desired consistency is reached (thin for dressing, thick for dipping).
© Around My Family Table
Nutrition Information:
Yield: 12 Serving Size: 2 Tbsp
Amount Per Serving: Calories: 196Total Fat: 20gSaturated Fat: 3gTrans Fat: 0gUnsaturated Fat: 16gCholesterol: 0mgSodium: 111mgCarbohydrates: 6gFiber: 1gSugar: 3gProtein: 0g