This post may contain affiliate links. Please read my disclosure.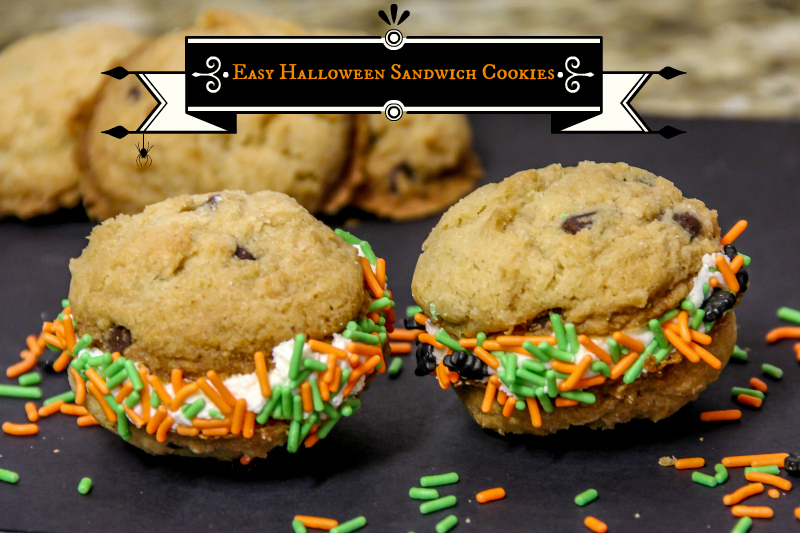 Apparently, this is the week of super easy and fun Halloween treats. If you didn't see the Spooky Halloween Trees from a few days then go NOW and check them out…and then come back to these cute cookies!
These cookies were a huge hit with the kids and plus they are a total no-brainer. You could make them from scratch like I did or take some short cuts with store bought cookie dough and frosting. Either way, the cookies are festive and fun!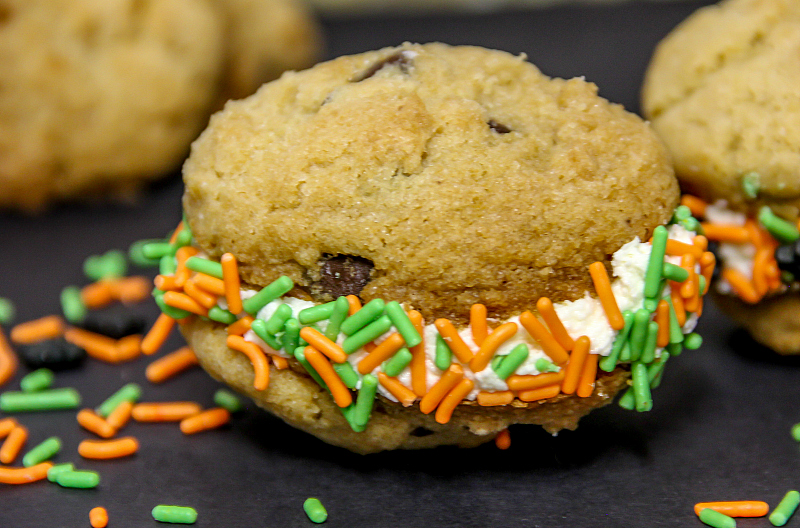 I realize this is a super easy recipe (especially if you use premade goodies), but today is my birthday so I'm taking it easy today. I'm hitting a movie with my bestie and the supper with my fam! And my hubbyman was such a sweetie and tried his hand at gluten free, dairy free, and egg free cupcakes. I just love that man…and he's such a trooper with all my food issues these days.
These treats are just two delicious cookies stuffed with buttercream frosting and then rolled in festive sprinkles….see, I promised an easy dessert and this can't be any easier. They might be easy, but they are super impressive at a party.
I've included my recipes for my favorite cookies and frosting below…I think you will love them. Plus the cookies can be made gf and vegan and the frosting is vegan already.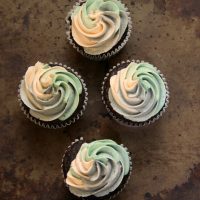 Swirled Frosted Cupcakes
Swirl frosted cupcakes are so much fun to make! Three flavors of frosting come together to create a fun buttercream swirl to decorate your favorite cupcake recipe
Ingredients
1/2 cup butter, softened*
1/2 cup shortening
2 tbls warm water (2-3)
1 tsp almond extract
1 lb confectioners sugar
*(or keep it dairy free by using all butter flavored shortening)
Instructions
Beat together butter, shortening, 1 tbsp of warm water, and almond until smooth and creamy. Beat in the sugar gradually on a low setting. Scrape sides of bowl as needed.
Mixture will be very thick. After all sugar is incorporated, add 1-2 more tbsp. of warm water and beat at medium/medium-high speed for 1-2 more minutes. Adding more warm water will continue to thin the frosting consistency and bring down the sweetness even more. Add as much as you like to get the appropriate flavor and consistency. Be careful because a little goes a long way.
The frosting can also be made several days in advance and stored in an airtight container in the refrigerator. Bring to room temperature, then mix well before using. Leftovers should be refrigerated.
Get the look by using Decorating Tube 1M fitted into a piping bag.
Join the Club!
Get delicious recipes delivered straight to your inbox each week! Plus learn how to take back suppertime in your home.

And get started with my NEW Take Back Suppertime 5-Day Jump Start Guide.