This post may contain affiliate links. Please read my disclosure.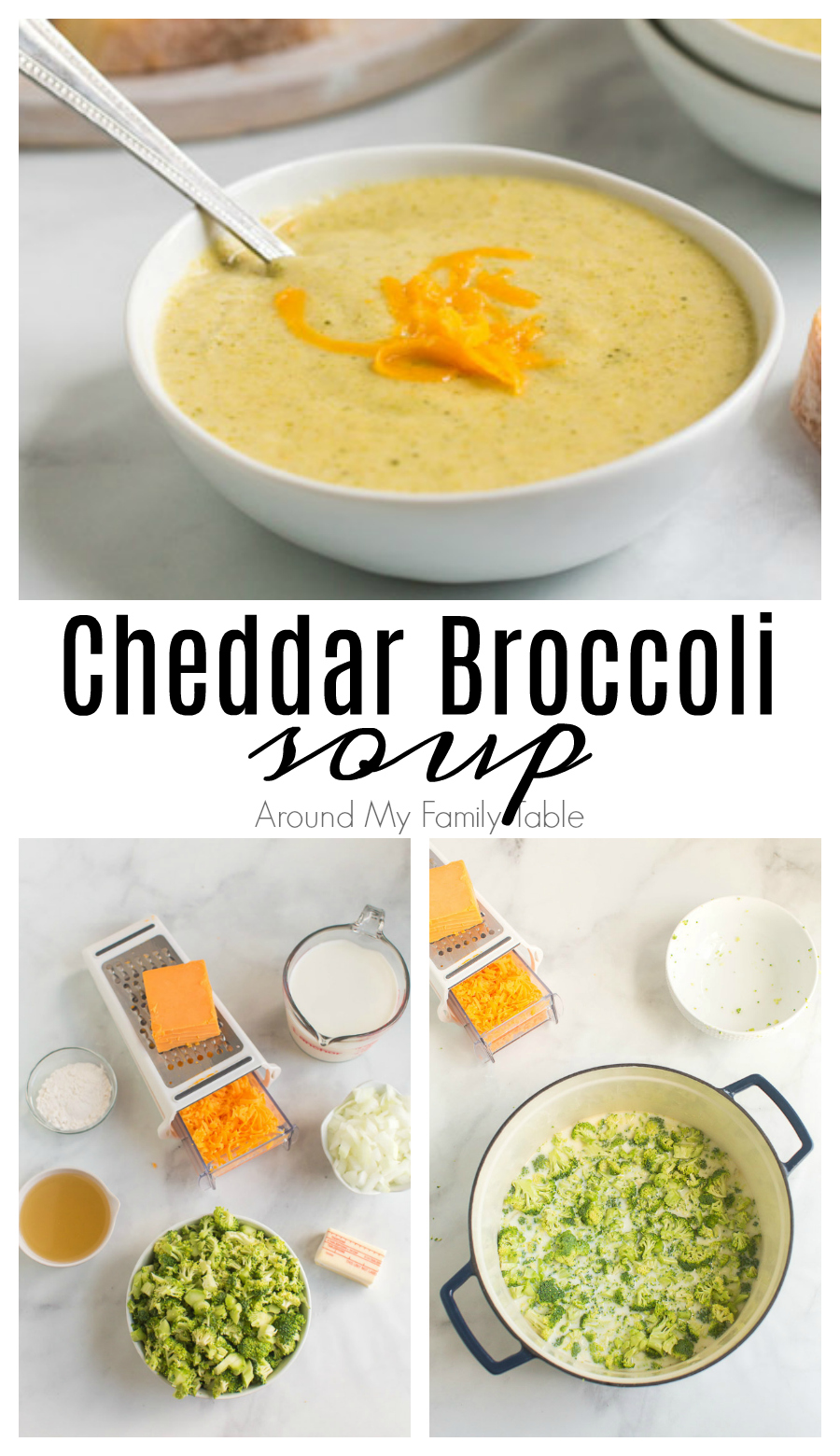 This cheddar broccoli soup recipe creates creamy, cheesy comfort food from scratch in 45 minutes! Make this recipe for lunch or dinner tonight!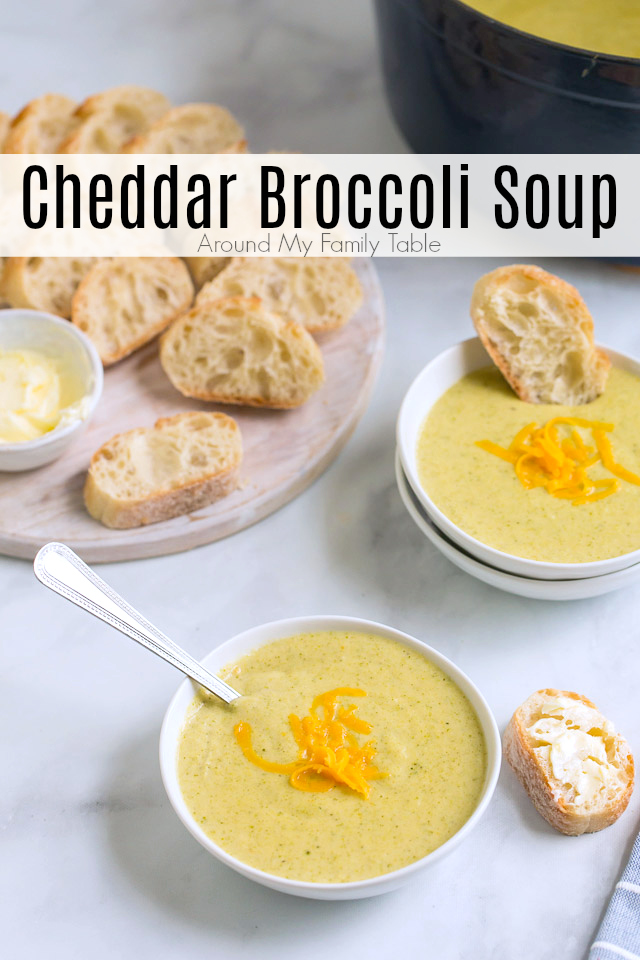 When the weather starts turning cooler, I make meals for my family that will warm us up from the inside out. They crave hearty comfort foods, and I am happy to make those foods because I love them too!
I usually make beef stew or pot roast, a batch of spicy chocolate chili, or our favorite soup recipes, including this one.
Cheddar broccoli soup recipe
If you enjoy Panera soups, especially the broccoli cheese soup, I think I can save you some money!
Trust me, this homemade version is just as creamy, cheesy and delicious as theirs.
Even better, you can make an entire pot full for about the same price that it costs to buy a bowl of soup from Panera!
INGREDIENT NOTES + SUBSTITUTIONS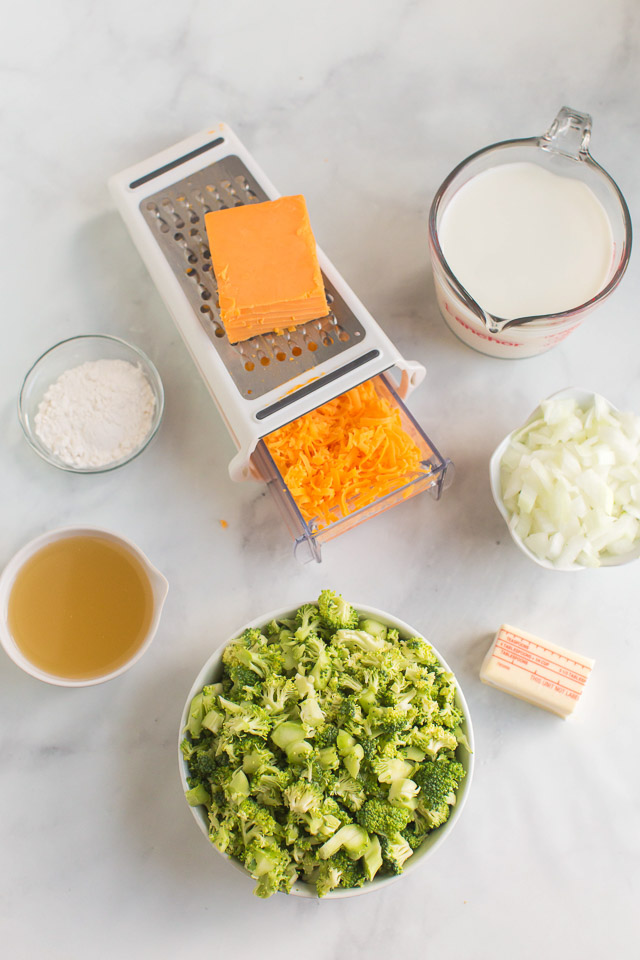 Almost all of the ingredients for this recipe are basic pantry and kitchen staples, so you might already have everything you'll need.
unsalted butter – I like to use unsalted butter because some brands of salted butter are very salty. If all you have is salted butter, use it, but be sure to taste the soup for flavor before you add any additional salt.
onion – white, yellow, or even red will be fine
all-purpose flour – to thicken the soup, we combine equal parts butter and flour to make a roux. All-purpose flour is the best choice.
whole milk – if you want to use nut milk or lower fat cow's milk, you can. Just know that your soup will not be as rich and creamy
stock or broth – stock has more flavor than broth, so I typically use either chicken stock or vegetable stock
fresh broccoli – you can use frozen broccoli if you need to, but it tends to become mushy as it cooks down in the soup.
grated cheddar cheese – for the best flavor and consistency, I recommend that you buy a block of fresh cheese and grate it yourself.
Bags of shredded cheese have an anti-caking agent called Cellulose added to them. This chemical prevents the shreds from clumping together. Unfortunately, it also prevents the cheese from melting well.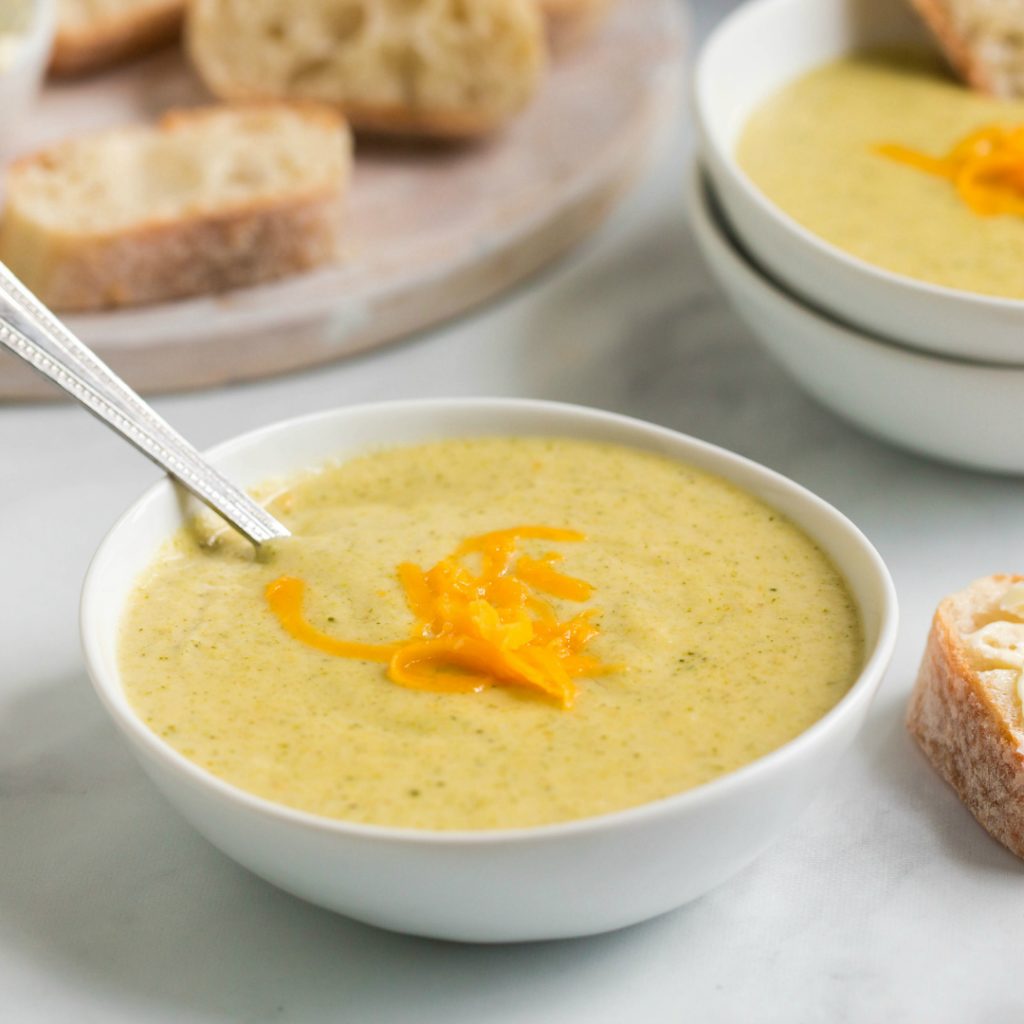 How to make broccoli cheese soup
Cook the onions and make the roux
Melt the butter in a large pot, add the onions and saute them for a few minutes. To prevent the onions from burning, keep the heat set to medium.
After the onions finish cooking, you'll stir in flour and cook it for a minute or two.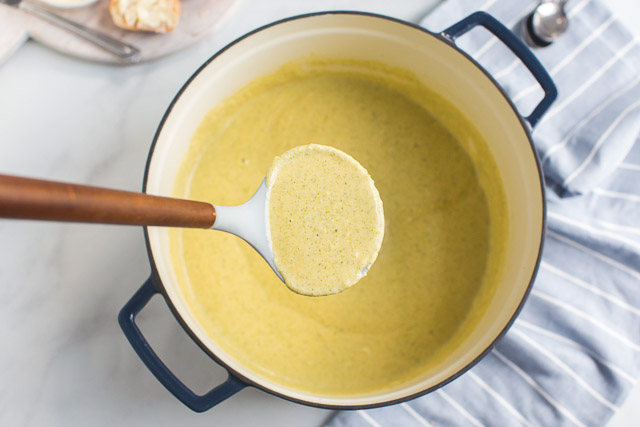 Create the soup base
Next, SLOWLY whisk stock and milk into the roux to create the base for the soup.
IMPORTANT: Add the liquid a little at a time so it incorporates with the roux. If you add it all at one time, the butter will separate from the flour and rise to the top of your soup. As a result, the soup will NOT thicken properly.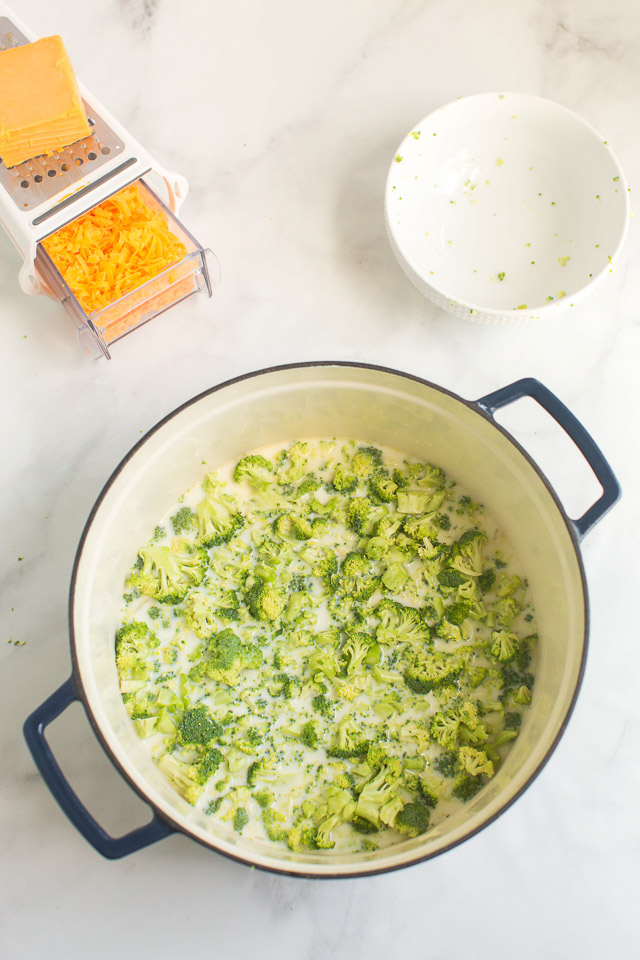 Add and cook the broccoli
After you whisk in the stock and milk, add the broccoli and add the salt and pepper.
Cover the pot, reduce the heat to low, and simmer until the broccoli is tender. This can take between 20 and 30 minutes, depending on how small the broccoli pieces are.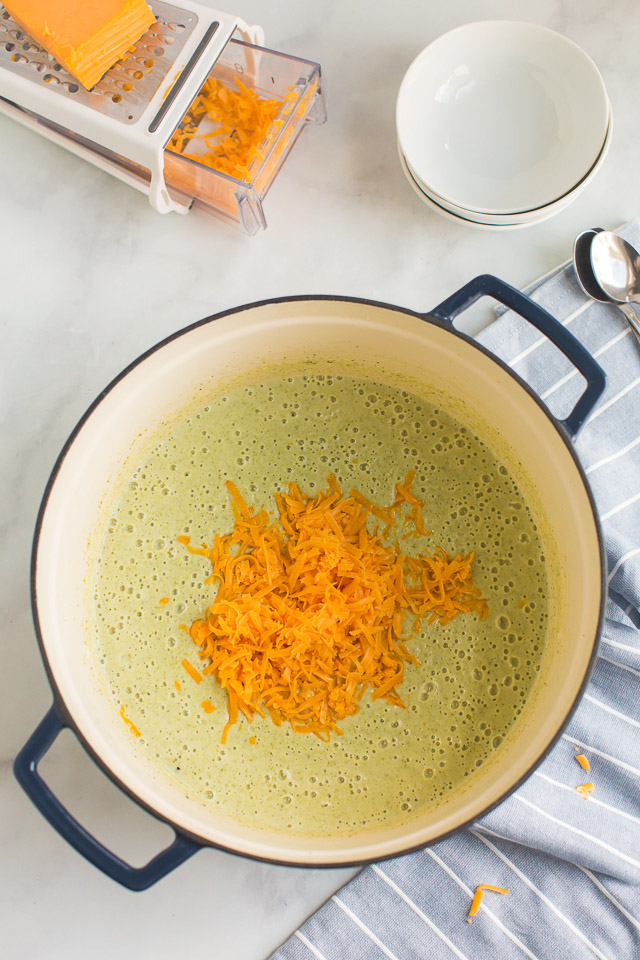 Puree the soup and add the cheese
You can puree the soup using a blender (you'll need to do this in two batches), an immersion blender (also known as a stick blender), or use a potato masher.
Stir in the cheese and allow it to melt. Taste the soup and add more salt and/or pepper if you need to.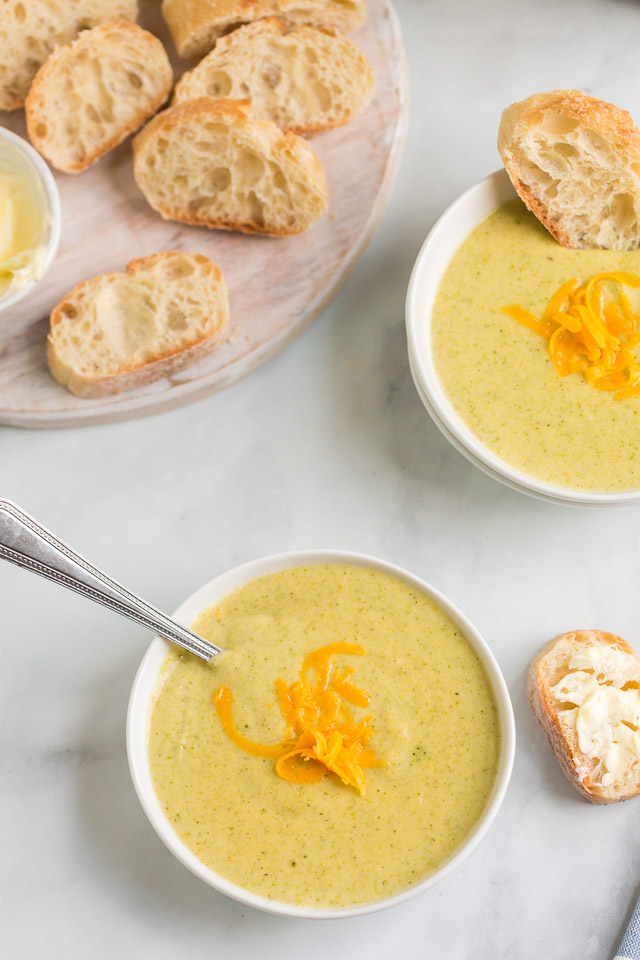 Recipe notes
How to make your cheddar broccoli soup thinner or thicker:
If the soup is too thick, stir in additional milk, a little at a time, until the soup is the consistency you want it.
To thicken the soup, stir in some extra shredded cheese or a couple of tablespoons of mashed potato flakes.
To make it a little heartier, stir in some diced cooked ham, leftover chicken or turkey.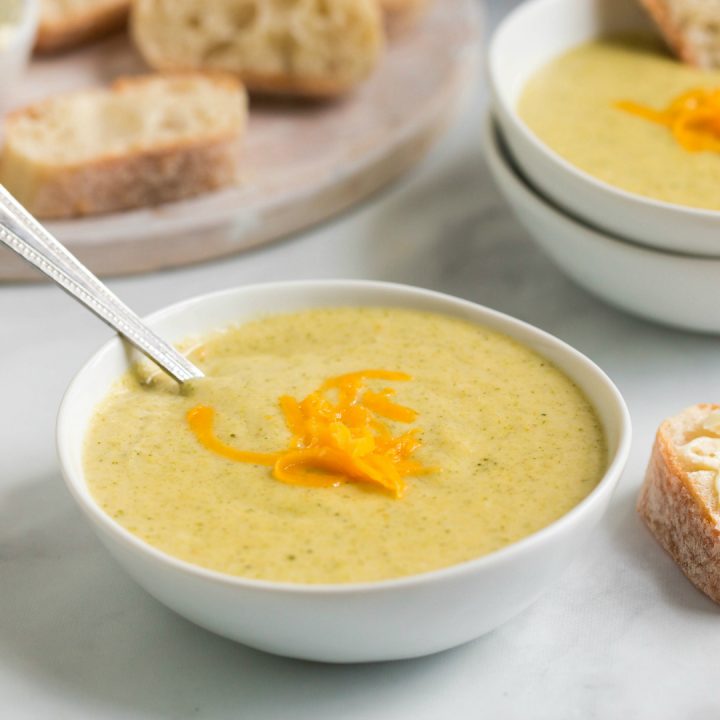 Cheddar Broccoli Soup Recipe
This broccoli cheese soup is just as delicious as the one you can buy from a sandwich shop. It's easy to make and will cost you a LOT less than Panera's soup!
Ingredients
4 tbsp butter
½ large onion, roughly chopped
2 1/2 tablespoons all purpose flour
2 cups whole milk
1 cup chicken stock or vegetable stock
1 large head broccoli, roughly chopped
1 ½ cups grated cheddar cheese
salt & pepper as desired
additional milk and cheese, if needed
Instructions
Melt butter in a large pot over medium heat. Add the onions and cook for about 4 minutes. Stir in flour and cook for a minute or two. Slowly whisk in the milk and broth. Add the broccoli. Season with a dash of salt and black pepper.
Cover and reduce the heat to low. Simmer on low until the broccoli is tender, 20 to 30 minutes.
Puree soup using a blender (in two batches), immersion blender, or even a potato masher. Stir in the cheese and allow to melt. Taste the seasonings and adjust if needed. Thin with additional milk to desired consistency.
To make it a little heartier, stir in some diced ham or leftover chicken or turkey. Serve with extra cheese and crackers.

Nutrition Information:
Yield:

4
Serving Size:

1
Amount Per Serving:
Calories:

481
Total Fat:

34g
Saturated Fat:

20g
Trans Fat:

1g
Unsaturated Fat:

11g
Cholesterol:

98mg
Sodium:

854mg
Carbohydrates:

24g
Fiber:

3g
Sugar:

9g
Protein:

21g
This nutritional information is an estimate may vary, depending on brand and type of ingredients used. It is not intended to replace the advice of a licensed dietician or physician.
Pin this recipe to your favorite Pinterest board: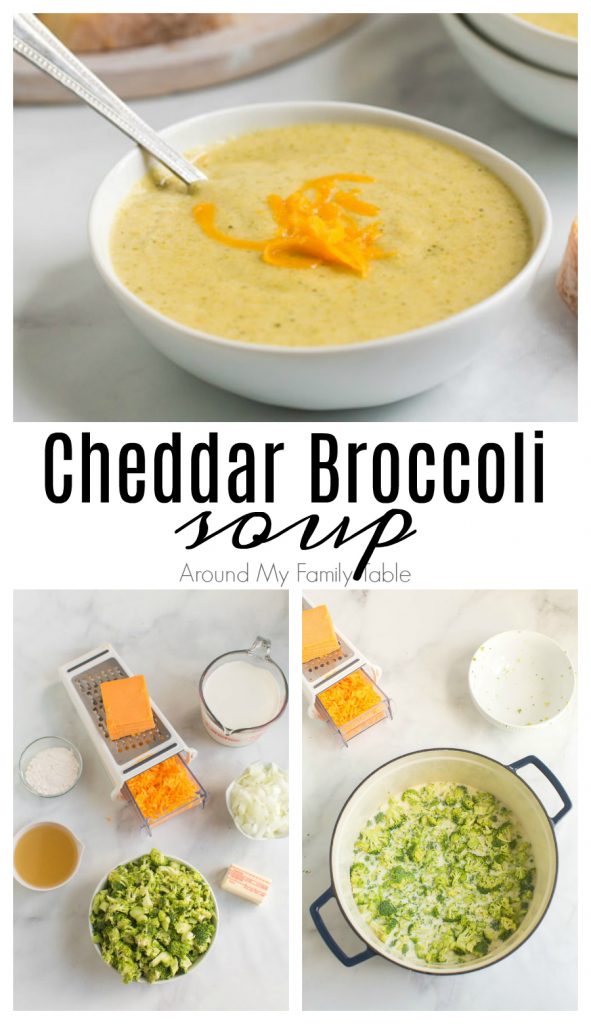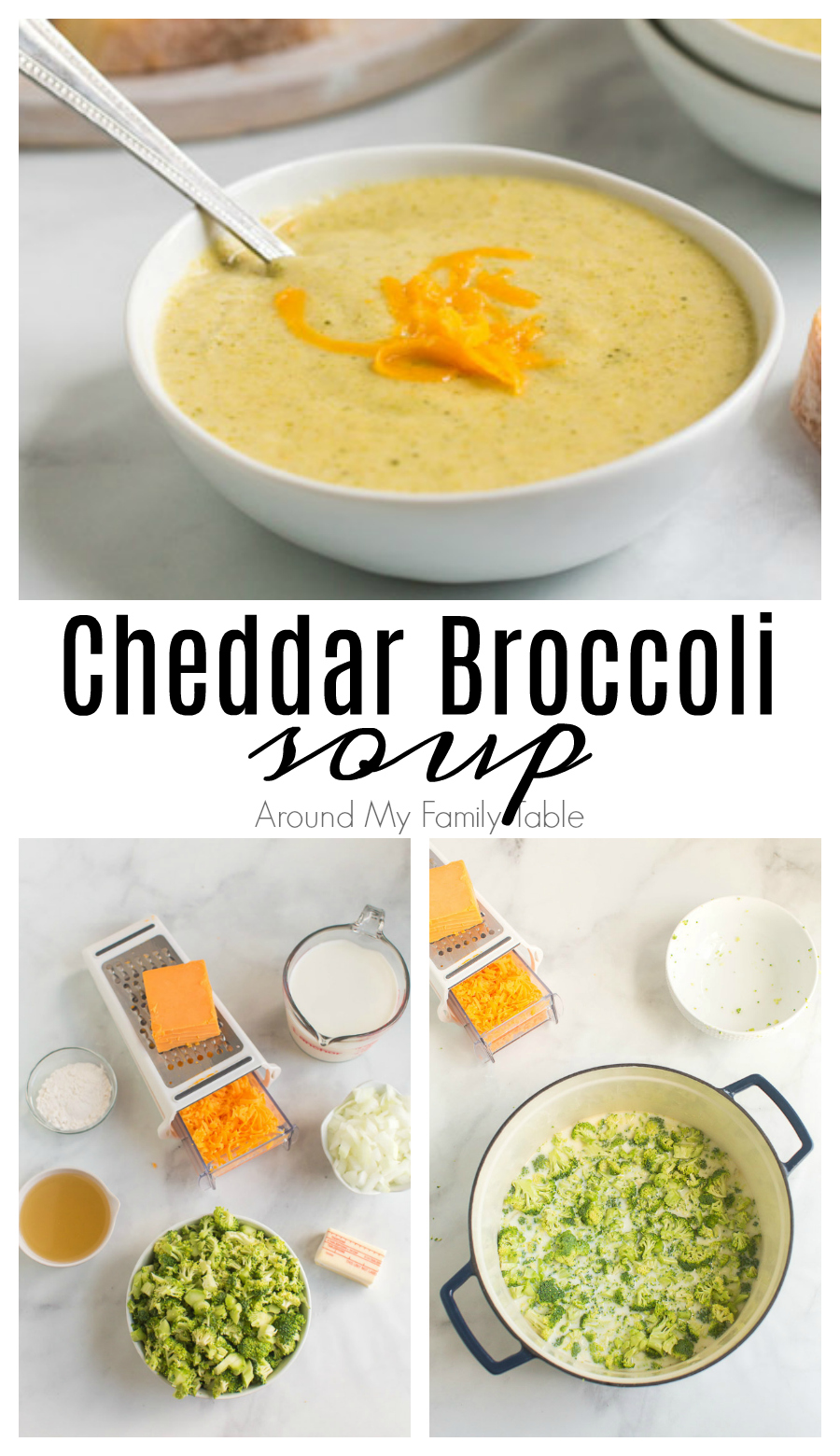 Originally published: 2/9/12 Updated: 10/5/20