This post may contain affiliate links. Please read my disclosure.
A couple months ago, I was introduced to some of the best Hatch Green Chiles that I've ever tried. Unless you live in Hatch, NM or are passing through you have to order them online and get them shipped to you..but they are SOOOO worth it. The flavor is like no other green chile. They are 1000 times better than the canned chiles; however, I realize that most of you aren't gonna run to computer and order some (although…you totally should) so using the canned chiles will work perfectly in these Green Chile Stuffed Burgers too.
Hubbyman and I loves a good gourmet burger, so experimenting and playing with delicious ingredients to make our own version was fun this week. We have a fun stuffed burger maker (like this one), but we've also made them with just our hands. The key to an amazing gourmet burger is properly seasoning your meat with salt, pepper, and a little garlic powder or your favorite steak seasoning.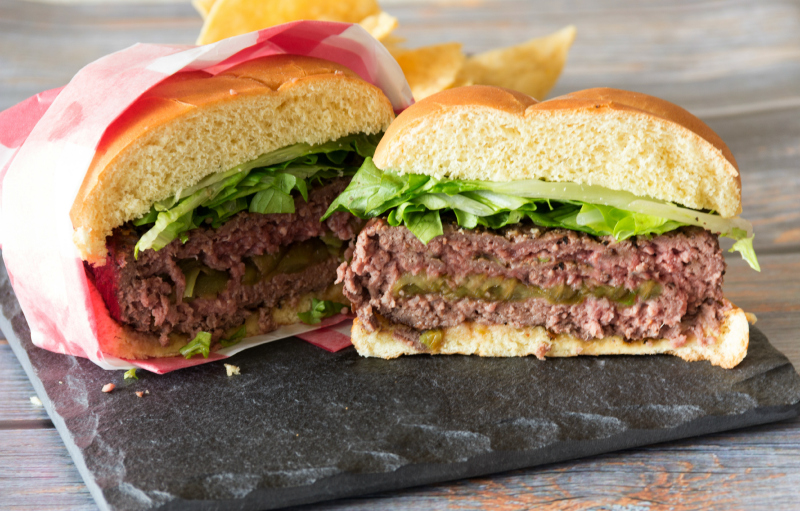 What would you add to your stuffed burger?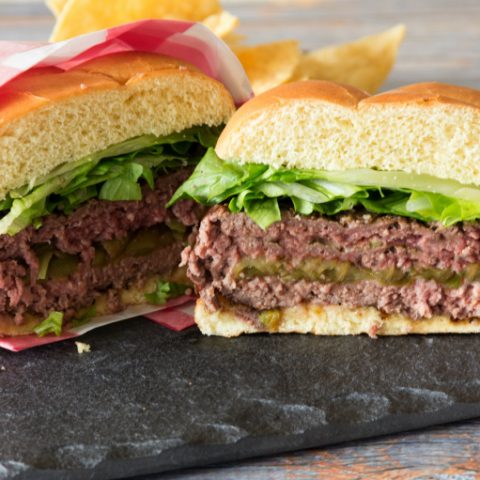 Green Chile Stuffed Burgers
These green chile stuffed burgers will kick up burger night in a delicious way!
Ingredients
2 lbs ground beef
1/3 cup Worcestershire sauce
1 tbsp steak seasoning or salt and pepper
1 cup roasted, peeled, and chopped green chiles (or 2 cans)
2 tbsp butter (or dairy-free butter)
4 buns and other desired toppings
Instructions
Season ground beef with Worcestershire sauce and steak seasoning (or just salt and pepper). Form into 4 balls and set aside.
One at a time, divide each ball in half and flatten in the palm of your hand. Add a 1/2 cup green chiles and 1/2 tbl butter to the center of the patty. Top with remaining meat and pinch edges all around to seal in ingredients.
Preheat grill to high. Cook burgers over direct heat for 3-5 minutes on each side or until desired doneness.
Need more quick 15 minute recipe ideas? Check out these other great #15MinuteSuppers!
Follow 15 Minute Suppers on Facebook | Twitter | Instagram | Pinterest
and look for the #15MinuteSuppers hashtag too!
BLOGGERS: Would you like to join us at #15MinuteSuppers? We'd love to have you! Please check out the 15 Minute Suppers website or ask to join the Facebook group (for bloggers) to participate on Fridays…we'd love to have you join us.