This post may contain affiliate links. Please read my disclosure.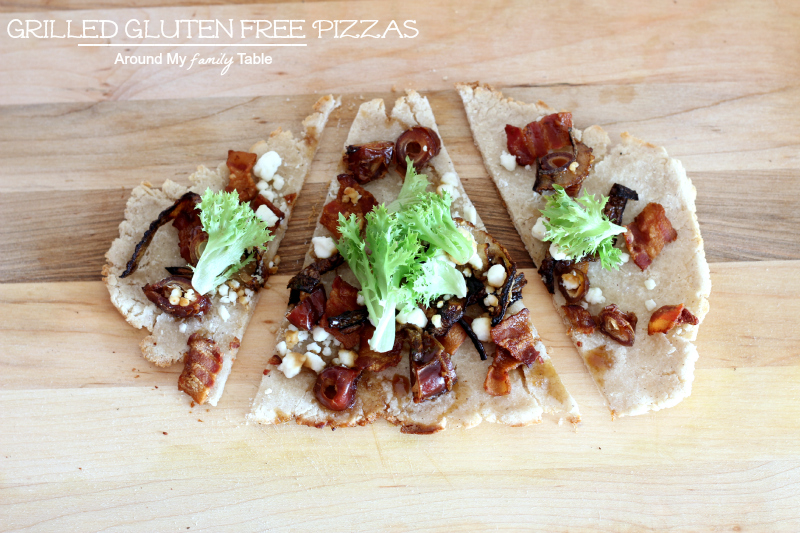 Over the past 7 months, I've had my share of gluten free pizza. Some are good and some…not so much! I knew I had to come up with a versatile gluten free pizza crust. Although, being 115F outside is not the time to experiment with pizza crust in my oven. No way was I going to turn it on to 450F to properly cook a pizza. So, I decided I would make grilled gluten free pizzas for supper last night.
We love pizza night and often have a pizza picnic in our living room. For us, we get out the blankets and eat pizza on the floor while watching a family movie. We do it far more than I should probably admit, but the kids love it. Sometimes, we make the pizza from scratch, sometimes we order out, and sometimes we are lazy and make a frozen pizza. When we make our own, the kids love having a say in what goes on their pizzas and love to "decorate" their own.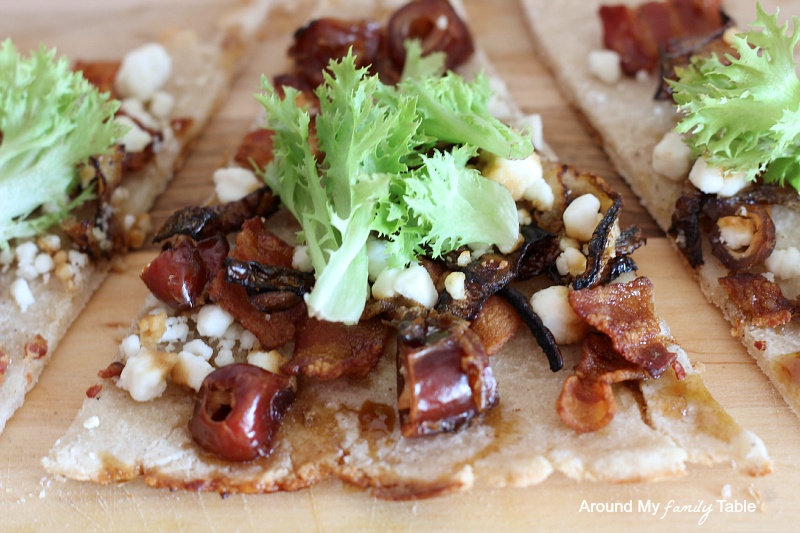 This pizza crust is gluten free and vegan. However, the toppings shown are not vegan, but they are dairy free. The kids made the standard pepperoni and cheese pizzas and they turned out great. Hubbyman and I were a bit more creative. My gluten free pizza was topped with garlic olive oil, caramelized onions, bacon pieces, goat cheese, chopped dates, and a drizzle of honey. Once the pizza came off the grill, I added some baby lettuce greens to the top to make it appear healthy!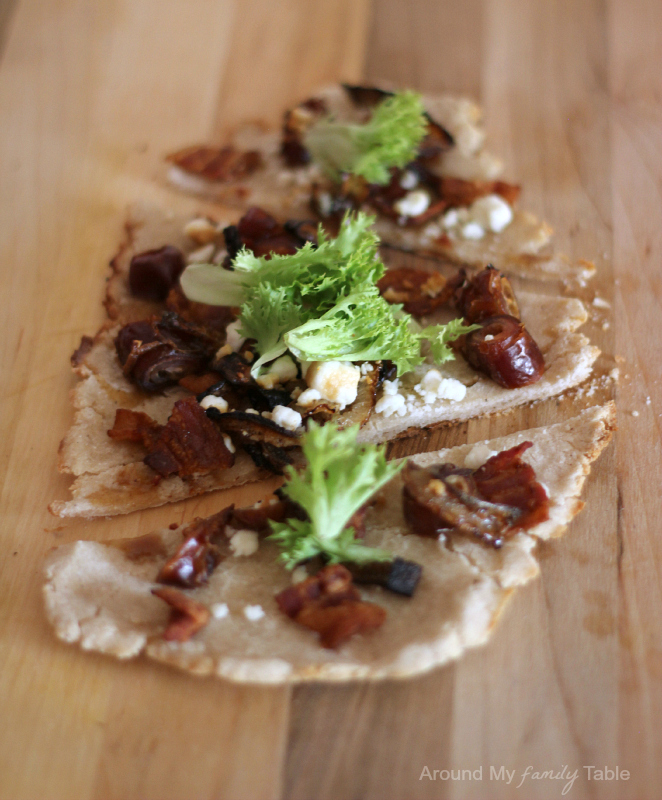 What are your favorite pizza toppings?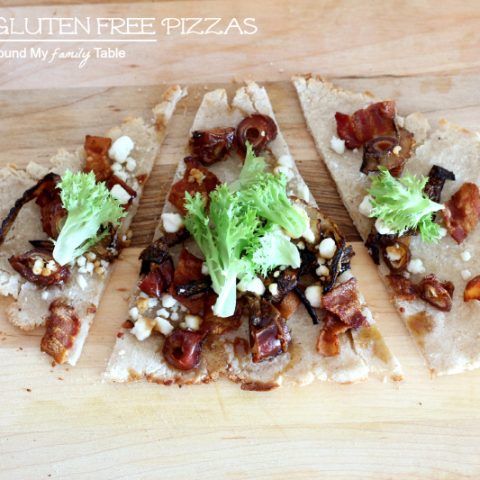 Grilled Gluten Free Pizzas
If you've never had grilled pizza before, you're in for a treat! These gluten free pizzas can be made with any pizza toppings of your choice. Just make sure that they're either already cooked or will be properly cooked in 8 minutes of grilling time.
Ingredients
3 1/2 cups gluten free flour blend, plus more for rolling the dough
1 envelope yeast (Fleischmann's® Pizza Crust Yeast)
1 tsp xantham gum
1 tablespoon sugar
1 1/2 teaspoons salt
1 1/3 cups very warm water (120° to 130°F)*
1/3 cup olive oil
Desired Pizza Toppings: cheeses, meats, sauces, veggies, etc
Instructions
Combine 2 cups gluten free flour, undissolved yeast, sugar, and salt in a large bowl. Add very warm water and oil; mix until well blended, about 1 minute. Gradually add enough remaining flour to make a soft dough. Dough should form a ball and will resemble the texture of pie dough.
Use now or place in a zip top baggie and store in the refrigerator until ready to use.
Start grill to medium-high heat.
Divide dough into 8 equal portions. Pat or roll dough on a small pieces of tin foil that have been lightly sprayed with non-stick cooking spray, to about 8-inch circles.
Place each piece of foil carefully on grill. Cook for 3 to 4 minutes until edges of pizzas starts to brown and tops look set. Using long handled tongs or a large metal spatula, remove crusts from grill, and add toppings. Go easy on the sauce as too much sauce or too many toppings can make the pizza soggy.
Carefully slide each foiled pizza back onto the grill. Cook an additional 3 to 4 minutes (with the lid closed) until bottom of crust is browned and cheese is melted. Remove from grill and serve immediately.
©Around My Family Table
Nutrition Information:
Yield:

8
Serving Size:

1 slice
Amount Per Serving:
Calories:

687
Total Fat:

25g
Saturated Fat:

7g
Trans Fat:

0g
Unsaturated Fat:

17g
Cholesterol:

19mg
Sodium:

1004mg
Carbohydrates:

96g
Fiber:

5g
Sugar:

5g
Protein:

18g