This post may contain affiliate links. Please read my disclosure.
Grilled salmon salad with warm blueberry vinaigrette dressing is the perfect quick weeknight meal at home with the kids, or easy dinner recipe for entertaining guests.
I'm not a huge fan of seafood, so when Hubbyman wanted salmon a couple weeks I put my thinking cap on. I needed something that he would love and that I would tolerate. Let me just say that I was the first one to join the clean plate club the night we had this grilled salmon salad with warm blueberry vinaigrette. It was..in one word…PERFECT!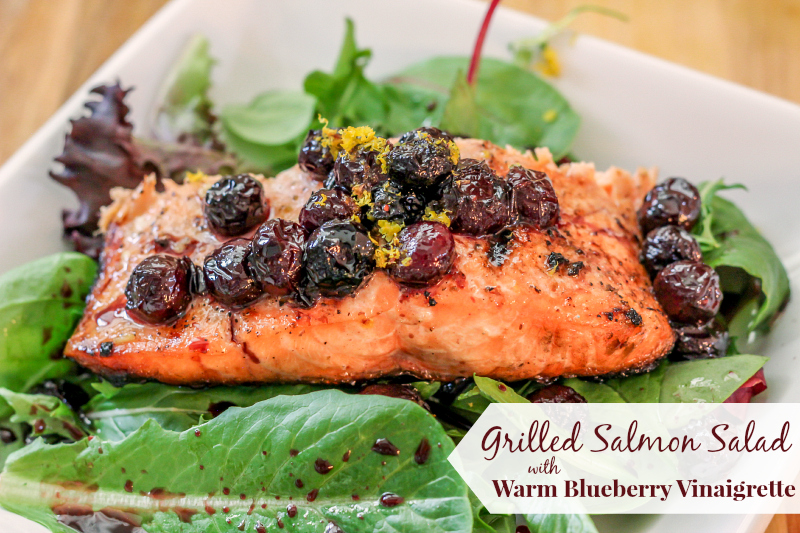 Yep, perfect is the only way to describe this super simple, yet elegant supper. It's perfect for a quick weeknight meal at home with the kids, but it's also perfect for entertaining too. The best part is that it only takes a few minutes for this amazingly, scrumptious salmon salad.
If you can't find fresh blueberries or they are just too darn expensive then opt for some frozen blueberries and just thaw them under some warm water for about 30 seconds and they will be totally perfect for this dish…since the blueberries get cooked a bit.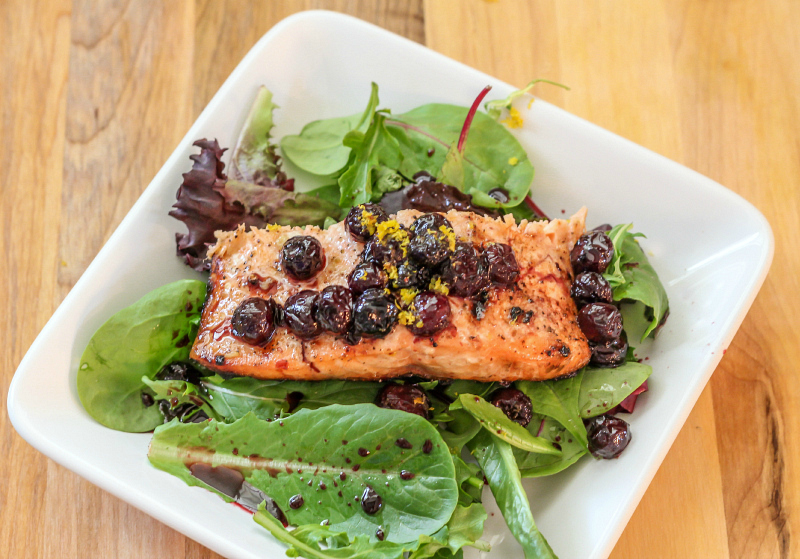 My MIL actually told me about this recipe that she had seen in the newspaper months ago. She could remember a few of the ingredients and sort of how it was made, but didn't have the recipe nor could she remember which paper. This is my take on what she told me. (Update: I found the recipe online with the help of @quickeasydish on Twitter….here is the link to the original recipe in which mine was inspired from.)
To get this grilled salmon salad on the table fast, make the vinaigrette while the salmon is cooking.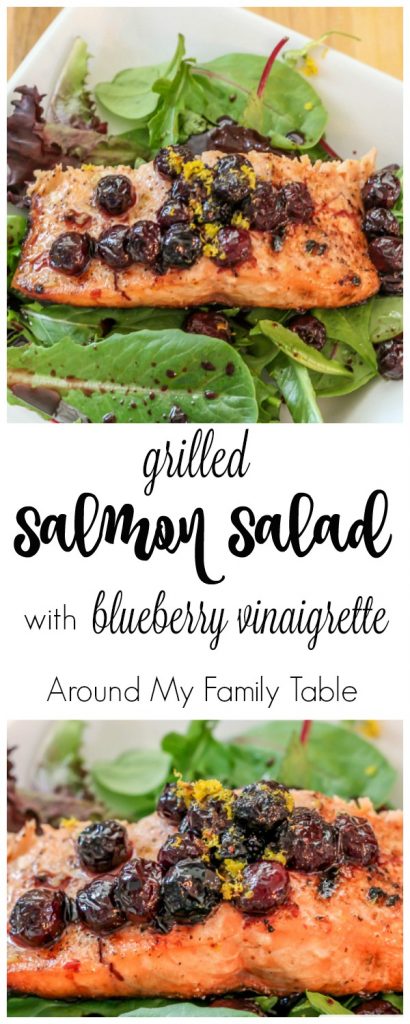 It's easy! I promise.
Got Grilling Questions?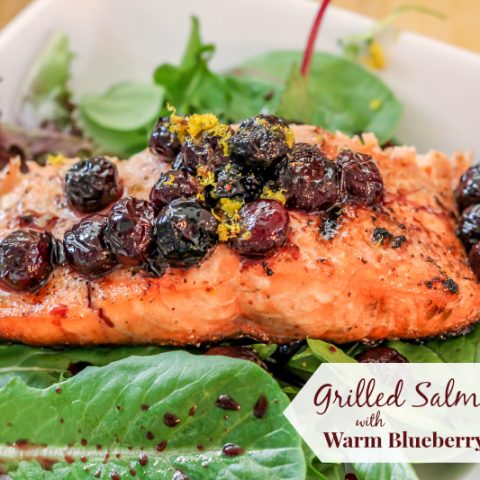 Grilled Salmon Salad with Warm Blueberry Vinaigrette
This grilled salmon salad comes together in about 20 minutes. Packed with Omega-3 fatty acids and antioxidants, it's a healthy dinner you'll want to make often!
Ingredients
2 salmon fillets (6 oz each)
1 tsp olive oil
1 tbsp minced garlic
1 tbsp coconut oil
1 tbsp balsamic vinegar
1/4 blueberries (fresh or thawed from frozen)
1/2 tsp grated lemon zest
1/2 tsp sugar
2 cups salad greens
salt & pepper
Instructions
Preheat grill to medium-high.
Rub salmon with olive oil and mince garlic, then season lightly with salt and pepper. Grill salmon until it is opaue and flaky. About 6 minutes per side (depending on how thick the fillets are).
While salmon is cooking, add coconut oil in a medium-sized saucepan over medium heat to melt. Add in vinegar, blueberries, and sugar. Let cook for about 30 seconds to 1 minute or until the blueberries are soft. Add in lemon zest.
Serve salmon over a bed of greens and top with blueberry sauce and a little more fresh grated lemon juice.
© Around My Family Table
Nutrition Information:
Yield:

2
Serving Size:

1
Amount Per Serving:
Calories:

458
Total Fat:

30g
Saturated Fat:

10g
Trans Fat:

0g
Unsaturated Fat:

17g
Cholesterol:

107mg
Sodium:

269mg
Carbohydrates:

6g
Fiber:

1g
Sugar:

3g
Protein:

39g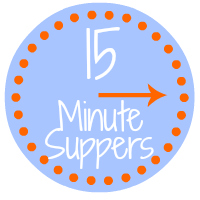 There are just a couple recipes this week, but they sound delicious! Even though you are super busy this time of year, there is no excuse for getting supper on the table when there are all these fabulous #15MinuteSuppers. Get your family to the table fast without a lot of fuss with these fabulous ideas!
Follow 15 Minute Suppers on Facebook | Twitter | Instagram | Pinterest
and look for the #15MinuteSuppers hashtag too!
Wonton Soup from Just 2 Sisters
Build-Your-Own Omelet in a Bag from Better in Bulk
Grilled Salmon Salad with Warm Blueberry Vinaigrette from Around My Family Table
If you are a blogger and you'd like more info, please check out the 15 Minute Suppers website or ask to join the Facebook group to participate on Fridays…we'd love to have you join us.