If you are craving a cold treat, then make up one of these 70+ Healthy Popsicle Recipes today!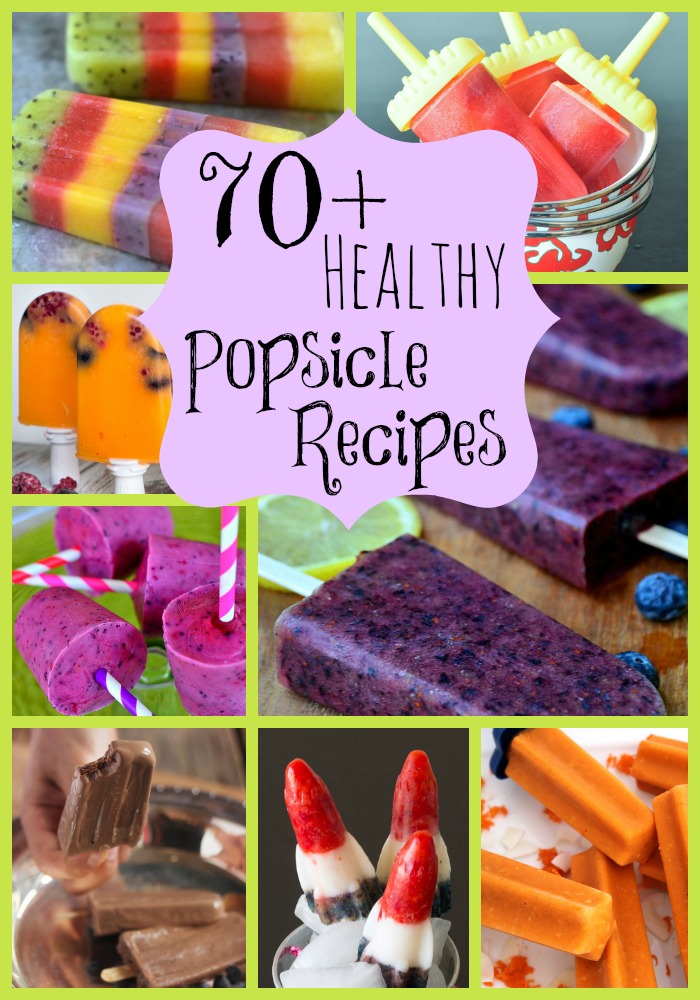 Popsicles are such a perfect treat on a hot day. It's so easy to make your own at home with one of these recipes. They are healthier and taste better than store bought, so you don't have to feel guilty about added junk. There is something for everybody: real fruit, yogurt, interesting flavors and combinations. Treat your kids (or yourself) to one of these healthy popsicle recipes. You are guaranteed to find something delicious to help keep you cool!
Fruity
Chocolate Dipped Pear Popsicles
Carrot, Mango, & Raspberry Popsicles
Popsicle Rockets (pictured)
Blueberry Pomegranate Hibiscus Pops
Bare Necessities Fresh Fruit Pops
Carrot Cakesicles (pictured)
Peach Watermelon Pineapple Ice Pops
Easy Fruit & Juice Popsicles (pictured)
Fresh and Fruit Grape Popsicles
Strawberry Coconut Frozen Fruit Pops (GF, vegan)
Whole Fruit Striped Popsicles (pictured)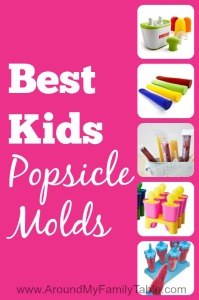 Find out AMFT's recommendations are for the Best Kids Popsicle Molds 
Yogurt Pops
Red, White, and Blueberry Yogurt Popsicles
Peaches and Cream Popsicles with Greek Yogurt
Greek Yogurt Berry Smoothie Pops (pictured)
Strawberry Vanilla Orange Juice Yogurt Ice Pops
Blackberry and Vanilla Yogurt Swirled Popsicles
Peach and Kefir Smoothie Ice Pops
Banilla Nutella Frozen Yogurt Pops
Strawberry Sundae Yogurt Ice Pops
Triple Berry Fruit & Yogurt Pops
Green Tea Strawberry Smoothie/Popsicles
Strawberry Raspberry Cream Pops
Mango Ginger Yogurt Popsicles
Greek Yogurt Pops with Cocoa and Honey
Strawberry Blueberry Yogurt Pops
Strawberry Cheesecake Popsicles
Banana-Blackberry Yogurt Popsicles
Peanut Butter & Jelly Popsicles
Citrus and Tropical
Raspberry Lemonade Pops (pictured)
Mango Strawberry Lime Popsicles
Blueberry Lemon Popsicles (pictured)
Pineapple and Ginger Coconut Cream Popsicles (GF, vegan)
Unique Flavors
Grilled Plum and Herbal Tea Popsicles
Chocolate Blueberry Crumble Pops
Roasted Balsamic Fig Popsicles (GF, DF, w/ vegan option)
Protein Fudgesicles (pictured)
Banana Coconut Cream Popsicles
Creamy Chocolate Avocado Fudgesicles (GF, vegan)
Raspberry Coconut Cream Popsicles
Chocolate-Covered Toasted Coconut Pops
Apricot Creme Fraiche Creamsicles
Vegan Chocolate Chip Cookie Dough Popsicles
Chocolate Peanut Butter Coffee Pops (GF, vegan)
Raspberry Chocolate Chia Ice Pops 
Ginger Peach Green Tea Popsicles
Chocolate Avocado Pudding Pops
Strawberry Coconut Lime Popsicles
Pineapple Ginger Coconut Cream Popsicles (GF, vegan)
Strawberry Cheesecake Popsicles (GF)
Don't Miss A Recipe!
And get my Free Slow Cooker Resource Guide! It's full of recipes with 5 or fewer ingredients plus plenty of slow cooker tips!

Plus, you'll get access to my free EXCLUSIVE downloads & printables for newsletter subscribers.