Learn How to Make Chocolate Fudge without Sweetened Condensed Milk with these 3 easy recipes!  I've got a basic one that is easy (but a bit advanced), an easier version, and the easiest version possible!  All are totally delicious.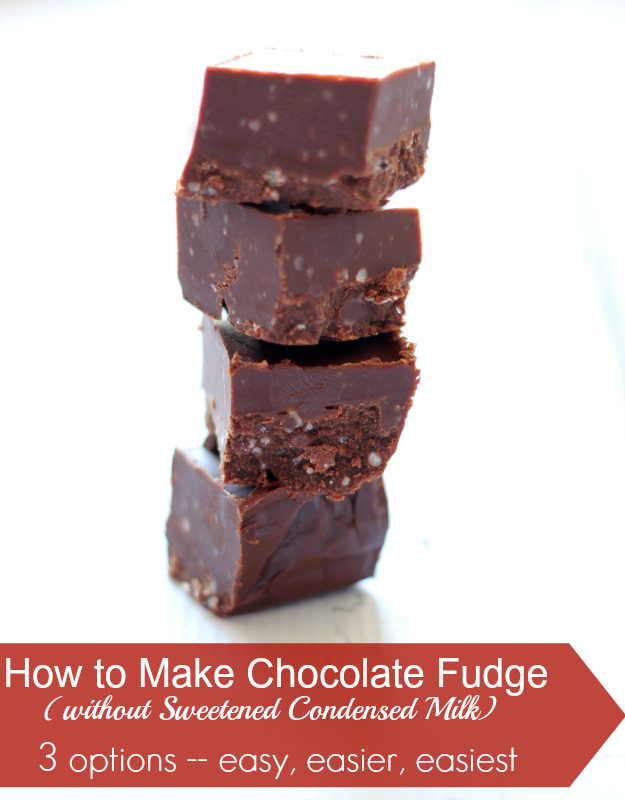 What I love about not being stuck with using sweetened condensed milk or evaporated milk, is that if you need to make a dairy free fudge or vegan fudge, these recipes totally lend themselves to some easy swaps to fit those dietary needs.  I'm not saying I never make gourmet fudge recipes with these tasty ingredients, but sometimes I just don't want to be stuck with only one recipe option.
I tried so many different recipes for fudge that didn't use sweetened condensed milk and I had so many failed attempts  that I knew I had to share the techniques that actually worked and tasted really good!  Make sure to click through to learn how to make chocolate fudge without sweetened condensed milk.  Which method will you try?
Join my Weekly Newsletter
And get my Free Slow Cooker Resource Guide! It's full of recipes with 5 or fewer ingredients plus plenty of slow cooker tips!

Plus, you'll get access to my free EXCLUSIVE downloads & printables for newsletter subscribers.