This post may contain affiliate links. Please read my disclosure.
Easy Chocolate Fudge Recipe
This Old Fashioned Chocolate Fudge without sweetened condensed milk is what I remember fudge tasting like in my childhood!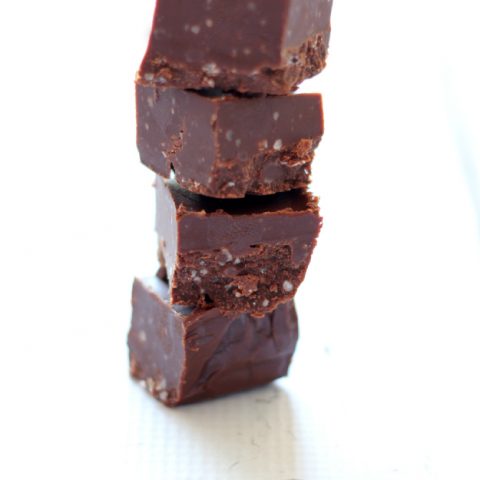 Chocolate Fudge without Sweetened Condensed Milk
This Old Fashioned Chocolate Fudge without sweetened condensed milk is what I remember fudge tasting like in my childhood! Easiest fudge recipe ever!
Ingredients
2 cups white sugar
1/2 cup unsweetened cocoa powder
1 cup milk
4 tbsp butter
1 teaspoon vanilla extract
Method 2
8 tbsp butter (or butter substitute)
1 cup chocolate chips
1/2 cup powdered sugar, sifted
1/4 cup milk (or milk of your choice)
Method 3
1 container chocolate ready-made frosting
12 oz semi-sweet chocolate chips
Instructions
Prepare an 8x8 inch square baking pan with non-stick cooking spray. Set aside.
Combine sugar, cocoa, and milk in a medium saucepan. Stir to blend. Bring to a boil, stirring constantly. Reduce heat and simmer, but do not stir again.
Place candy thermometer in pan and cook until temperature reaches 238 degrees F. (It's easiest to use a candy thermometer, but if you don't have one, then cook until a drop of this mixture in a cup of cold water forms a soft ball. Feel the ball with your fingers to make sure it is the right consistency. It should flatten when pressed between your fingers.)
Remove from heat. Add butter and vanilla. Beat with a wooden spoon until the fudge loses its sheen. Do not under beat. Then, pour into prepared pan and let cool.
Method 2
Prepare a 4x4 inch pan** by lining with foil (leave a little overhanging the edges). Set aside.
In a medium, microwave safe bowl combine butter and chocolate chips. Heat in 30 second bursts, until completely melted and smooth. Stir between bursts.
When everything is melted and smooth, quickly stir in sifted powdered sugar (yes, you need to sift it or you might end up with little powdered sugar clumps) and milk. Pour into prepared pan and put in refrigerator for several hours to set.
Method 3
Prepare an 8"x8" baking pan by lining it with foil, leaving some hanging over the edge. Set aside.
Place chocolate chips in a heat proof bowl and set aside. Place container of frosting in the microwave, heat for 20 to 30 seconds until it is hot and completely melted. Once the frosting is melted pour over the chocolate and let the heat from the frosting melt the chocolate. Stir until all chocolate is melted and smooth. Pour into foil lined pan and sprinkle. Place in the refrigerator to set up then cut into one inch squares.
Notes
There are 3 methods here all making chocolate fudge without sweetened condensed milk. Pick which method is easiest for you. They are all delicious.
**For the 4x4-inch pan, I used a sandwich sized reusable plastic container. It worked great and was the perfect size!
Recommended Products
As an Amazon Associate and member of other affiliate programs, I earn from qualifying purchases.
Nutrition Information:
Yield:

64
Serving Size:

1
Amount Per Serving:
Calories:

94
Total Fat:

5g
Saturated Fat:

3g
Trans Fat:

0g
Unsaturated Fat:

2g
Cholesterol:

7mg
Sodium:

24mg
Carbohydrates:

13g
Fiber:

1g
Sugar:

12g
Protein:

1g
(or pick your skill level Easy, Easier, Easiest)