This post may contain affiliate links. Please read my disclosure.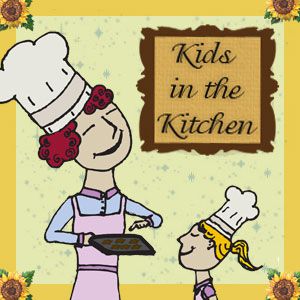 Today's Kids in the Kitchen is from Kris who blogs at In the Kitchen with Audrey.
"I started cooking with Audrey when she was less than two-years-old. She was curious and always underfoot in the kitchen during dinner. By including her in the preparations she was engaged and no longer in the way. I heard that cooking with children was a great way to get them to try new foods. It didn't work with Audrey! At least not at first. Now she is a lot more adventurous and will try new foods. She still has a fairly narrow pallet. Her little sister is a different story, she will not try anything, yet. Audrey will be four in December and little sister, Maurene, just turned two. We like these muffins a lot but Audrey knows they are a treat and we do not eat them all the time. She is learning about too much sugar consumption."
Want to feature your family and a family recipe? Send me an email to schedule a time….aroundmyfamilytable (at) gmail (dot) com.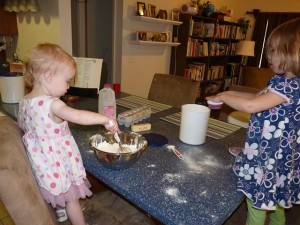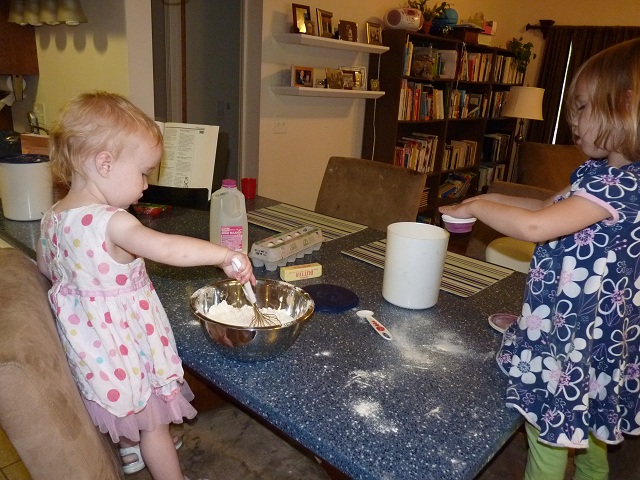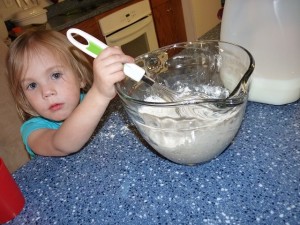 Pineapple Not-Upside-Down Muffins
1 cup AP flour
1 cup whole wheat flour
2 tsps baking powder
1/2 tsp salt
1 cup milk
1 egg
1/4 cup melted butter or olive oil
1 cup crushed pineapple, drained
1/2 cup dried cherries
1/4 cup butterscotch chips
Preheat the oven to 400 degrees F. Grease 12 muffin tins.
In a large bowl mix flours, baking powder, and salt, set aside. In a medium bowl add milk, egg and butter, mix well. Add wet ingredients to dry ingredients and stir until just combined. Fold in pineapple and dried cherries. Fill muffin tins 3/4 full and then sprinkle with butterscotch chips.
Bake for 15 to 18 minutes or until a toothpick inserted into a muffin comes out clean. (Keep an eye on them because you don't want to burn your
butterscotch chips.) Remove from oven and cool in tin for 5 minutes and then move to a cooling rack. Enjoy!
Teachable Moments: measurements, baking soda reactions, cooking with whole wheat flour vs white flour, health benefits of whole wheat flour and fruits
Kids in the Kitchen is a monthly feature on the first Friday of the Month.
Want to check out the previous KITK posts?
Cheese Enchiladas
BBQ Chicken Bites
Canning Jam
Irish Soda Bread