This post may contain affiliate links. Please read my disclosure.
Perfect for hectic mornings, these Overnight Mango Oats are made the night before and can be eaten warm or cold the next morning.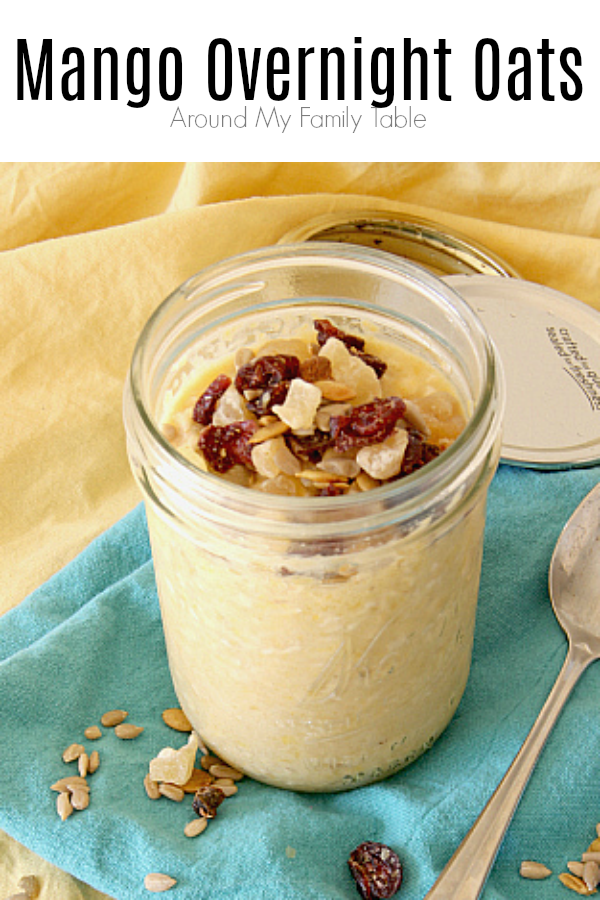 Mango Overnight Oats
During the school year mornings are completely hectic at our house and with kids heading to 4th grade and 9th grade at two different schools, I have to make breakfast and lunches quickly every morning. I'm not a morning person and neither is my daughter, so a quick (and healthy breakfast) does not always make it to the table before we rush out the door.
Overnight Oat Flavors
This year, I vow to do better and make sure I get a good breakfast into my kids before the school bell rings. I've been makin' variations of these Overnight Mango Oats all summer and it's so easy. You have to check out my Nutella Overnight Oats, Pineapple Mango Overnight Oats, and my favorite Overnight Oats and Yogurt Breakfast Parfaits. While I'm cleaning up the supper dishes, I quickly make up a couple jars of oatmeal and stick in the fridge. That way, when the kids get up they can grab their own breakfast.
I love how versatile this recipe is. You can use pumpkin butter in the fall, berries in late spring, or go crazy and try peanut butter or Nutella. Use what you have on hand or what's on sale to keep it budget friendly!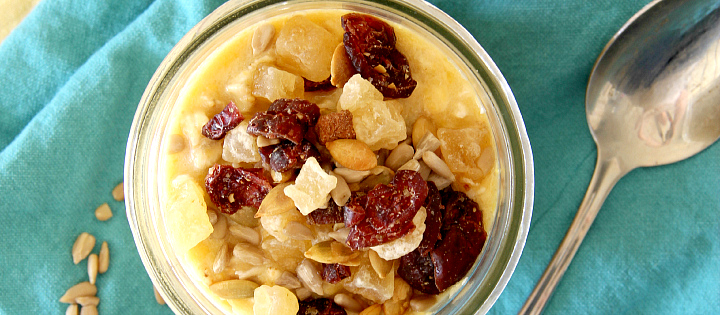 Can Overnight Oats Be Warmed Up?
Absolutely! We warm ours up about half the time for a minute or two and it's delicious. If using a mason jar with metal lid, make sure to remove the lid prior to microwaving. My husband loves his overnight oats cold, but I prefer mine gently warmed…it's really just a personal preference. Try it both ways to see how you like it.
What Milk to Use for Overnight Oats?
The easy answer..is any type of milk works. I use almond milk since that's my favorite non-dairy milk, but any will work. Soy, Cashew, Coconut, Cow….really use anything that you drink normally or would put on your cereal. And while technically you can use water too, I've found it's just not as good with water as it is with some sort of milk.
How long do Overnight Oats last?
Overnight oats last about a 4-5 days in the fridge without getting too mushy. I try to make up half a dozen jars at the beginning of the week that way they are in there for who ever wants one for breakfast.
It will be so nice having these in the fridge for school morning breakfasts. That way, when I'm busy helping one kid, the other can easily grab their own breakfast. No more sugary cereals or worse, granola bars in the car (I'm guilty of the latter far too often).
How do you handle busy school mornings?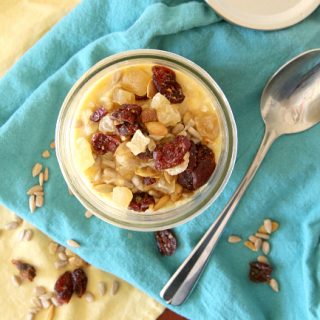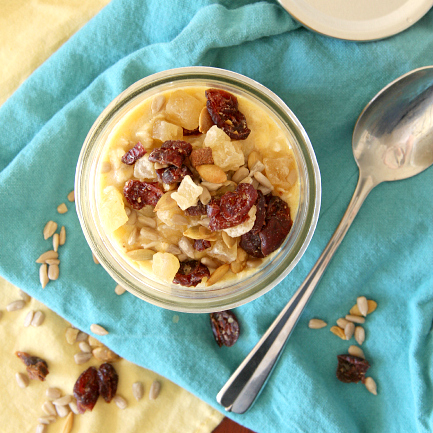 Mango Overnight Oats
Total Time:
8 hours
5 minutes
Perfect for hectic mornings, these Overnight Mango Oats are made the night before and can be eaten warm or cold the next morning.
Ingredients
1 cup unsweetened almond milk (regular milk works too)
2 mangoes, cored, peeled, and roughly chopped
1 tbls agave syrup (optional for sweet oats)
dash salt
1/2 cup rolled oats
2 pint sized mason jars with lids
Instructions
Combine first four ingredients into a blender and blend until combined and smooth.
Divide oats into 2 pint sized mason jars and pour half of mango mixture over each jar of oats. Add lid and ring to mason jar, shake well to combine. Let sit in refrigerator overnight (about 8 hours).
Enjoy cold or remove lid and ring and microwave for 1-2 minutes to gently warm.