This post may contain affiliate links. Please read my disclosure.
Swapping peas for chickpeas in traditional falafels creates an addicting little Pea-lafel appetizer bite that everyone will love!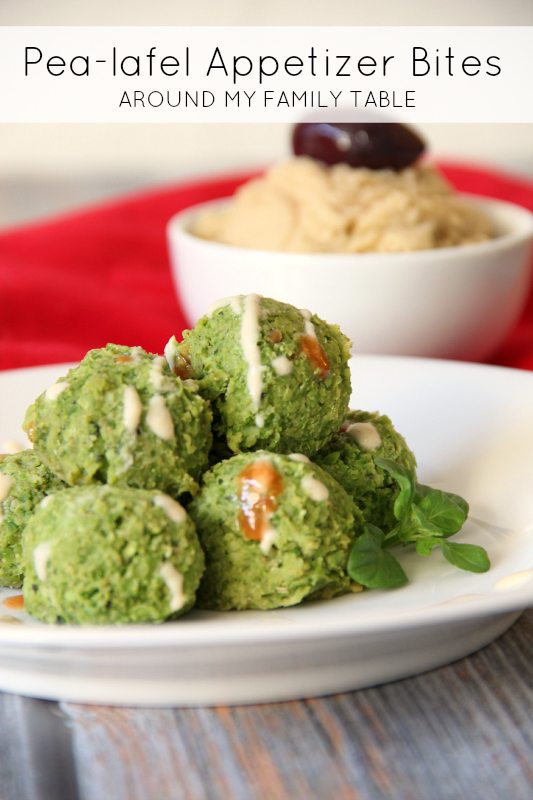 I have to admit that the first time I heard about falafel it was from a friend who referred to them "awful falafel." I later happened upon a vegetarian restaurant that made them as part of their Mediterranean platter, and I came to love the little chickpea bites. I went elsewhere and realized that he was partially right. At their best, they make a delightful vegetarian plate: fried fritters served with tahini and hummus. At their worst, they can be dry, overly-fried, veggie hockey pucks.
I had used box mixes a few times, with varying results. Then I found Aarti Paarti's recipe using peas instead of the traditional chickpeas and my husband and I were hooked! (I've deviated a little from the original recipe to suit our tastes, but the concept is all Aarti!) The bright green hue really livens up the plate, and the mint pairs perfectly with peas. Plus I absolutely adore her and was fortunate enough to meet Aarti last year at a book signing!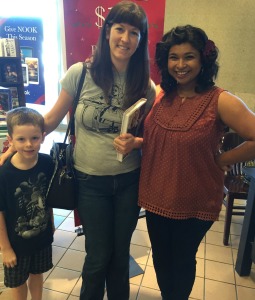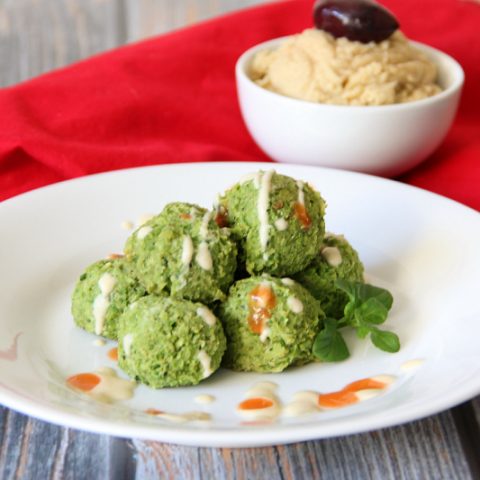 Pea-lafel
Swapping peas for chickpeas in traditional falafels creates an addicting little Pea-lafel appetizer bite that everyone will love!
Ingredients
1/2 teaspoon fennel seeds
1/4 teaspoon coriander seeds
1/2 cup lightly packed fresh mint leaves
Kosher salt
1 cup frozen peas, thawed
1 cup frozen edamame, thawed and drained (or substitute with an extra cup of peas)
1 large shallot, peeled and roughly chopped
1 clove garlic, peeled
2 tablespoons extra-virgin olive oil
1/4 cup chickpea flour (regular flour is a fine substitute)
Coconut oil, for frying
Instructions


Toast the fennel and coriander seeds for a couple of minutes in a small skillet until they're fragrant and slightly darker, about 2 minutes. Use care not to burn spices as this will go quickly! Remove from the pan and grind in a coffee/spice grinder till it makes a powder.
Throw the peas, edamame, ground spices, shallot, garlic, mint leaves, olive oil, and salt into a food processor. Whizz it up and puree until fairly smooth. You will still have some chunks from the edamame. Gently stir in flour. The mixture will be pretty soft.
Coat a large cast iron skillet with oil about 1/4-inch deep and heat on medium. Meanwhile, with a ice cream scoop, make about 12 small patties the size of a golf ball, and then gently drop into the oil. Fry until the bottoms are dark caramel brown, about 2 minutes, and then carefully flip over. Once other side is brown, remove and drain on a paper towel-lined plate.
I served mine with a little homemade hummus and a dash of Sriracha, but you could easily make up a yogurt mint sauce and eat in a pita.
Nutrition Information:
Yield:

4
Serving Size:

3 pea-lafel bites
Amount Per Serving:
Calories:

175