This post may contain affiliate links. Please read my disclosure.
St. Patrick's Day dinner doesn't have to be hard or time consuming. My Simple Irish Soda Bread is ready in 45 minutes.
Be sure to sign up for my email list….seasonal recipes in your inbox every week!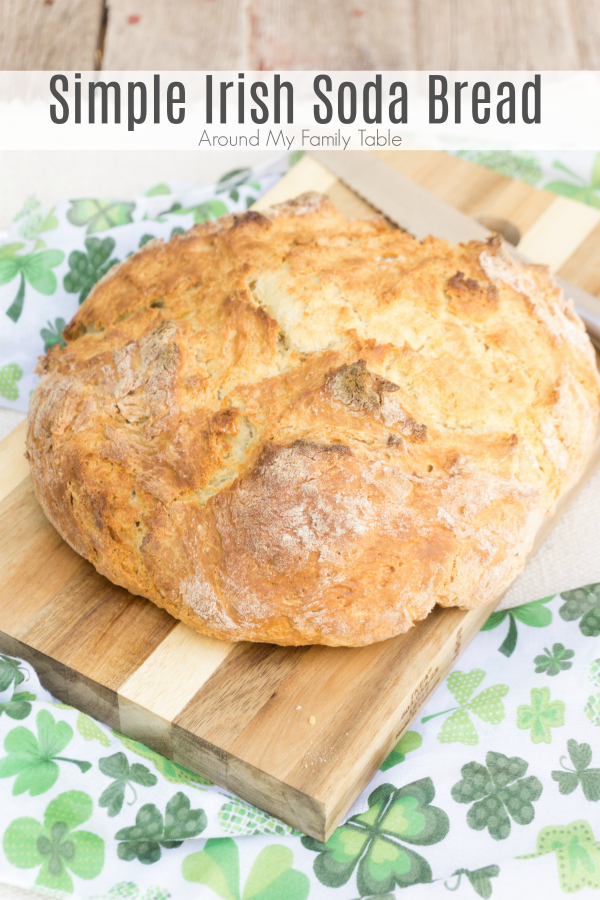 SIMPLE IRISH SODA BREAD
I love St. Patrick's Day! I'm Irish…if you couldn't tell by my last name of O'Neal. I have Irish in my heritage and I married into an Irish family, so St. Patrick's Day is a fun holiday for us and we never miss a chance to celebrate. Mind you, we have totally American-ized our festivities, but that doesn't mean it's not fun!
Irish Soda Bread is easy and simple to make. In fact, it's ready from start to finish in about 45 minutes. It's a dense loaf of bread with a bit of tangy flavor and a hard crust. My daughter says it's the Irish version of sourdough bread and I think she's right.
My family prefers our soda bread without raisins or currants, so that's the way we've always made it. However, give it a try and see which way you like it. You never know, you might prefer it with them added.
I've also made gluten free Irish Soda Bread on occasion and it's pretty good as well. Both end up very rustic and knobby looking, but that's the charm of this loaf of Simple Irish Soda Bread.
ST. PATRICK'S DAY DINNER
While most of my family loves corned beef and cabbage, not everyone in the family does so I've added some Grilled Chicken to our traditional St. Patrick's Day dinner and it makes everyone happy. I do like to make my corned beef from scratch. It takes about 7 days and a word of caution once you make your own from scratch you'll never buy store bought corned beef again.
SIMPLE IRISH RECIPES FOR ST. PATRICK'S DAY SUPPER:
Corned Beef & Cabbage
Homemade Mashed Potatoes
Oven Roasted Asparagus or Broccoli
Irish Soda Bread (I also make gluten free Irish Soda Bread)
Chocolate Mint Trifle dessert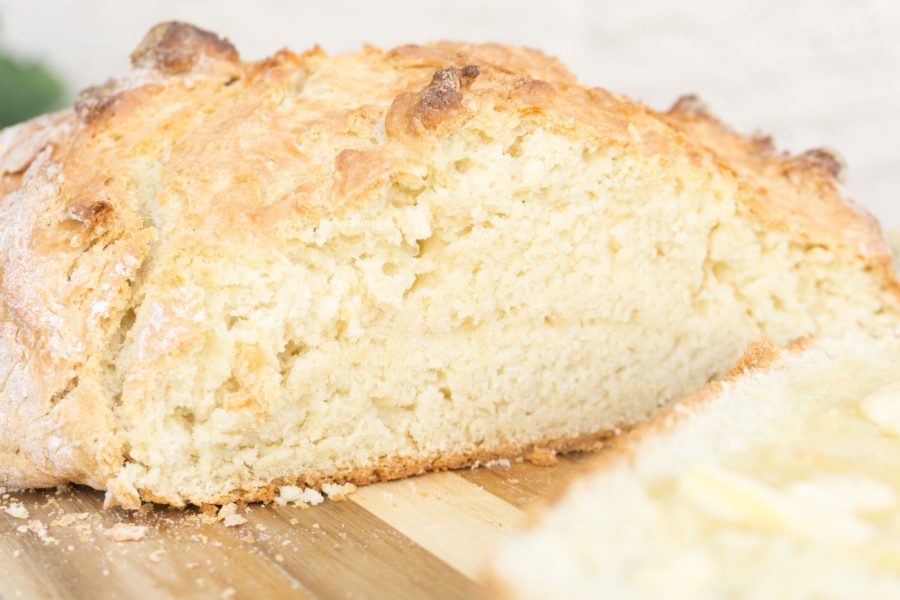 How to Make Irish Soda Bread with Raisins
Traditional Irish soda bread isn't made with raisins or currants, but that doesn't mean you can make it that way. Simply mix in 1 cup of raisins to the dough and bake as you normally would.
How to Make Irish Soda Bread without Buttermilk
This Irish Soda Bread recipe doesn't call for any buttermilk because I never have it on hand. I hate buying an item that I will only use a little bit of and the rest goes to waste. However, it does call for making your own with milk and lemon juice and it turns out perfectly. The plus side is that if you'd rather just use buttermilk you can.
Looking for more St. Patrick's Day recipes I've got ya covered!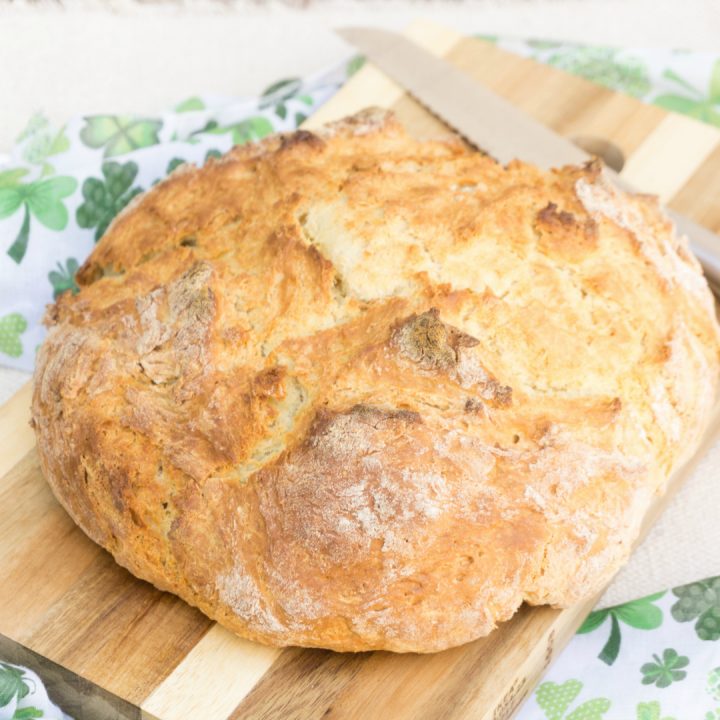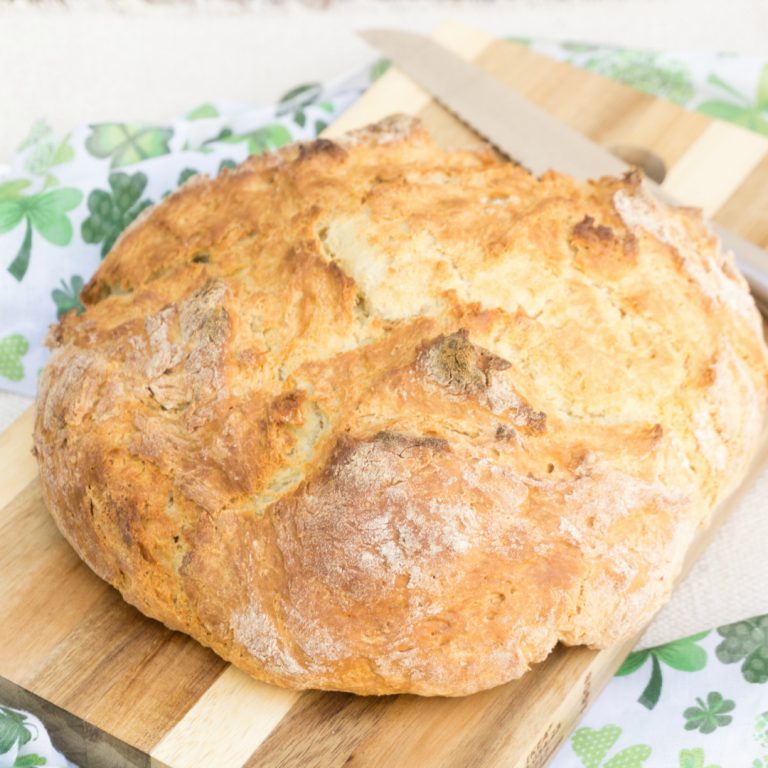 Simple Irish Soda Bread
St. Patrick's Day dinner doesn't have to be hard or time consuming.  My Simple Irish Soda Bread is ready in 45 minutes.
Ingredients
4 - 4 1/2 cups all purpose flour
1 tablespoon sugar
1 teaspoon salt
1 teaspoon baking soda
4 tablespoons butter (I prefer to use Irish butter), cut into small pieces
1 large egg, slightly beaten
2 tablespoons lemon juice**
1 2/3 - 1 3/4 cup milk
Instructions
Preheat oven to 425° F and spray a baking sheet with non stick cooking spray.
Whisk together 4 cups flour, sugar, salt, and baking soda in a large mixing bowl. Using a pastry cutter or your fingers, work the butter into the flour mixture until it resembles coarse meal/crumbs.
Place lemon juice in a 2 cup glass measuring cup and fill up to 1 3/4 mark with milk. Let milk sit for several minutes to sour. Make a well in the center of the flour mixture. Add beaten egg and soured milk to the well and mix with a wooden spoon. Once the dough is too stiff to stir, dust hands with a little flour, then gently knead dough in the bowl just long enough to form a ball. If the dough is too sticky, add in a little additional flour.
Shape dough into a round loaf. (The dough will be a little sticky and quite rugged looking.) But do not over-knead! Work it just enough so that the flour is just moistened and the dough just barely comes together. Rough and shaggy is good. Over-kneading will result in a tough loaf of bread.
Transfer dough to prepared baking sheet. Using a serrated knife, score top of dough about an inch and a half deep in an "X" shape.
Transfer to oven and bake until bread is golden and bottom sounds hollow when tapped, about 35-40 minutes.
Remove sheet from oven, let bread cool on the pan for 5-10 minutes, then remove to a rack to cool briefly. Serve bread warm, at room temperature, or sliced and toasted.
Notes
**Skip the lemon juice and milk and just use 1 3/4 cups buttermilk if you have it.
Nutrition Information:
Yield:

8
Serving Size:

1 slice
Amount Per Serving:
Calories:

1136
Total Fat:

11g
Saturated Fat:

5g
Trans Fat:

0g
Unsaturated Fat:

4g
Cholesterol:

46mg
Sodium:

529mg
Carbohydrates:

221g
Fiber:

8g
Sugar:

2g
Protein:

33g