This post may contain affiliate links. Please read my disclosure.
Set the perfect Thanksgiving table and be inspired with these delicious and beautiful Thanksgiving Vegetable Recipes and side dishes.
Looking for a vegetable to go with turkey dinners? I've got ya covered!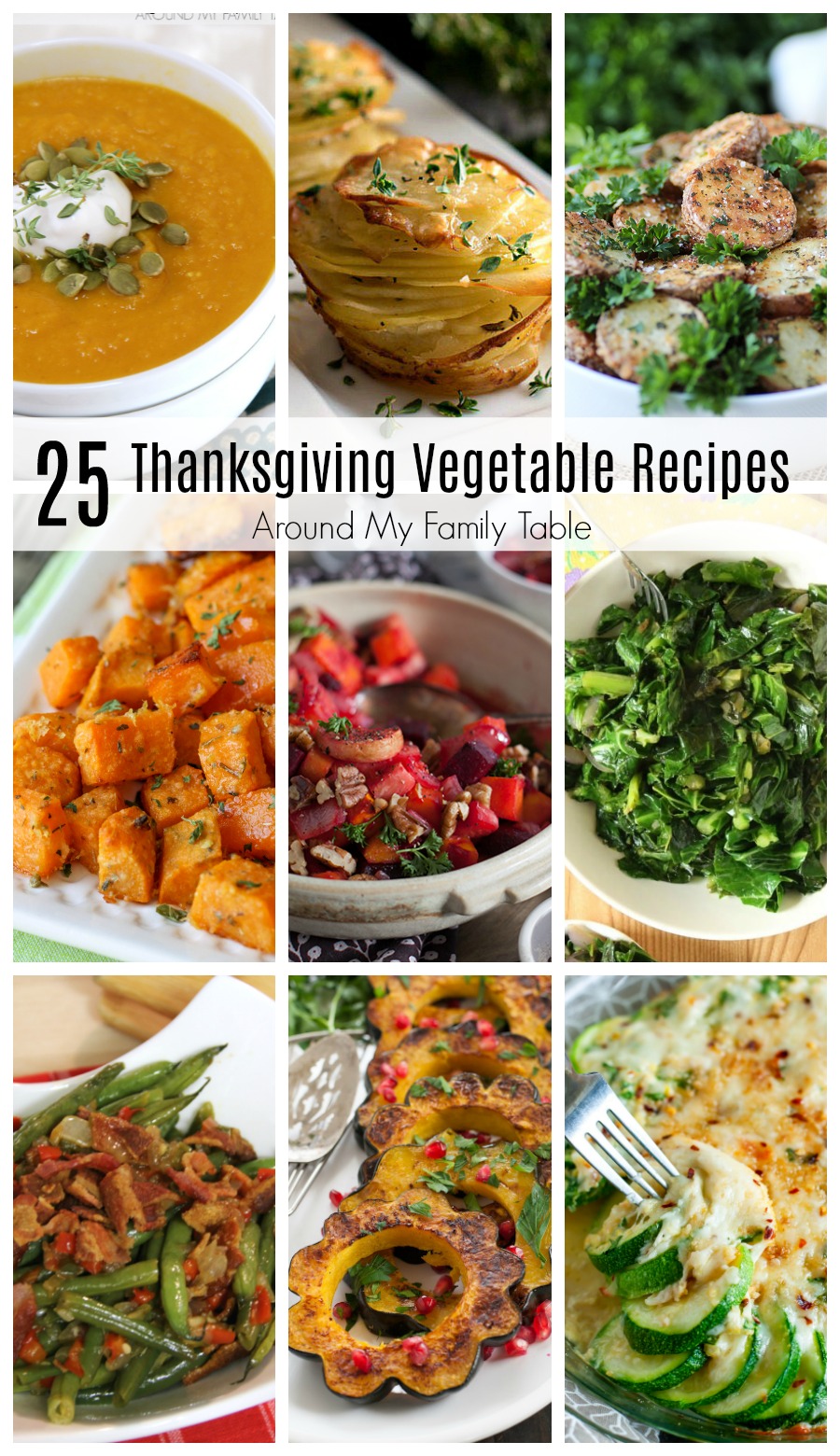 Easy Vegetable Recipes for Thanksgiving Dinner
With Thanksgiving fast approaching, I am busy planning things out for the big meal. Of course I'll cook a big juicy turkey, but the toughest decision comes in narrowing down the choices of which side dishes to serve with it. To me, a Thanksgiving feast isn't complete without a lot of yummy vegetables. I love to see a table full of colorful veggies.
Thanksgiving Vegetable Ideas
Both my family and my husband's family will be coming to our house this year, so I have a lot of people to cook for. To make Thanksgiving morning as easy and stress-free as possible, I will pre-wash, pre-chop, and pre-measure as much as possible the day before. The pies will already be baked. The eggs will be boiled and peeled. The cornbread will be already baked and crumbled for the dressing. The vegetables will be washed and chopped. I will even set the dining room table ahead of time. After I have my coffee on Thanksgiving morning, I will be free to focus on cooking the many dishes so that they will all be hot and ready when we are ready to gather around my family table.
I know that for many it's all about the turkey, but you can't skimp on the sides! Vegetables deserve a prime spot at the table, and for many they are the main dish. These thanksgiving vegetable recipes are new takes on your old favorites and are certain to please your family.
Thanksgiving Vegetable Recipes
Honey Roasted Butternut Squash with Cranberries and Feta
Roasted Acorn Squash with Pomegranate and Parsley
Parmesan Herb Roasted Potatoes
The Best Thanksgiving Sweet Potato Recipe
Simply Dressed Caesar Bacon Green Beans
Kale and Quinoa Stuffed Portobello Mushrooms
Roasted Parsnips and Carrots with Maple Syrup and Cardamom
Acorn Squash with Walnuts and Cranberry
Thanksgiving Turkey Veggie Tray
And of course a few bonus recipes for good measure:
Cheesy Mashed Potato Casserole
Browned Butter and Balsamic Coated Green Beans