This post may contain affiliate links. Please read my disclosure.
My Valentine's Treat Table is filled with fun, kid-friendly dessert recipes for Valentine's Day that everyone will love!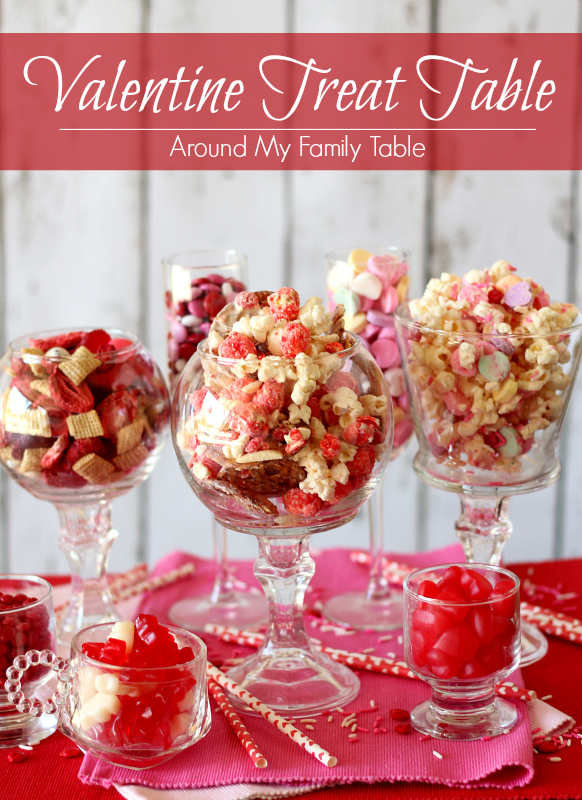 Valentine's Treat Table
My kids and I love fun snack mixes, so for Valentine's Day, I surprised them with this fun table of different dessert snack mixes. They were so surprised and had a blast at our little after school party!
I've done a version of this table every year now for 5 years or so and each year the kids are surprised when they get home from school on Valentine's Day. I think this year, I'll tell a few moms in the neighborhood to bring their kids over after school too to join in the fun.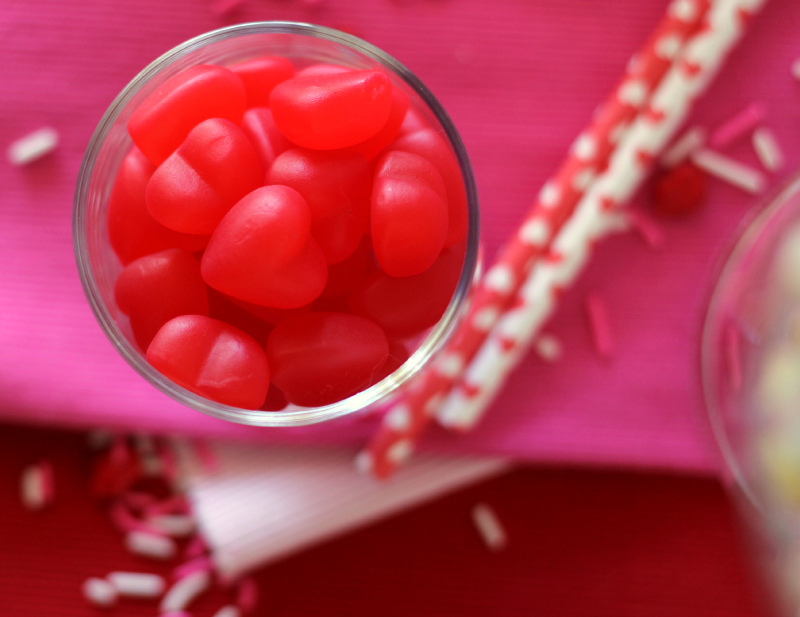 Something about all the heart shaped candies and treats just puts a smile on my face. I love showing my family I love them on special days. And by making 3 or 4 simple treats really gets them excited plus they are all so tasty.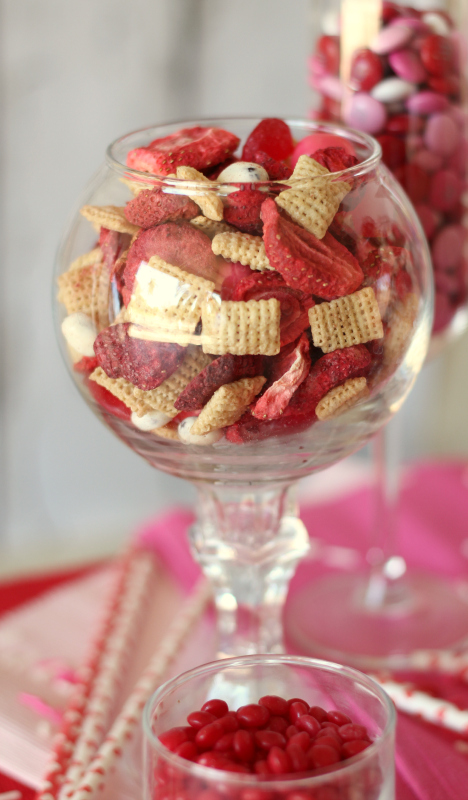 I created this healthy Valentine's mix, just so I could say that there was something healthy on the table. Well, it ended up being one of the kids' favorites and I'm so glad because it really was filled with mostly good things. Freeze dried strawberries, Chex cereal, yogurt covered raisins just to name a few of the ingredients.
To keep it extra healthy (if you are doing this entire table), I'd probably leave out the other sweet items and stick with 3 I listed above….but if it's the only one you make, then I say add in the other items (in moderation).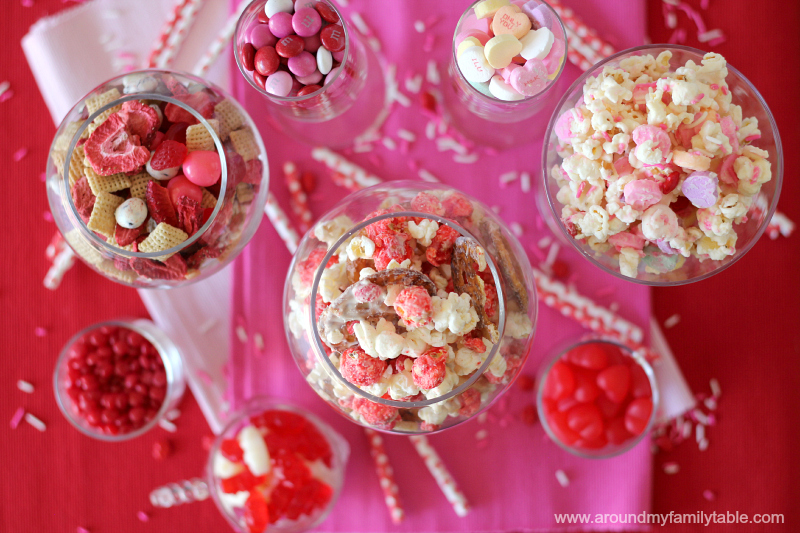 Valentine's Desserts for Kids
The kids went C-R-A-Z-Y over this fun table I put together for them! They couldn't keep their hands out of the cups and jars of treats!
Valentine's Desserts for kids don't have to be crazy or have you spending hours baking a crazy cake (sure they are pretty..but who has time for all that). Just mix up a few of these goodies and everyone will be happy.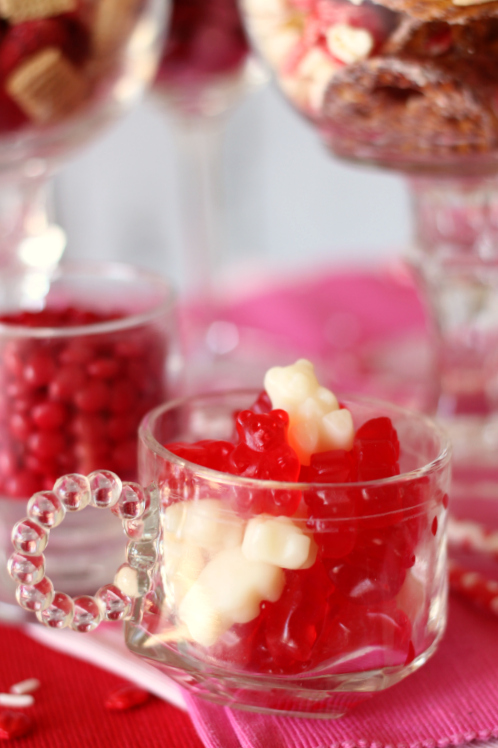 I take all the leftover candies from my projects and put them in tiny containers around the table. The kids think they have hit the jackpot, but really…I'm just cleaning out my pantry. Ha! Plus, you can't go wrong with cute containers filled with different red and white candies!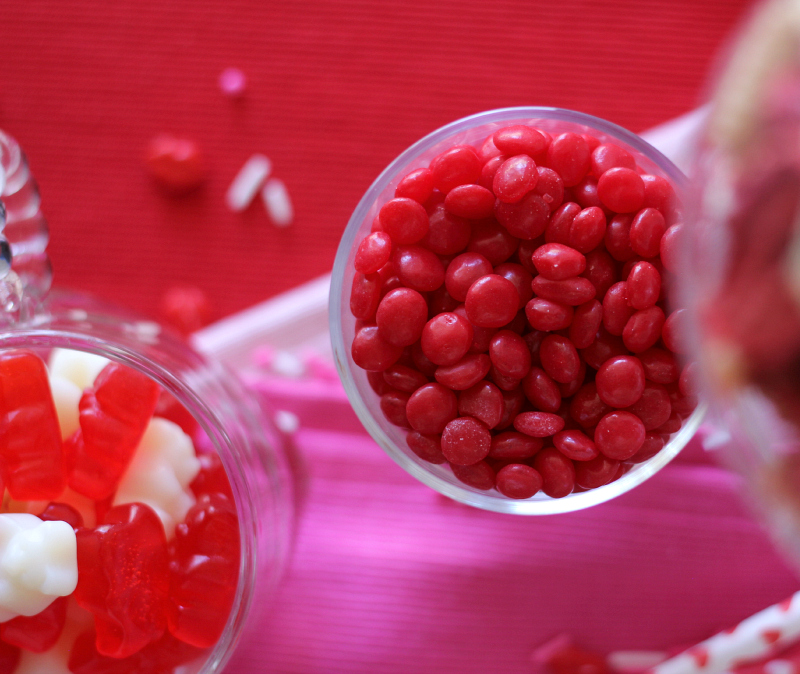 I love how easy these Valentine Pretzel Treats were to throw together that I created on a whim with some leftover pretzels and sweethearts.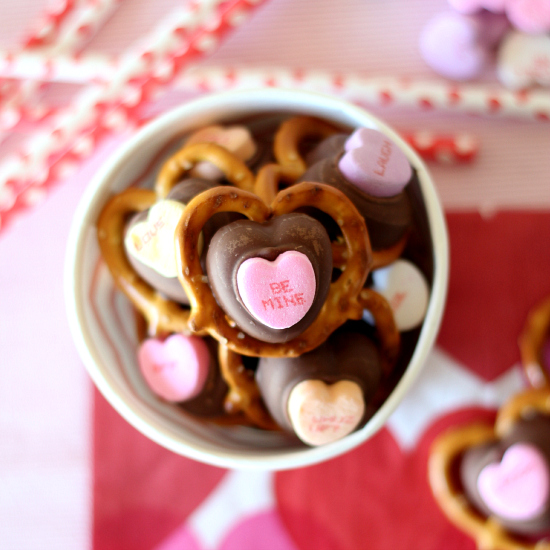 I think this Sweetheart Valentine Treat was my favorite treat…I shared the recipe over at BonBon Break! I made it totally gluten free and vegan with the help of some vegan white chocolate, but you can use regular white chocolate chips or even candy melts!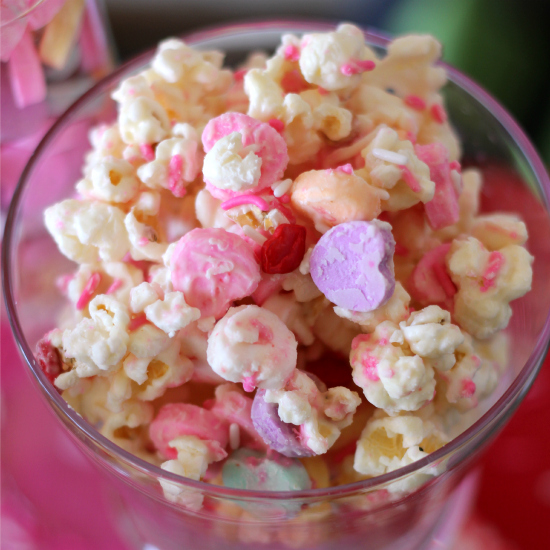 The Valentine's Cinnamon Snack Mix below is a bit different for Valentine's Day because it combines cinnamon and white chocolate. It is totally scrumptious, but not typically a Valentine's flavor. Well…..it is now for us!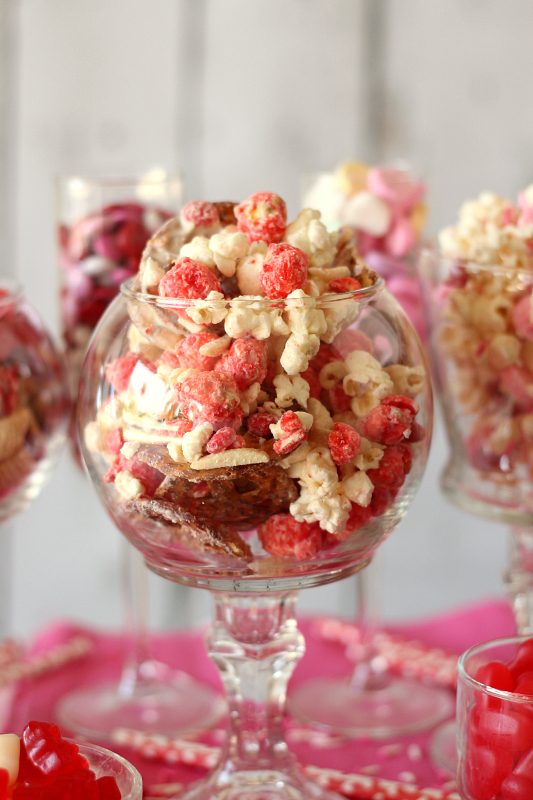 I've got tons of fun treats if you are looking for another awesome Valentine's Recipes like my Valentine Cookie Bark, Valentine Brownies, and don't miss this Romantic Valentine Day Menu.