This post may contain affiliate links. Please read my disclosure.
Suppertime is the hardest time of day when I'm trying to watch what I eat, especially if I didn't eat well early in the day. For me, having a list of good choices for supper is key, so I put together this list of my favorite 10 Weight Watchers Supper Ideas.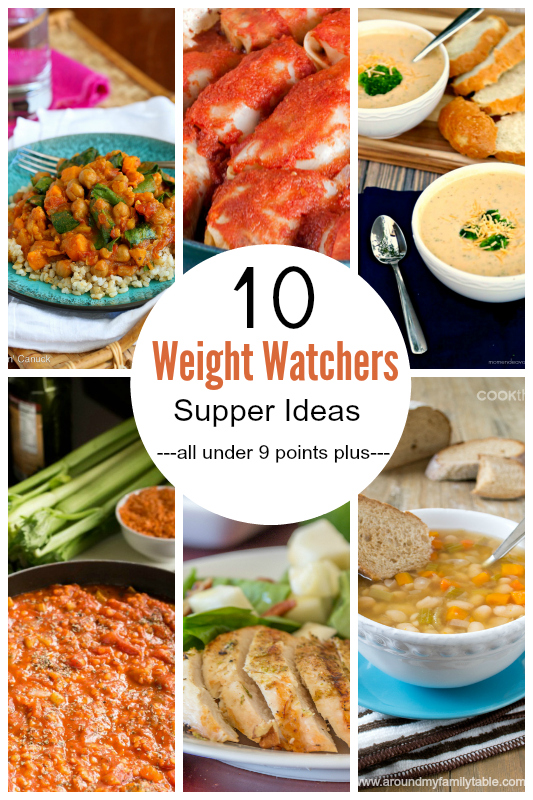 I scoured some of my favorite blogs and came up with this list of delicious supper ideas that are good choices for me and I decided to share them with y'all. On days when I don't have time to plan, these are my go-to suppers. They are easy, delicious and under 9 Weight Watchers PointsPlus:
Grilled Cumin Lime Chicken
Salmon Spinach Ricotta Patties
Slow Cooker Italian Vegetarian Bean Soup
Lentil Bolognese Recipe
Stuffed Cabbage Rolls
Chicken Saltimbocca
Slow Cooker Vegetable Curry
Skinny Slow Cooker Broccoli Cheese Soup
Chicken Puttanesca with Spaghetti Squash
Healthy Bean & Sausage Soup
With a list of tasty suppers by my side and my personal coaching every week, I was able to meet the first goal I set in my first 3 1/2 weeks using the Weight Watchers tools. The personal coaching is amazing and really encouraged me to keep going and making healthy lifestyle changes. I talk with my personal coach every week and set new goals, discuss how well I did the week before, what my struggles are, and just general encouragement. My hardest time of day is late afternoon and supper time. When the kids come home from school and want that after school snack… so do I! But knowing that I have one of these amazing suppers planned for later helps keep me on track. My personal coach from Weight Watchers encouraged me to pre-plan my meals and days for the week so that I didn't have to worry about my next meal. So far, it seems to be working and I'm doing better now than I was a couple weeks.
Did you happen to see the amazing 4WW points plus Chocolate Muffins I made last week? They are perfect for breakfast or an after supper dessert! And if you are looking for more ways to cook healthy while staying on a budget, check out my post: Cooking Healthy on a Budget for lots of ideas.
So, have you ever used Weight Watchers?