Follow Me on Pinterest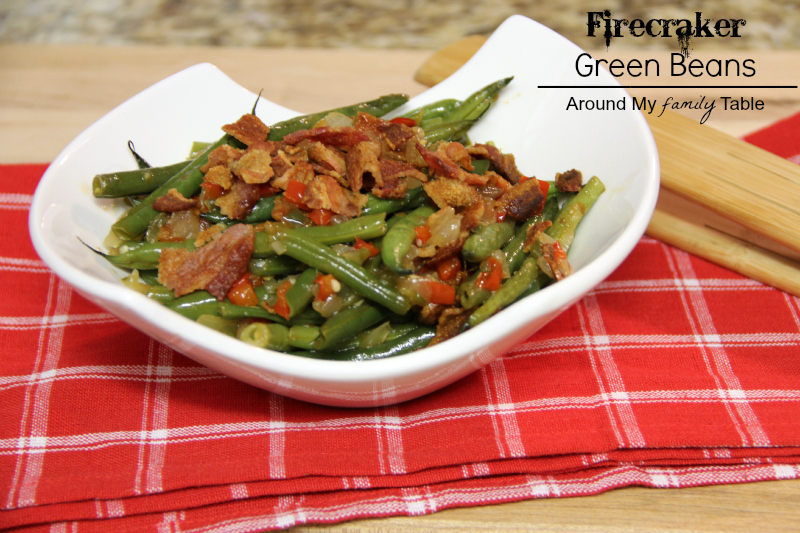 If you have figured it out, I love recreating my favorite restaurant dishes at home.  One of our favorite BBQ places is none other than Famous Dave's BBQ.  One of my new favorites when we go are the Firecracker Green Beans.  They are always perfectly cooked with a hint of bacon and a little bit spicy.
Last weekend we were cooking up about 10 lbs of St. Louis Style ribs and I got this the urge to figure out this recipe.  Turns out…it is super easy and full of flavor.  They went perfect with those ribs, but I can see them being a great side dish for Easter, Thanksgiving, Christmas, and picnics.
You know my philosophy on bacon right?  It makes everything better!  The quickest way is to cook the bacon on the stove for this recipe (you're gonna need that bacon grease).  However, if you plan on doing a huge batch of beans or want to make the bacon in advance, then bake the bacon in oven and store the cooled grease in the fridge until it's time to make the beans.  Chop the cooled bacon and store in a ziptop baggie in the fridge until ready to use.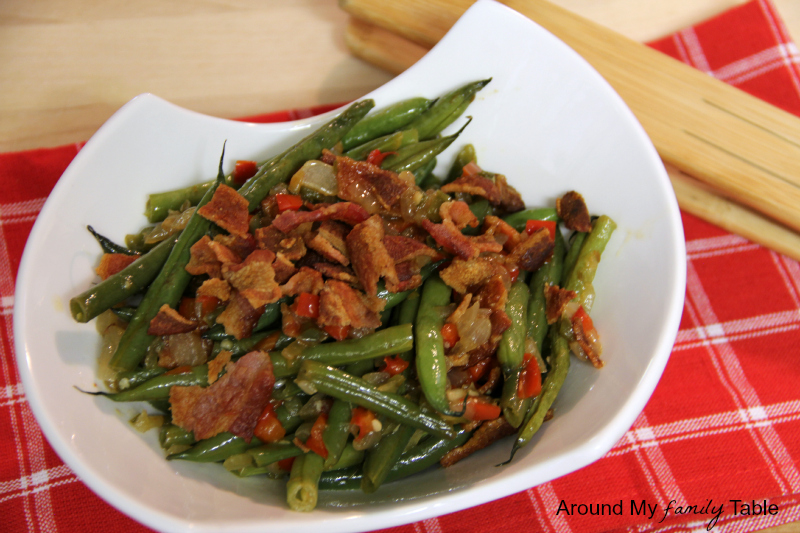 The beans have the perfect amount of kick.  Not a fan of spicy?  I promise it's not too spicy the way it's written and even my non-spicy family members loved these.  Of course, if you are a huge fan of spicy (ahem….like your's truly)  then feel free to add a bit more crushed red pepper flakes.
Firecracker Green Beans
Perfectly cooked and full of flavor from the bacon, onions, and peppers....these Firecracker Green Beans are the PERFECT side dish!
Ingredients
1 pound green beans
4 slices of bacon, cooked (grease reserved)
~2 tbs bacon grease
½ large onion, chopped
½ cup chopped red bell pepper
½ jalapeno, seeded, deviened, and finely chopped
2 cloves garlic, finely minced
1 cup chicken broth
¼ tsp crushed red pepper flakes
½ tsp salt
Ground black pepper
Instructions
Snap the stem ends of the green beans, wash, and set aside.
Cook bacon in a large skillet until fully cooked and crisp. Remove bacon from pan to drain on paper towels.
Add chopped onion, red pepper, and jalapeno to bacon grease in a skillet over medium heat and cook just until the onions have softened and starting to caramelize. Add the garlic and cook for a minute.
Add the green beans and cook until the beans turn bright green, about a minute or so. Add the chicken broth, crushed red pepper flakes, salt, and pepper. Turn the heat to low and cover the skillet with a lid (leave the lid cracked slightly to allow steam to escape). Cook until the liquid evaporates and the beans are fairly soft, but still a bit crisp, 20 to 30 minutes.
Roughly chop cooled bacon and top finished beans before serving!
© Around My Family Table