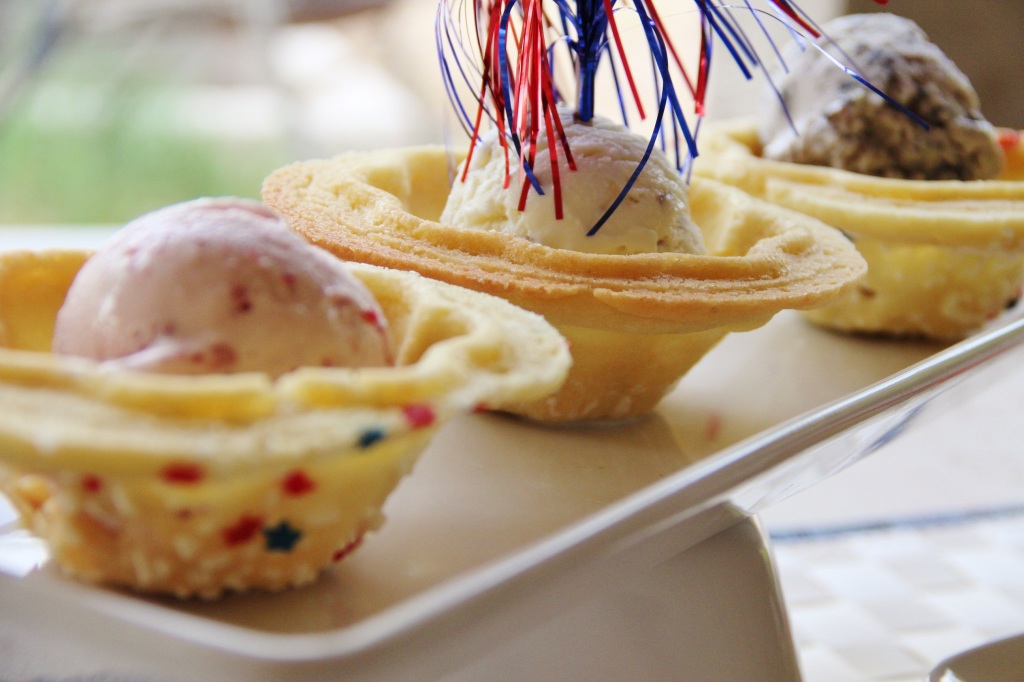 Just over a month ago, I finally left the comfort of my home and hung out with some food bloggers at Camp Blogaway!  I had a great time and made some fabulous new friends.  A few of us decided it would be fun to create patriotic dessert dishes with the help of Wilton, one of the fabulous camp sponsors.  I decided on these cute and festive ice cream & cookie bowls.
As you know, we are like 99% dye free at our house, so I needed a tasty treat that would be patriotic, but still have a little red, white, and blue flare.  As I was trying to decide, my kids decided we needed some ice cream…homemade, with blueberries….aren't the precious ones so demanding sometimes?!?!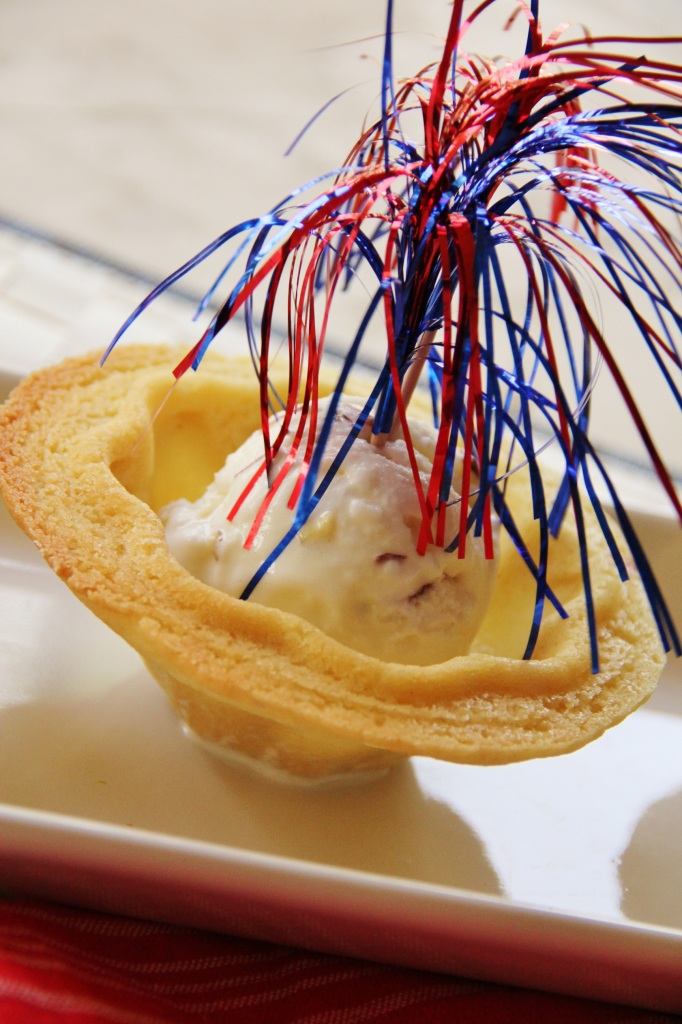 But they had a great idea and then I had a great idea!  Strawberry, Almond, and Blueberry ice creams all served up in a tasty cookie bowl.  Then the hard part was trying to decide what type of cookie to make!
Gavin wanted sugar cookies, Kaylynn wanted chocolate chip cookies, hubbyman didn't care…so much for his help.  So, I decided on both.  And I thought I would add some fun holiday sprinkles to the sugar cookies just to add a little more color.  Most of the cookies I made were just regular cookies, but the sprinkles were so pretty….sometimes I just have to have the extra color! (My daughter was super happy with her dye free version.)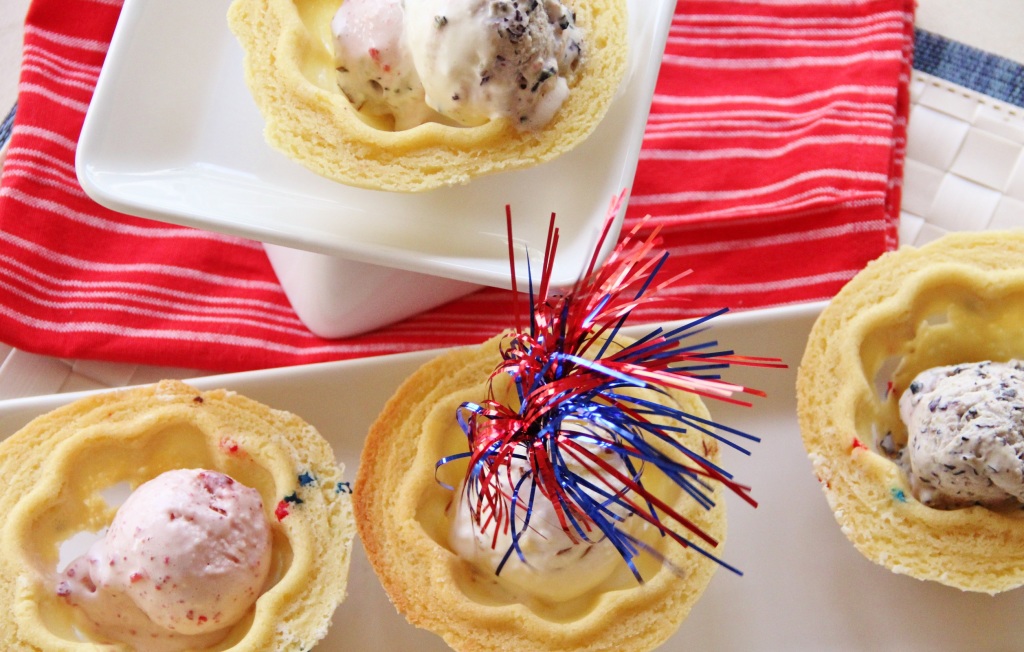 Festive Ice Cream & Cookie Bowls
Ingredients
Ice Cream
2 cups whole milk
1 can sweetened condensed milk
1 tsp vanilla extract
1 cup strawberry puree (or blueberry puree)
Sugar Cookies
1 stick (1/2 cup butter), softened
3/4 cup sugar
1 egg
1/2 tsp salt
1/4 tsp almond extract
3/4 tsp vanilla extract
1 1/3 cup flour
Directions
Ice Cream:
Combine all ice cream ingredients in an ice cream maker. Follow freezing instructions on your machine. Transfer finished ice cream into a freezer safe container and freezer for several hours to harden.
*Almond Ice Cream: replace vanilla extract with almond flavoring. Add in 1/2 cup chopped almond pieces when ice cream almost done.
Sugar Cookies:
Preheat oven to 350F. Spray Ice Cream Cookie Bowl pan with nonstick cooking spray.
In a large bowl, cream butter and sugar with electric mixer until light and fluffy. Beat in egg and extracts. Add salt and flour. Mix well.
Roll out dough on a floured surface to about 1/8 inch thick. Cut 4 1/2 inch circles in the dough. Drape a circle over each of the molds, pressing to conform to pan.
Bake 11-13 minutes or until golden and firm. Cool for several minutes and gently remove cookie to finish cooling on a cooling rack.
Makes 6 bowls.
*Cookie recipe slightly adapted from Wilton's Sugar Cookie recipe.
Loading nutrition data...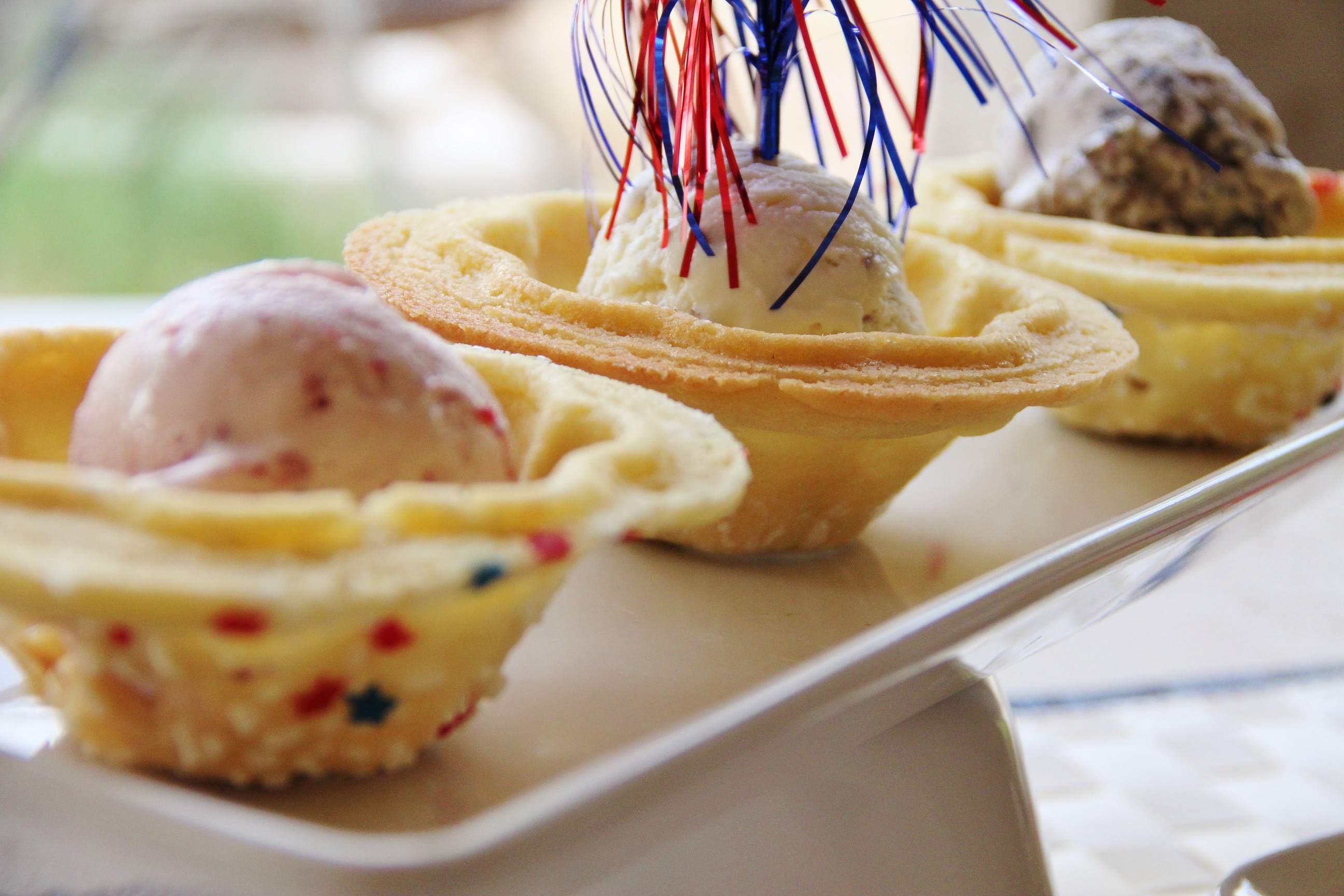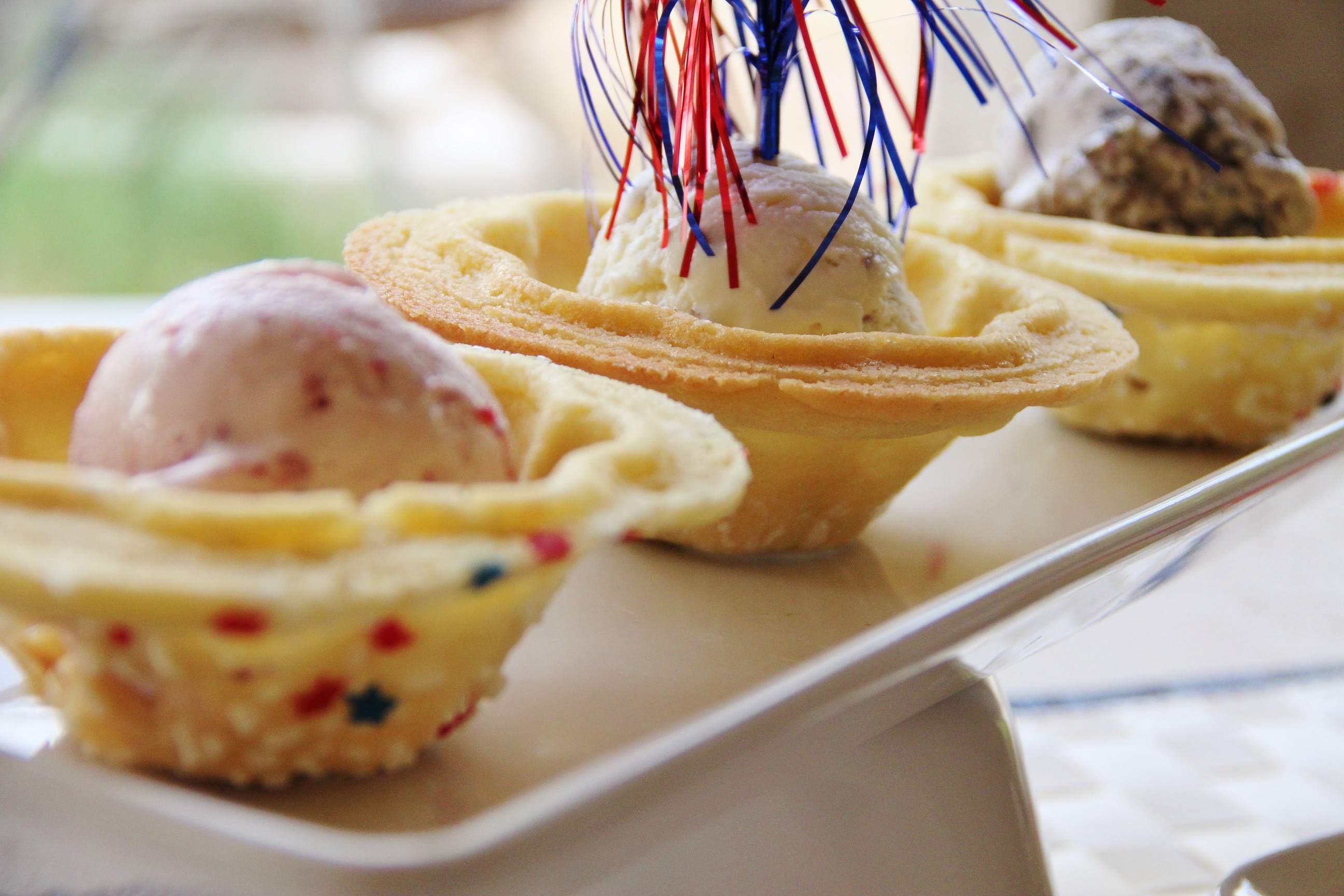 Did you make this recipe?
Leave review!
As I mentioned earlier a few foodie friends that I met at Camp Blogaway are also participating in the Create a Festive 4th with Wilton event too!  Won't you stop by and check out their tasty creations and enter their giveaways!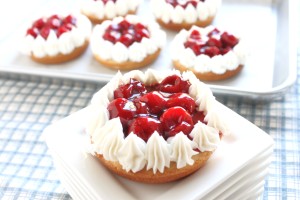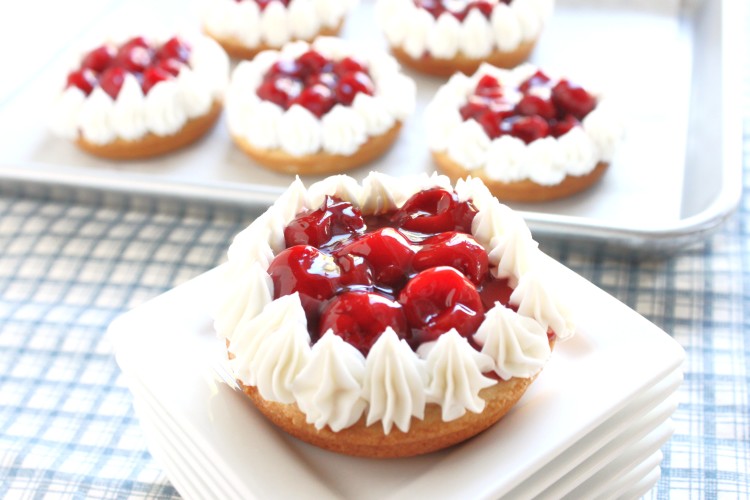 Created By Diane's Cherry Pie Cookies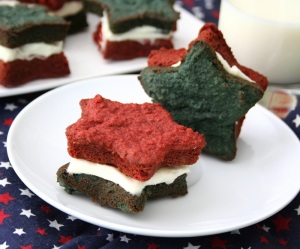 All Day I Dream About Food's Patriotic Star Whoopie Pies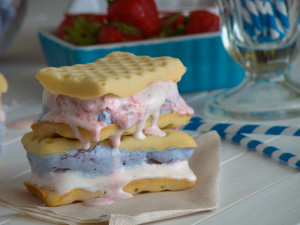 Budget Gourmet Mom's Festive Fourth Ice Cream Sandwich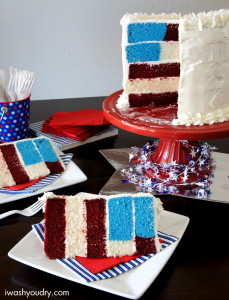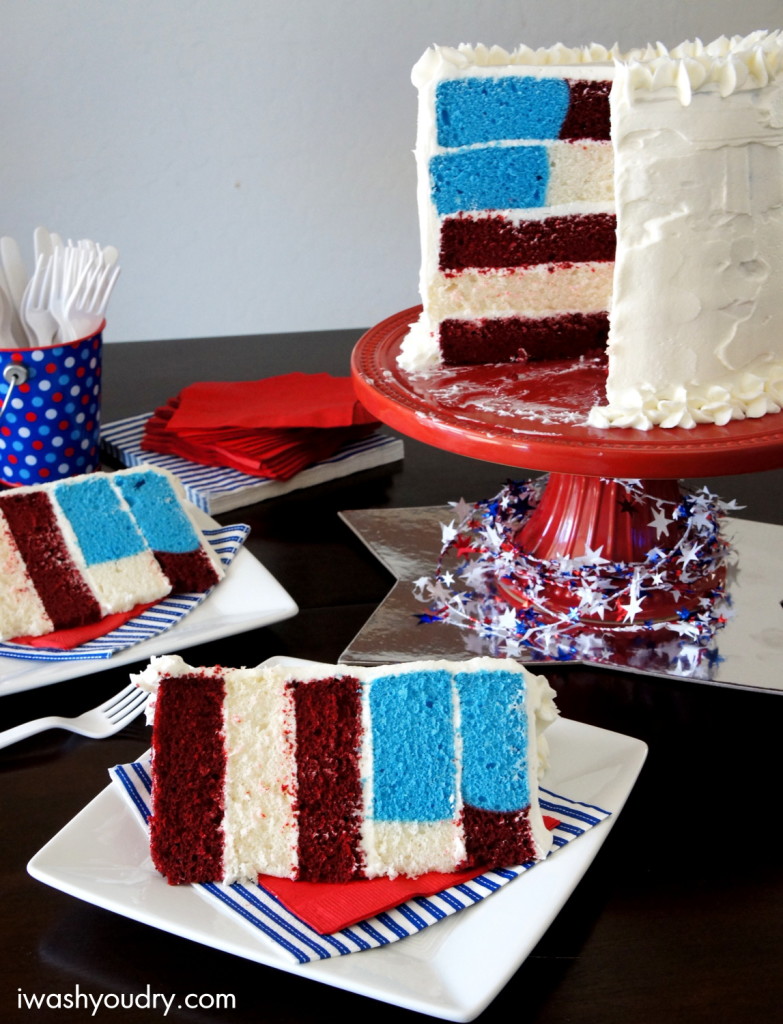 Disclaimer: Wilton provided me Wilton pans and products in order to create my recipe.  I was not financially compensated.  Recipe and opinions are my own.
Don't Miss A Recipe!
And get my Free Slow Cooker Resource Guide! It's full of recipes with 5 or fewer ingredients plus plenty of slow cooker tips!

Plus, you'll get access to my free EXCLUSIVE downloads & printables for newsletter subscribers.