This post may contain affiliate links. Please read my disclosure.
This post is in partnership with Bounty.
Keep your sanity this Thanksgiving with these tried and true Hacks for a Stress Free Thanksgiving.
Be sure to sign up for my email…seasonal recipes in your inbox every week!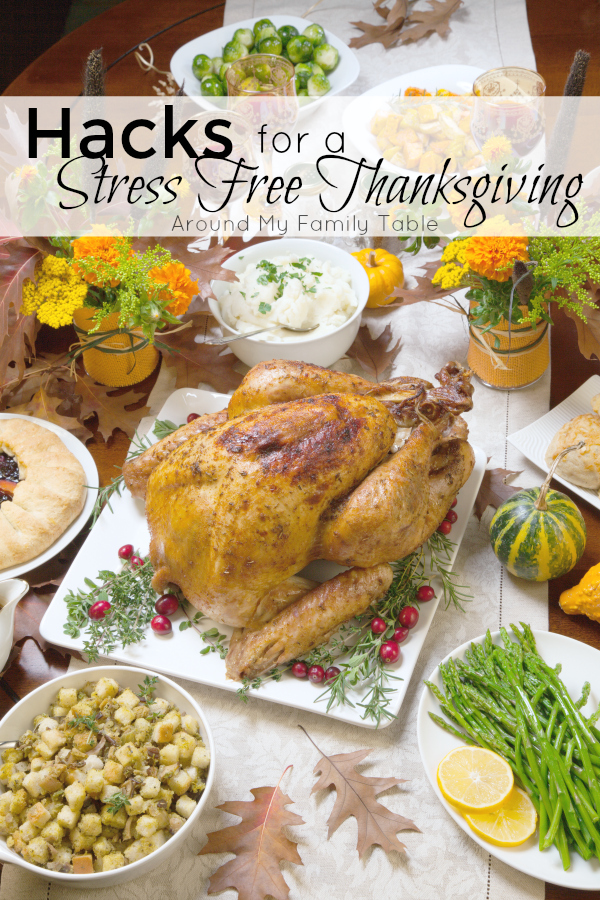 Thanksgiving Hacks: Time Savers
Potatoes — We love our mashed potatoes at Thanksgiving, so put all your potatoes on the top rack of your dishwasher. Turn it on for a quick rinse (no soap) and there you have it — perfectly washed potatoes!
Fresh Herbs — Wrap fresh herbs & vegetables in a damp Bounty paper towel for storage so that they will stay fresh for longer.
Freeze Pies — Save time on the big day by preparing and storing pies in the freezer ahead of time. Most pies will be just fine for a couple weeks in the freezer. Put them in large zip top bags after being cooked and cooled. Set out to thaw the day before Thanksgiving and then just reheat for a few minutes while everyone is eating.
Overnight Breakfast — Plan and prepare an overnight breakfast the night before Thanksgiving so that Thanksgiving morning is spent preparing for the big meal. Breakfast will just need to be heated and served and then on to the big meal. Check out these 10 Overnight Breakfast Recipes or this Slow Cooker Blueberry French Toast.
Cranberry Sauce — Make homemade Cranberry Sauce several days before Thanksgiving.
Thanksgiving Hacks: Mess Savers
Clean Mixer — Drape a couple Bounty paper towels or clean kitchen towel over your mixer to prevent ingredients from splashing everywhere.
No Spills — Place a sheet of Bounty under your empty gravy boat to easily catch spills when transferring hot gravy from the stovetop.
Thanksgiving Hacks: Party Savers
Mashed Potatoes — Keep mashed potatoes warm in a slow cooker.
Ice Chests — Grab an extra cooler to keep food warm before the meal is served (or while transporting).
Chop Your Veggies — Cut your vegetables a few days ahead of time and meal prep will be a breeze.
Mason Jars — Use mason jars with label for quick placecards.
Chill Quickly — Wrap a sheet of damp Bounty around various beverage bottles or cans – soda, juice, wine – and place in the freezer to help them chill quicker.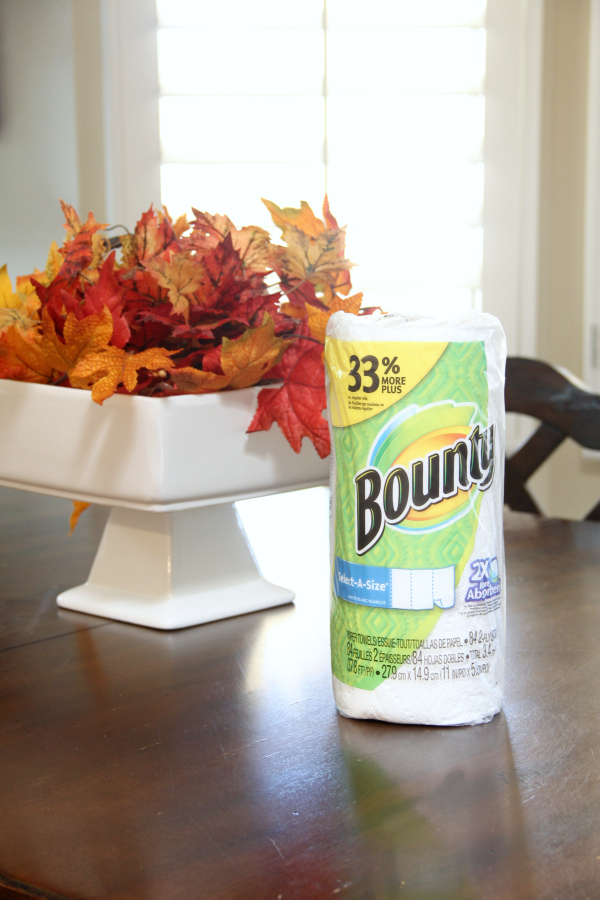 Thanksgiving meal prep can get super messy, yes even my kitchen is a mess. You can ease your stress in the kitchen by keeping a couple rolls of Bounty paper towels by your side. They're perfect for quick, time-saving meal prep hacks and cleaning up the big messes that come with cooking a huge meal. They will totally help keep you calm and collected before all your family and friends arrive.
But don't forget all the after party clean up! When messes strike, have Bounty paper towels on hand to quickly and easily pick up the mess. One less mess means there's time for one more slice of pumpkin pie!
Make sure to grab the new Bounty coupon before you hit the grocery store.
_________________________
Be sure to follow me on Instagram and tag #amftrecipes when you share one of my recipes….so I can see all the wonderful recipes YOU make!
Connect with Around My Family Table!
Make sure to follow me on social media, so you never miss a post!
Facebook | Twitter | Pinterest | Instagram | Bloglovin' | Google+
Sign up to receive seasonal recipes once a week or
receive an email in your inbox for each new recipe:
Disclaimer: This post is in partnership with Bounty. I was compensated; however, all opinions are my own.