This post may contain affiliate links. Please read my disclosure.
Well, this wraps up peppermint week here on AMFT. I hope you've been inspired and found something new for your holiday parties and treat platters. But if you need a big show stopping dessert…I've saved the best for last! I promise you CAN make this Peppermint Cake. It's super easy! Before we get started on the cake, here's a quick list of some other tasty peppermint treats: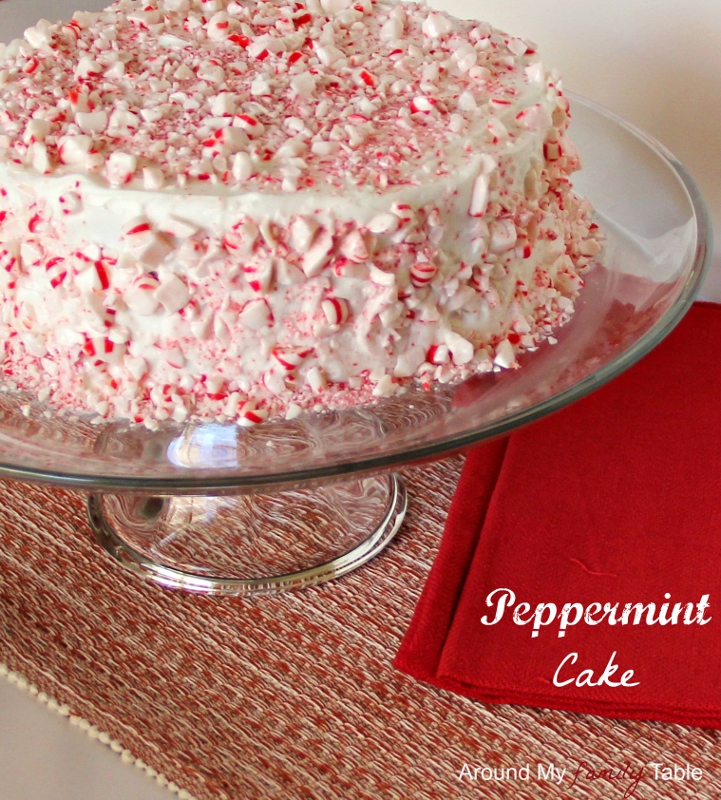 I recently bought a cake ball maker. I love cake balls and have requests for them every Christmas…they are rich and decadent and so good. But I wanted something to make cake in the shape of balls and to make other cute treats…so off to the store I went and I came home a cake ball maker! I've made fun pancakes and desserts with it so far and am really having a great time with it. I made peppermint cake balls for another project recently and had some leftover. I didn't want them to go to waste, so I thought how would it work if I baked them into another cake.
I made one mistake…so do as I say, not as I do. LOL! Use two separate pans for the cake instead of one large pan. Torting this cake does NOT work well and was a big ol' pain and, as you can see, did not work out so much for me. All my cake balls ended up in the bottom layer. Not pretty! However, baking two separate cakes with cake balls will ensure that your double layer cake will look beautiful when cutting into!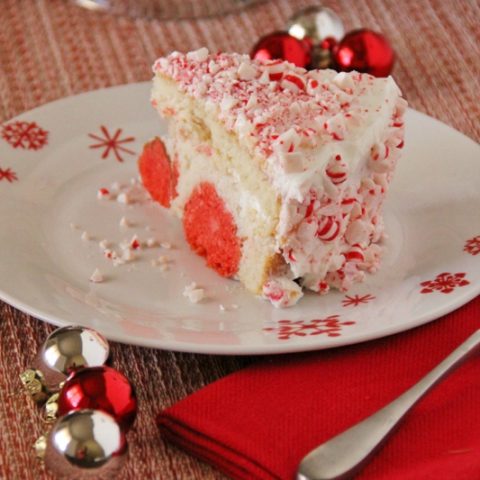 Peppermint Cake Balls Cake
This delicious and festive holiday peppermint cake has peppermint cake balls inside!
Ingredients
1 box white cake mix, prepared according to box instructions
1 1/2 tsps peppermint extract
red food coloring
12-16 peppermint cake balls
1 box white cake mix, prepared as directed on box
4 cups white buttercream frosting (or 2 containers white frosting)
2 cups crushed peppermints or candy canes
Instructions
Follow cake pop maker instructions for cooking cake.
Mix prepared cake batter with peppermint extract and red food coloring. (If you are okay with it, taste for peppermint flavor and add more if desired.)
Bake cake pops according to maker, remove and let cool on baking rack before using in cake. Or insert a candy stick and dip in melted chocolate or candy melts.
Prepare two 8-inch x 3-inch cake pans with non-stick cooking spray or non-stick spray with flour. Spray well, so that the cakes won't stick. Preheat oven according to cake package or 325F.
In each of the prepared cake pans add 6-8 cake balls. Gently pour cake batter over the balls until the pan is 2/3 full (all of the batter may not be used).
Bake for 35-45 minutes and check the progress. This cake may take up to one hour, but depends on the number of cake balls, the accuracy of the oven temp, the amount of batter used. Cake is done when toothpick inserted into a white batter part comes out clean or with fine crumbs.
When done, remove from oven and immediately turn out onto a baking rack to cool completely. When cooled, smear a little frosting on the center of the serving plate and add one cake to plate. Use about 3/4-1 cup frosting on top of first cake. Top with second cake. Frost cakes with remaining white frosting.
Before frosting sets up, gently tip the cake on plate at a slight angle to add the crushed candy all over. Press gently into frosting for it to stay in place. If cake starts to slip, set plate down and add the candy.
Notes
You will have a much easier time making the peppermint cake balls if you use a cake pop maker.
Nutrition Information:
Yield:

12
Serving Size:

1 slice
Amount Per Serving:
Calories:

461
Total Fat:

21g
Saturated Fat:

13g
Trans Fat:

1g
Unsaturated Fat:

7g
Cholesterol:

55mg
Sodium:

66mg
Carbohydrates:

65g
Fiber:

1g
Sugar:

59g
Protein:

2g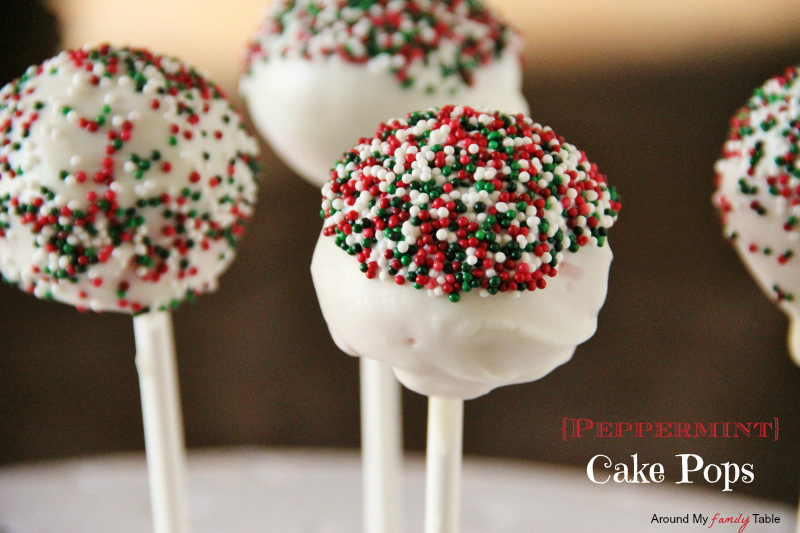 These fun babies were featured over at Zak Designs last week! Use up all those leftover peppermint cake balls from this yummy cake…bake once and get two holiday treats!