This post may contain affiliate links. Please read my disclosure.
Oh yes…I totally went there! And let me just tell you, it is AMAZING!
I was just going to make lime sherbet with the abundance of limes I had lying around, but started wondering how I could kick it up. Nothing really hit me. I was looking around my kitchen, in the fridge, over in the pantry….nothing! Then a quick glance up to the alcohol shelf (yes, shelf) and there it stood….in all it's glory, screaming pick me! Pick me! Pick me!
It was my bottle of Sauza Tequila Silver….begging to be opened and used with these limes. But I was already committed to sherbet and I wondered if the tequila and dairy would do well together. One thing I did know was that if I used too much tequila the sherbet wouldn't set up.
I had two friends taste test this recipe. Both loved it and one called back a few hours later complaining that she needed the recipe NOW and could not wait for it to be published (it's important to note, this all took place yesterday). So, after a long discussion on the difference between sherbet and sorbet (I love friends who will talk food with me…I'm such a geek), I gave her the recipe. It's super quick and easy; no cooking and cooling before it's made!
I used my Cuisinart Ice Cream Maker, so just adjust to fit your particular machine. Don't forget to stick your container in the freezer in the morning and allow enough time to let it set up in the freezer once it's done in the ice cream maker.
I suppose there are a few of you that don't drink alcohol….there isn't really enough in here to get you drunk, it's for flavor. However, if you really REALLY are opposed, just replace the tequila with some more dairy. This would be just a basic lime sherbet then…still super tasty!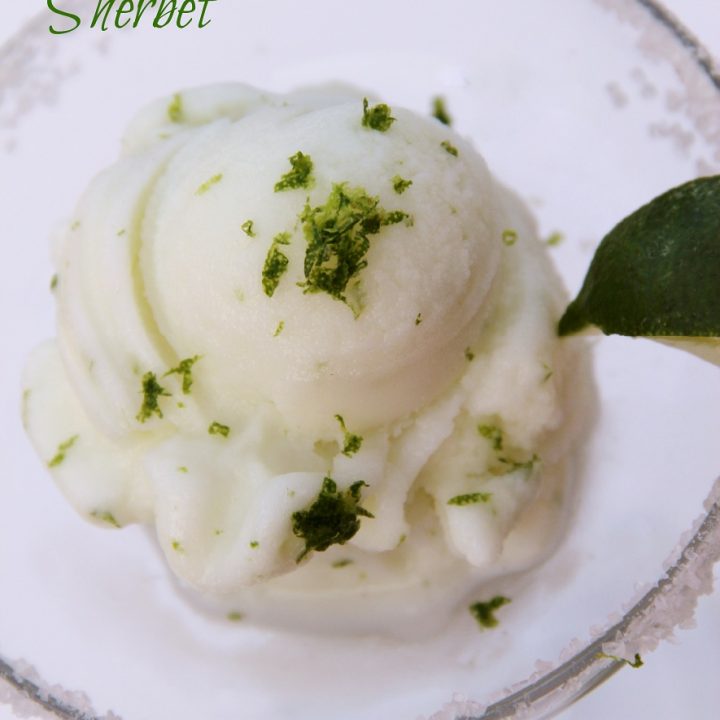 Margarita Lime Sherbet
Total Time:
4 hours
25 minutes
Margarita lime sherbet is a delicious frozen dessert for adults only!
Ingredients
1 tbsp lime zest (2 limes)
3/4 cup sugar
1/2 cup hot water (just use the hottest water from your tap)
1/2 cup lime juice (4 limes)
1/4 cup tequila
1 3/4 cup milk of choice (rice or 2%)
dash of salt
additional limes, coarse kosher salt, coarse sugar for garnish (opt)
Instructions
**Plan ahead! You will need about 4 hours to freeze the bowl and 4 hours for sherbet to set up in the freezer.**
Place ice cream maker bowl in freezer to freeze for several hours.
In a large bowl with a pour spout, add zest, sugar, and lime juice. Add hot water and stir well to dissolve sugar. Add tequila, milk, dash of salt and stir well.
Assemble ice cream maker, turn on, and pour in liquid. Let mix for about 20 minutes or until it resembles soft ice cream. Pour into freezer safe dish and freeze for several hours or overnight.
Nutrition Information:
Yield:

4
Serving Size:

1
Amount Per Serving:
Calories:

242
Total Fat:

2g
Saturated Fat:

1g
Trans Fat:

0g
Unsaturated Fat:

1g
Cholesterol:

9mg
Sodium:

243mg
Carbohydrates:

48g
Fiber:

1g
Sugar:

39g
Protein:

4g
This nutritional information is an estimate may vary, depending on brand and type of ingredients used. It is not intended to replace the advice of a licensed dietician or physician.
Join the Club!
Get delicious recipes delivered straight to your inbox each week! Plus learn how to take back suppertime in your home.

And get started with my NEW Take Back Suppertime 5-Day Jump Start Guide.