This post may contain affiliate links. Please read my disclosure.
Are you a steak lover? I am! I love a good steak, but I've always wondered what the fuss was about with a wet-aged vs a dry-aged steak. Could the flavor be really that much different? Is it really worth seeking out one or the other…um…yes!!! Here is my short and sweet guide of Wet-Aged vs Dry-Aged Steaks. There are some great resources around if you wish to read more about steak (I really like the Steak Lover's Cookbook!)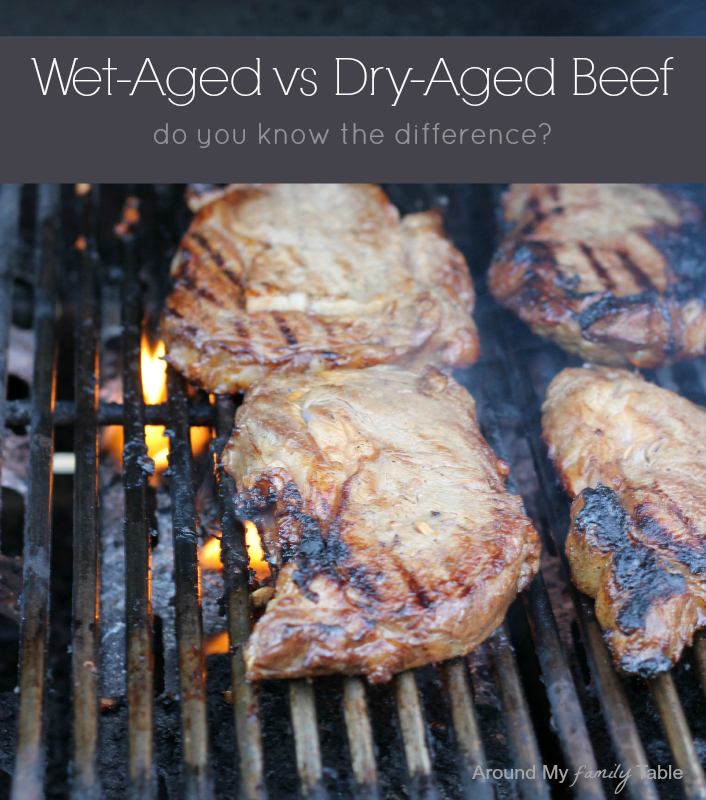 Wet-Aged Steaks
Wet-aging is a pretty new technique that was developed alongside the advances refrigeration. Cuts of beef are vacuum-sealed in plastic and then shipped to the store or restaurant. This aging takes only 4-10 days. The benefits of wet-aging are that there's no weight-loss in the meat from dehydration. Plus it costs less for the manufacturer resulting in a lower price at the grocery store.
Wet-aged beef has a slightly metallic taste and lacks depth of flavor. All beef is wet-aged unless it's specifically labeled dry-aged.
Dry-Aged Steaks
Whole sides of beef are hung in open air at temperature just above freezing and left to age for several weeks for the dry-aging process. This allows the meat to slowly dehydrate, concentrating the meat and changing the texture and flavor too. The benefit of the dry-aged process is a very tender piece of meat with an intense flavor.
Dry-aged beef is often described as having a roasted, nutty flavor.
Steak Recipes to Try:
Grilled Flank Steak with a Peppercorn Pan Sauce
Steak with Garlic Butter Sauce
Steak & Feta Salad
Steak Tampico
How to Grill the Perfect Steak
If you want to try them side by side then head over to Fleming's Steakhouse and you can try both, side by side or any of their new menu items, such as the new steak companions to complement each steak. They are the only steakhouse that is offering this unique pairing and dining experience. It really was a nice treat to be able to try both and decide which one I like. I was shocked at the difference in flavor profiles…I really thought there wouldn't be a big difference, but there is. Fleming's steaks, whether dry or wet aged, are aged for at least 21 days.
So which is better? It all comes down to your personal preference.
I'm not going to tell you which I liked best…go try it out for yourself and let me know.
Disclaimer: I attended a dinner at Fleming's Steakhouse with corporate chef, Chef Russel Skall, to learn about and taste the difference between the two types of steaks. It was such a wonderful evening, with a surprise "allergy friendly" dessert for me…created that night by the executive chef once he learned of my allergies!