I hope y'all are enjoying our budget series so far. Today I'll be giving you some of my tips on cooking healthy on a budget. It may seem daunting when you are pinching your pennies, but with some planning and smart shopping it's easier than you'd think. Educating yourself is a big part of the equation. Look at labels, cut out the junk, and if you splurge let it be on quality ingredients. Plan ahead and find which stores in your area have the cheapest produce. By cooking at home, you are in control of ingredients and the cost of your meals. Healthy food can be quick and simple with a little know-how.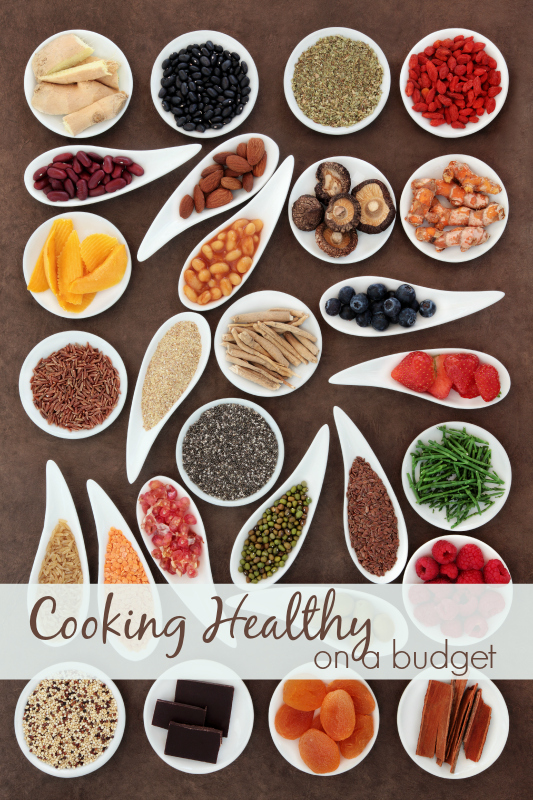 Nutritional Bang for Your Buck
When shopping for healthy foods, you want to make sure you are getting the most out of your dollar. This includes smart shopping for nutrient dense, fresh, and filling food. Broccoli, bananas, sweet potatoes, beans, plain Greek yogurt, and eggs are some good inexpensive examples. Frozen veggies, such as peas, are picked at their freshest and typically aren't loaded with sodium like their canned counterparts.
Skip Pre-packaged "Convenience" Foods
While packaged veggies, fruits, and salads are super convenient, prepared food is generally more expensive. You can really save some money by doing it yourself. For example, a prepared package of cut up fruit usually costs at least twice as much as buying whole fruit. Look at the price before buying. Sometimes it is cheaper to buy the washed salad greens (see coupon tips below), other times it doesn't make 'cents.' Does it really take that much time and effort to shred or chop? If you can, prep on a day when you have extra time. Maybe even take a moment after your grocery trip to wash and chop for the week ahead so it's ready to go when you need it.
Use Coupons for Healthy Savings
A huge savings myth is that coupons are only available on sugary or processed foods. Not true! You can easily learn to save on things like produce and organic foods. More and more often, companies are offering savings on healthy options. Don't be shy about writing to or messaging your favorite companies. I have received several mailed coupons this way. Social media is great for saving. Many companies will offer coupons on their Facebook pages or websites.
Often I get produce coupons and wait for the item to go on sale to further my savings. A family favorite is Driscoll's berries (they will often go on sale for a dollar or less). Complete a survey using the code on the bottom of the package, and they will email a coupon. Other companies that regularly offer produce coupons include: Earthbound Farm, Organic Girl, Fresh Express, Chiquita Bananas, Dole, Nature Sweet, and Del Monte.
You can find great deals that you can print from home or load to your loyalty card. Saving Star now features a healthy item of the week. Many chain grocery stores, like Sprouts and Whole Foods offer coupon savings too.
Bulk up on Savings
Bulk bins, typically located near the produce section, are a great way to save money on healthy items. Dry beans, nuts, and whole grains can save you money when purchased in bulk. You can find some healthy and inexpensive options here and they fill you up. Make sure you compare the cost of packaged items and the price per weight to insure you are getting a deal.
Buying in bulk doesn't just apply to dry goods. Family size packages of meat can be portioned out to freeze for later. Another great way to save is to look locally in your area. Farmer's Markets, CSAs (Community Supported Agriculture) and Co-ops (such as Bountiful Baskets) can save you money because you are cutting out the middle man and getting your food directly rather than in the store.  Canning or freezing items can be a great way to preserve food at its peak.
Stick to the Outside
Most grocery stores are designed in a specific way to encourage you to shop and spend money as you wander through.  I don't know about you, but when I'm tempted to impulse buy, it's not typically in the produce section! Knowing the layout of your store, sticking to the perimeter, and shopping with a list can save you from the grocery store trap. Avoid the thoughtful displays that encourage impulse buying. Unless you are shopping for your bulk or pantry items, you can usually avoid the middle aisles. The typical store will have produce, natural foods, meats, dairy, and the bakery on the perimeter. By creating a meal plan and grocery lists you can avoid costly pitfalls and keep the junk food out of your cart.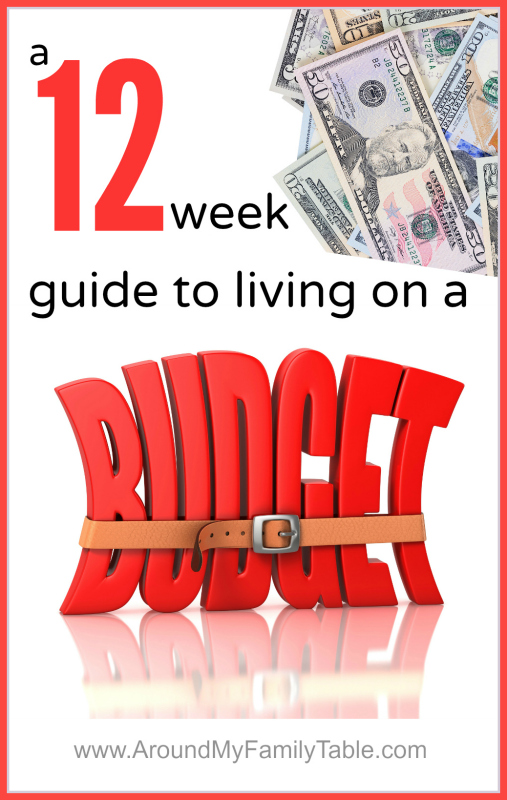 To dive further into budgeting, homemaking, and cooking…I'd love to welcome you over to my Facebook group, Easy Family Recipes. It's a private group, so please ask to join.  Don't forget to check out the Living on a Budget class list or all the previous On a Budget posts.
Don't Miss A Recipe!
And get my Free Slow Cooker Resource Guide! It's full of recipes with 5 or fewer ingredients plus plenty of slow cooker tips!

Plus, you'll get access to my free EXCLUSIVE downloads & printables for newsletter subscribers.