This post may contain affiliate links. Please read my disclosure.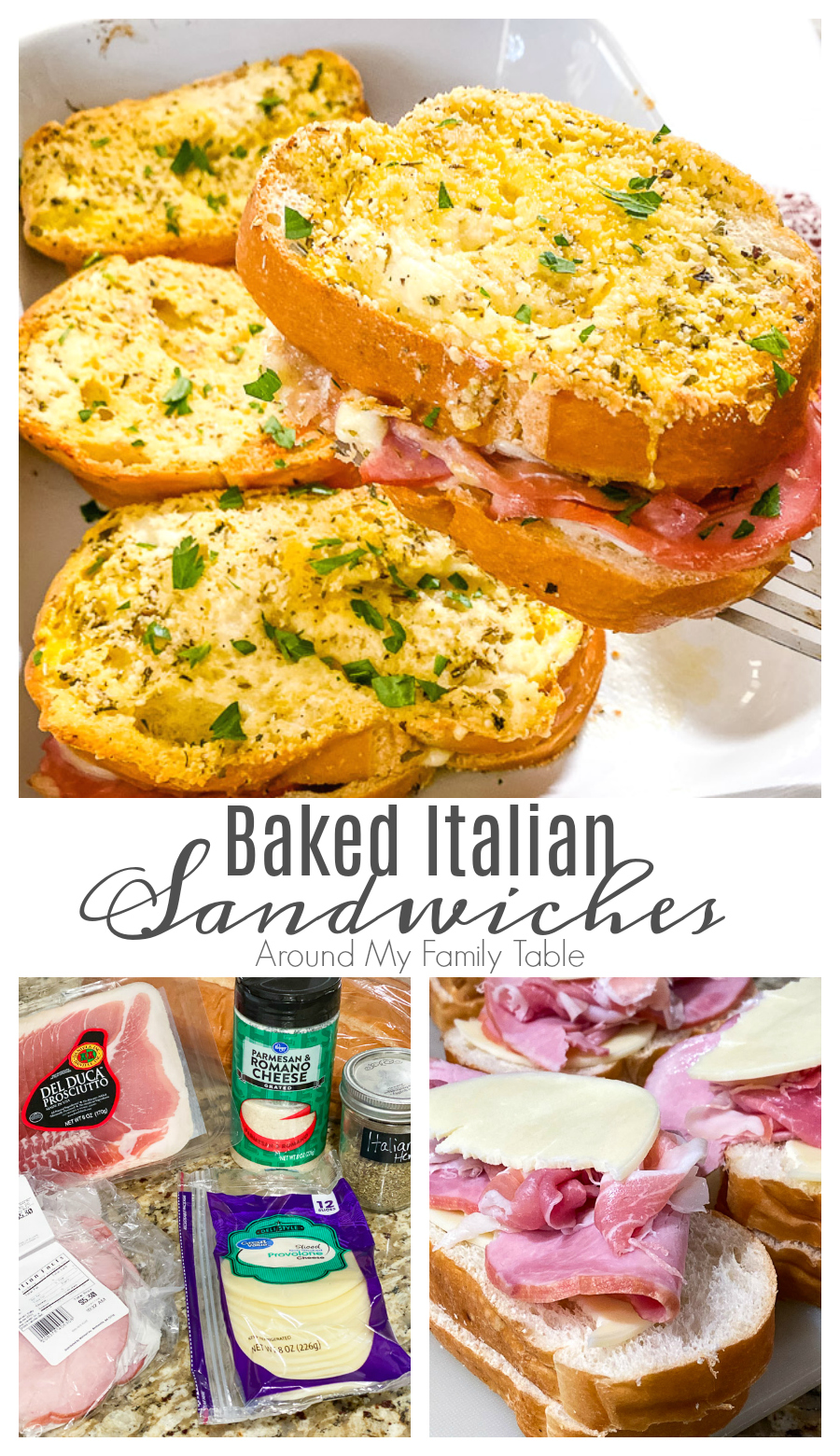 This Baked Italian Sandwich recipe is packed full of flavor and can adjusted to fit what you have on hand. Lots of cheese and meat baked onto hearty bread will make supper a breeze.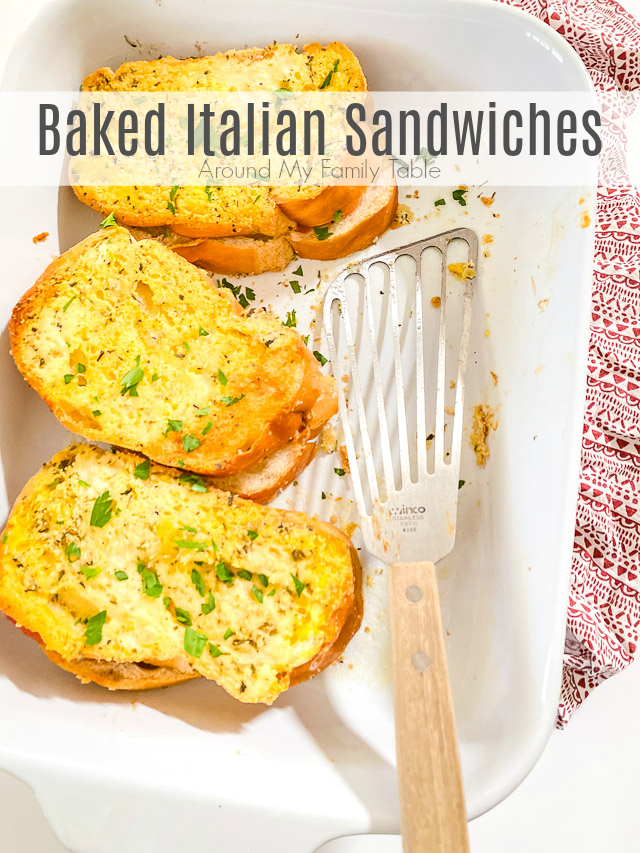 Baked Italian Sandwich Recipe
I came up with these oven baked sandwiches almost by accident. I was cleaning out the fridge a couple weeks and all these odds and ends of bread, meats, and cheeses that I needed to clean out.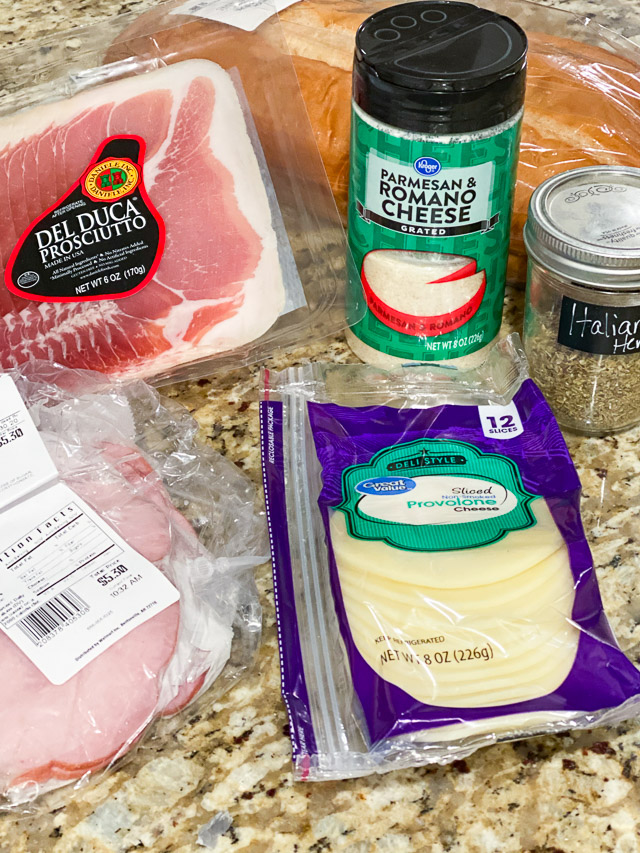 As I stood staring at all my pile of ingredients, I came up with this idea. I made the sandwich and then dipped it in egg and then in a combination of parmesan cheese and Italian seasoning. Then 15 – 20 minutes in the oven and I had hot delicious sandwiches that were a hit with my family for supper.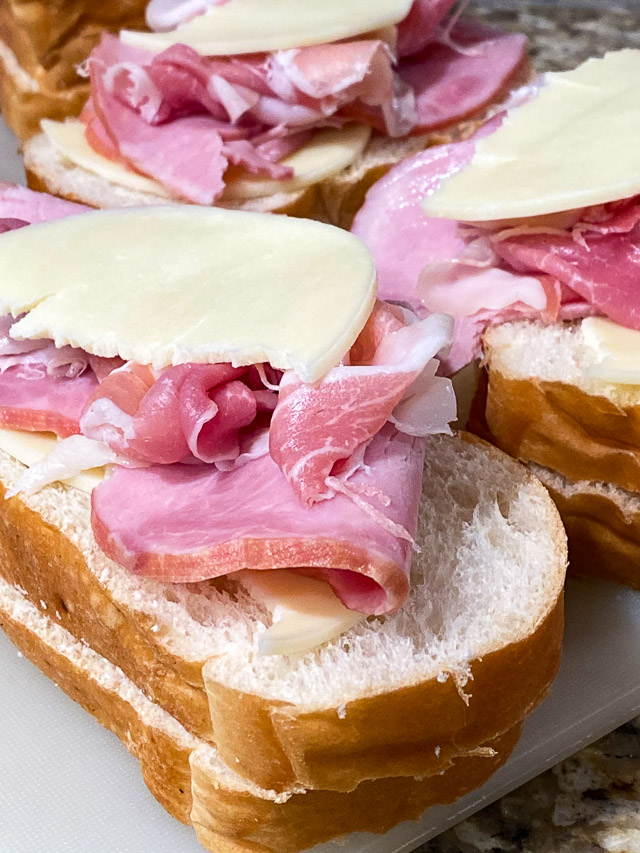 Ingredients for Baked Italian Sandwiches
butter
loaf of hearty Italian bread
slices of salami, ham, prosciutto, etc
sliced provolone cheese
eggs
grated Parmesan cheese
Italian seasoning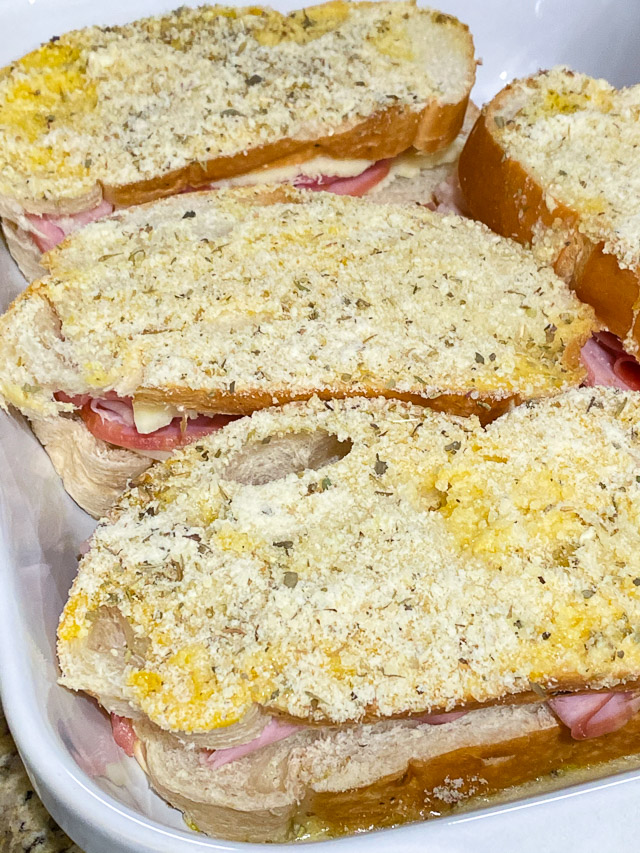 How to Make Baked Italian Sandwiches
These hot Italian sandwiches couldn't be easier. Preheat the oven to 350 degrees. Load up two slices of bread with meats and cheese of your choice (I used ham and prosciutto).
Dip the sandwich on both sides in a beaten egg, then dip the sandwich on both sides in a mixture of Parmesan and Italian herbs. Place them in a baking pan and bake for 15 minutes, turning half way through.
Bake until hot and the cheese is melted. They are super duper easy for crazy weeknights!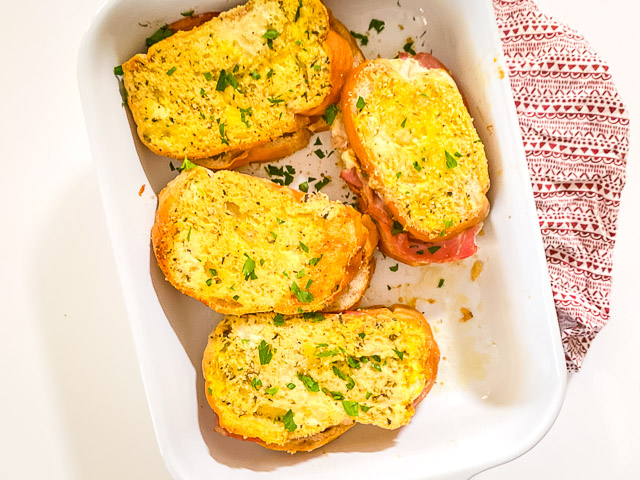 Tips for making a better sandwich?
These sandwiches really are so easy to throw together for a hot meal and they are very forgiving and totally adjustable to your family's tastes.
Use thinly sliced meat. I ask the deli counter to cut the meat extremely thin. It folds and piles better on the bread.
Use the best quality meat you can find and afford. Although, I've used plain ol' sliced meat in packages before too.
Add two types of meat and change up what you add. We like ham, salami, and prosciutto. However, turkey and chicken work great too.
Change up the cheese. For these, I used provolone, but swiss or cheddar or monterey jack would all work depending on the meats.
Use a hearty bread like Italian or French or sourdough.
I don't really measure the toppings, but dump it on the plate in about a 3:1 ratio Parmesan to Italian seasoning. Add garlic powder or Pecorino Romano.
When baking, flip the sandwiches halfway through the baking time so each side has time to crisp up and brown.
Need to make more than 4, use a rimmed cookie sheet.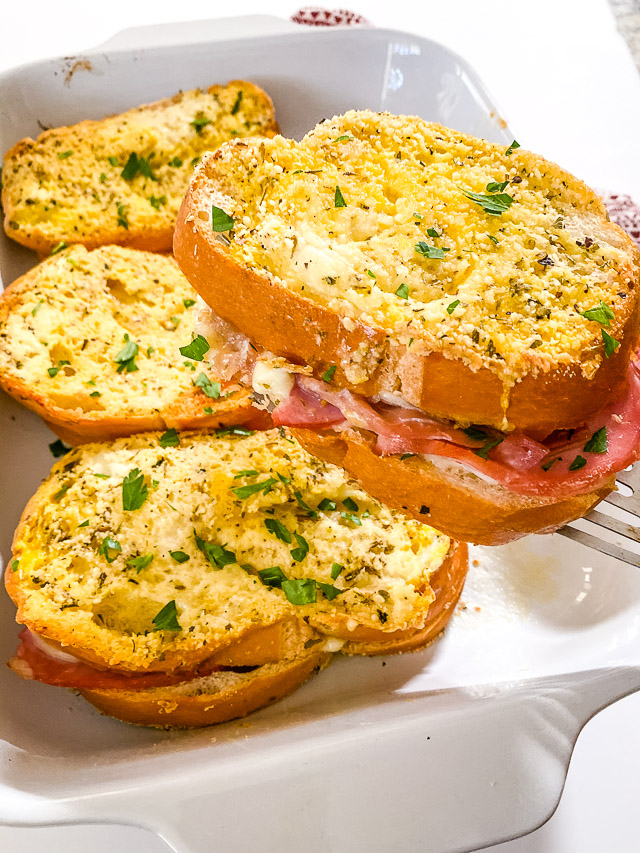 Tools to Make Hot Sandwiches
These baked Italian sandwiches have quickly become a family favorite. It's a great way to use up odds and ends from the fridge and freezer.
I have added sauteed onions and peppers and sliced tomatoes to my sandwich and it was even better….though the kids prefer the no veggie option!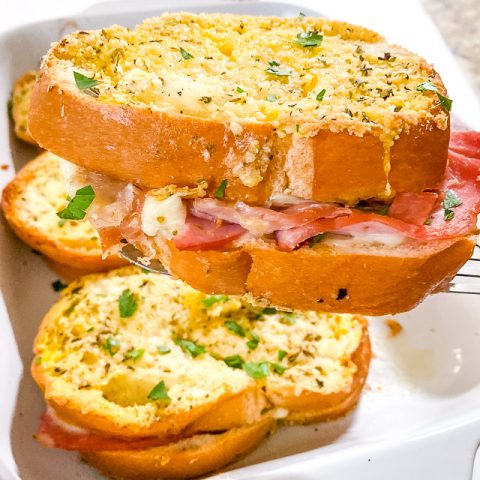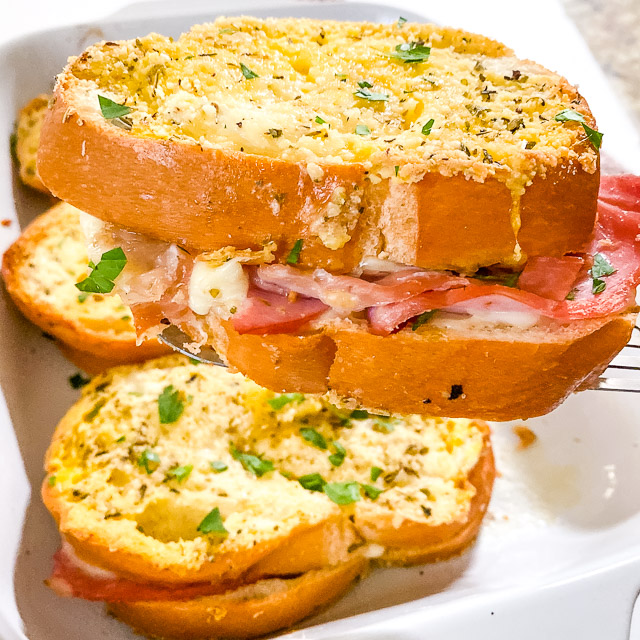 Italian Baked Sandwich Recipe
This Baked Italian Sandwich recipe is packed full of flavor and can adjusted to fit what you have on hand. Lots of cheese and meat baked onto hearty bread will make supper a breeze.
Ingredients
2 tablespoons butter
2 eggs
3/4 cup grated Parmesan cheese (the green can is fine)
2 tablespoons Italian blend seasoning
8 slices hearty bread (French, Italian, or Sourdough)
8 slices Provolone
12 slices ham (or a combination of ham and prosciutto)
opt: spaghetti or marinara sauce for dipping
Instructions
Preheat oven to 425F.
Put butter in large casserole pan and put it in the oven while it's preheating to melt the butter. Remove pan once the butter is melted.
Slice bread to whatever thickness you prefer.
Mix Parmesan cheese and Italian seasoning in a dish. In a separate dish, beat 2 eggs.
Dip one side of a piece of bread in the egg mixture, then coat it well in the cheese mixture. Set it in the buttered pan. Add cheese, meat, and cheese. Top it off with another slice of bread that has been dipped in the egg and cheese mixtures. Repeat until you've made enough sandwiches and pan is full.
Bake for 7-8 minutes, flip, and bake for another 7-8 minutes. To get a crispy finish, broil for 1-2 minutes. Keep a close eye on them as they will brown (and burn) fast.
Opt: Warm spaghetti or marinara sauce to dip the sandwiches in.
Notes
Tip: Change up the meats and cheeses for different flavors.
Recommended Products
As an Amazon Associate and member of other affiliate programs, I earn from qualifying purchases.
Pin this recipe to your favorite Pinterest board: