This post may contain affiliate links. Please read my disclosure.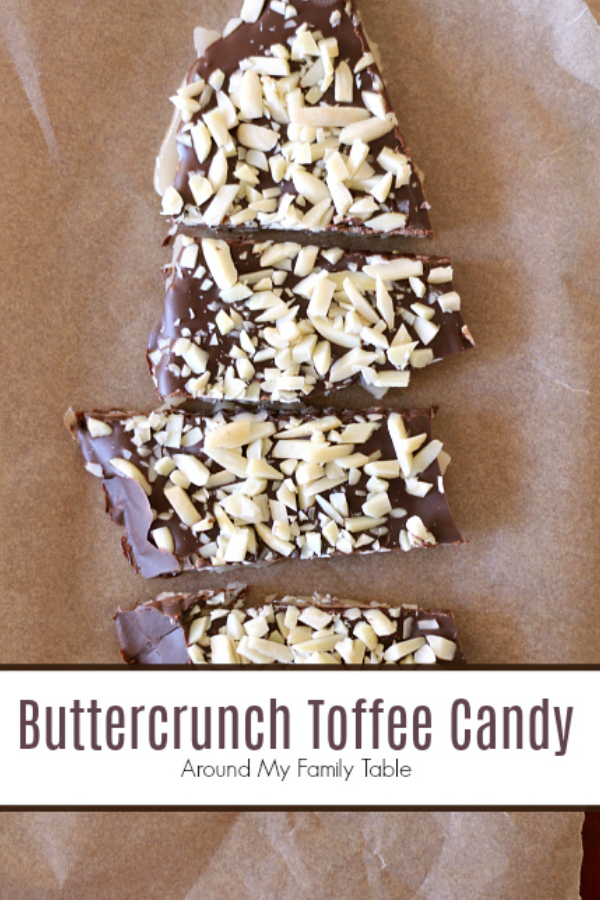 Buttercrunch Toffee Candy is an easy to make, super delicious treat. Layers of creamy chocolate, almonds, and decadent toffee bark come together in this classic candy recipe.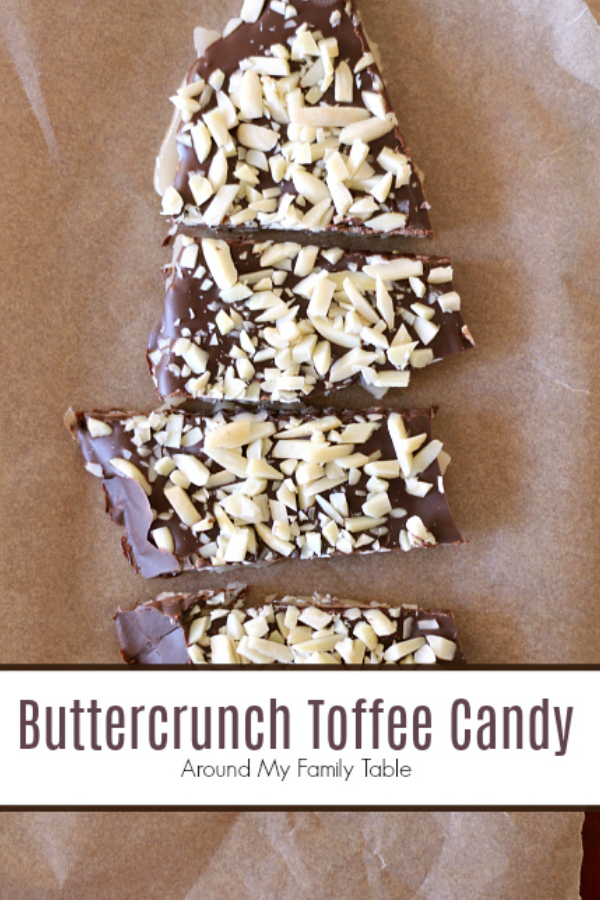 It is perfect for a holiday dessert platter. Also, it makes great holiday food gifts for teachers, postal carriers, or anyone special in your life!
What's the difference between toffee and English toffee?
Toffee bark is a classic candy that first appeared in the early 1800's. The reason this homemade candy is known as buttercrunch toffee is because butter and nuts are two of the main ingredients.
Both American toffee and English toffee are made by boiling sugar, butter, and water together. However, there is a difference between them. American toffee recipes call for white sugar while English toffee is made using brown sugar.
Another difference between them is that buttercrunch toffee candy almost always includes slivered almonds. As a result, the taste is typically a bit saltier than English toffee. Both are equally delicious, though!
Now, with butter in the recipe, this toffee candy is not vegan-friendly. But I do have a vegan toffee recipe so that everyone can enjoy homemade candy for the holidays!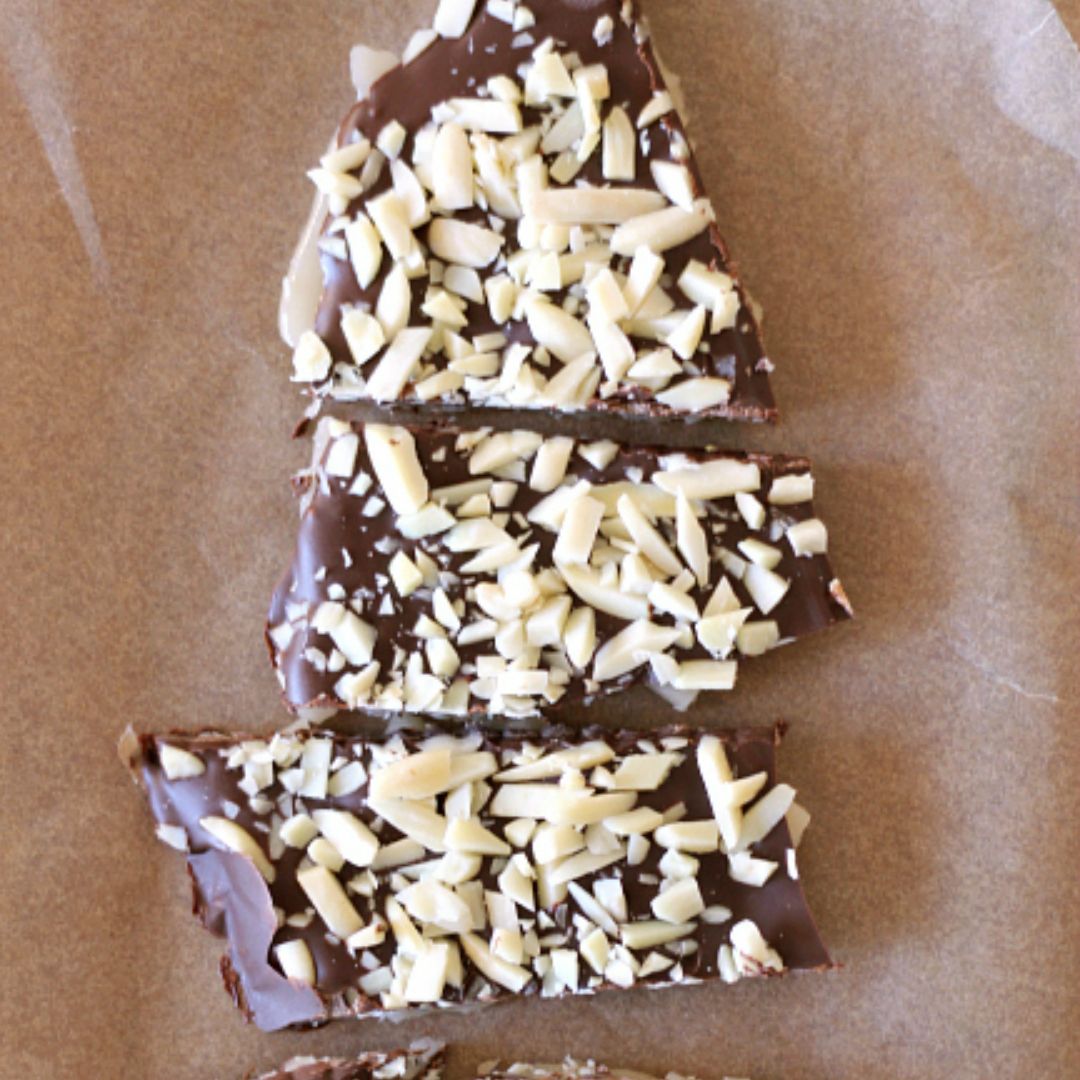 How do you make toffee?
Making toffee candy doesn't require a lot of fancy ingredients or expensive equipment. However, to make perfect buttercrunch toffee, you will need a couple of important kitchen tools:
Candy thermometer – A candy thermometer is not the same as an oven thermometer! You need a candy thermometer to know for sure that the candy is at the right temperature. For homemade toffee, the mixture needs to reach the "hard crack" stage, which happens between 300 and 310 degrees Fahrenheit (149 to 154 Celsius).
Jelly roll pan (this is a baking pan with raised edges)
Parchment paper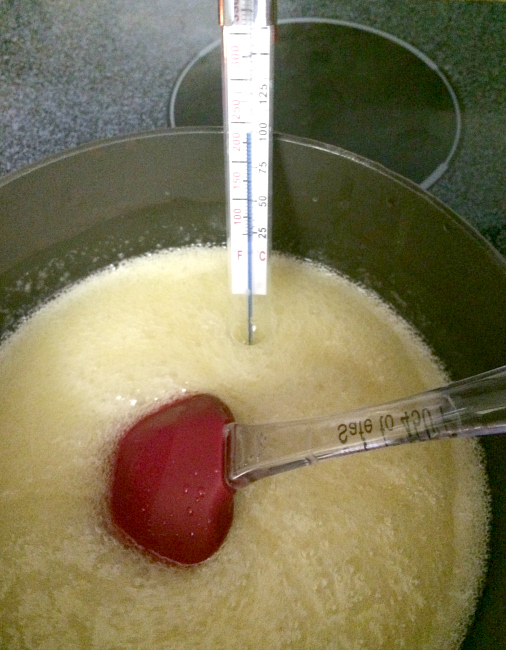 Tips for making the best buttercrunch toffee
Stay near the stove. The most important tip in making any type of homemade candy is to stay near the sugar syrup as it cooks. This is because as it nears the hard crack stage, the temperature will increase pretty quickly. As a result, walking away for even a minute or two can lead to burnt sugar syrup!
Stir continuously. To ensure that the sugar cooks evenly and doesn't become grainy, gently stir the mixture with a wooden spoon or heat resistant silicone spoon.
Work quickly and carefully. After the sugar syrup reaches the hard crack stage, you will need to spread it onto a jelly roll pan. With this step, it is important to work quickly because the mixture hardens as it cools down. However, remember that you are working with boiling hot sugar, so please be careful! Make sure that there are no pets or small children near the stove.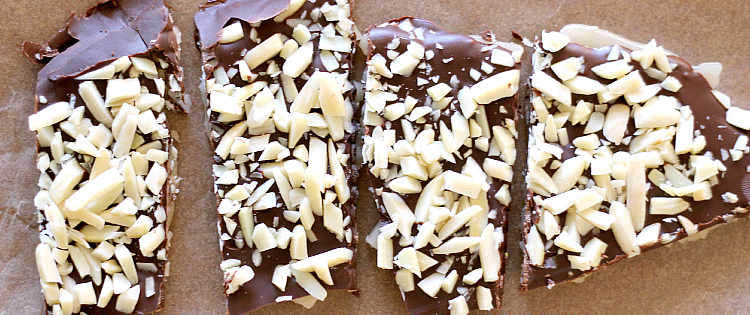 Other homemade candy recipes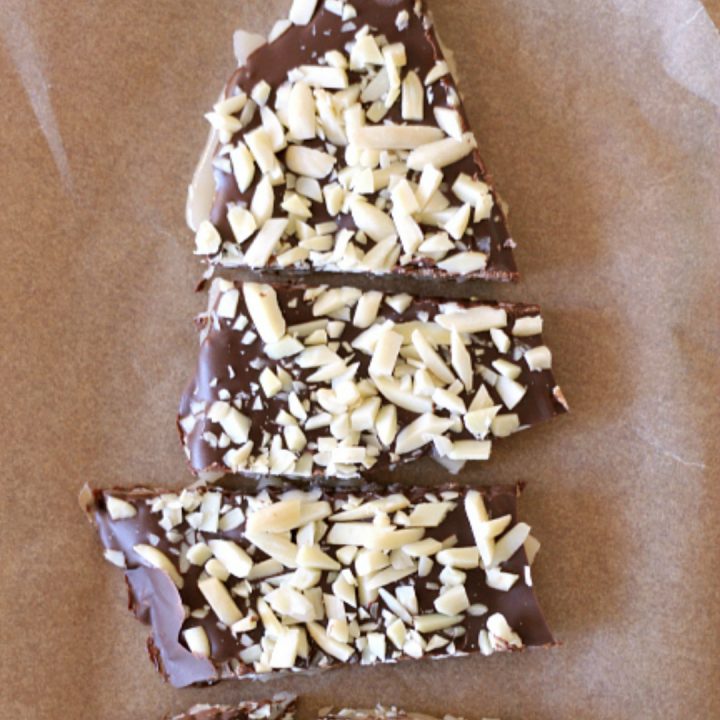 Buttercrunch Toffee Candy
Buttercrunch toffee candy is an easy to make, super delicious holiday treat. Layers of creamy chocolate and crunchy nuts sit on top of a layer of decadent toffee bark. This classic candy recipe makes the perfect holiday food gift!
Ingredients
1 cup (8 oz.) butter
1 1/2 cups sugar
3 tablespoons water
1 tablespoons corn syrup
1 bag semisweet chocolate chips
1 cup slivered almonds, roughly chopped
Instructions
Line a 13"x 9" jelly roll pan with parchment paper and set aside.
In heavy saucepan, combine butter, sugar, water, and corn syrup. Cook over medium-high heat until you reach the hard-crack stage (300°F on a candy thermometer) stirring constantly and watching carefully (about 15 minutes or so).
Immediately pour mixture onto prepared pan. Sprinkle with chocolate chips and let the heat of the butter/sugar mixture melt the chocolate.
Spread gently to cover cooling butter/sugar mixture. Sprinkle with nuts, pressing them gently into chocolate.
Let the toffee candy stand 2-3 hours to firm up, or chill in refrigerator for 30 minutes. Break into bite-size pieces.
Recommended Products
As an Amazon Associate and member of other affiliate programs, I earn from qualifying purchases.
Nutrition Information:
Yield:

24
Serving Size:

1
Amount Per Serving:
Calories:

83
Total Fat:

3g
Saturated Fat:

0g
Trans Fat:

0g
Unsaturated Fat:

2g
Cholesterol:

0mg
Sodium:

1mg
Carbohydrates:

15g
Fiber:

1g
Sugar:

14g
Protein:

1g
This nutritional information is an estimate may vary, depending on brand and type of ingredients used. It is not intended to replace the advice of a licensed dietician or physician.
Pin this recipe to your favorite dessert Pinterest board!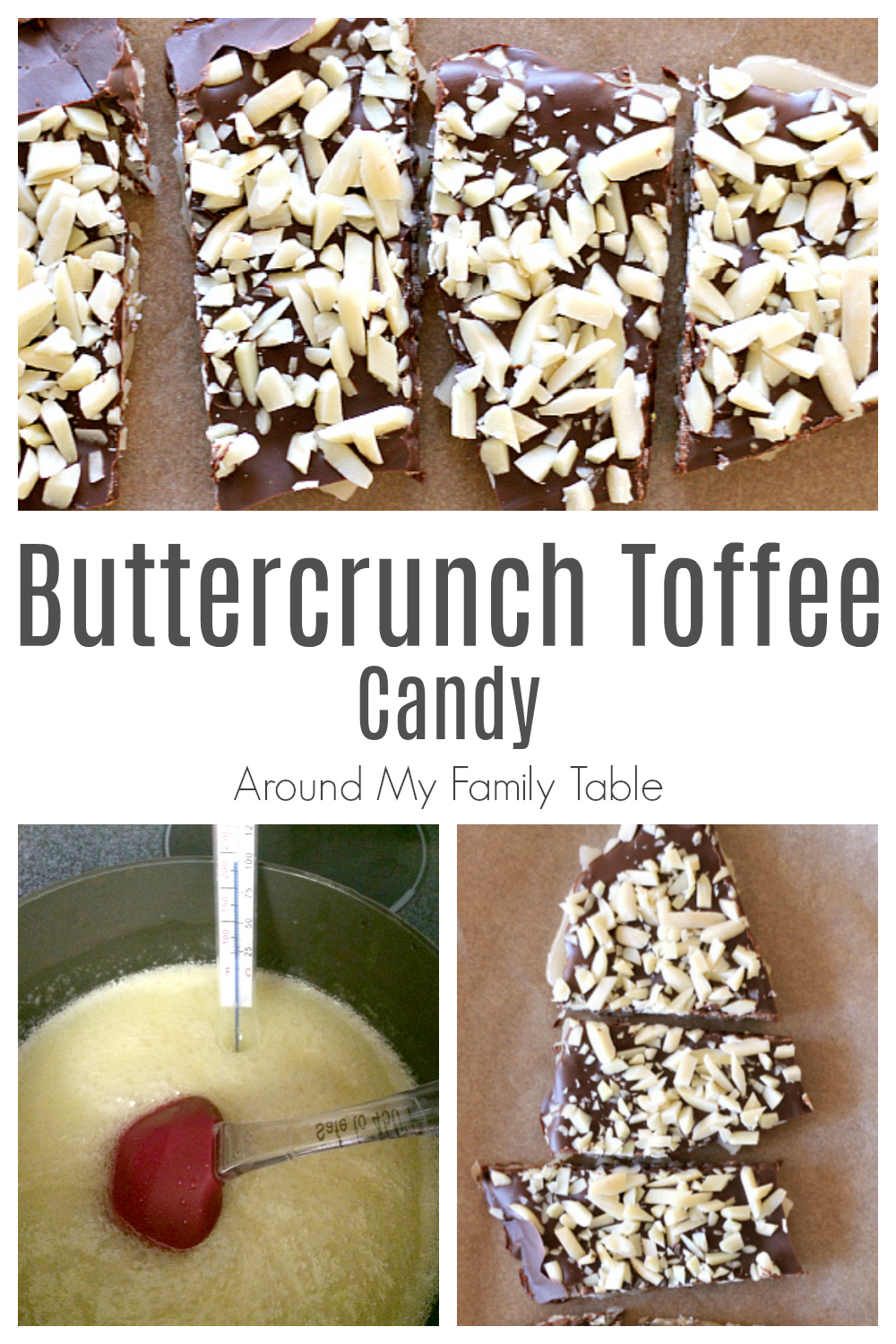 Recent Recipes You May Have Missed:
Chocolate Covered Strawberry Rice Krispies Treats
Strawberry Valentine Cookies
Toffee Nut Brownies
40 Crazy Delicious Cookie Bark Recipes