This post may contain affiliate links. Please read my disclosure.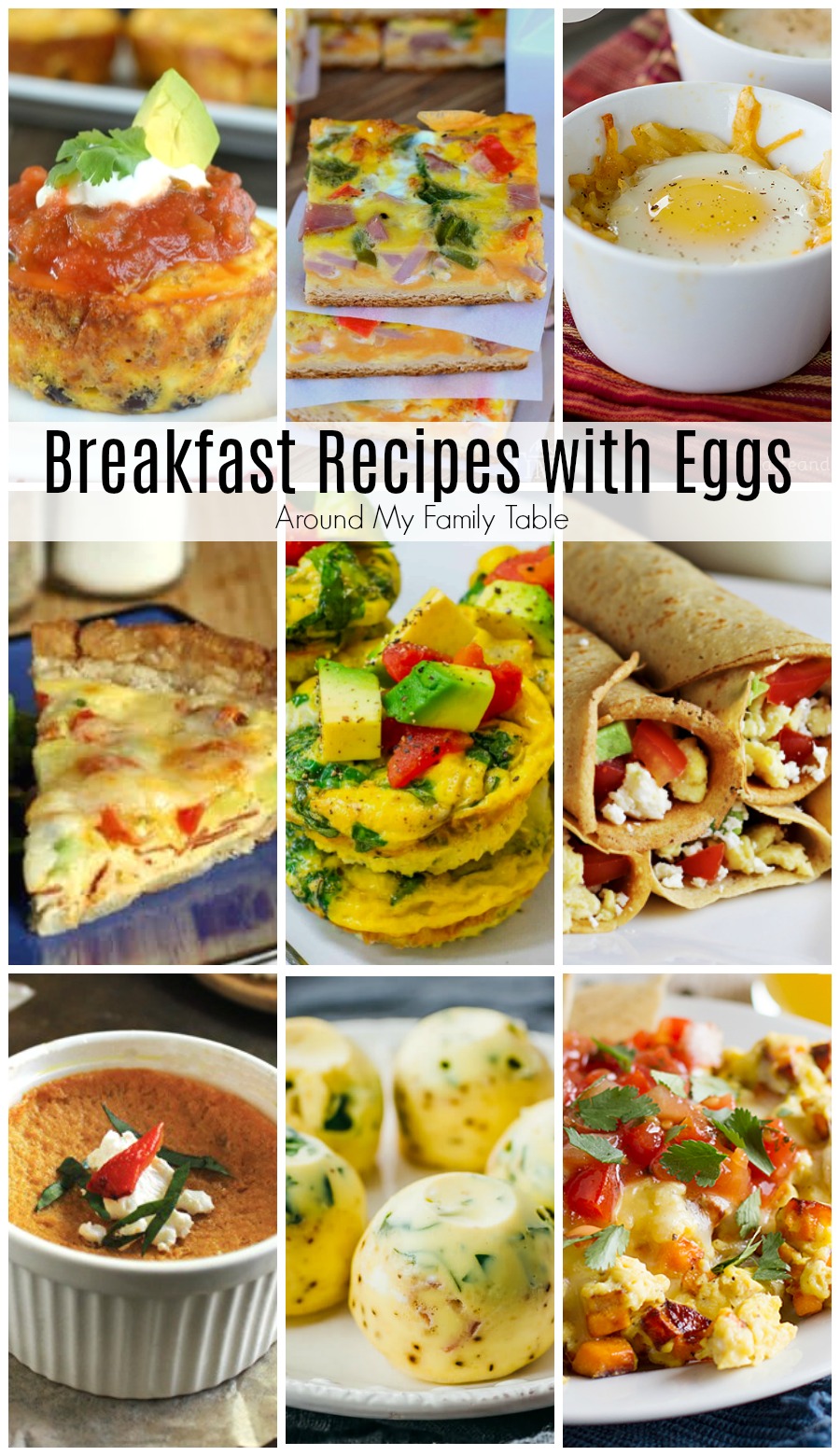 No matter how you choose to cook your eggs, these Breakfast Recipes with Eggs are an egg-cellent choice to start your day.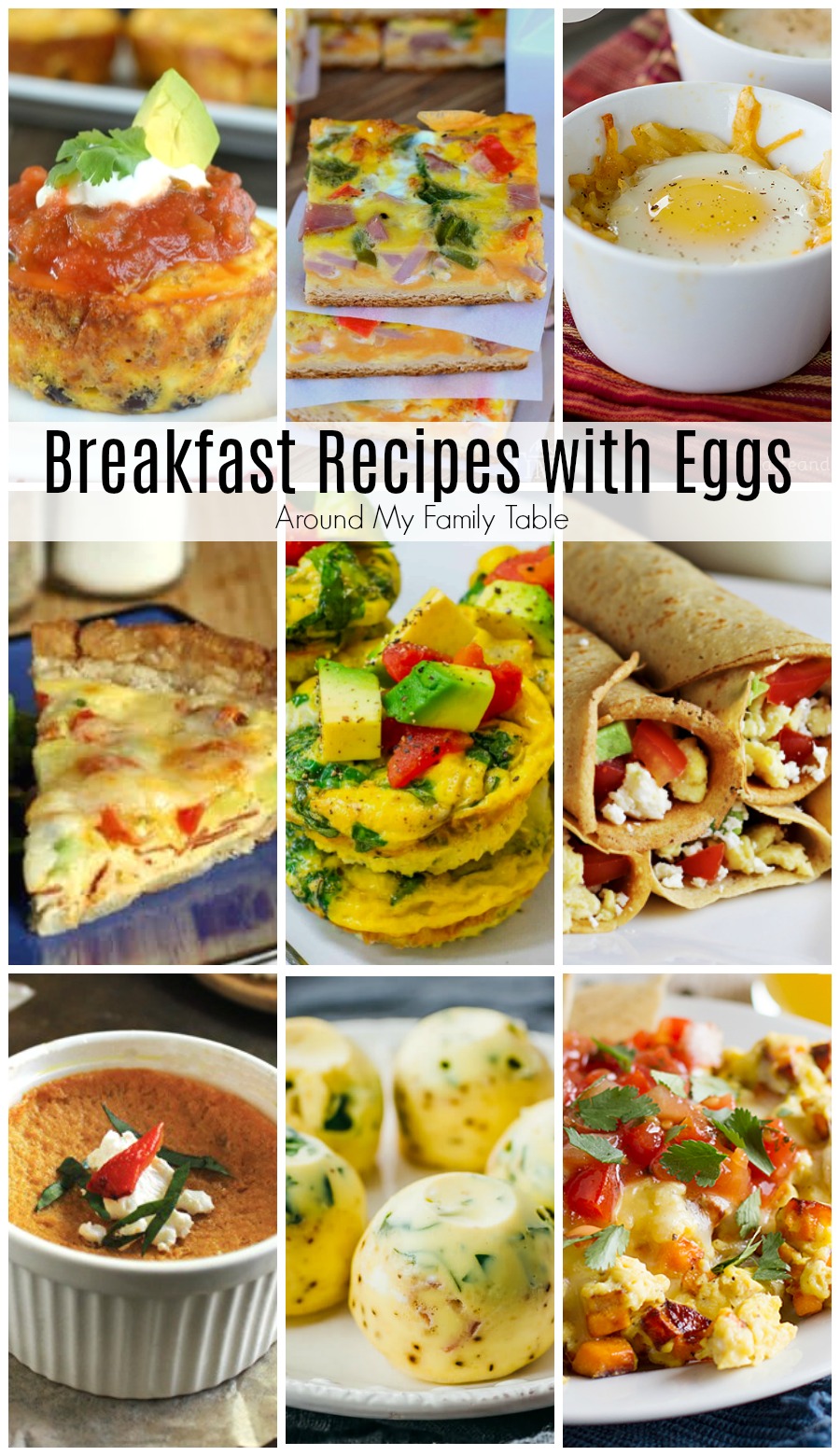 Breakfast Recipes with Eggs
Several years ago, I went to a farm as part of a playdate with friends. To everyone's surprise, including mine, I went back home with a couple of cute, baby chicks. Ever since then, my family has raised hens in our backyard. We love the fresh, organic eggs that our girls lay each day.
We've never been big cereal fans at my house. I've noticed that if we eat too many empty carbs in the morning, we get hungry again pretty quickly. Plus, we just feel sluggish for the rest of the day if we don't eat something filling. We need protein every morning, and eggs are the most logical choice. My kids love their eggs scrambled with cheese and a dash of garlic, but after a few days, we tend to get bored with the same breakfast. We need variety, so I made it a goal to find lots of different, but delicious ways to cook our eggs for breakfast. We've tried out tons of recipes. Some were big hits, and some weren't, but I've managed to find lots of breakfast egg recipes that everyone in my family enjoys.
I've put this list together of some of our favorite ways to cook eggs. Whether you like your eggs scrambled with cheese, sunny side up, or baked in a casserole, you are sure to find several new ideas with these 75 breakfast recipes with eggs listed below.
Healthy Breakfast Eggs
Baked Eggs and Green Chiles in Avocado
Zucchini and Green Chile Quiche
Roasted Red Pepper Egg Custard
Scrambled Egg Breakfast Crepes
Frittata with Ham and Asparagus
Red Pepper and Baked Egg Galettes
Poached Egg and Avocado on Sourdough with Jarlsberg Cheese
Huevos Rancheros with Smoky Spicy Guacamole and Grain-Free Tortillas
Roasted Beet and Micro Kale Frittata
Ricotta Herb Frittata with Feta
Deviled Egg Recipes
Basic Omelet Recipes
Greek Omelet with Spinach Peppers and Feta
Mexican Egg & Sweet Potato Breakfast Scramble
Spinach and Scallion Cream Cheese Baked Omelets with Grape Tomatoes
Spinach, Tomato, and Feta Frittata
Kale, Sweet Potato, and Feta Frittata
Best Breakfast Casseroles
Slow Cooker Egg and Sausage Casserole
Sausage and Egg Breakfast Casserole
Mexican Sausage Cornbread Strata
Goat Cheese, Caramelized Onion, and Roasted Red Pepper Tart
Saucy Bacon & Chorizo Baked Eggs
BBQ Pulled Pork Roasted Potato and Spinach Frittata
Spinach Artichoke Egg Casserole
Sunburst Spring Vegetable Quiche with Puff Pastry Crust
Cheesy Frittata with Zucchini and Red Peppers
Individual Egg Breakfasts
Sausage Egg & Cheese Croissants
Arugula Eggs Benedict with Goat Cheese Hollandaise
Quick and Easy Baked Egg Breakfast
Freezer Breakfast Sandwiches from Scratch
Individual Ham and Asparagus Strata
Eggs Benedict with Spinach and Hollandaise
Potato, Ham & Cheese Crescent Quiches
Broccoli Potato and Cheese Egg Muffin Cups
Korean Ham and Eggs with Chile Maple Sauce
Mini Sausage Spinach Swiss Cheese Frittatas
Ham and Cheese Muffin Tin Meal
Bacon Leek and Cheddar Mini Quiches
Spinach and Feta Egg Toast Cups
Spicy Egg Salad on English Muffin
Pepperoni Egg and Cheese Breakfast Muffin
Breakfast Egg Crepes with Avocado
Pesto Tomato Egg & Avocado Breakfast Salad
Make ahead Sausage Egg Breakfast Bagels
Savory Sweet Potato Fritters with Avocado and Fried Eggs
No matter how you choose to cook your eggs, cookware with Teflon® nonstick coatings will ensure even cooking and delivery of eggs — wholly and gracefully — from pan to plate. Whether you like your eggs scrambled with cheese like my kids, sunny side up, or one of the 75 breakfast recipes with eggs below! And check out the Egg Pinterest board I curated for Teflon last year….lots more amazing egg dishes.
Farberware with Teflon® nonstick coating would be great cooking all kinds of eggs dishes. Another added feature of the pan is that they are oven safe to 350. This is perfect for egg casseroles and recipes where you would normally have to stop and transfer your food into something oven safe. I have used mine for one pot meals like my Chicken, Sun Dried Tomatoes, & Parmesan Ziti. Yay for not dirtying up more dishes!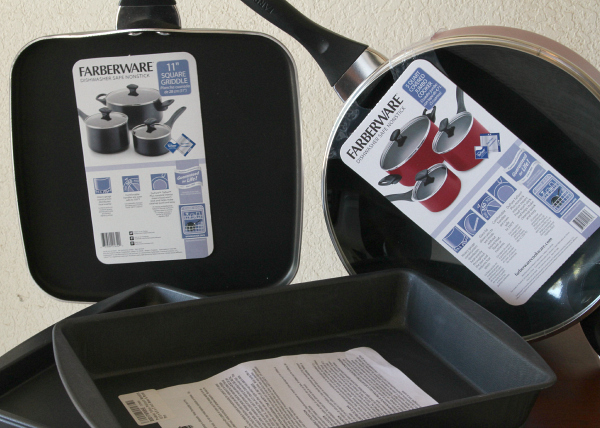 Disclaimer: This post is in partnership with Teflon. I was provided products to facilitate my review.