This post may contain affiliate links. Please read my disclosure.
Do you have a Blendtec
or Vitamix?
I love mine, we use is for smoothies all the time. When I bought it I knew I could make a hot soup with it, but I never tried until Kaylynn begged me to. The soup is very similar to the one found in one of the cookbooks and what is made at the displays at the in-store demos.
If you don't have one of these blenders then you can still make the soup. I will give directions for both, I promise. And for an extra special treat, try making your own taco seasoning.
Nothing beats an easy hot, homemade soup on a cold winter's day. This Tortilla Soup comes together very fast and the Taco Twists couldn't be any easier. I think I made enough for for 6 people and my family of 4 (which includes two small kiddos) ate the whole thing. There weren't any leftovers…which I know John was hoping for. He just loves taking homemade leftovers to work for lunch.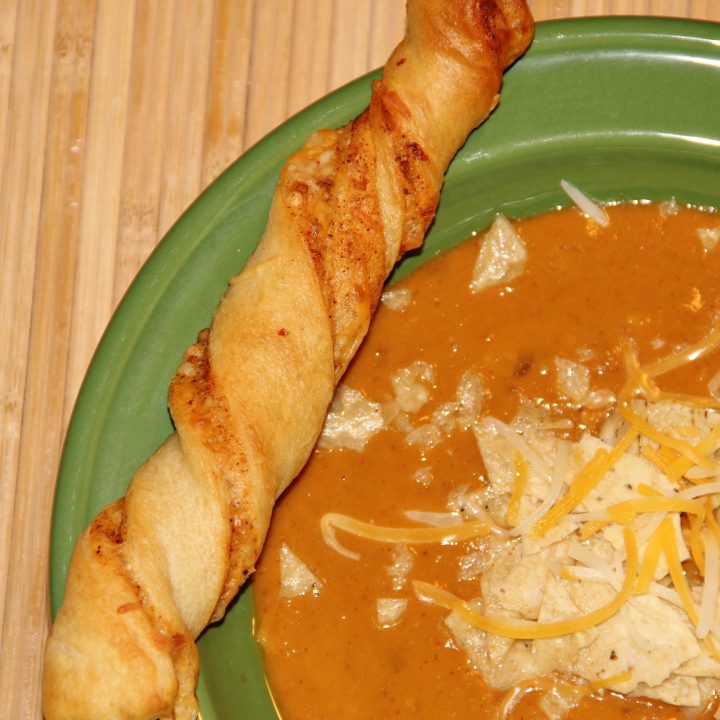 Tortilla Soup and Taco Twists
This easy tortilla soup recipe is perfect for a chilly night. If you don't have a Vitamix or other high speed blender, you can make it on the stove top instead.
Ingredients
SOUP:
1 oz cheese stick
3 baby carrots
4 sprigs cilantro
2 large ripe tomatoes (or 3 roma tomatoes)
1/2 avocado (peeled)
1/2 tsp garlic salt
1/4 small onion
1/4 tsp pepper
2 cups hot water
1/2 can black beans
2 handfuls tortilla chips, slightly crushed
cooked shredded chicken, optional
BREAD TWISTS:
1 cup shredded cheddar cheese
1 can crescent rolls
Instructions
Soup:
Place first 10 ingredients into Vitamix blender. Blend on high speed for several minutes, until soup is hot.
Add in black beans and crushed tortilla chips. Blend on low speed for about 20-30 seconds.
Serve hot with additional shredded cheese and chips and sour cream
*To make without blender, put first 10 ingredients in a large stock pot and bring to a boil. Use an immersion blender or regular blender to puree ingredients. Add in additional ingredients and lightly puree until desired texture.
Twists:
Preheat oven to 375 degrees and lightly spray baking sheet with nonstick cooking spray.
Unroll can of crescent roll dough and lightly press seams together. Gently roll dough with a rolling pin, increasing the size of the rectangle just an inch or so all the way around. Sprinkle dough with taco seasoning and cheddar cheese.
Using a sharp knife or pizza cutter, cut into 8 long strips.
Pick up each strip and carefully twist 4-5 times and place on prepared baking sheet.
Bake for 11-13 minutes or until golden brown.
Join the Club!
Get delicious recipes delivered straight to your inbox each week! Plus learn how to take back suppertime in your home.

And get started with my NEW Take Back Suppertime 5-Day Jump Start Guide.