This post may contain affiliate links. Please read my disclosure.
Add one or all of these simple DIY Gourmet Bacon recipes to your next breakfast or brunch. They are fun for a potluck or holiday party too.
Be sure to sign up for my email list….seasonal recipes in your inbox every week!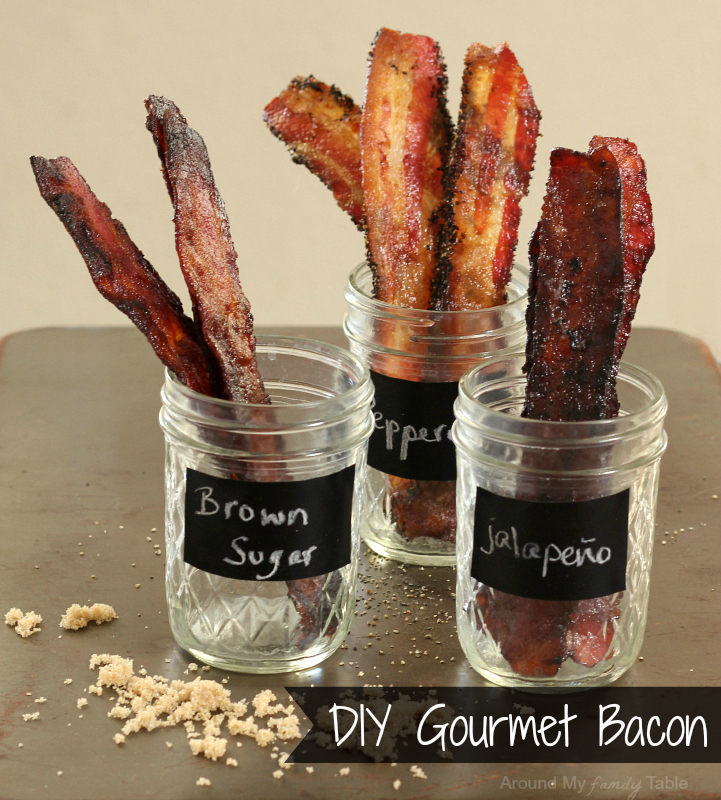 DIY Gourmet Bacon
Are you a bacon lover like I am? I pretty much am always trying to find new bacon recipes, new foods to put bacon on (or in), and always trying new bacon products. "Hello, my name is Wendy and I'm addicted to BACON!"
As much as I love bacon, we pretty much only eat it on the weekends, special occasions, and a few random suppers. But when we go out to eat, I almost always order something with bacon. One of my favorite BBQ places has a spicy jalapeno bacon that is served with all their burgers and it is amazing. I've wanted to make my own for awhile now and can't believe it took me this long to try it. This bacon is A-MAZ-ING!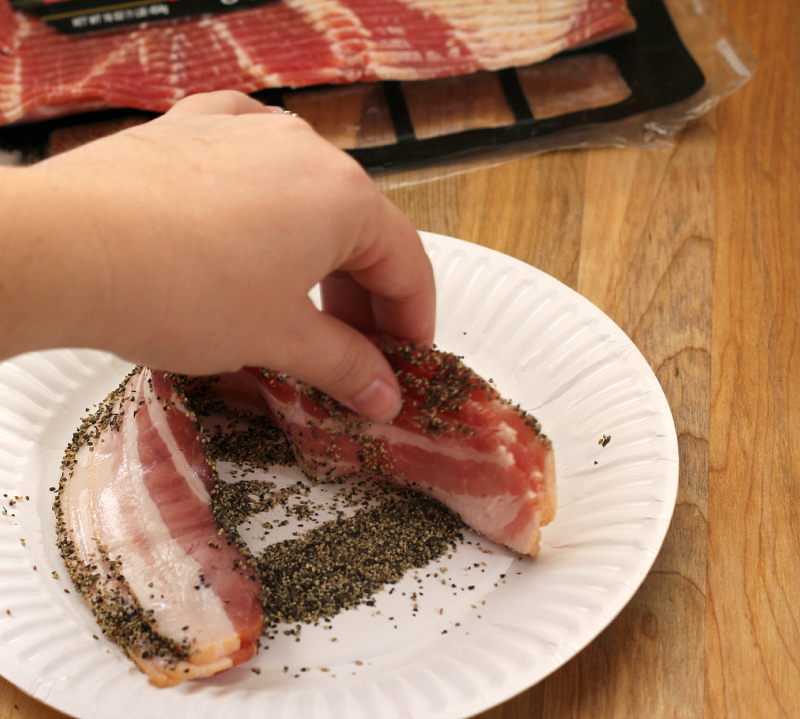 How to Cook Bacon Perfectly
I usually cook my bacon in the oven, but for these recipes I thought it would be best to make it on the stove top with a bacon press. The press keeps the bacon flat instead of curling in the pan, which makes for easy eating and burger topping. Besides the curling issue, I wanted the bacon done fast. I love the oven method, but sometimes I just can't wait that long.
If you have a cast iron skillet, I would highly encourage you to use it. All that seasoning you've put into your pan will totally pay off and make your bacon even better. If you do use your cast iron and you have family members that aren't a fan of spicy foods, then you may need to clean your cast iron pan when you're done. However, my kids haven't complained yet.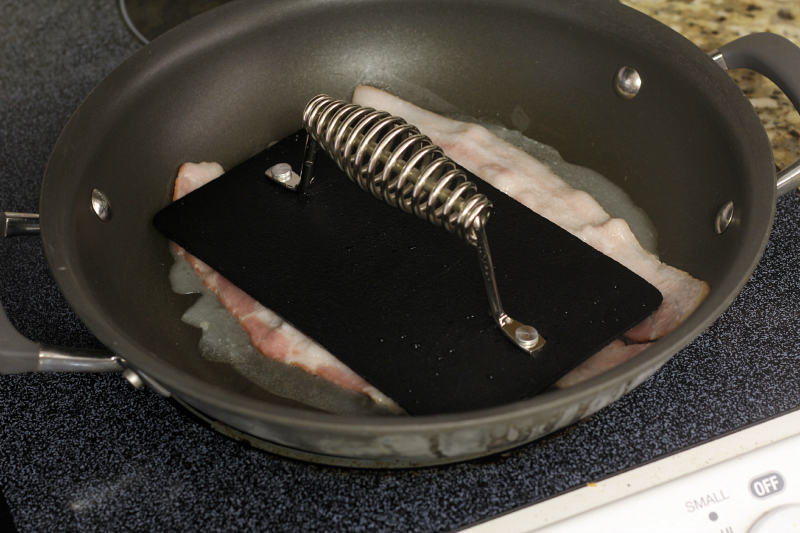 I'm totally in love with my new bacon press. I've wanted one for years and was so excited to finally get one. It's a heavy weight press that keeps the bacon from curling or can be used to press unwanted fat out of other foods. I love that it can go in the oven too. Hubbyman is eyeing this fun gadget for our next grilling session and for weekend panini sandwiches.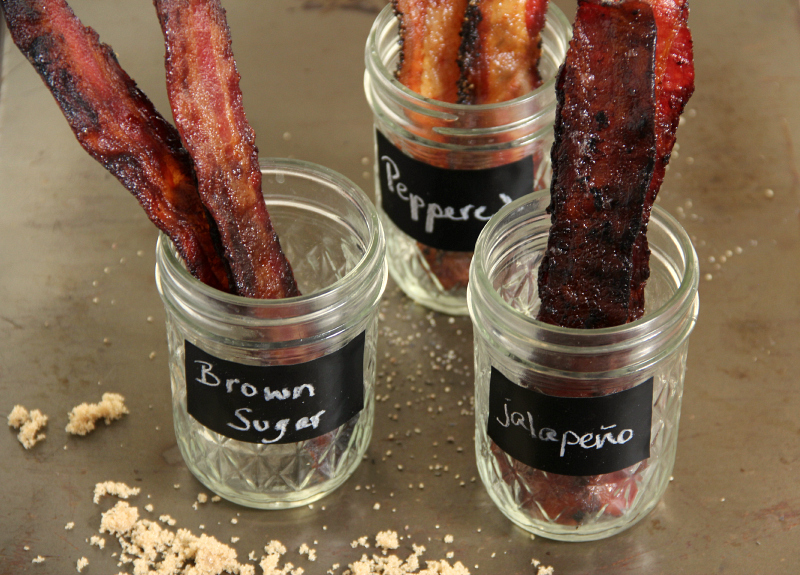 I'm giving you three options that are amazing. The jalapeno bacon is great and gets stronger the longer you let it soak with the jalapenos (plan ahead if you can…it needs time to marinate). The brown sugar bacon is sweet and a little sticky…dare I say it's almost like dessert. And surprisingly, my favorite of the bunch, is the peppered bacon. The cracked pepper flavor really mellows out when it's cooked and is just scrumptious.
Ways to Use your Gourmet Bacon
breakfast burritos
add to a burger
as a side to quiche
add to a side dish for extra kick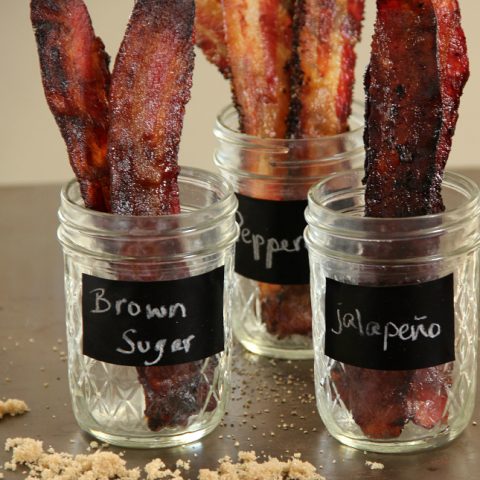 DIY Gourmet Bacon
Add one or all of these simple DIY Gourmet Bacon recipes to your next breakfast or brunch.  They are fun for a potluck or holiday party too.
Ingredients
1 package thick-cut bacon
Flavor Options
1/4 cup coarse black pepper
1/4 cup brown sugar
1 can pickled jalapenos
Instructions
For Black Pepper or Brown Sugar Bacon
Pour black pepper or brown sugar onto a paper plate (hey, it's easy clean up). Peel off bacon in groups of 3-4 slices and dip edges into topping. Coating the edges very well. Separate slices and place in a large skillet to cook. For brown sugar bacon, add extra brown sugar all over the top of each slice.
For Jalapeno Bacon
Place bacon into a large ziplock bag and add contents of pickled jalapeno can. Seal and gently mash around for a minute to make sure all the bacon is coated. Refrigerate several hours or overnight. The longer it sits the spicier it will become. Remove from bag and place in a single layer in a large skillet.
To Cook:
Turn on stove to medium high and allow bacon to start to cook for about one minute. Add grill press to keep bacon flat. Continue cooking for several minutes. Using a pot holder, remove the grill press and set aside. Flip bacon, add the grill press, and continue the process until the bacon is done. Bacon will continue to cook and set up for a minute or two after it is removed from the heat, so don't over cook it.
Nutrition Information:
Yield:

6
Serving Size:

2 slices
Amount Per Serving:
Calories:

50
Total Fat:

1g
Saturated Fat:

0g
Trans Fat:

0g
Unsaturated Fat:

1g
Cholesterol:

2mg
Sodium:

98mg
Carbohydrates:

10g
Fiber:

1g
Sugar:

7g
Protein:

1g