This post may contain affiliate links. Please read my disclosure.
The most popular Christmas Cookie Recipes for your holiday baking needs! These all are perfect additions to any holiday party or dessert tray.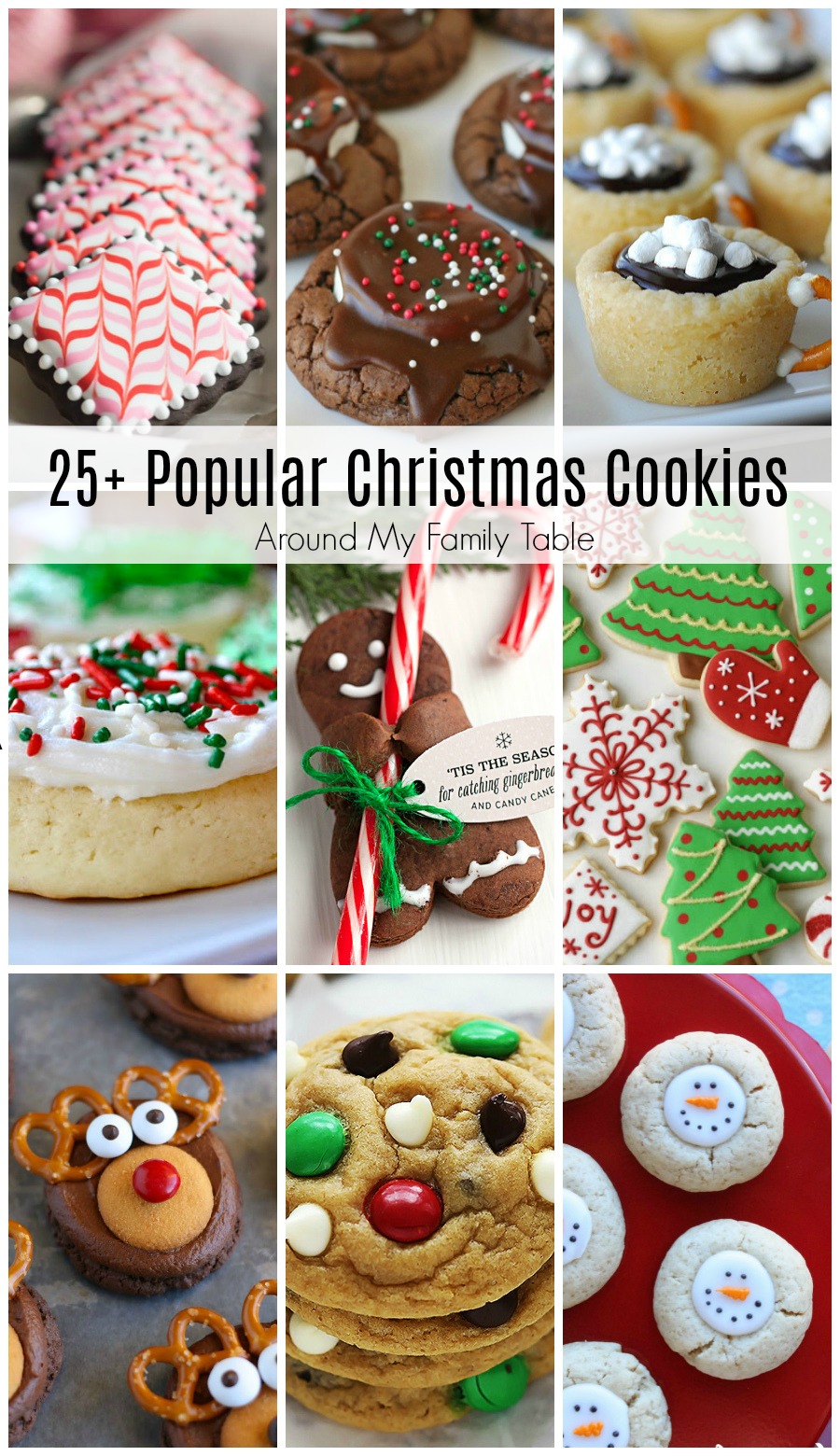 One of my most favorite parts about the holiday season is all of the various cookies that I get to bake for my loved ones. I am right in the thick of my Christmas baking, and I'm loving the smells wafting out of the kitchen now. There is definitely a Christmasy feeling I get when the house smells like vanilla and sugar. It makes me want to sing out my favorite Christmas carols and wrap more presents to slide under the tree!
Most Popular Christmas Cookie Recipes
If you are anything like me, you are always on the lookout for new, creative recipes to go along with those tried-and-true standby classics. After all, this is the time of the year when many of us are invited to Christmas cookie exchange parties, and we need an impressive recipe to share.
Or, you may like to gift a decorative plate of homemade treats to neighbors and coworkers. Maybe you need to bake goodies for a classroom holiday party or a church social. Whatever the reason, this list of cookies that I've put together includes the best recipes out there because they are delicious, easy to make, and perfect to share with family and friends!
They are almost too beautiful to eat. Almost. They taste even better than they look, so go ahead and bake up a few batches to share with anyone and everyone. It's time to spread some joy, and what better way than with a plate of delicious homemade cookies baked with cheer straight from your kitchen!
Let's bake some Christmas Cookies!
Eggnog Chocolate Chip Butter Cookies
Stained Glass Cookies
Cherry Cheesecake Cookies
Chocolate Peppermint Cookies
Hot Cocoa Cookies
Thumbprint Snowman Cookies
Chocolate Crinkle Cookies
Flourless Chocolate Pecan Cookies
Buttery Jam Thumbprint Cookies
Snowglobe Cookies
German Chocolate Cake Cookies
Grinch Cookies
Orange Cranberry Cookies
Chocolate Gingerbread Men with Candy Canes
Eggnog Macarons
Cranberry White Chocolate Cookies
Rudolph Cookies
Cinnamon Roll Cookies
Chocolate and Maraschino Cherry Cookies
Chocolate Chip Snowball Cookies
Hot Chocolate Cookie Cups
Candy Cane Cookies
Christmas Buttercrisp Cookies
Lofthouse Style Sugar Cookies
Pecan Cookies
Iced Chocolate Peppermint Cookies
Santa's Cookies: Double Chocolate Chip M&M Cookies
and don't forget my easy Royal Icing recipe for decorating all those cookies and gingerbread houses!