This post may contain affiliate links. Please read my disclosure.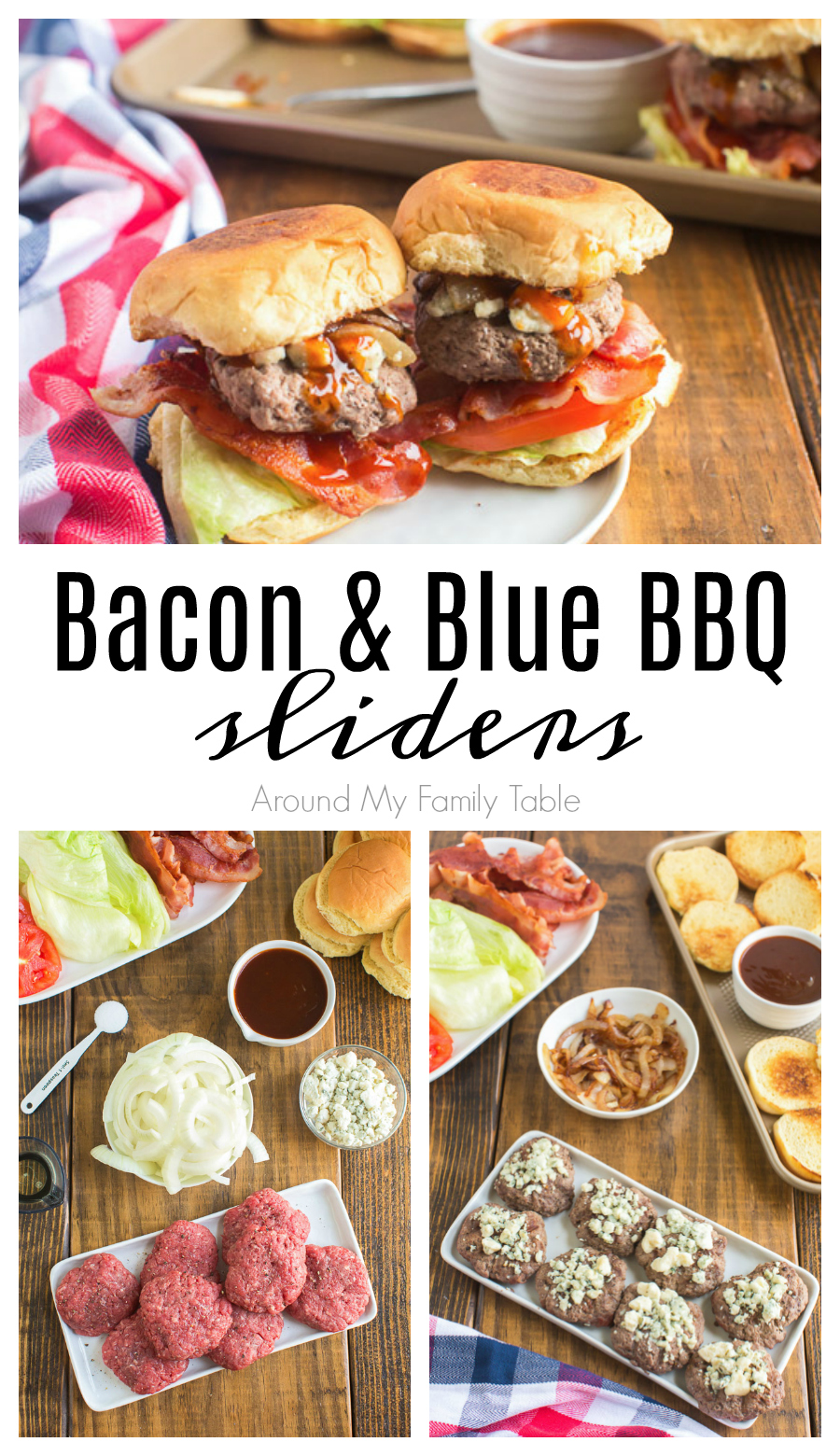 Bacon BBQ Blue Sliders are mini burgers with BBQ sauce, bacon, caramelized onions and blue cheese on top. Make this slider recipe for your next cookout because the burgers will be a favorite!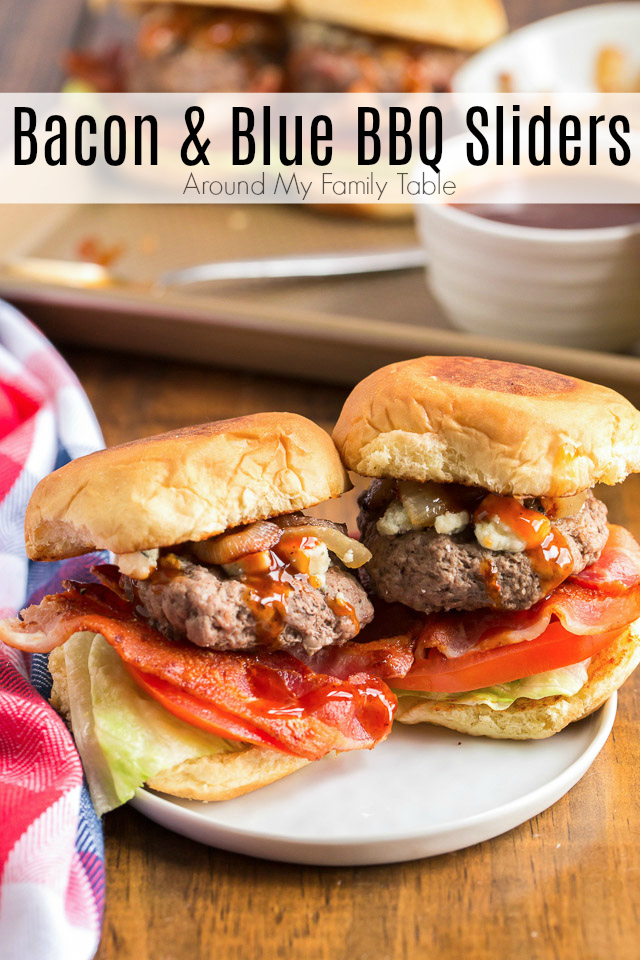 Bacon BBQ Blue Sliders
If you enjoy traditional bacon cheeseburgers but you don't have a big appetite, then bacon cheeseburger sliders are the way to go.
To make them a bit more flavorful, we use blue cheese as a replacement for the cheddar or American that you'll typically see on a bacon cheeseburger.
I enjoy the flavor of blue cheese, especially when I pair it with crispy bacon and sweet caramelized onions.
INGREDIENTS AND SUBSTITUTIONS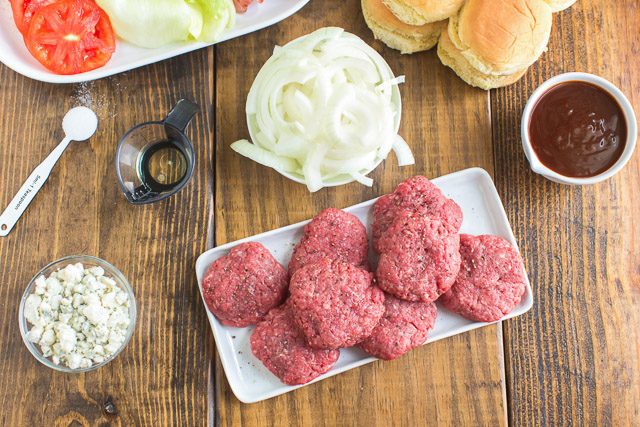 One of my favorite things about this recipe is how customizable it is.
For example, if you want to use different burger toppings, feel free to do so.
You can even swap out the ground beef for a different protein.

Ground chicken or turkey are a leaner and healthier option.
Or, if you want to make a meatless slider recipe, you can make the burgers with mashed chickpeas or black beans.
Honestly though, I think the perfect toppings for these blue cheese sliders are sweet caramelized onions, smoky barbecue sauce, and crispy bacon.

They have a rich, hearty flavor, making them perfect to serve at a game day tailgate party!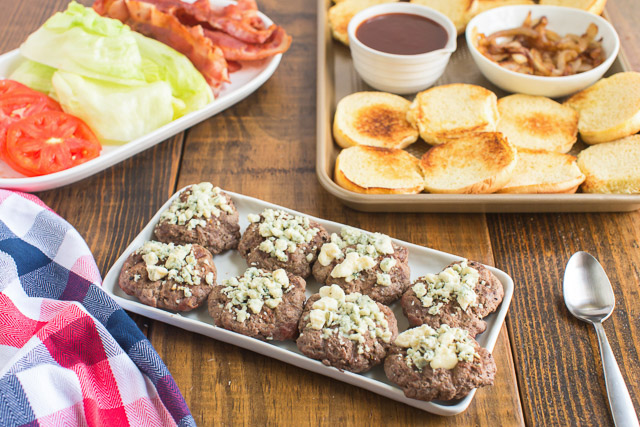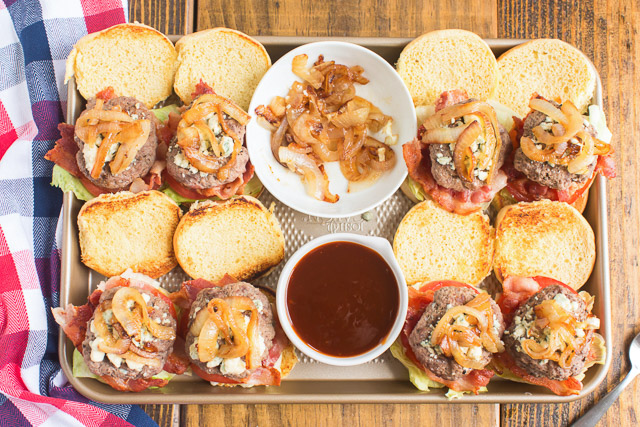 RECOMMENDED TOOLS FOR MAKING THIS SLIDERS RECIPE: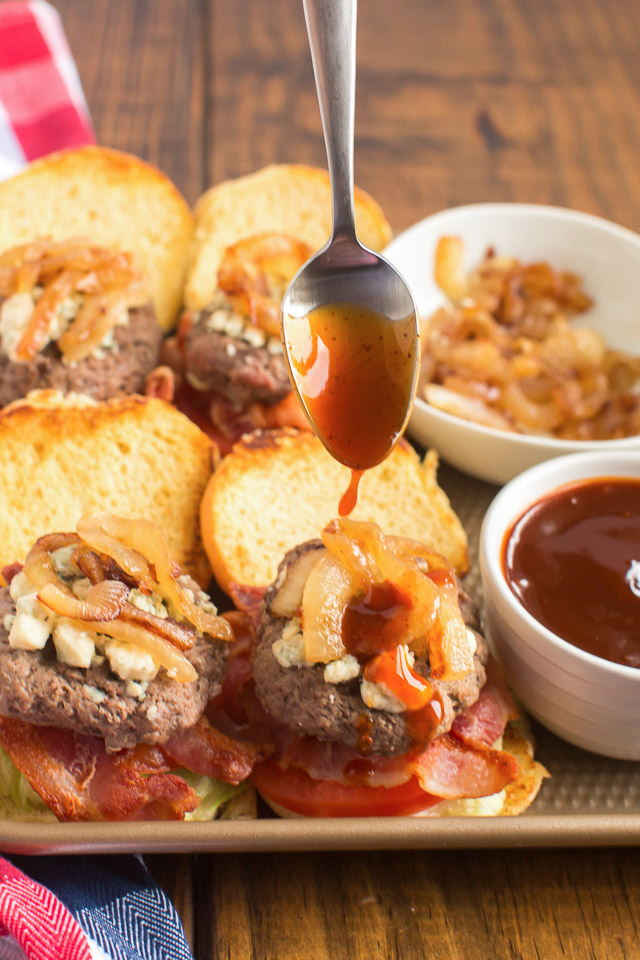 How to Caramelize Onions
Caramelizing onions is easy to do, but it can take a while for the onions to cook down. One thing is for sure; it is definitely time well spent!
Caramelized onions are delicious on burgers and sliders, but also on top of a grilled steak or chicken.

They are also the key ingredient in French onion soup!
As the onions cook, they break down, releasing their natural sugars. Because of this, they are sweet and tender.

Here's what you'll need to make them.
Ingredients
2 to 4 large white or yellow onions. The larger the better because the cook down a lot!
2 tablespoons extra-virgin olive oil
1. Slice the onions. Trim the tip and root from the onions, cut them in half and remove the skins.

Slice the onion from root to stem into thin slices. (Alternatively, you can dice the onions.)
2. Add olive oil add onion slices to the pan. Using a large, thick-bottomed sauté pan allows for maximum pan contact with the onions.

Coat the bottom of the pan with olive oil and heat over medium high heat until the oil is shimmering.

Add the onion slices and stir. Spread the onions evenly throughout the pan and let them cook, stirring occasionally.
💡 NOTE:
If you have a good blender or food processor, feel free to use it to combine the marinade ingredients instead of chopping everything by hand.
3 Cook and stir. Allow the onions to cook for 30 minutes to an hour more, stirring every few minutes.

Let the onions stick a little and brown (this is when they are caramelizing), but then stir them before they burn.
Cooking tips
The trick is to leave the onions alone enough to brown/caramelize. If you stir them too often, they won't brown. That said, to prevent them from burning, it's important to stir the onions occasionally.

It's definitely something you don't want to walk away from. If you plan to cook them for more than 30 minutes, lower the stove temperature to medium or medium-low and add a little more oil, if the onions are on the verge of burning.
A metal spatula (or a wooden spoon if you're using a non-stick pan) will help you scrape up the browned bits from the bottom of the pan as the onions caramelize.

As the onions cook down, you may need to scrape the pan every minute or two.

Continue to cook and scrape the pan until the onions are a rich, browned color. It's a personal preference how far you go with your onions and it also depends on what you plan to do with them too.
Store in the refrigerator for several days in an airtight container.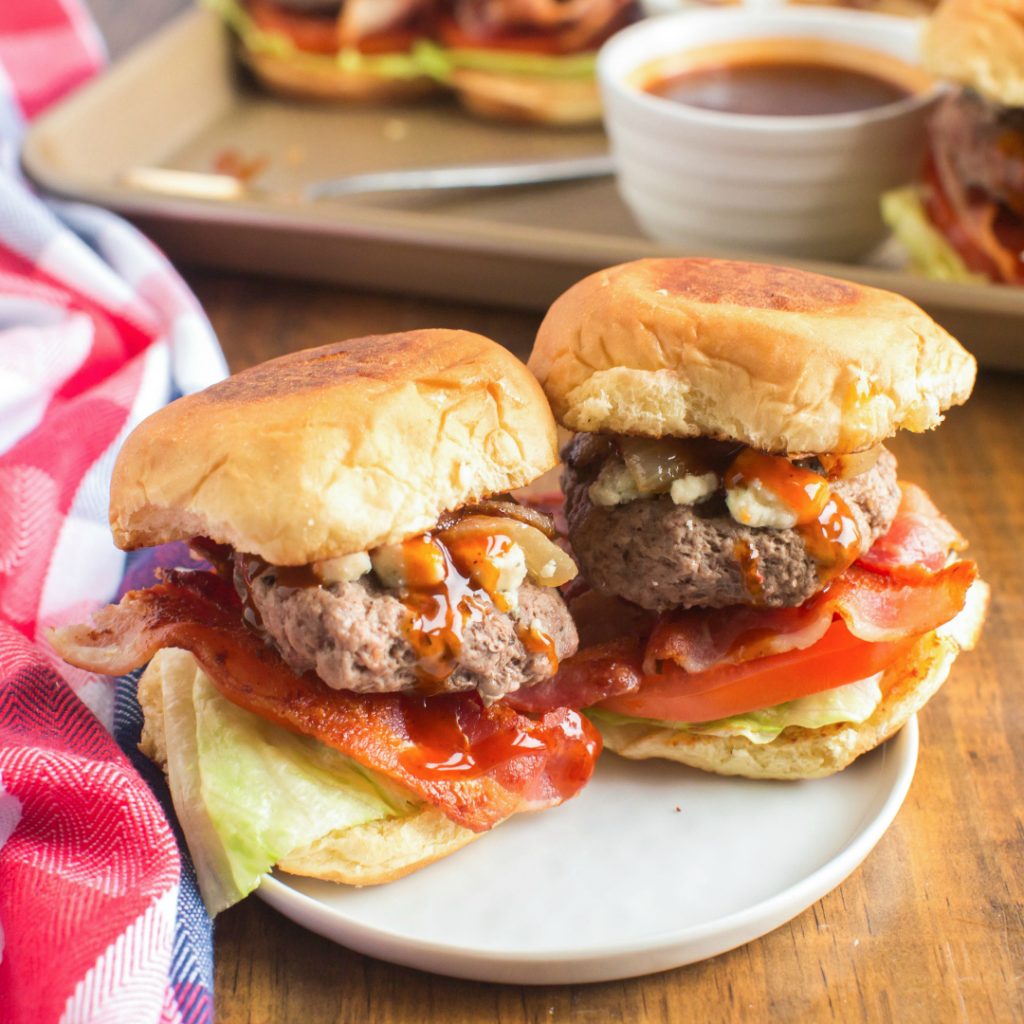 Cooking options for bacon blue cheese sliders
The beef patties will have amazing flavor if you cook them on an outdoor or indoor grill. If you don't have a grill, you can cook them on your stove top, or broil them in your oven.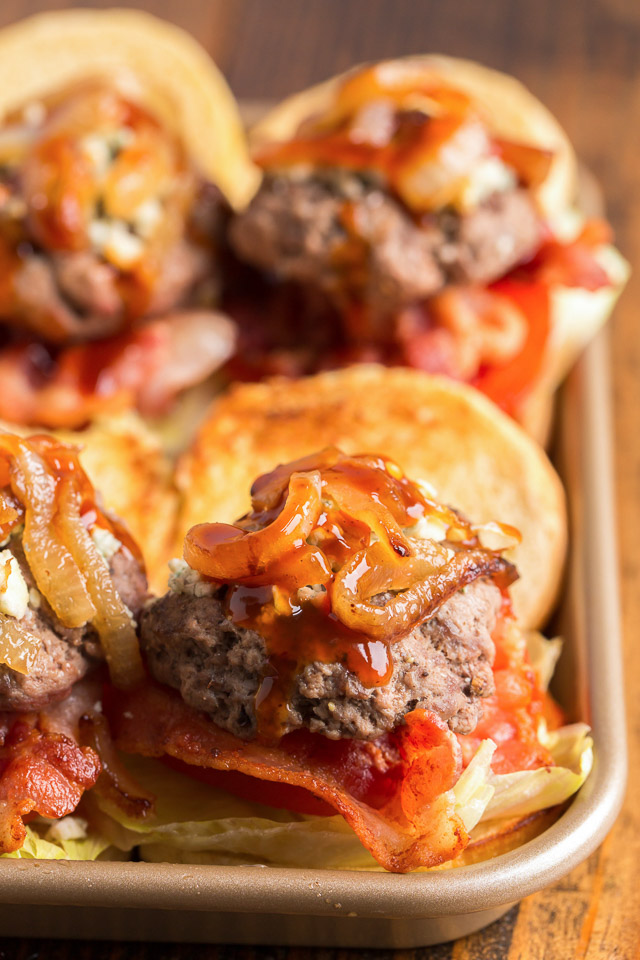 SERVING SUGGESTIONS
If you plan to serve the bacon bbq blue sliders as a full meal, I recommend serving two sliders per adult. One will be plenty for younger kids.

For side dishes, you can go the traditional route, serving mustard potato salad or some cucumber salad. I also like to make baked beans or grilled green beans.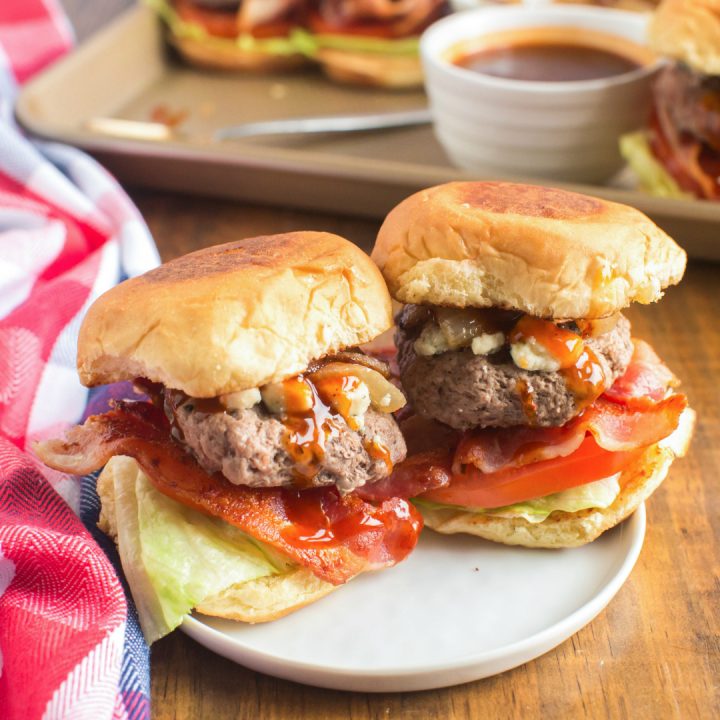 Bacon and Blue BBQ Sliders
Bacon and Blue BBQ Sliders are a miniature version of a classic hamburger. Bacon, blue cheese, caramelized onions and BBQ sauce, loaded and ready to enjoy on top of grilled burgers!
Ingredients
1 lb lean ground beef
1 small onion
8 slices bacon, cooked
8 slider buns
1/2 cup blue cheese crumbles
1/2 cup BBQ sauce
1 tbsp vegetable oil
1 tsp sugar
salt and pepper
Instructions
Season ground beef with salt and pepper. Form into 8 small patties and set aside.
Slice onion into long strips and place in a medium sauce pan with oil and sugar. Cook over medium to medium-high heat for up to 30 minutes, stirring often until the onions are caramelized.
While the onions cook, preheat grill to high. Cook burgers over direct heat for 3-5 minutes on each side or until desired doneness. During the last minute or two of cooking time add blue cheese and let it melt on the burgers.
Slice rolls in half and toast either on the grill or in a skillet for about 30 seconds.
To assemble burger: Place bottom of roll on a plate, then add bacon and burger. Top with caramelized onions, a drizzle of BBQ sauce, and the top of the roll.
Recommended Products
As an Amazon Associate and member of other affiliate programs, I earn from qualifying purchases.
Nutrition Information:
Yield:

4
Serving Size:

2 sliders
Amount Per Serving:
Calories:

691
Total Fat:

32g
Saturated Fat:

12g
Trans Fat:

1g
Unsaturated Fat:

17g
Cholesterol:

136mg
Sodium:

1394mg
Carbohydrates:

46g
Fiber:

3g
Sugar:

18g
Protein:

51g
Pin this recipe to your favorite Pinterest board: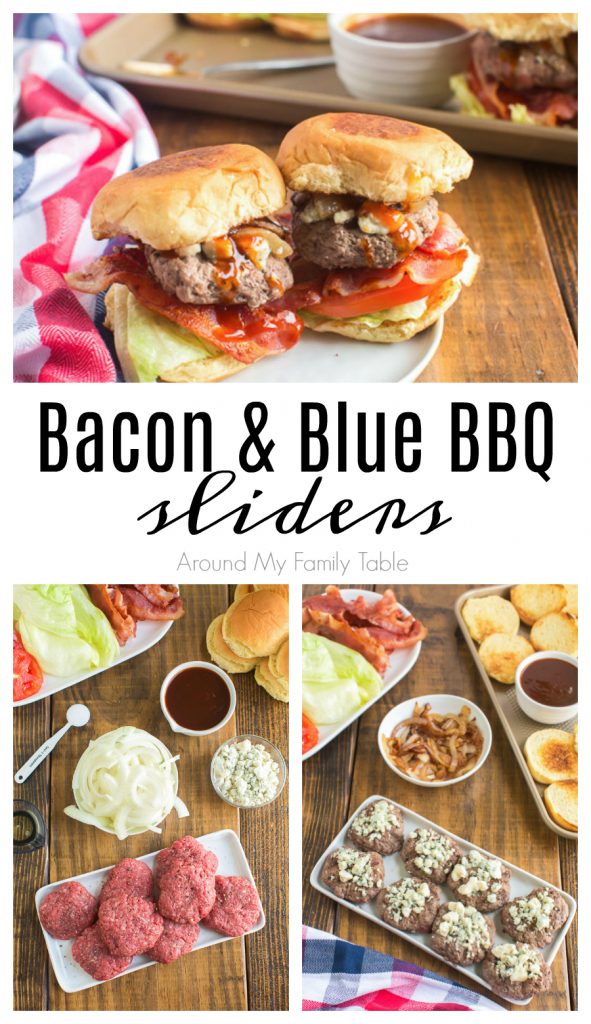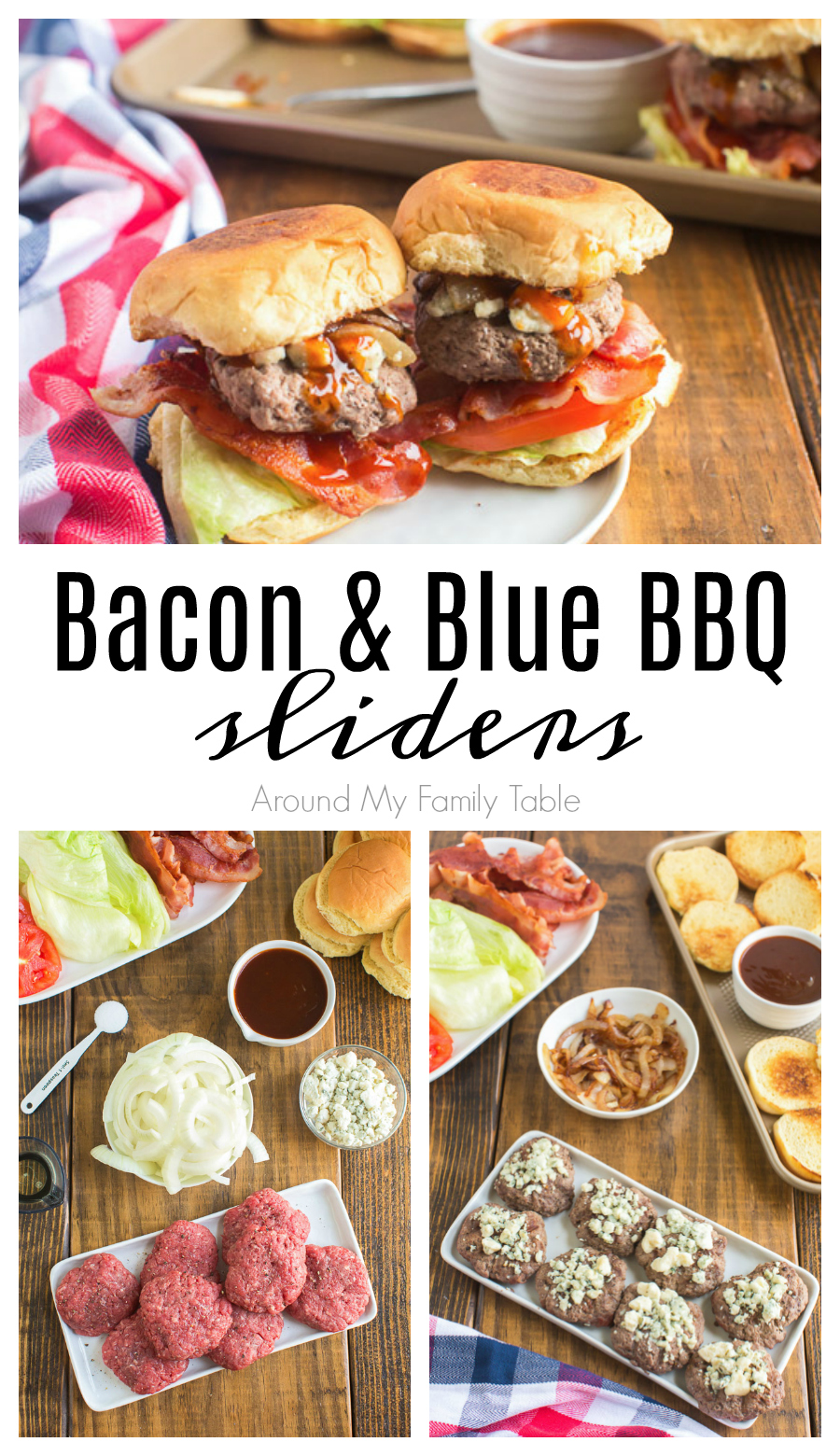 Recent Recipes You May Have Missed:
Originally published: 6/15/16 Updated: 8/24/22