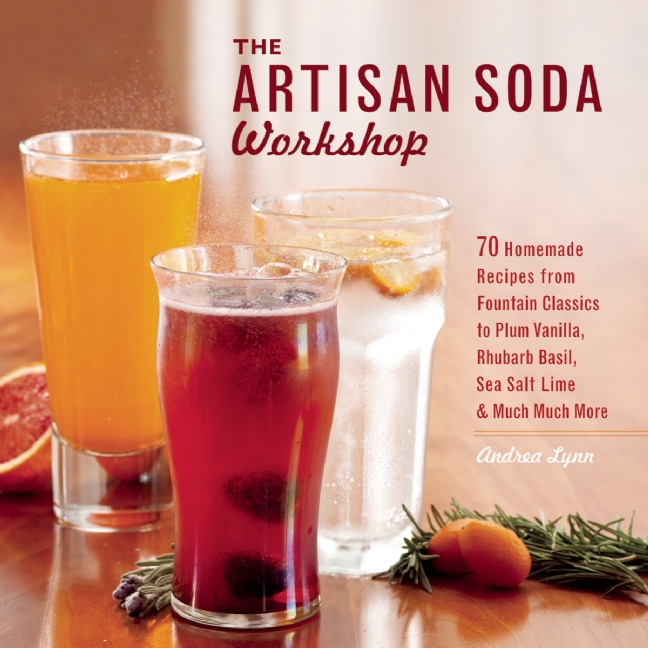 I am so excited for the new recipe book The Artisan Soda Workshop by Andrea Lynn.  Why?  Because I love my Soda Stream and I've wanted to figure out a way to make my own syrups.  Andrea shares how to use her syrups with or without a Soda Stream.  So even if you don't have one, you can still make your own sodas!
There are 70 wonderful recipes with step-by-step instructions and plenty of colorful photos.  Andrea makes it easy for us to create our own fruit, herb and spiced syrups…from Pineapple-Basil to Sparkling Rosemary-Lemonade…they are all easy and use everyday ingredients.  Another wonderful benefit to these sodas are that they use natural sweeteners such as agave or honey.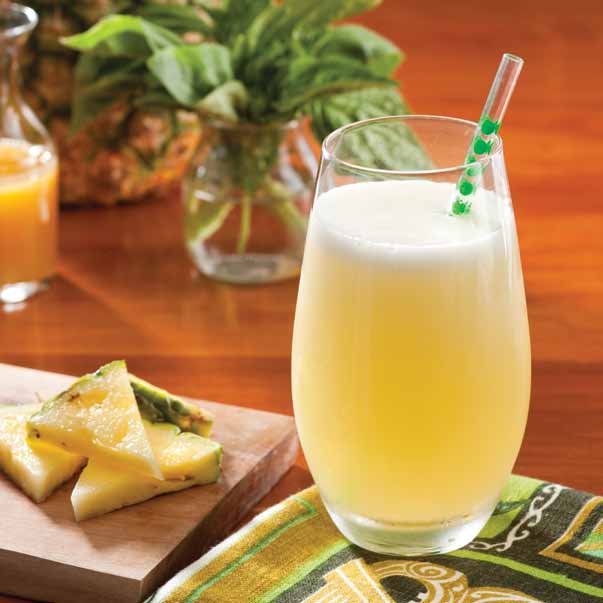 Of course, no soda book would be complete without copy cat version of traditional soda flavors such as cherry cola, root beer, and cream soda.  (And don't forget the chapter on alcohol-enhanced drinks.)  Um…yeah!  I'm so trying  some of those recipes ASAP!
Andrea was so sweet to answer a few of my questions.  Here is my interview with her:
AMFT: What is your favorite recipe in the book?
AL: Oh, I can't choose between them all! I will say, the one syrup that I have in my fridge on a constant basis is the Lemon-Lime Syrup. It's quick and easy to make, and I always have it on hand to add a splash of flavor into my seltzer all day long. Sometimes, I combine the Lemon-Lime and Ginger Syrup into one flavor, just because I'm crazy about ginger. I think ginger could be added to most anything.
AMFT: What inspired you to write The Artisan Soda Workshop?
AL: I work from home, and I'm always trying to consume a good amount of liquids on a daily basis. But guess what? Straight-up water doesn't do it for me. I really try but I need just a touch of flavor with my water. I fell in love with the SodaStream, which allows for a constant flow of fizzy water at my disposal. But then, I started wanted to experiment with homemade syrups to perk up the seltzer.
 AMFT: Who can benefit from the recipes in the new book?
AL: Anyone, like me—who is just striving to consume more liquids in their diet in a healthier manner. Juice and soda are too sugary to consume constantly—there's a big divide between water and the sugary drink options. This merges the divide a bit: allowing for drinks with taste without overdoing it on the sugar. 
AMFT: What is your least favorite food and why?
AL: I'm not much of a fan of yellow squash. I grew up on a farm in Alabama, and one summer we had a surplus of yellow squash. We ate it morning, noon and night. By the end of the summer, none of us could look at yellow squash again. And, sadly, it's still that way for all of us. My husband actually brought home yellow squash from the market the other day, and I could barely look at it. He had no idea I had such an adverse reaction.