This post may contain affiliate links. Please read my disclosure.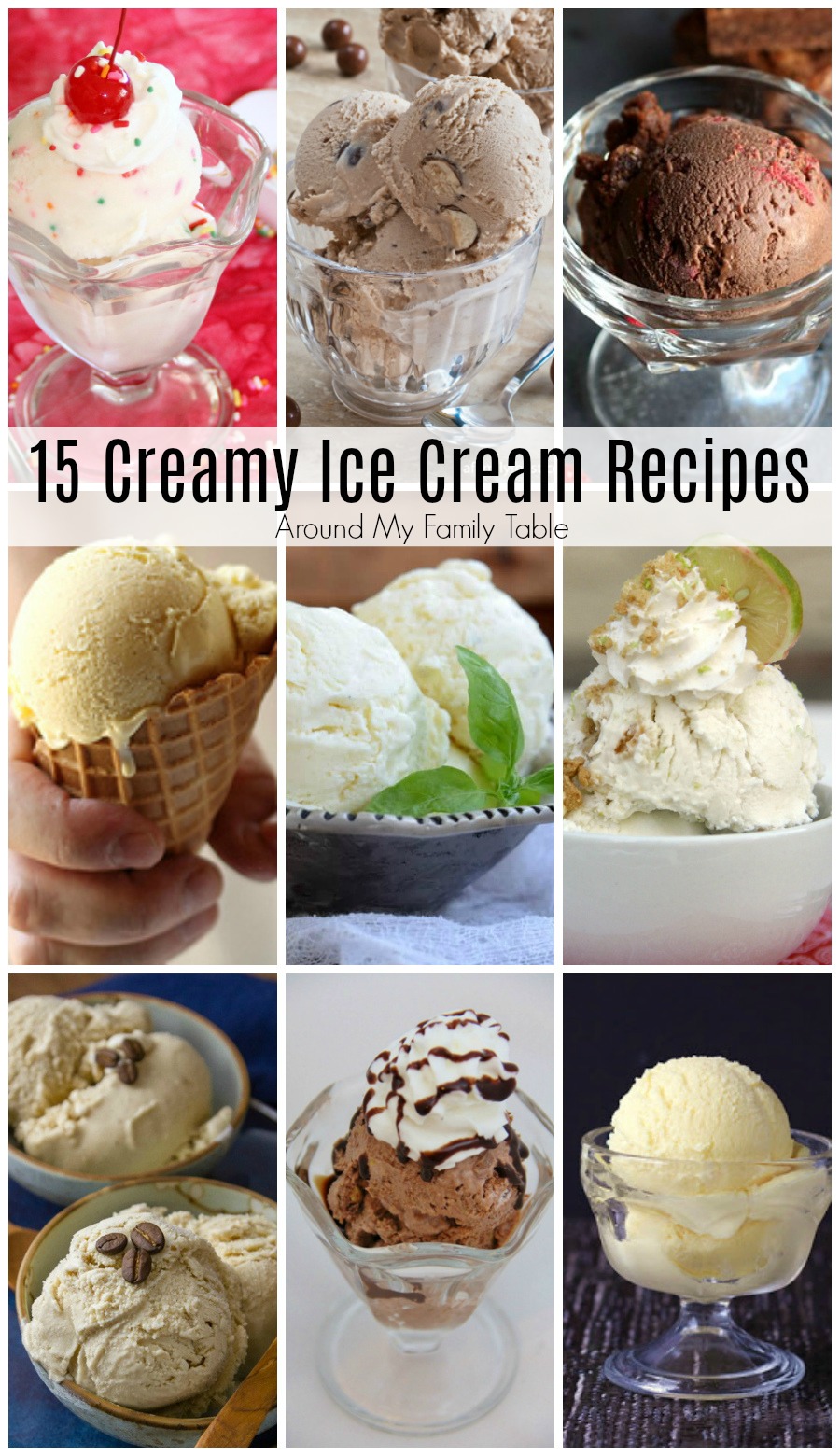 Summer means my ice cream maker is working overtime! And these Creamy Ice Cream recipes are some of my family's favorites! So grab your ice cream maker and one of these recipes for a delicious treat tonight!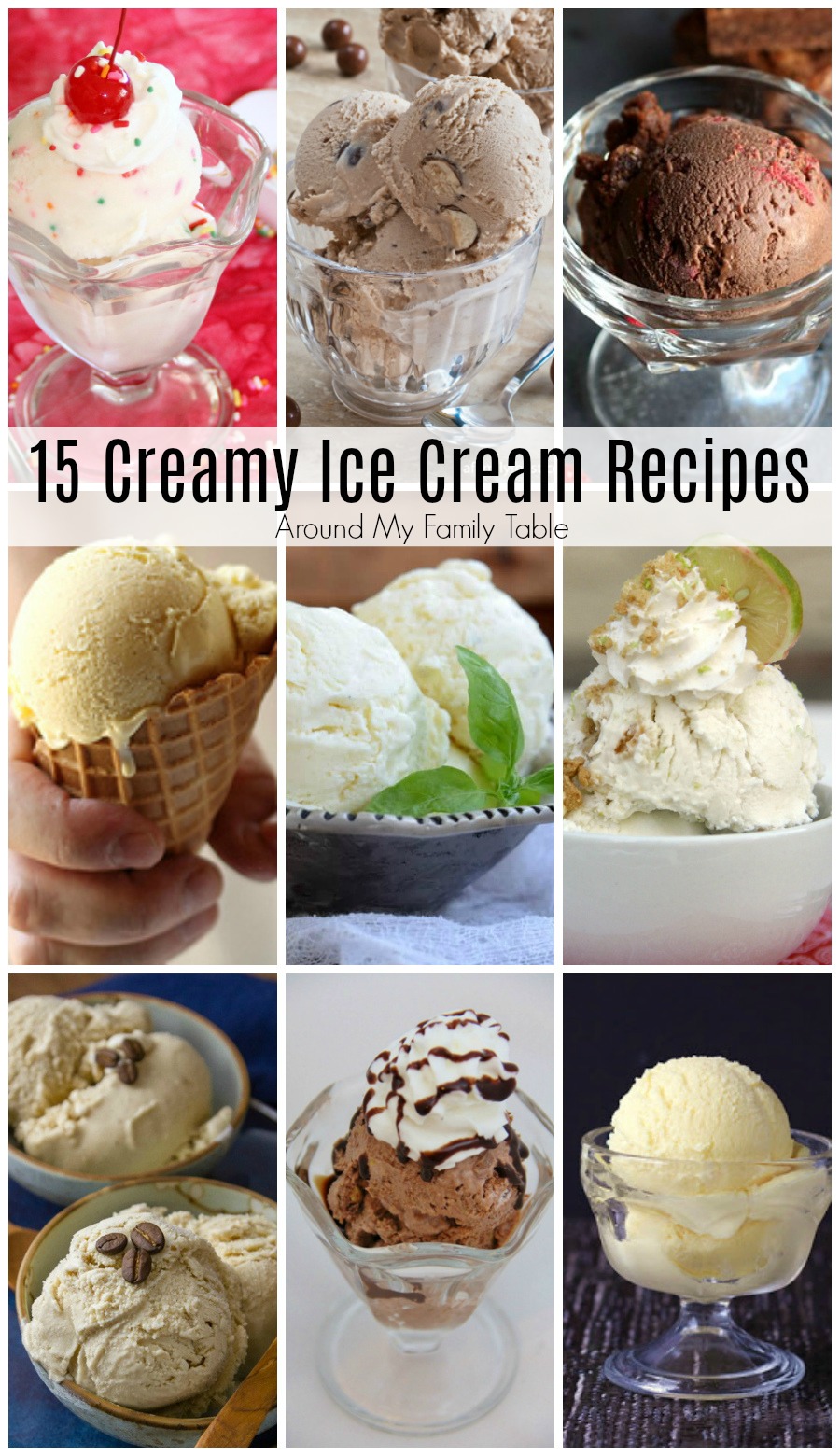 Creamy Ice Cream Recipes
Summer is here! We are all spending a lot of time outside enjoying the time off of school. Of course that means we are eating more frozen treats help cool off and that includes a lot of ice cream. I'm not a big fan of the tubs of ice cream from the grocery store though. To me, it just isn't the same as a flavorful batch of the creamy, homemade stuff. And I just find so much enjoyment in experimenting with different flavors and toppings. To make it even more fun, we frequently invite friends or family over for a cookout. We either grill something yummy or we make homemade pizza in our outdoor pizza oven, but then we like finish the meal off with some homemade ice cream.
My all-time favorite flavor is my signature classic vanilla ice cream with a generous spoonful of colorful sprinkles on top. I always make a batch for vanilla lovers, but I like to make at least one other flavor for the more adventurous tasters. Of course, I believe there is nothing wrong with having a scoop of each! Two scoops are always better than one! Especially with a plop of homemade whipped cream and a cherry on top.
My favorite ice cream recipe is under lock and key and may never see the time of day here on AMFT. Never fear, though, I've shared several amazing ice cream recipes over the years. Here are some homemade ice cream recipes that I think you will love.
FUN ICE CREAM FLAVOR RECIPES
Almond, Strawberry, and Blueberry Ice Creams
Cake Batter Ice Cream
Almost Snickers Ice Cream
Fresh Fruit Ice Cream
Spinach Ice Cream
Key Lime Pie Ice Cream
Peach Ice Cream
Dragon Fruit Ice Cream
Mango Cheesecake Ice Cream
CHOCOLATE ICE CREAM RECIPES
Chocolate Malted Ice Cream
Raspberry Dark Chocolate Ice Cream with Brownie Chunks
Rich Chocolate Fudge Ice Cream
Chocolate PB Cup Ice Cream
No Egg Homemade Chocolate Ice Cream
VANILLA ICE CREAM RECIPES
Bourbon Vanilla Ice Cream
Vanilla Ice Cream
Vanilla Bean Ice Cream
Very Vanilla Ice Cream
Malted Vanilla Ice Cream with Chocolate Crackle
COFFEE ICE CREAM RECIPES
Java Chip Ice Cream
Coffee Ice Cream w/o Ice Cream Maker
Coffee Ice Cream
Coffee Toffee Ice Cream
Hazelnut Coffee Ice Cream
Here are couple of my favorite Ice Cream Tools. An ice cream maker, the best ice cream scooper, and my all time favorite book about ice cream! You can find them all on Amazon! Click the picture to find out more!